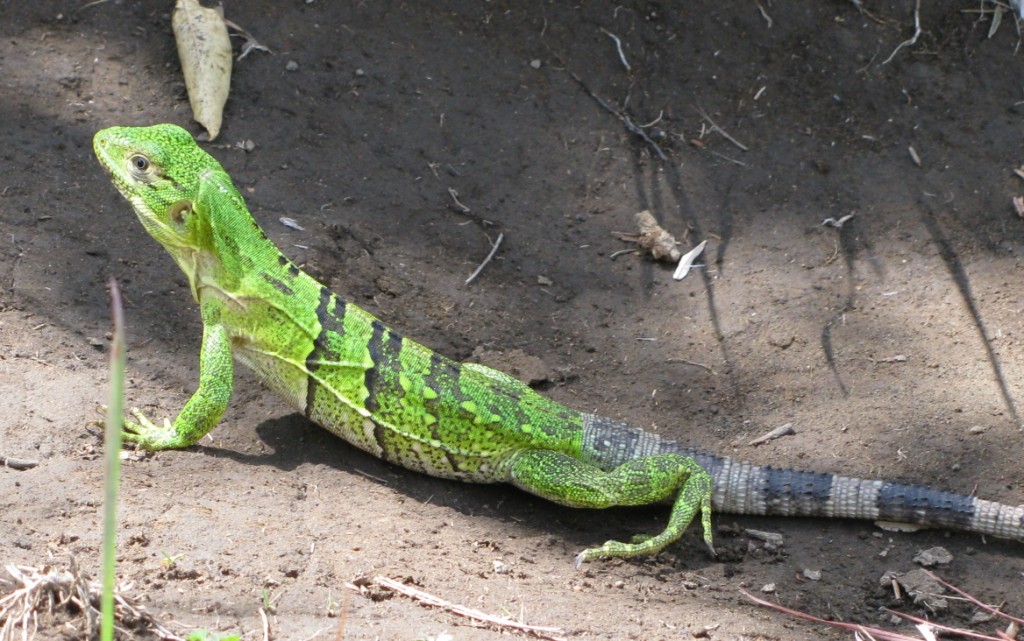 We're back to being our itinerant ways, only this time we have a car. For the next month, there will be no more waiting in the park till whenever for a bus to near where we want to go. Like, I chilled out in this park in the charming little town of Tilaran, looking after our stuff, while Myung walked around.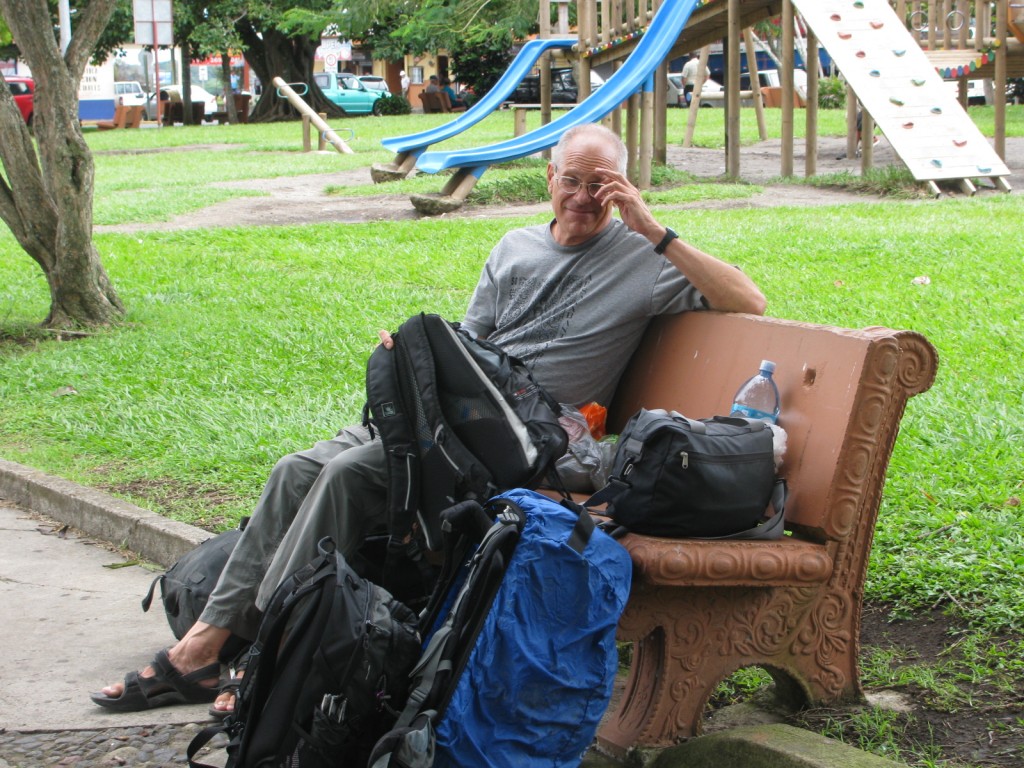 That's all fine, but when we got to La Fortuna, it became obvious that renting a car is definitely the way to go in Costa Rica. So many places, especially the parks, are accessible only with a car or with an expensive tour or even more expensive taxi. So, we are stylin' in a teeny Suzuki.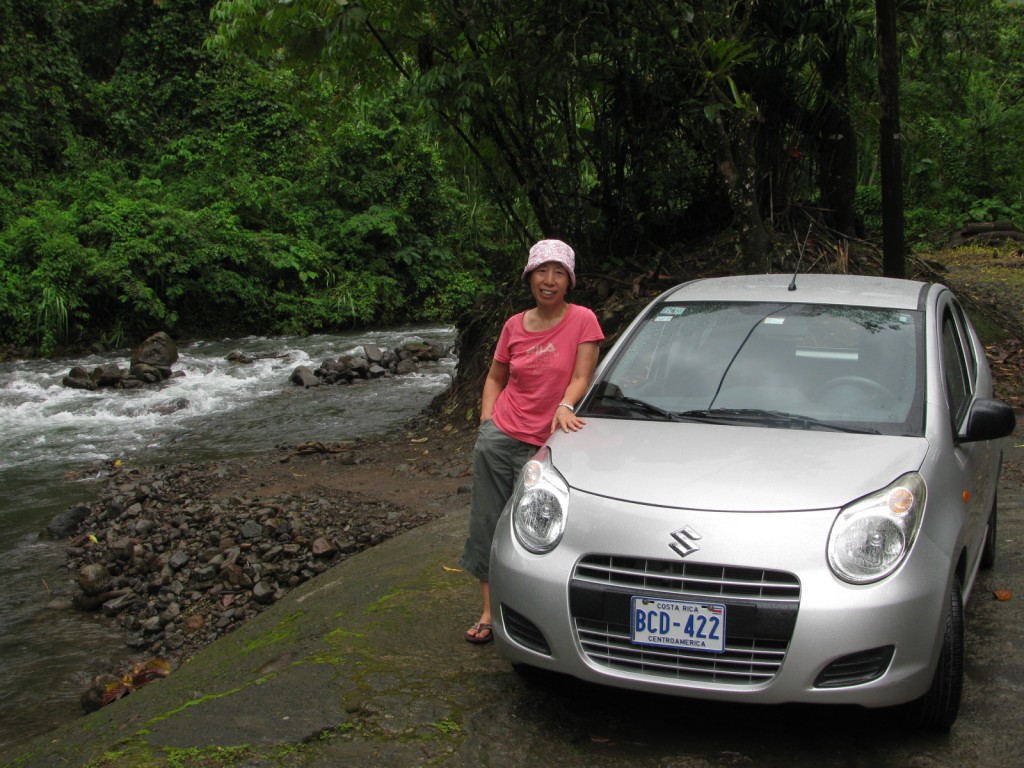 We've been here for nine days. So far, we've done some of the things tourists do in the Lake Arenal area and Rincon de la Vieja National Park. La Fortuna is where most people base themselves for the Arenal area. Even though we could have stayed anywhere because we have wheels, we first arrived there via public transportation and it's there we stayed. There's little photoworthy about La Fortuna. There's a park and a volcano, of course.
La-de-da.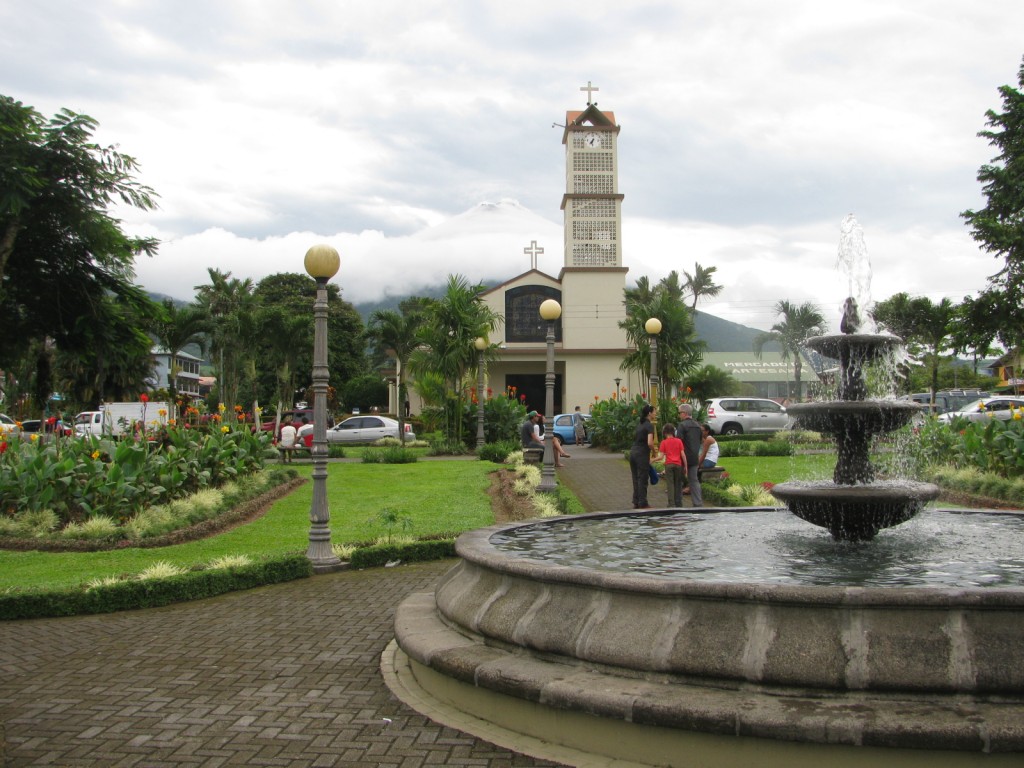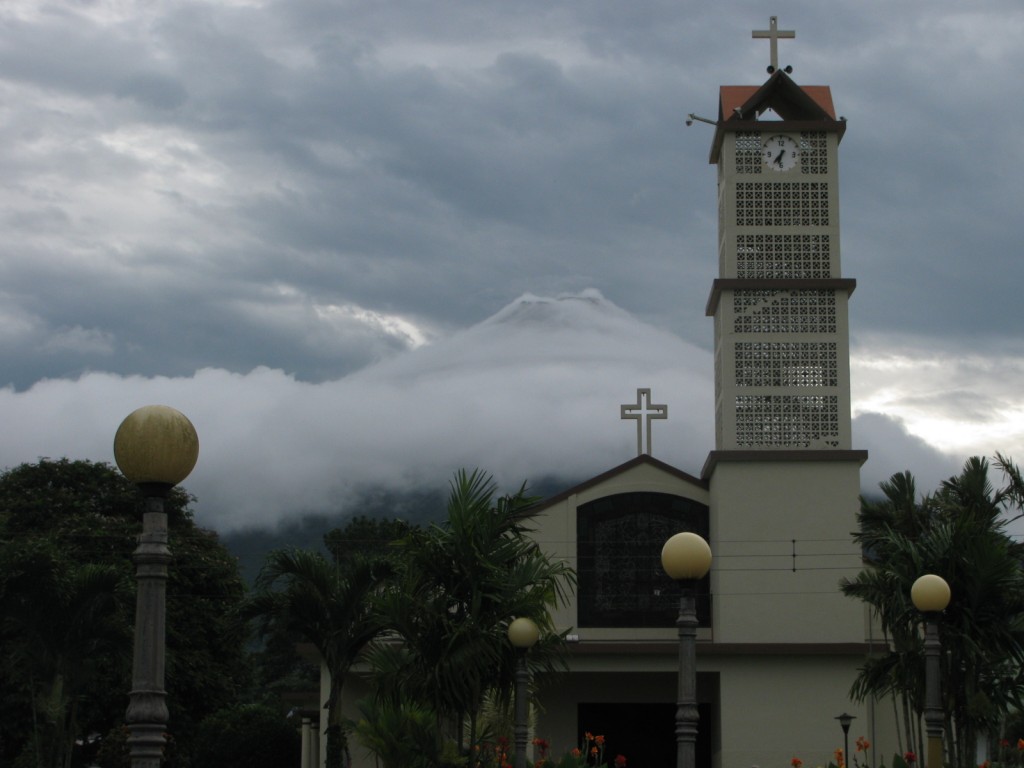 We stayed in a hostel, as we usually do, because they usually have kitchens, and that saves a fortune on food. Just coffee in the morning adds up. It seems so far that the main way people make coffee here is to put the coffee in what is basically a sock, and drip it through that. It works fine. I first saw this as the usual way back in Malaysia about 15 years ago. Here, the hostel manager is making herself a cup o' java.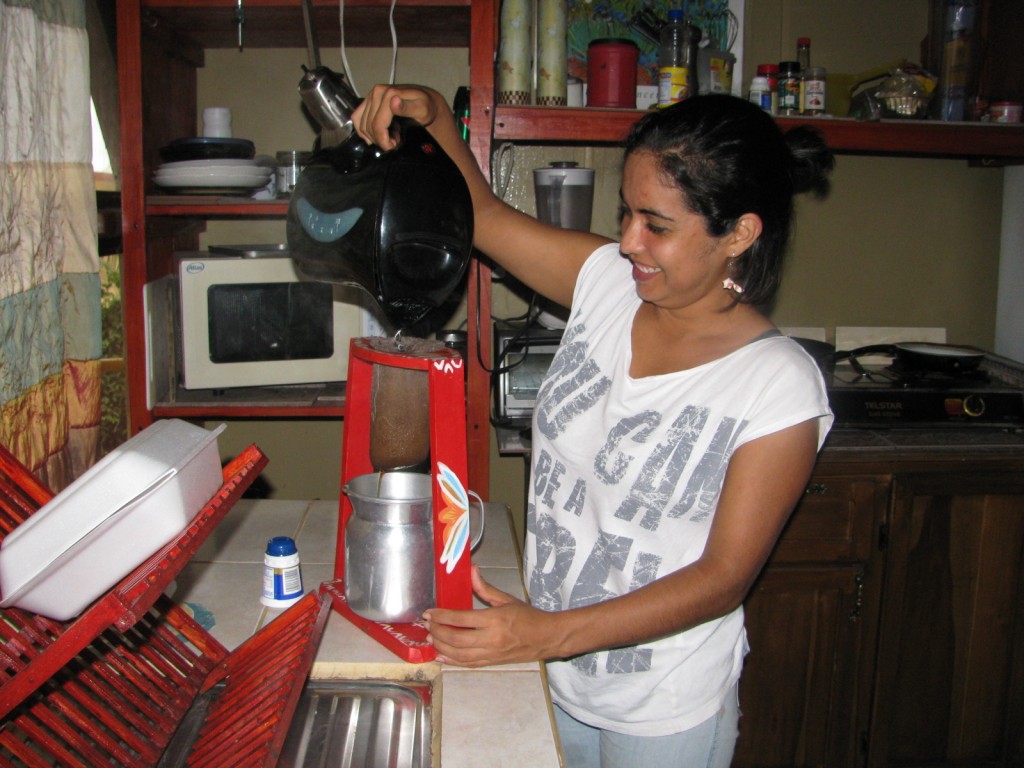 Lake Arenal is a lovely lake surrounded by parks and scenic areas. It rained a lot of the time we were there, but here is a picture we took during one of the brief periods you could see fairly well.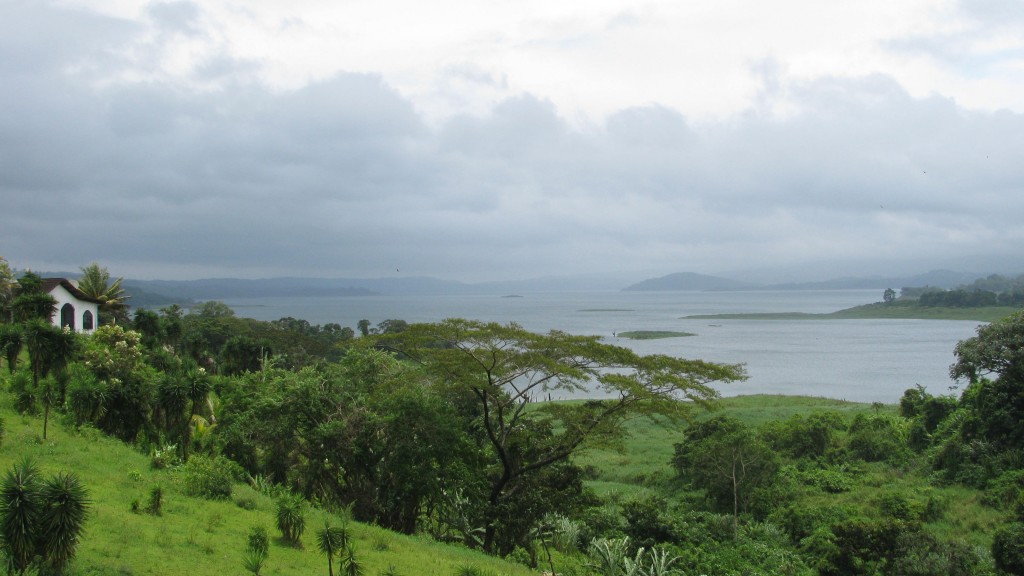 The first nature walk we went on was a little wet and slippery, over this bridge and into the forest.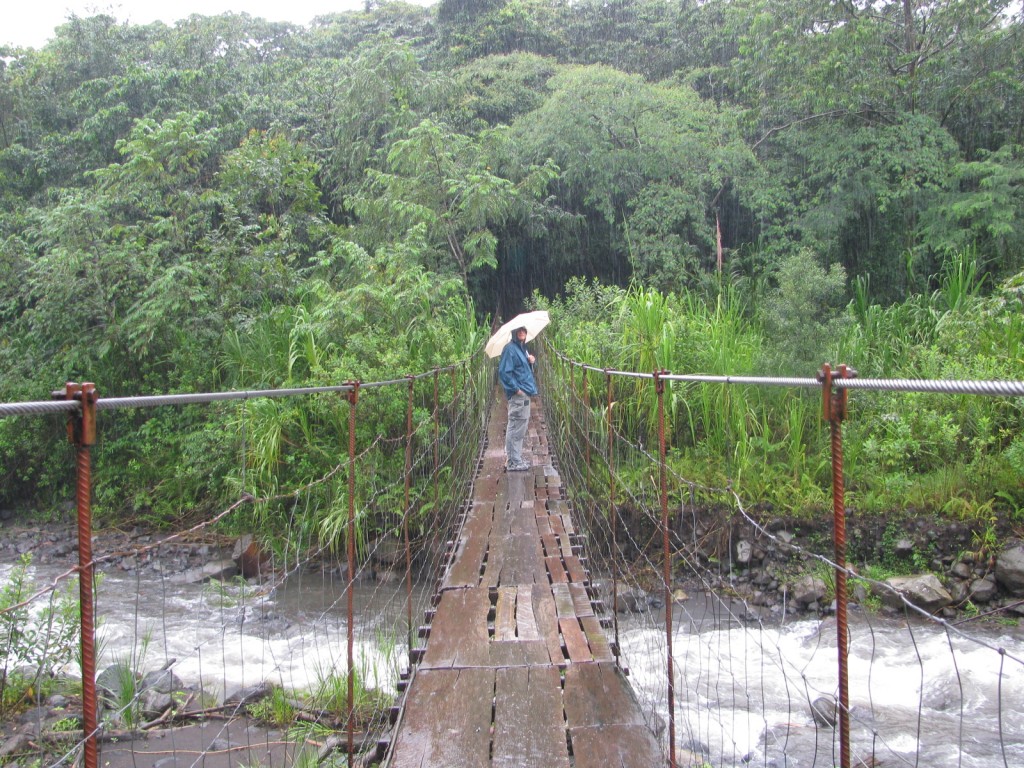 We aborted that one after a couple of hours because it was too laborious dealing with the rain and the mud. Later that afternoon, though, we indulged in a soak in one of the free public hot springs around there. There are many resorts which charge $10-$75 to partake in the spa experience, with swim up bars and everything, but the springs create such a volume of hot water, whole creeks are hot. This spot is not more that 50 meters off the road. Just scramble down the bank and you are there.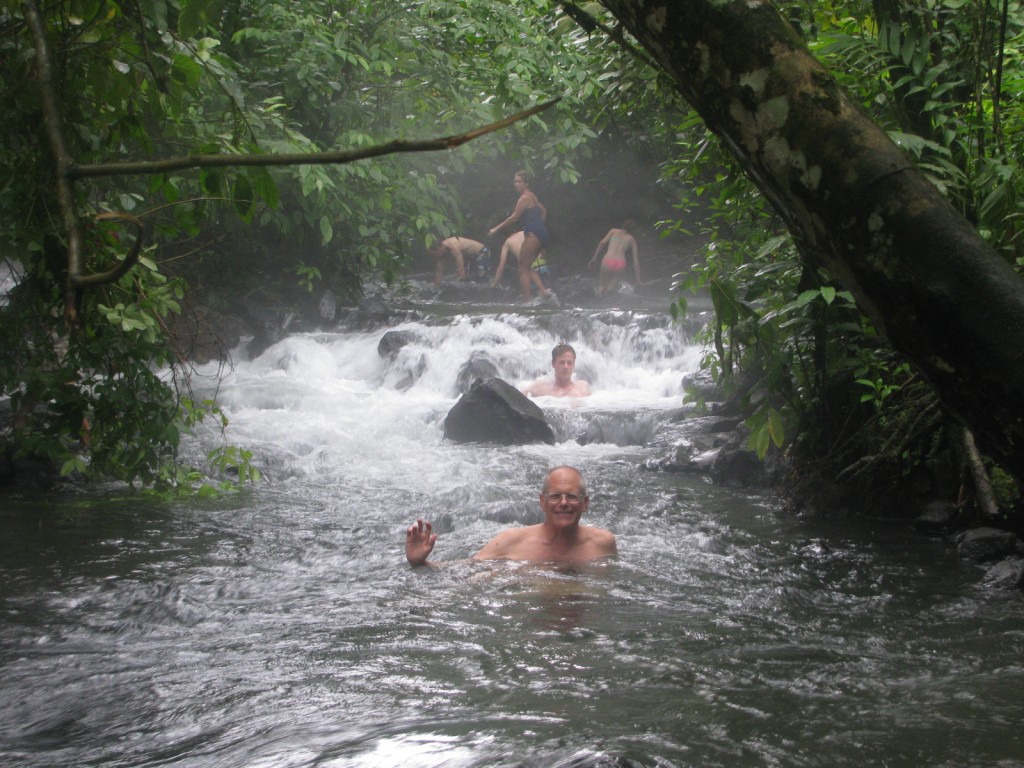 Rincon de la Vieja National Park is a World Heritage site, north west of Arenal. Boy is it worth going there, even if you did have to spring for a $30 per prson tourist shuttle! It's a beautiful hike through forest which is dry during the dry season and mostly green at this time of year. The main hikes people take are the 10 km round trip to these falls and a 3 km loop. It's muggy hot, so a cool dip when you get to the falos is refresshing, to say the least.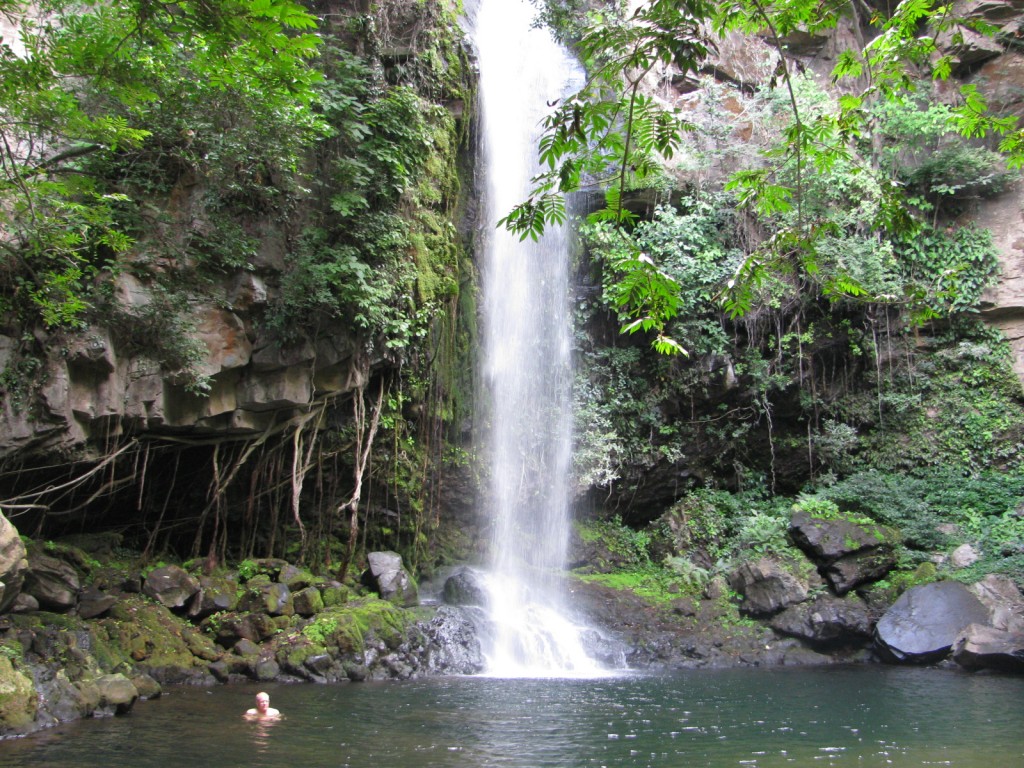 We have pictures of the walk, like this one…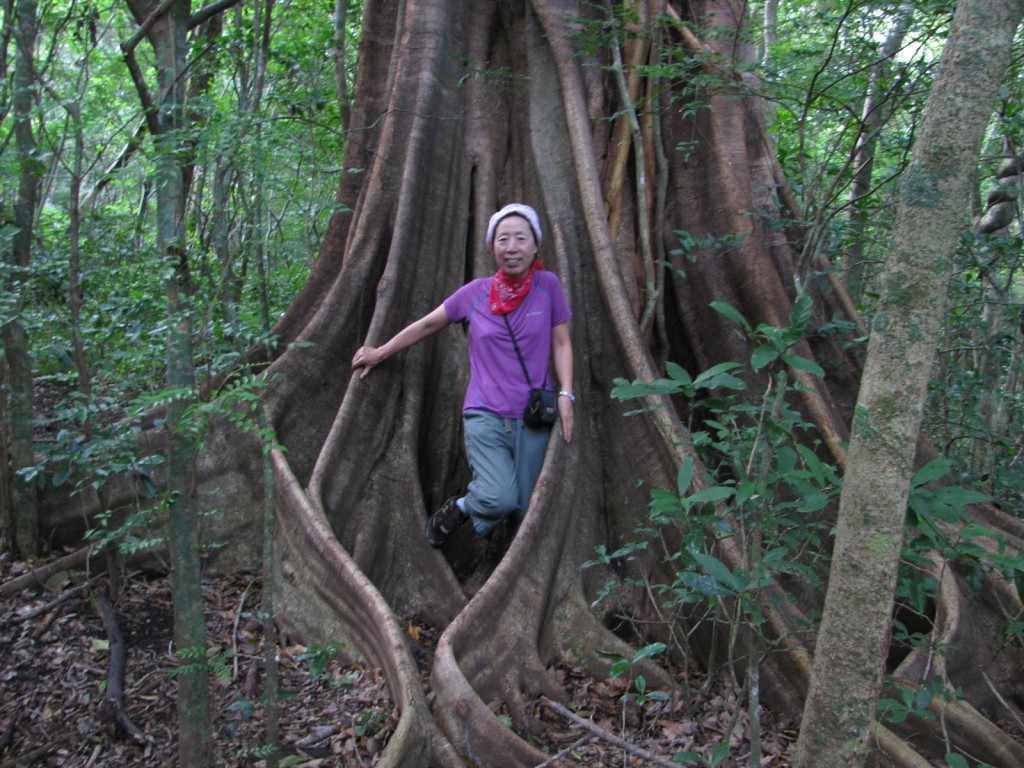 … but you've seen a lot of tropical vegetation photos, so I'll spare you. The only good animal picture we have is the lizard at the top of this post. There are bad pictures of a tapir, a raccoon-type creature with long legs, and some birds. Myung saw a couple toucans and some wild pigs, but didn't get a photo. There were capuchin monkeys we saw and some howlers we couldn't see.
After that part of the day, we returned to the start and went on a little 3 km loop which is the main attraction of the park. There are fumeroles…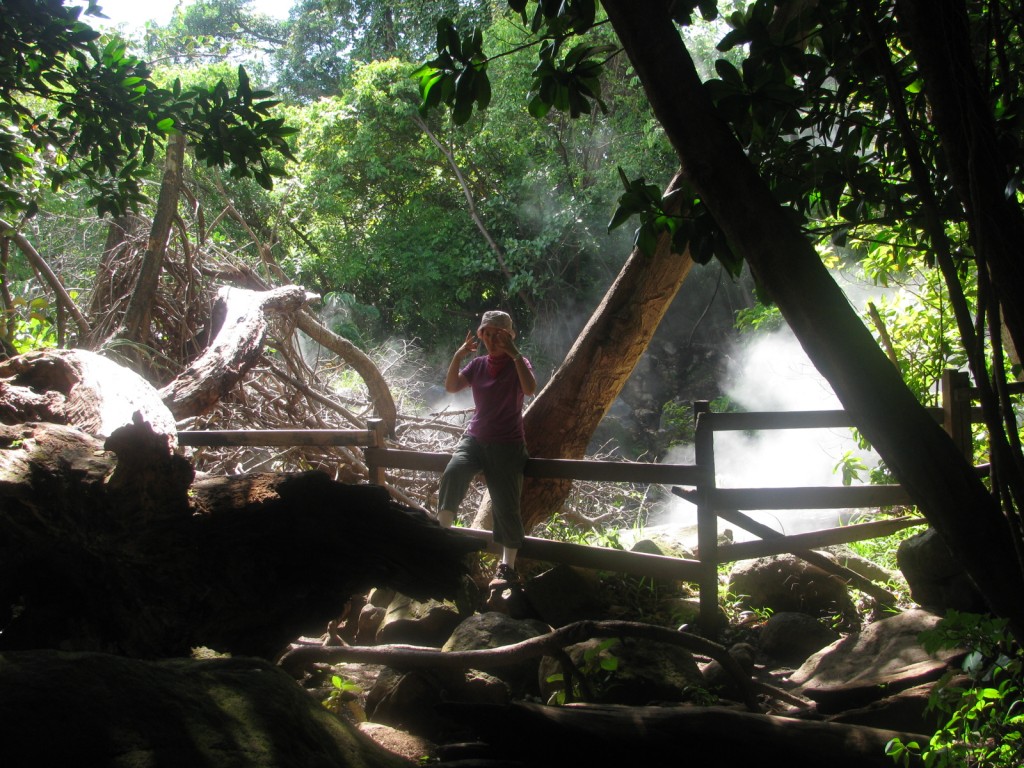 … boiling hot springs…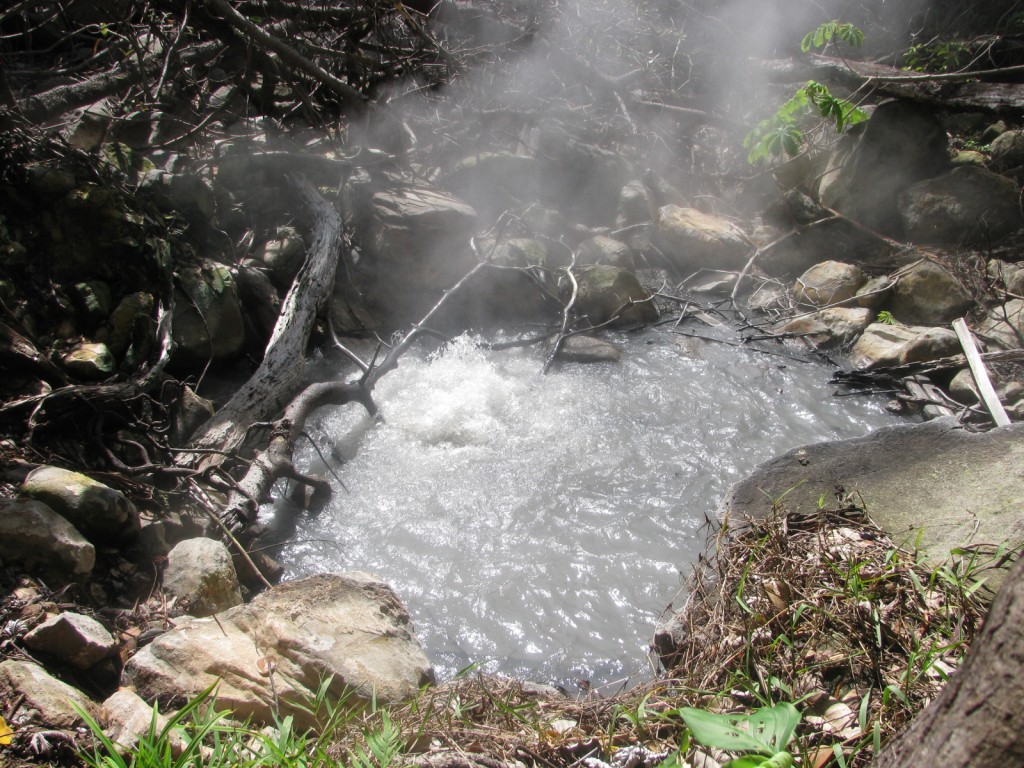 … and boiling mud pits. These pictures don't do them justice. Just use your imagination and picture these water and mud pits, fumeroles being very active, not to mention very hot to be near.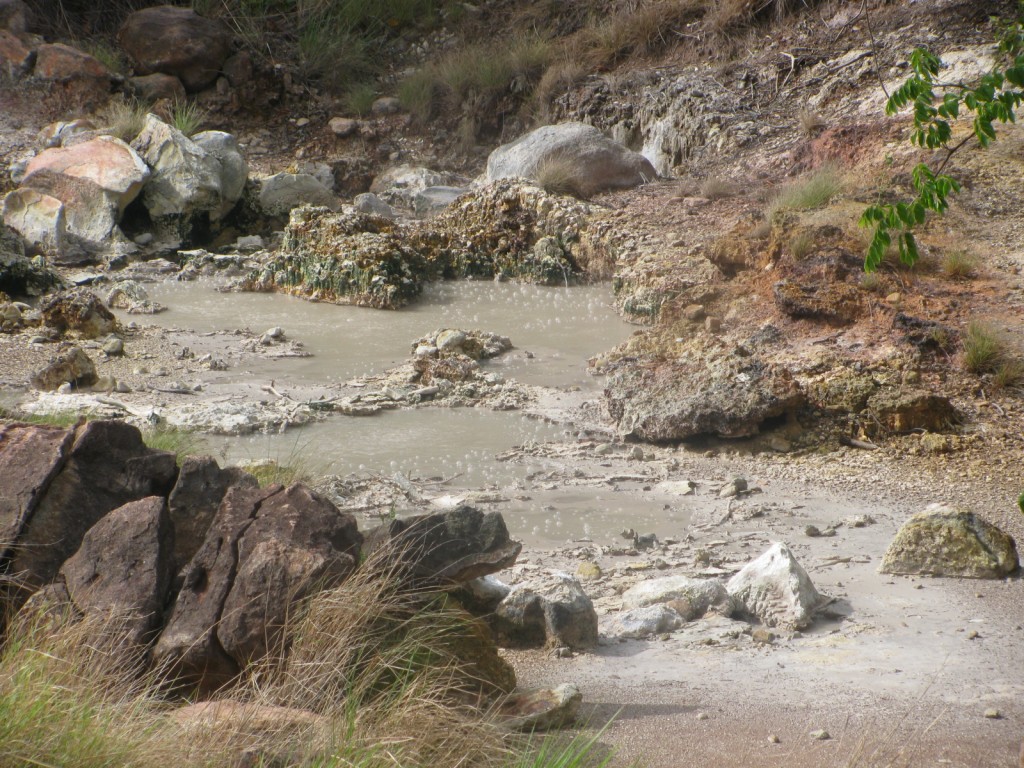 Blurp, blurp.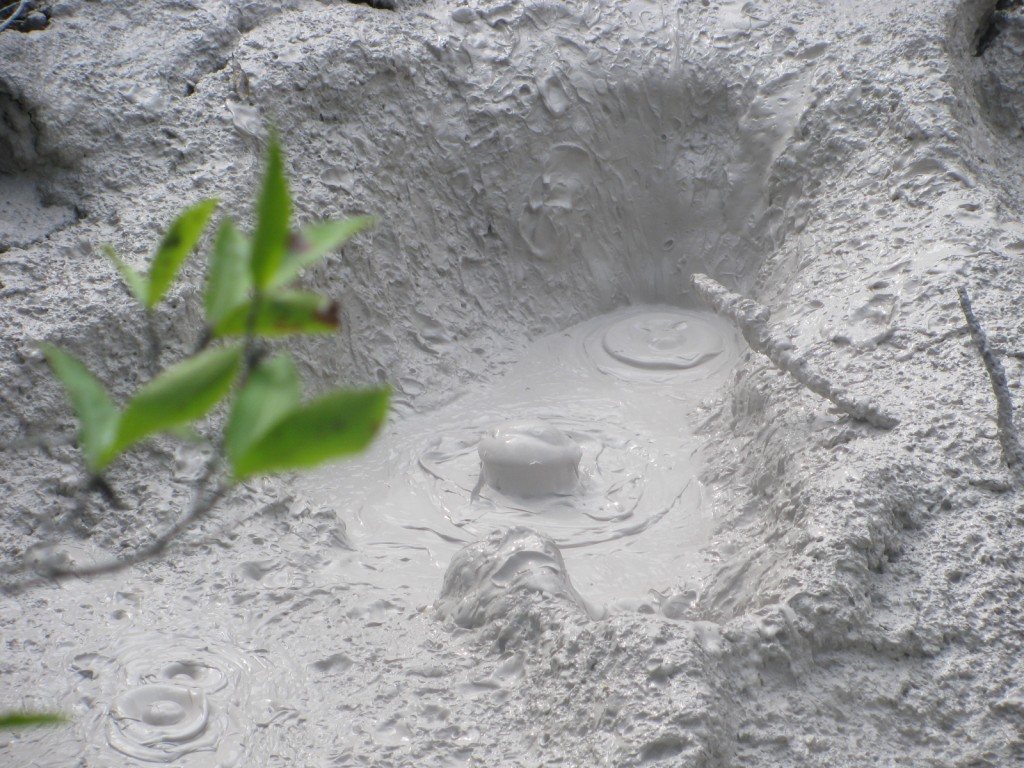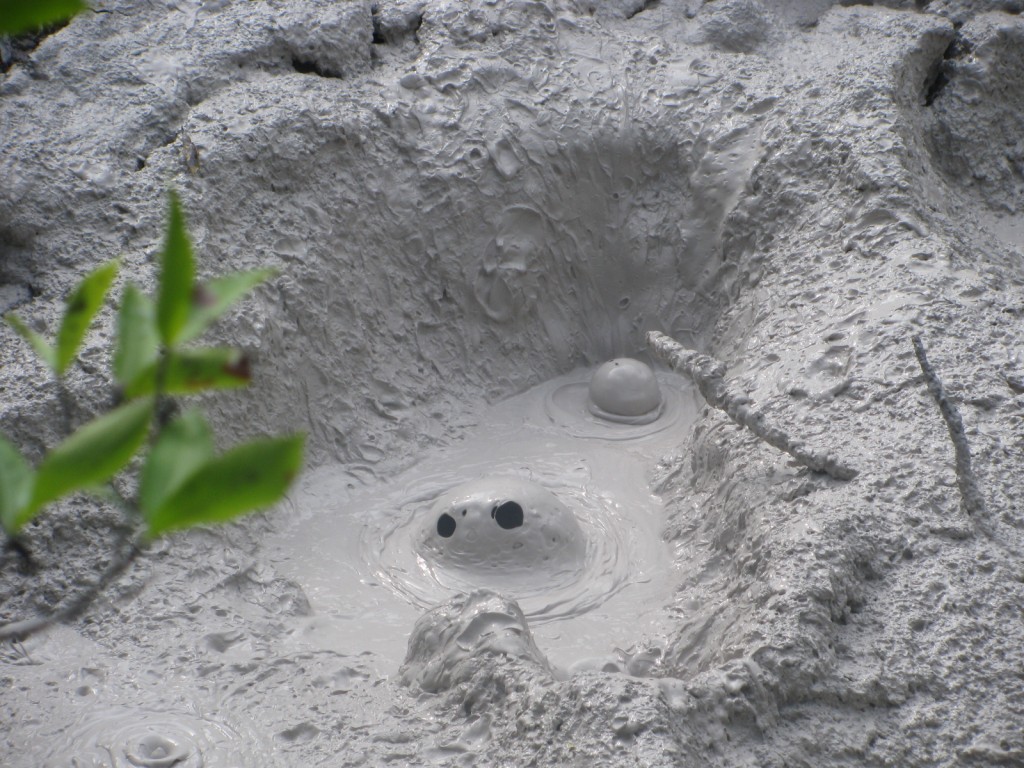 I don't know what this town is, but driving around, this is a typical, lovely Costa Rican setting.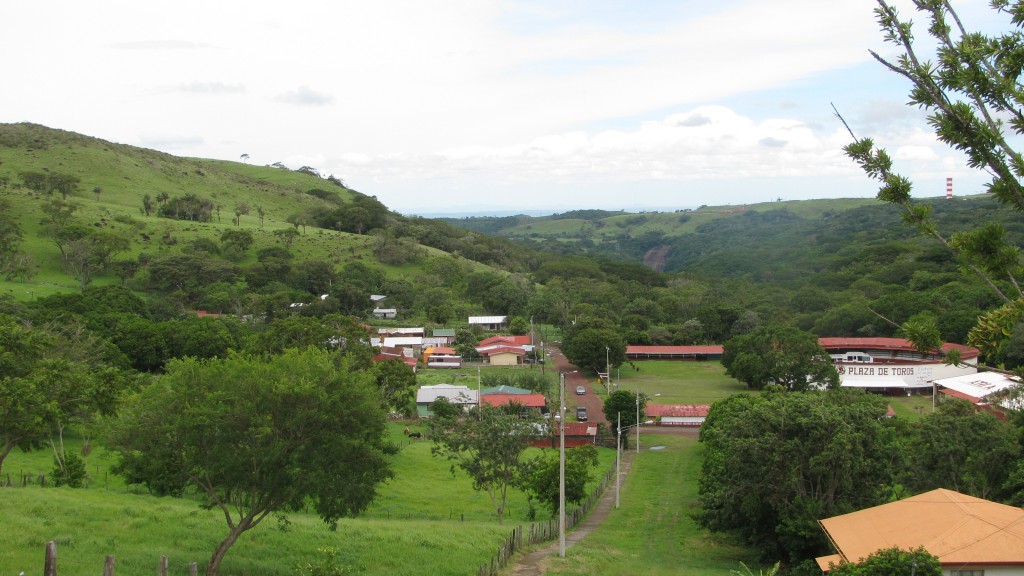 Costa Rica isn't quite what I expected. I knew it was going to be considerably more developed than Guatemala, El Salvador, Honduras and Nicaragua, but I didn't expect it to be this developed. It really seems it has tried to emulate the US. The style of development is very like in America. The stores and shops are like in the US, and we haven't seen a traditional town market yet. You might guess correctly that the produce isn't nearly as good as in the CA-4 countries, which is a shame. We both miss that. I haven't asked anyone if they mind having American quality, pretty but lousy tasting produce. They must be getting used to it. We did. The amenities are nearly what you'd expect in the States, though noticeably funkier, for sure. What is a bit of a shock is the the cost of things. Nearly everything is more expensive here than in the States. All the more reason to cook in accomodations with kitchens. At least the car rental is cheap, $20/day.
One source which studies the happiness of people around the world uses criteria which awards Costa Ricans as the happiest in the world. Y'know, one of the first things you notice about the people here is that they are not only nice, but seem happy. I, for one, feel like I'm being out of place when I'm perturbed about something like the slowness of the check out at the supermarket. Everyone else is fine with just about everything, it seems. I'm hoping it's as infectious as it seems to be. This is a sweet country, so far at least. I'll keep you posted on that experience.
That's going to be it for now. This was a good time to post something, as from Rincon de la Vieja we went to the Pacific coast and are currently doing the tropical beach thing. A post on that should come soon.
Be well, all of you.