Greetings from Mexico! It's been nine days since I arrived here, and I've decided to turn over a new leaf. Instead of waiting weeks to post on this blog, I hope to be more current. As long as I'm not too busy or somewhere without internet, my plan is to write and post pictures every week or so. Anybody who has followed my blather knows that quite often, a long time passes and I end up summarizing so many things it is just to general. Also, I want to post more pictures. The good news is there should be more pictures. The bad news is I'm still a crummy photographer and I can't so easily cherry pick only the decent ones.
So, what did I do? Well, my first couple of days here I had jet lag after 30 straight hours of travel from Chongqing to Mexico City, plus I had a cold. The first day, I did nothing but rest and get a couple of bites to eat. The second day, I was recovered from jet lag and felt well enough to walk around.
I'm in an area called Zona Rosa, or Pink Zone. It's been called that for a long time but, I suppose coincidentally, it's also the heart of the gay community. It's lively, with many clubs, bars, restaurants and so on. Just near here is the slightly more upscale area called Condesa. Most of the tourists stay in these areas or near the historic center.
That first day out of the hostel, I went up Paseo de la Reforma, about three blocks from here, where this famous Angel of Independence is, about four blocks up Reforma. It's famous and many of you may have seen it, if not a picture somewhere, maybe in person. I have to remember, now that I'm in Mexico, so close to the US, at least the Americans may have been here.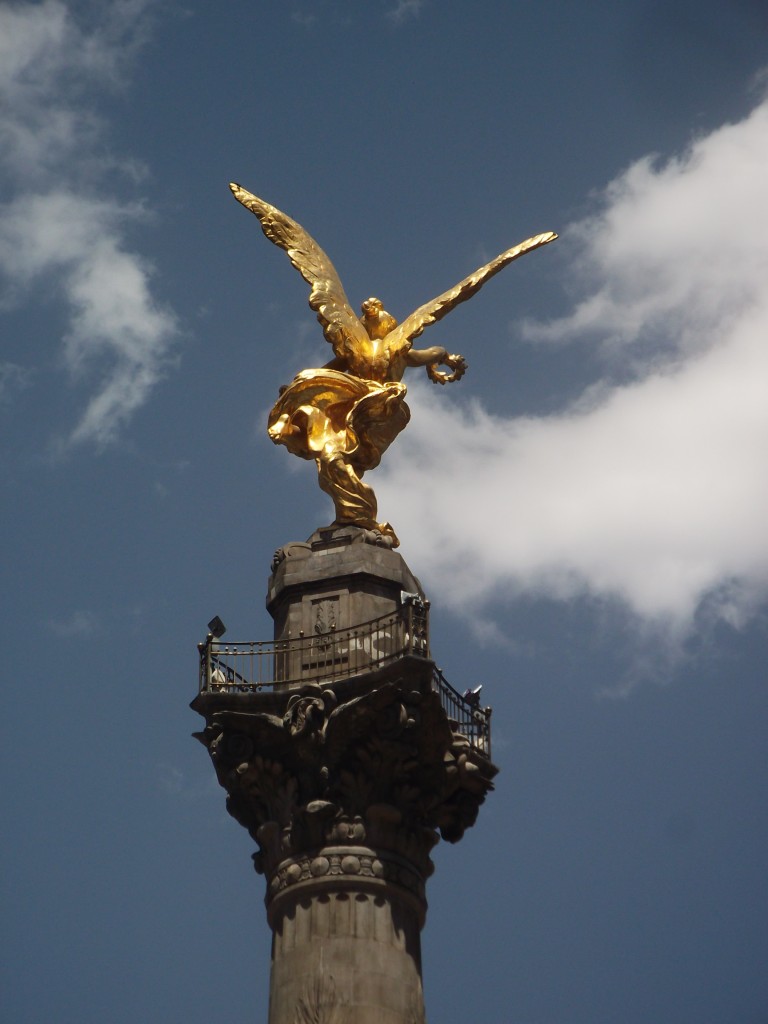 Feeling like gee whiz I'm not in Kansas anymore (Forgive my use of American idiom), I kept on walking till I got to the historic center. I didn't do anything but walk. I finally got to the Museum of Fine Arts, Palacio del Bellas Artes, which I will go into before leaving Mexico City.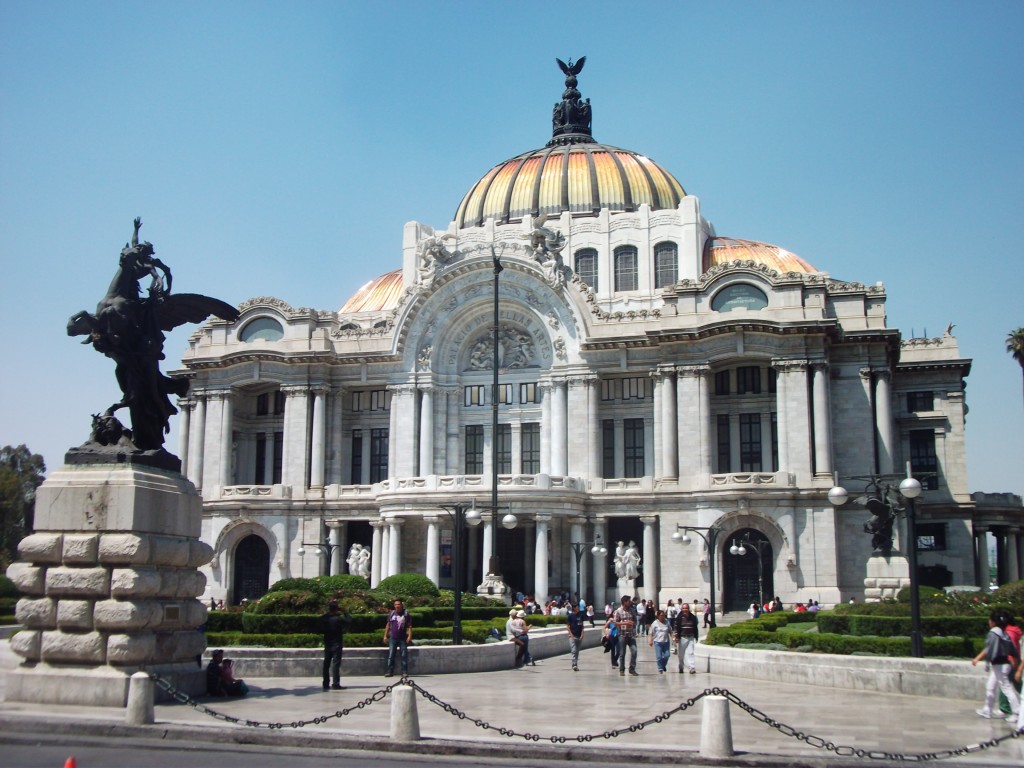 From there I headed up the main pedestrian-only street toward the center of the historic center…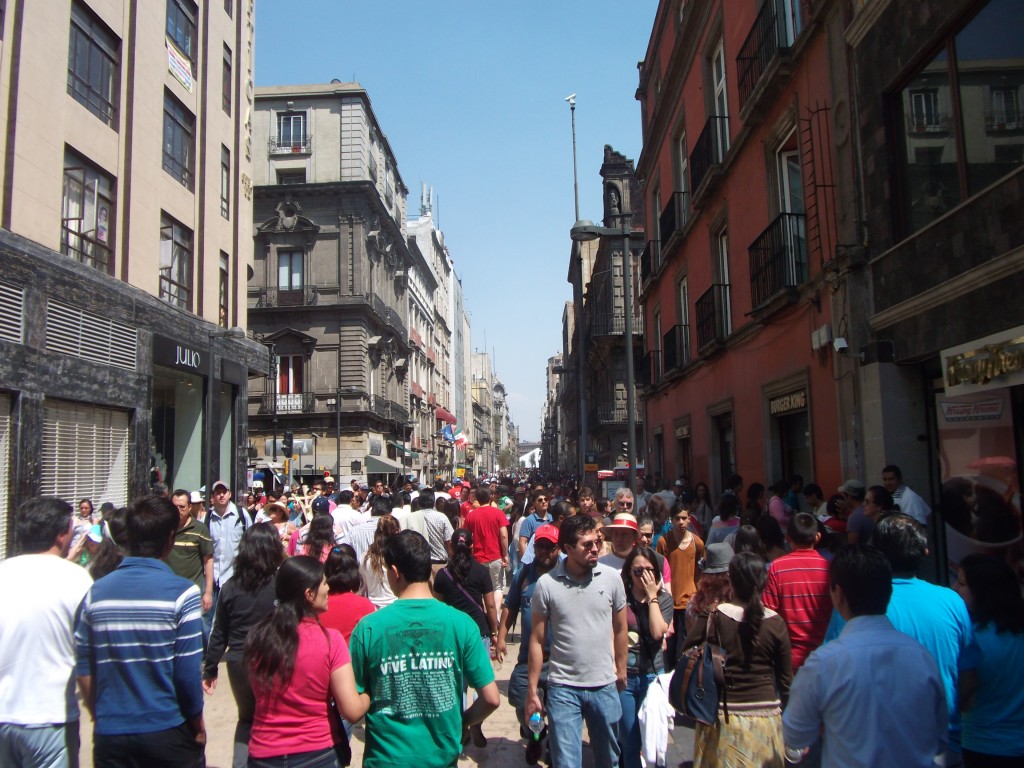 …and took a rest in this little park which was billed as a Japanese garden.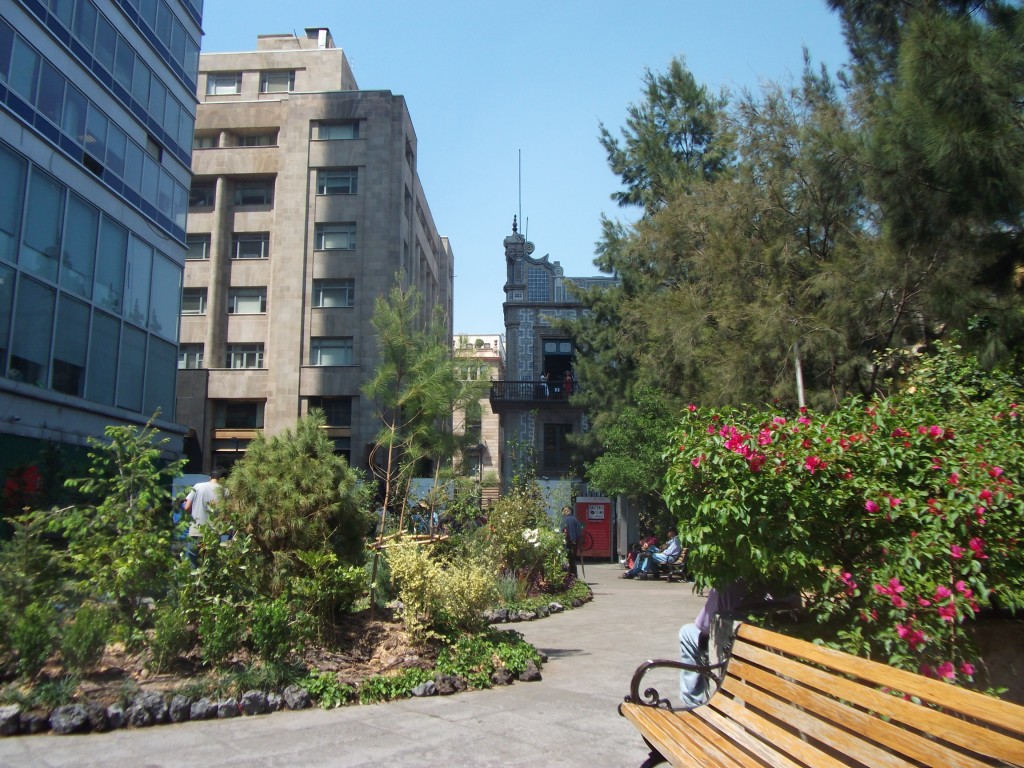 Across the street there, in about the middle of the photo, you can see a tiled dark grey building. On a balcony, as woman was singing opera over a loudspeaker. I chilled out and listened to her for a while.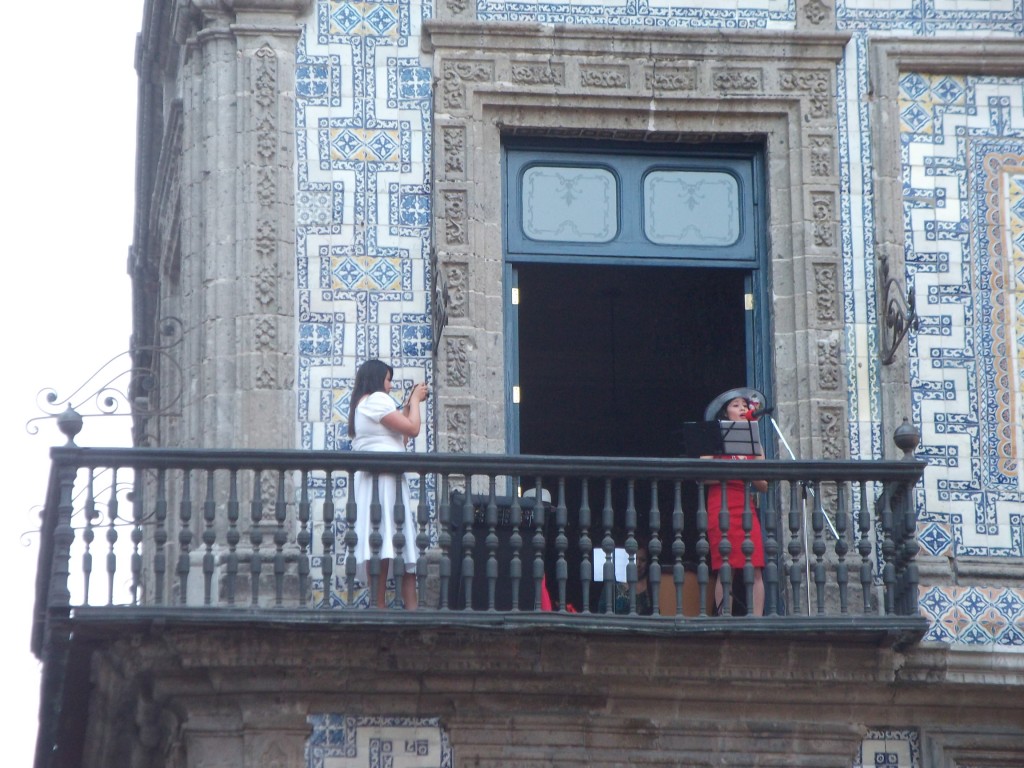 All along the way are buildings like this, often is disrepair, with wrought iron ornamentation. Many of them seem abandoned. I'm hoping they don't get condemned and Mexico comes up with the money to rehabilitate them. It could look something like the French Quarter in New Orleans if they fixed it up.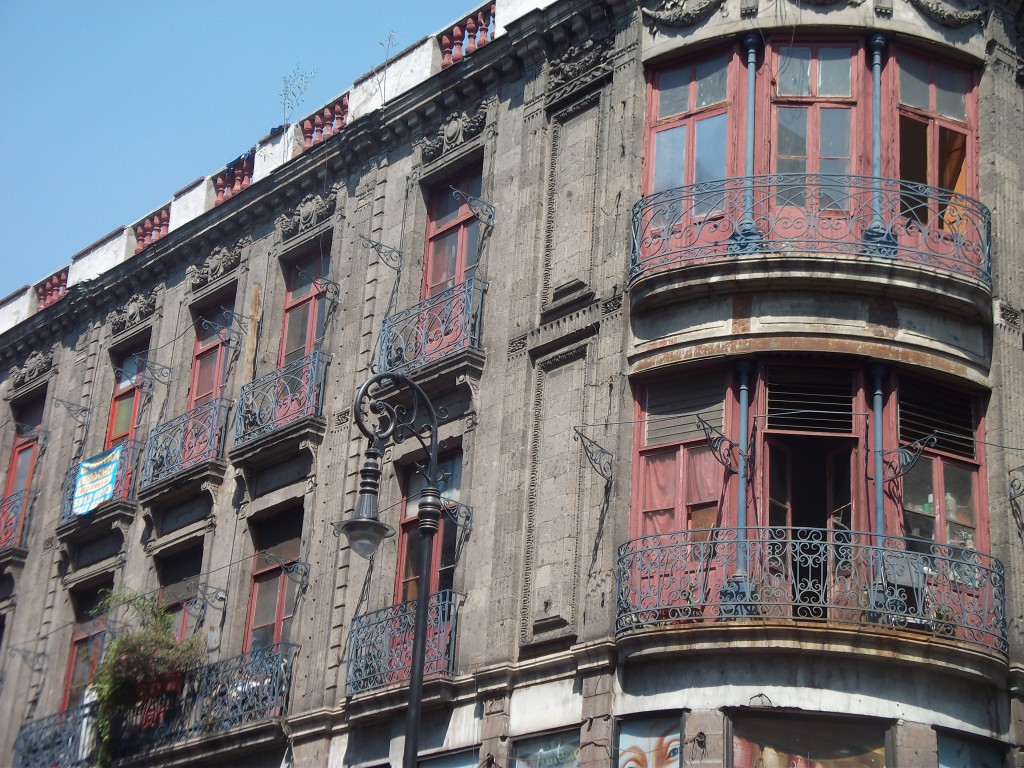 After several blocks of this, you get to Zocalo, ground zero of the historic center. This plaza is surrounded by 19th century classic architecture, mostly monumental but uninspiring. The cathedral covers the square block on the north side of the plaza.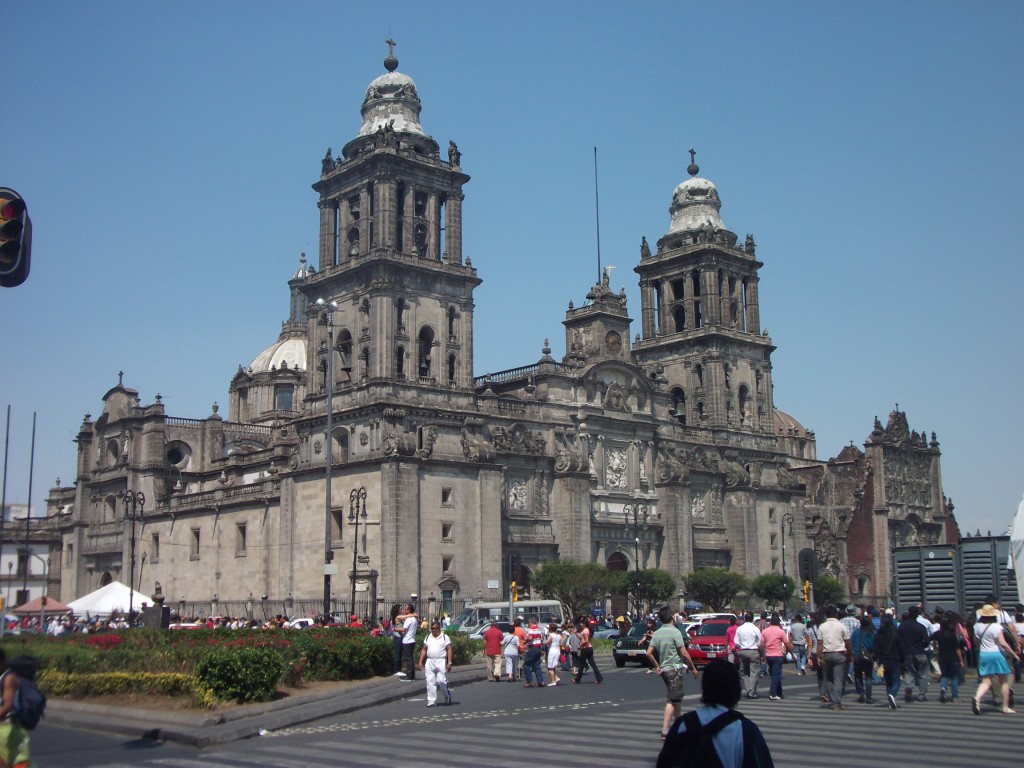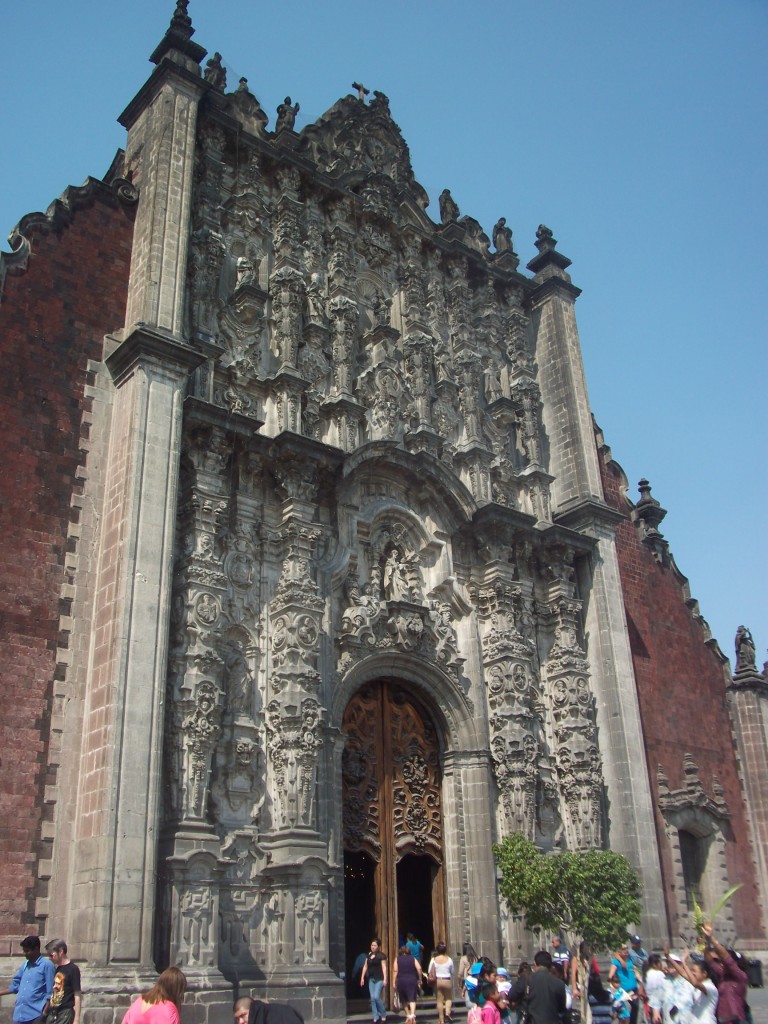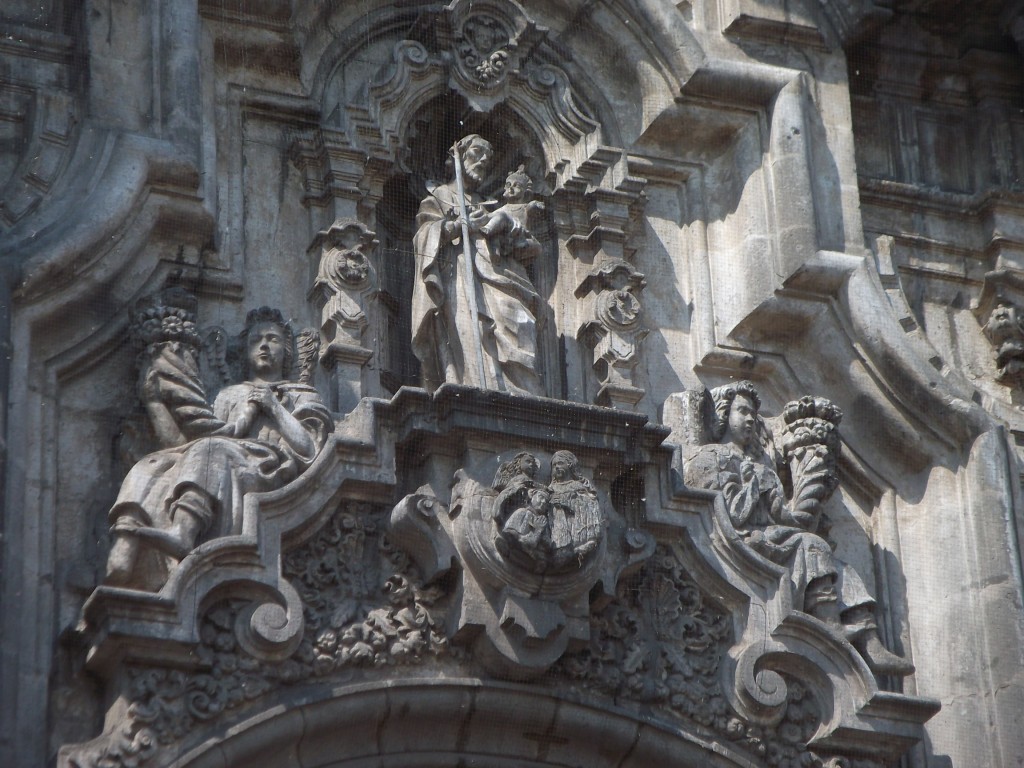 I went inside, but I must say, it wasn't particularly dazzling. Maybe I've seen to many churches. Besides that, it's Easter today and on that day the cathedral was packed with worshipers and a mass was going on.
Outside was, as you might expect, a lot of vendors selling food and every kind of tourist and religious thing.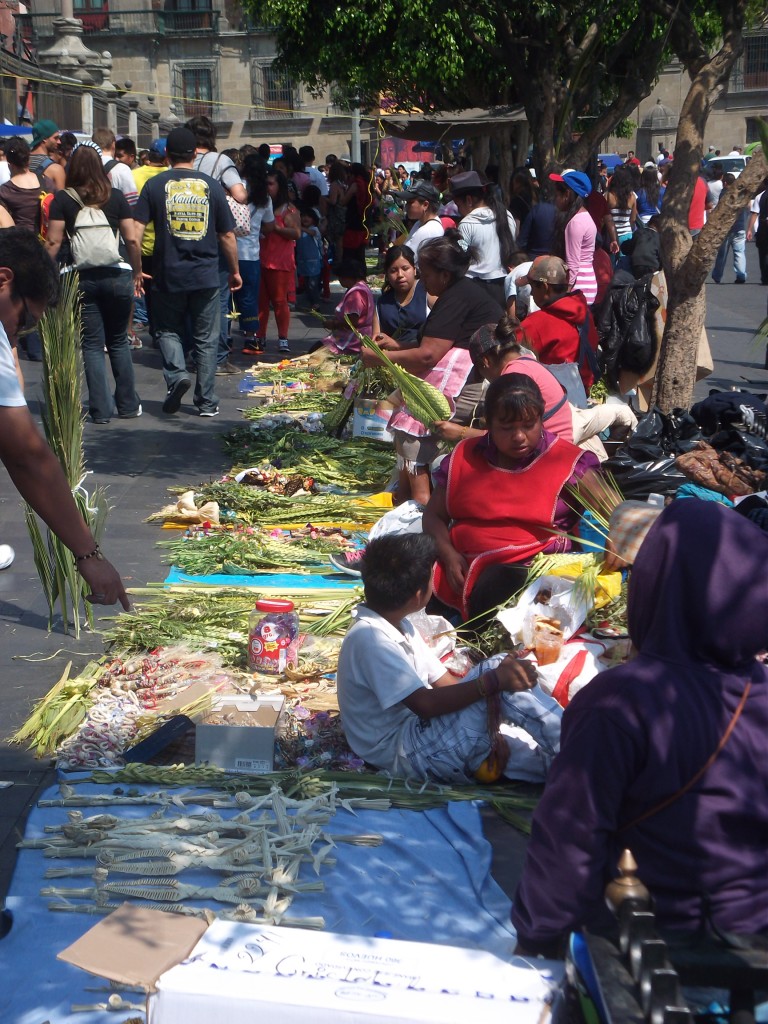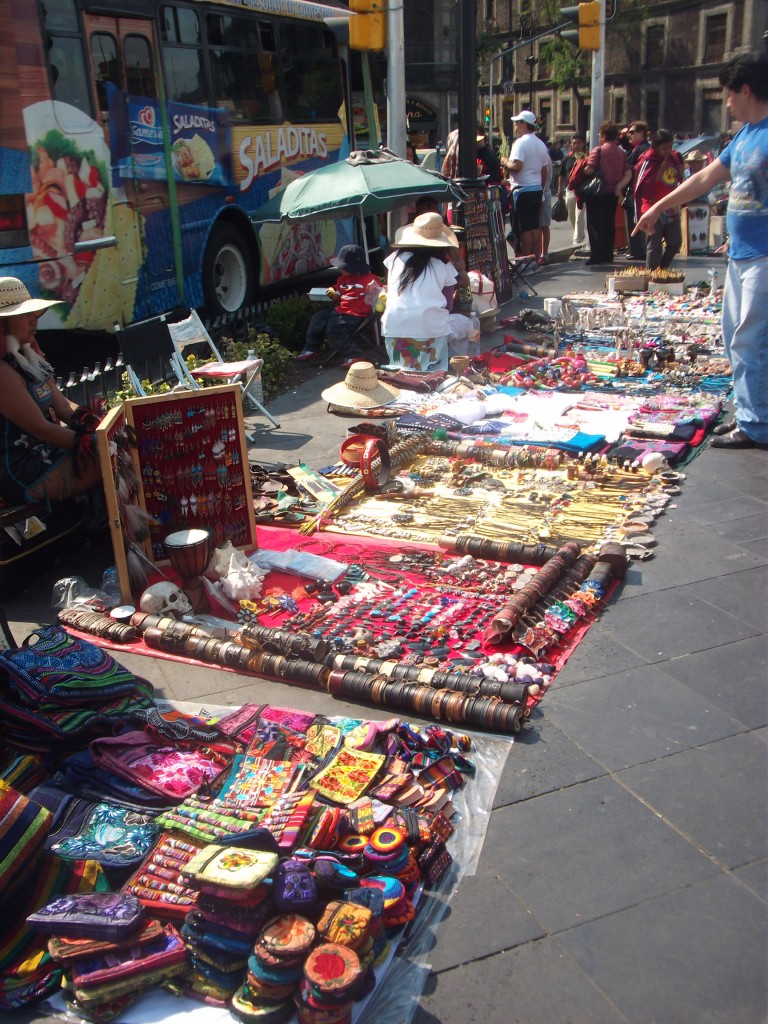 Some of the vendors were dressed up as Aztecs. Yes, very tacky.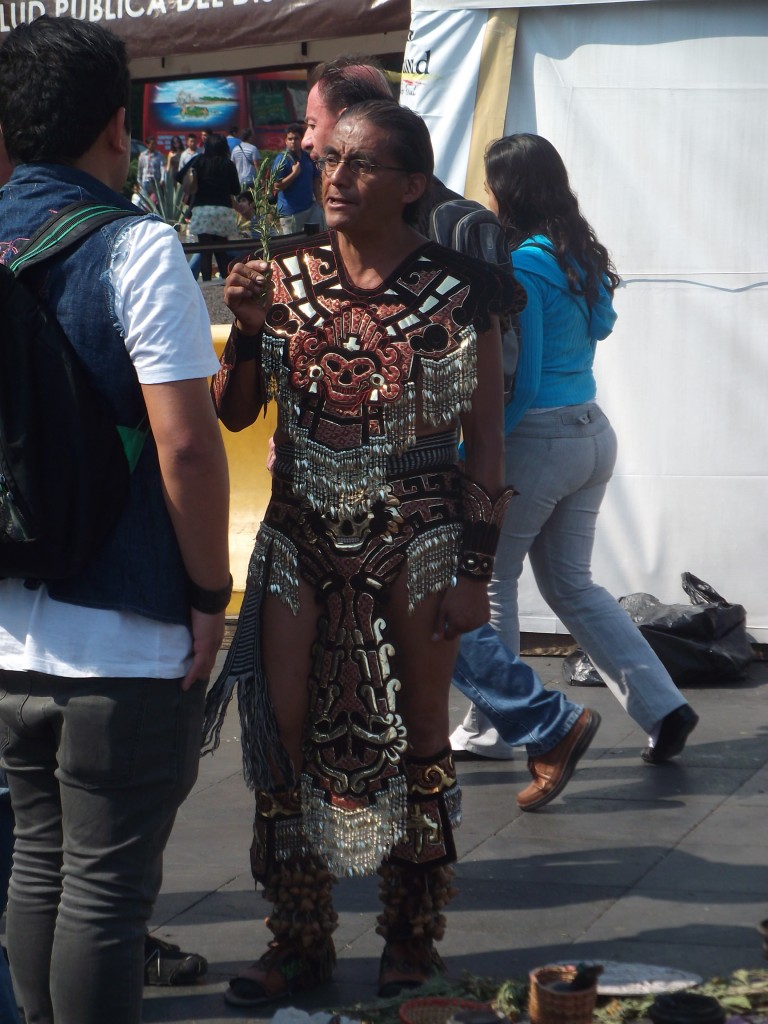 Behind the cathedral is an archeological dig called Templo Mayor. I just looked at it from the outside, as I was getting kinda bushed. there's supposed to be a nice museum associated with it.
The next day, or maybe that night, I befriended this guy, Stirling, from Los Angeles. He has been coming down here regularly for ten years when he has a break from school teaching.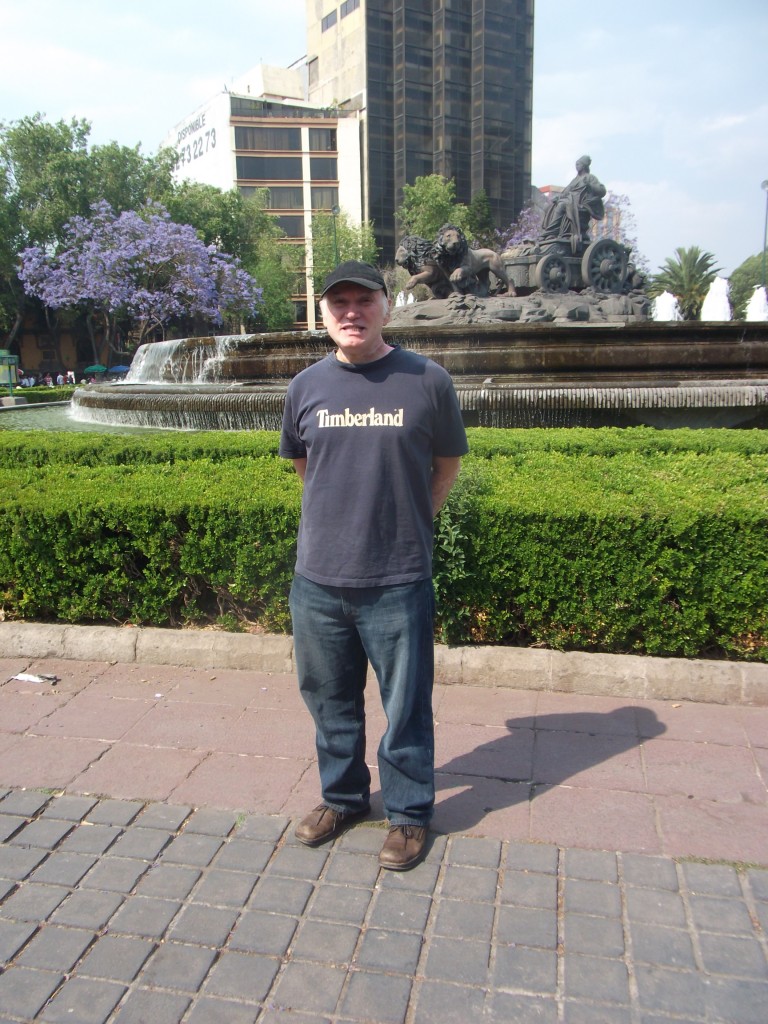 We ended up spending much of the next few days together. He was a wealth of information for a newbie like me. He showed me around the nearby neighborhoods, showed me where stuff, like a supermarket, etc., was. We went to the large park down the street one day, and took in part of the large zoo there and looked the critters including pandas. The best part of that place was the enclosed butterfly house.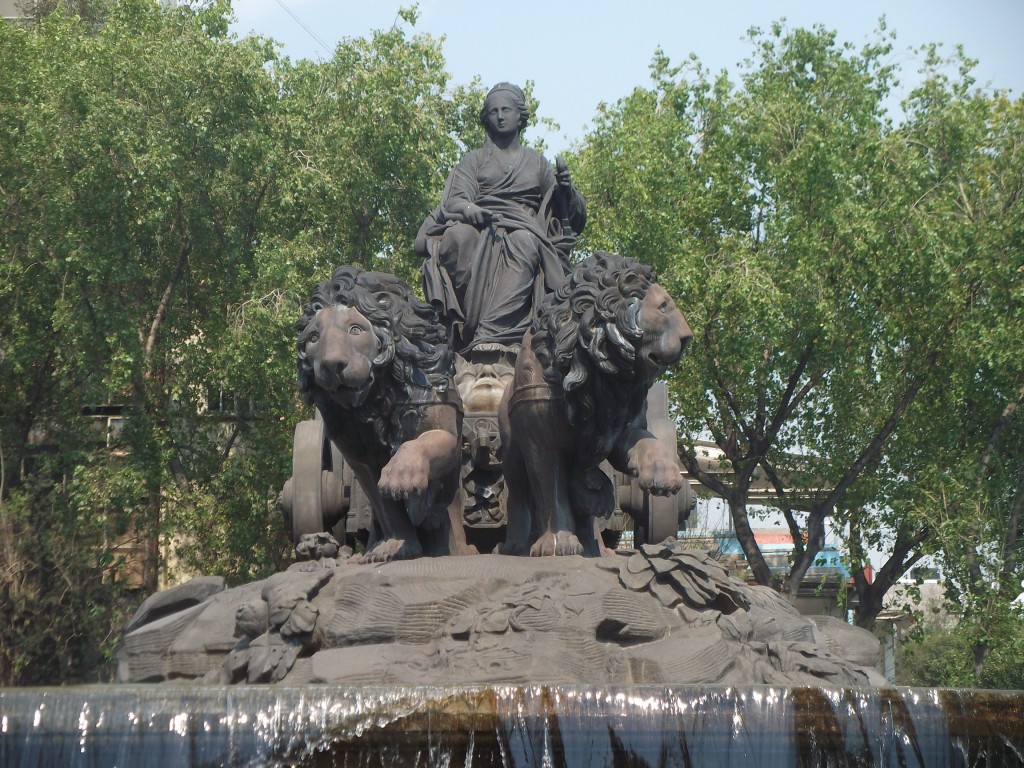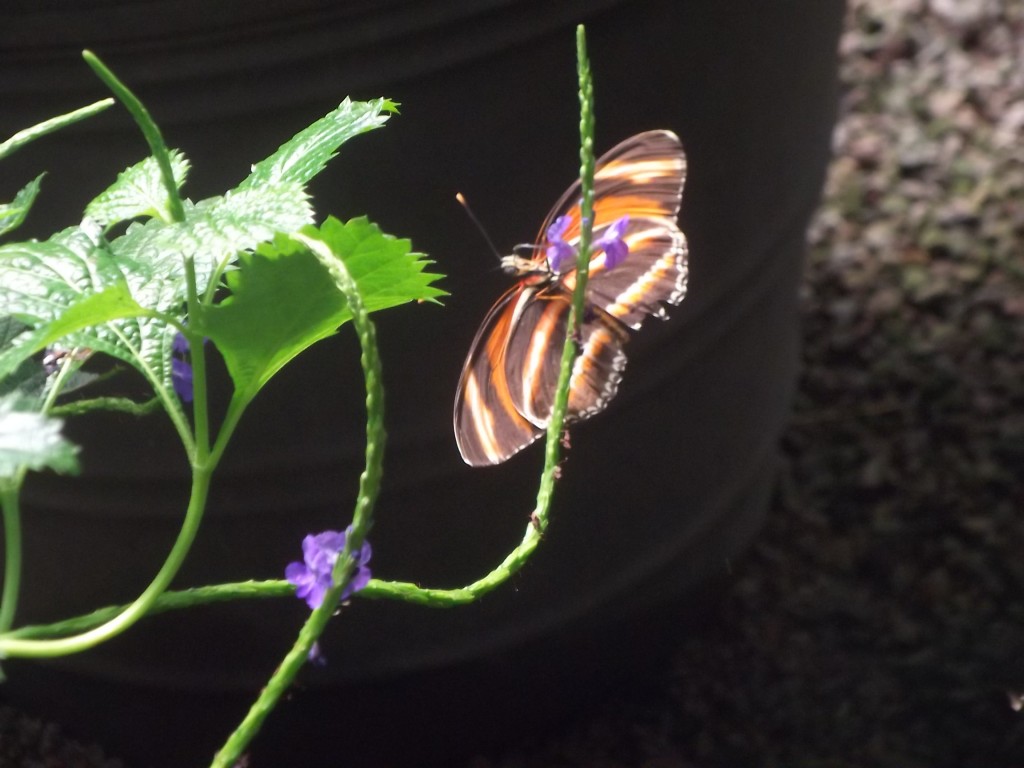 We basically hung out together, though he liked to go out late at night, and I'm not a night or party person. I am really glad to have made his acquaintance.
He went home yesterday. I went to the park again, checked out the Museum of Modern Art there, went around the botanical garden, and basically joined the throng enjoying the Saturday before Easter in the park. The word class Museum of Anthropology is there, so I'll definitely be going back. It's so close, anyway. It should be a lot less crowded after Holy Week. I may need a retreat if it's hectic. This week has been dead as a doornail because of Holy Week, and I guess things will return to normal tomorrow.
Today I took the subway back to Zocalo. 90% of the shops and whatever were closed up, of course, which made it mellow. To the east side of the plaza is the National Palace, which covers another entire block. The main thing to see in there, as the building itself is monumental but boring, are the large Diego Rivera murals. Here are pictures of one of the courtyards and a couple of the murals.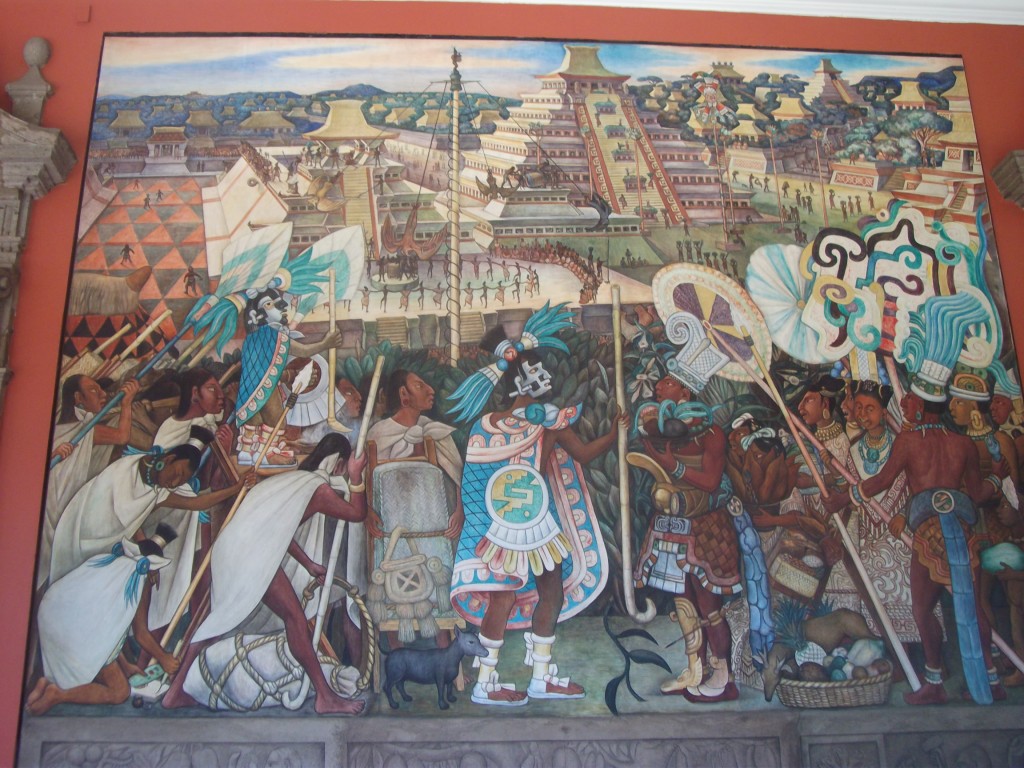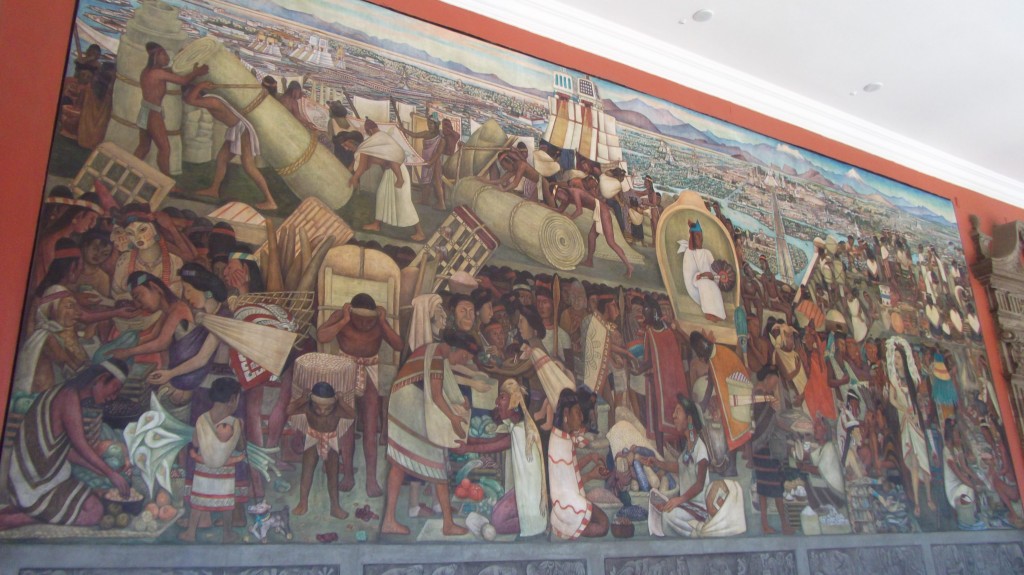 After that, it was out and about more of the historical center.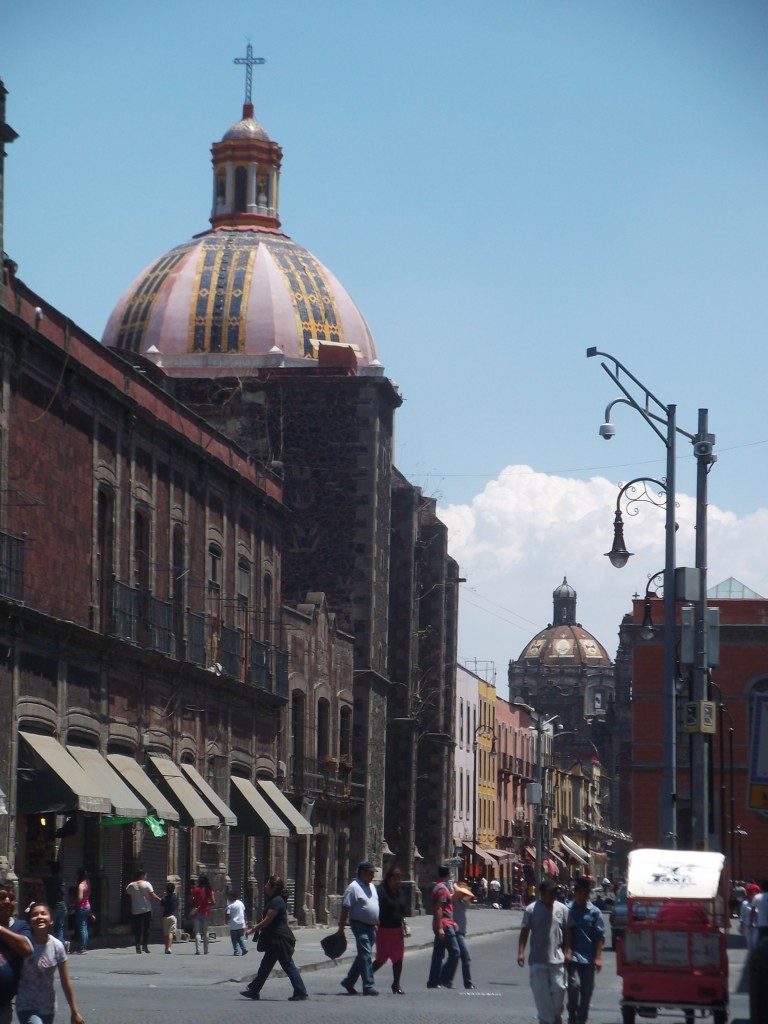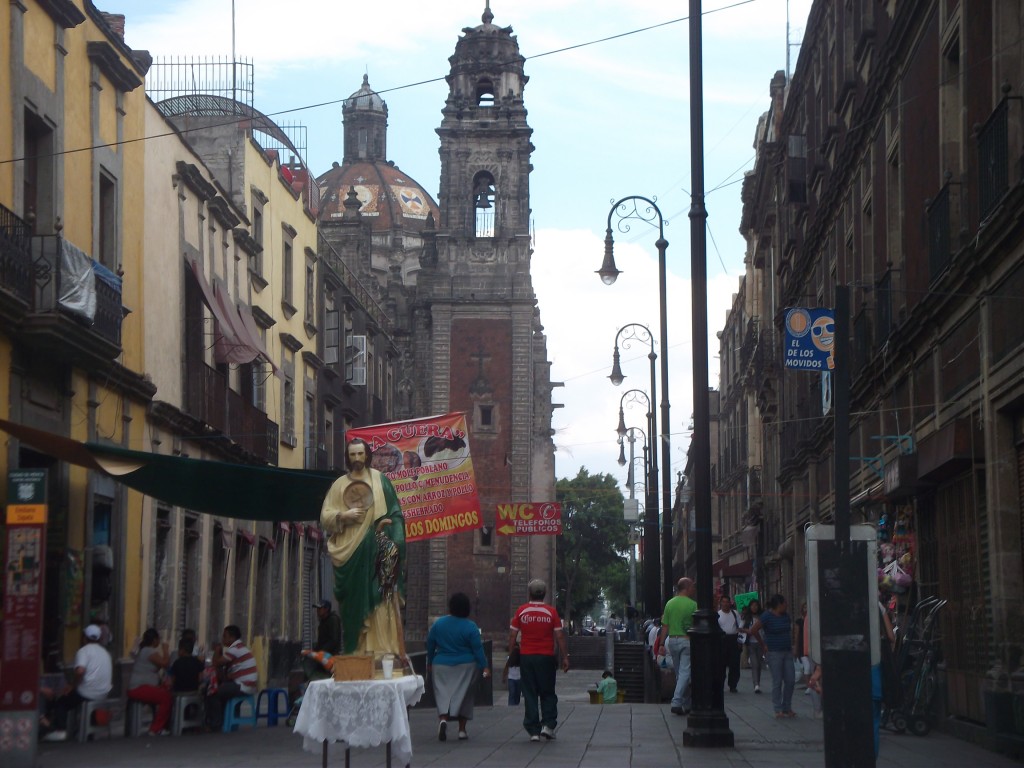 The last thing I did today was go to a concert of violin and piano concertos by Handel, Mozart and Mendelsohn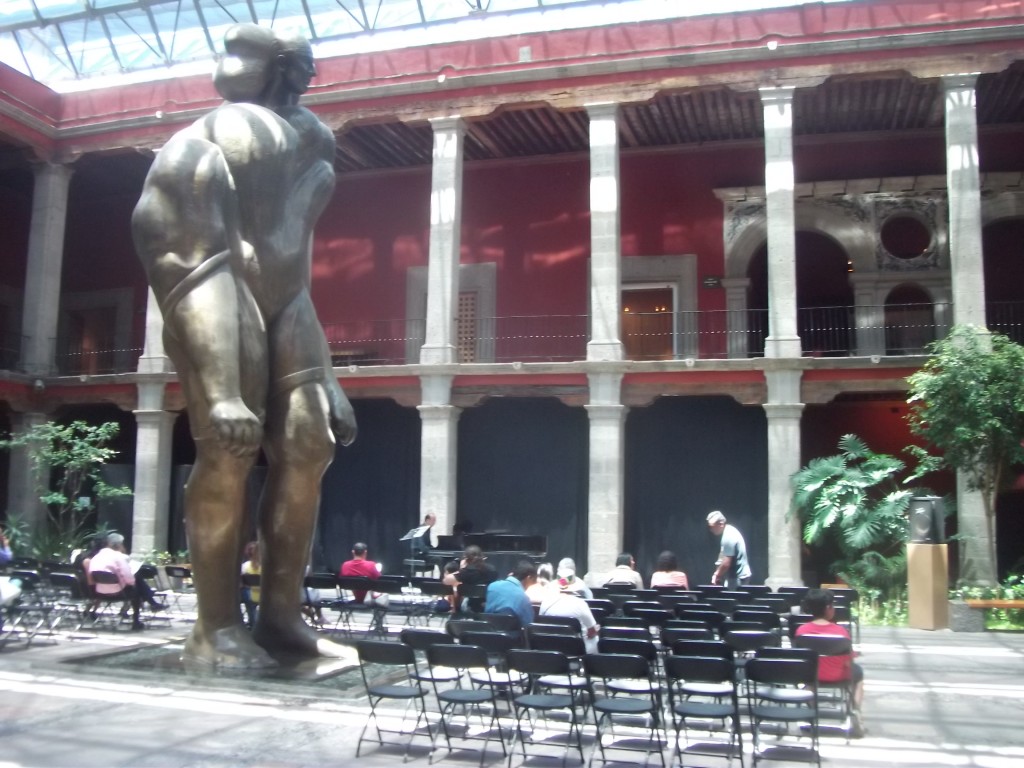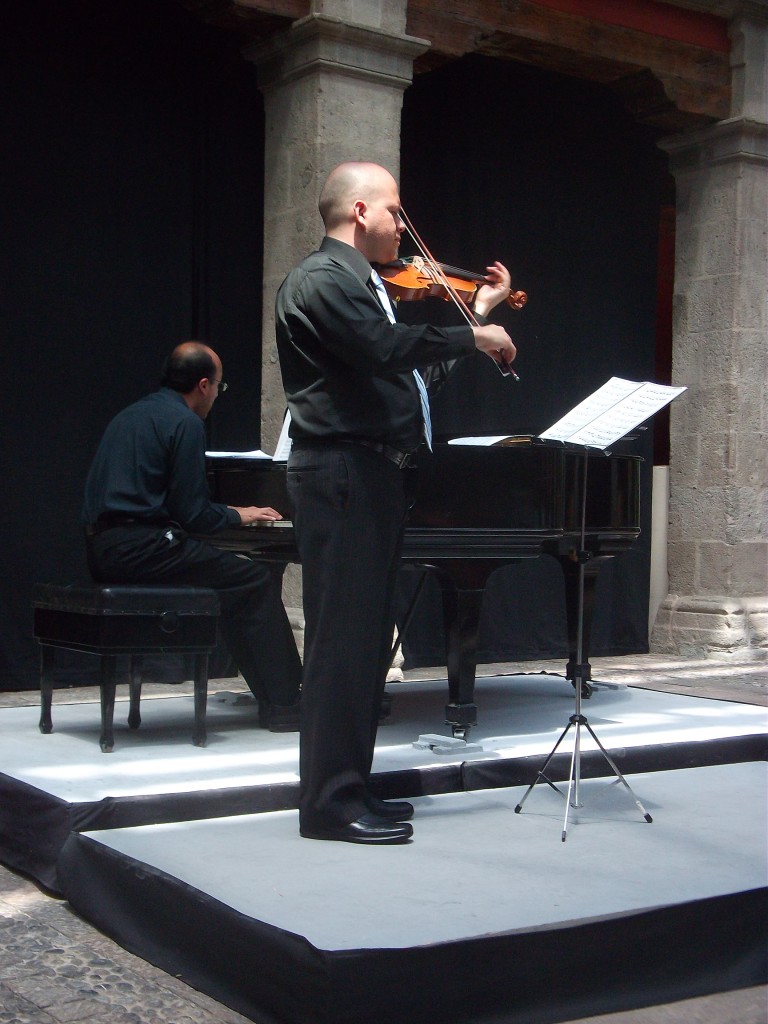 That was pleasant, and I got to sit in a nice setting for music. It was cute in that there were a lot of birds in there, singing along, you might say. When I was in Chongqing, I was always remarking how few birds survive there. Mexico city has lots of birds.
That's about it. There's no need, if I stick to my word, in saying some kind of farewell like I'm never going to see you again. Really, I mean to come back soon. So, be well, all of you.