There comes a time when resting becomes vegetating. that time has come for me. There's little I want to do here. I've read a lot, walked around, met a few very nice people, and had some great food. I hope that continues, but it's time to do it in a different place. I'm off to Varkala, farther down the coast on Kerala, in 2-3 days.
Meanwhile, I've uploaded many photos to this website. Again, they are pictures of things I'm doing and everyday sights around town.
I suppose the "sight" I see most often is the view down the main tourst street in this part of Cochi. I turn this corner a few times a day. This is at 10:30 in the morning, before anything is really happening around here.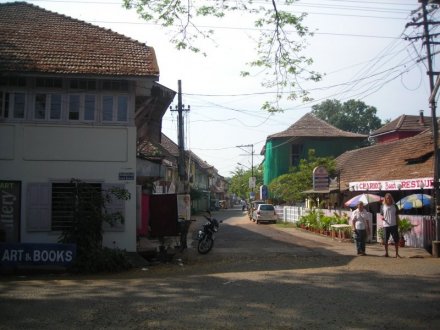 Just to the right of where I was standing is Vasco de Gama Park. There is exactly one bench with a back there, and if it's in the shade and vacant, I sometimes read there.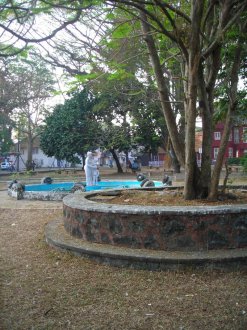 You've seen the inconspicuous entry to the Kashi Arts Cafe. where I probably eat most breakfasts. Here is the inside. Ah, real French press coffee. I'm going to miss that. This is the Carmel, California of India.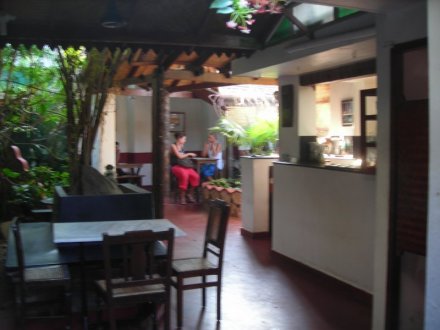 A few times in the evening, I've had a beer at this place. The food's okay too.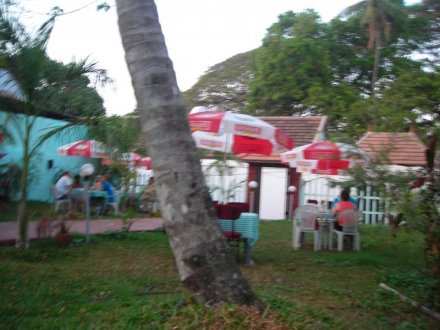 Most of the time for dinner I buy a fish, some oysters or squid at a stand like this. These stands are behind the Chinese fishing nets. And behind them are open retaurants which cook it up for a little under a buck. Last night I had 1/2 kilo of oysters sauteed with garlic, salt and pepper for a whopping $2 altogether.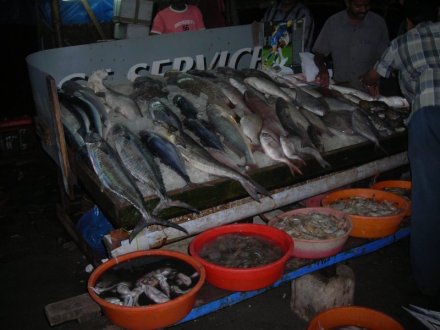 After that I went where I usually go, to listen to music at the Kerala Kathakali Center. That comes on at 8:45, after the Kathakali performance.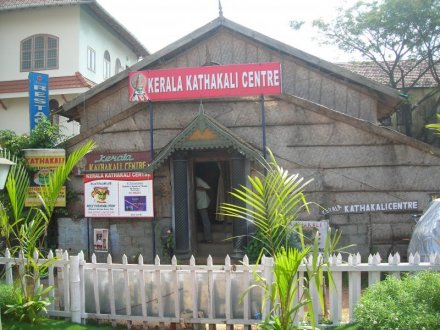 There is a different performance every night. Sometimes it's sitar, sometimes flute (like tonight's program), sometimes vocal, sometimes violin (which India has adopted as it's own and created music you'd never think would come out of a violin), and I don't know what else. So far, the featured instrument or singer was accompanied by tabla (drums) and other drums. I haven't been here long enough to see what all they present over the course of the year. Last night was the best.
The veena is an ancient lute with seven strings, four for melody and three for rhythm. It is at least 3000 years old, though this particular one was only 100 years old. If you've seen pictures of a goddess playing lute, it's this she is playing.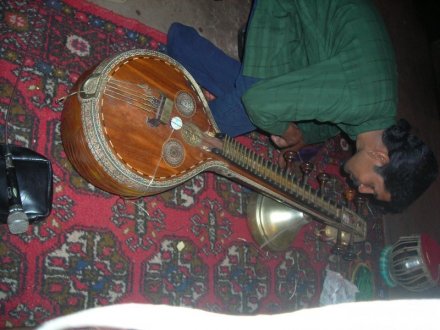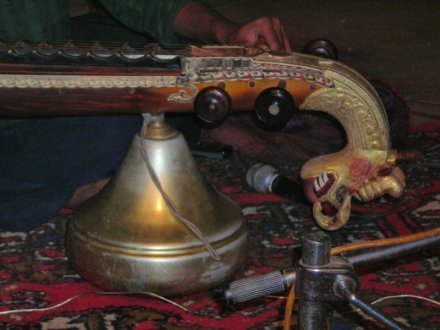 That horse's head is brilliant.
The number of people who can play it is dwindling. There is one master left in Kerala. One of his best students performed last night.
The tabla player has been there every night that I have.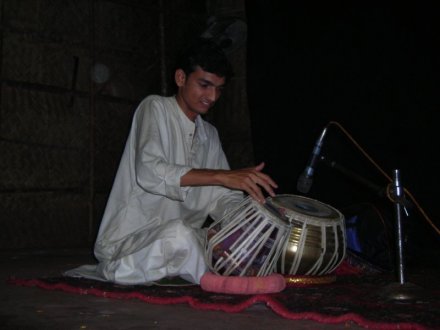 Well. here is the last one I've uploaded into my blog storage. It sure is blurry. It was dark in there. He is obviously playing the flute. There's flute music tonight. Maybe it will be the same guy, though the sitar players have been different.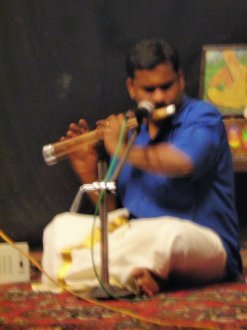 So, there you have it for now. It wasn't art, but it is what I'm looking at.
Be well, all of you.