There is an exotic Hindu ritual in northern Kerala called theyyam. It's thought to have origins predating Hinduism, which originated about 3500 years ago. It's part music, part community and cultural celebration, part costumed ecstatic dance, and part prayer. Traditionally, it lasts about 15 hours. To find this event, I asked a policeman ,who asked another, who asked a rickshaw driver, who hunted up another rickshaw driver who was a devotee of this sect. The one I attended in Kannur started at about 7 PM. It was going to end about noon the next day, but I flagged at about 9 AM, after about 14 hours.
It started with drumming and a man in a headdress offering prayers. There were, at that time, about 300 people there. Here is one of the drummers who pounded their hearts out for hours.
Most of these pictures are dark because most of it was at night and I couldn't just walk right into their midst with a flash camera.
There followed a parade of children in flowers, and then a parade of umbrellas. I don't know the significance of the umbrellas.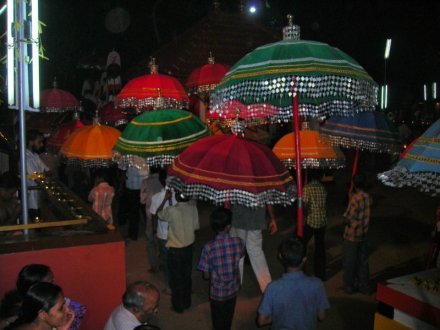 Then came an elephant who circled the altars and had been trained to bow before them.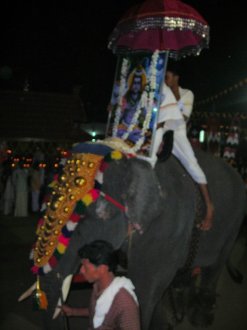 There are theyyams every night somewhere in northern Kerala. Each place has it's particular deities they venerate. It is believed that the performers, after appropriate fasting, prayer, and other preparation become the deities. All are male. All are of lower castes, although there are other participants of other castes. The ones allowed to touch and worship right around them are brahmins. The make up artists would be of a paticular caste. It has been highly regimented since time immemorial. Even the temples themselves have been passed down through generations.
Here is a guy getting made up and in his finished look.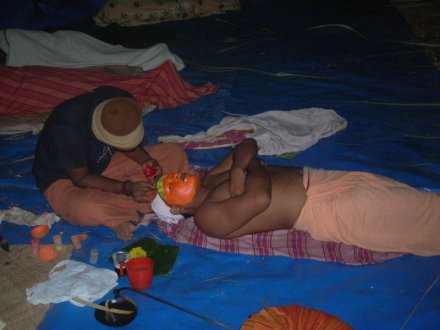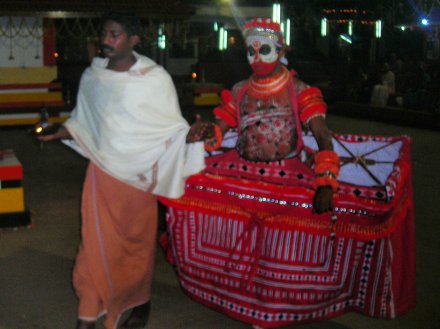 Here's a female deity. He was an amazing dancer. They are so strong, they remind my of sufis.
Lastly, here are a couple of the other deities. I wish I had decent pictures, but my snapshooter and I are not cut out for duty at 4 AM.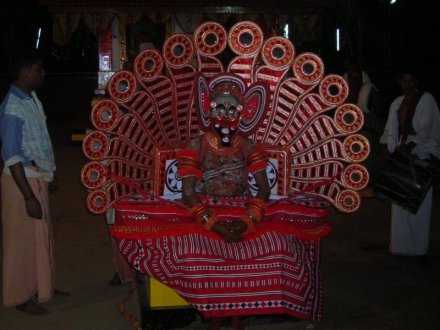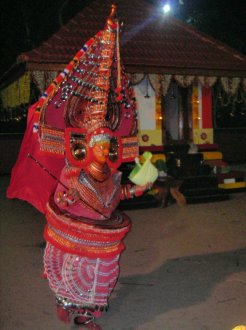 There were breaks during the night. One was from about 12:30-1:30, them another from about 3:00-4:00. Other than those times, something was going on. There were frequent times where the deities sat and administered blessings to the faithful. Except in the wee hours, when there were as few as maybe 20 of us in attendance, these gatherings sometimes took a little while. Common people could talk with them and finally get some yellow powder splashed on their heads.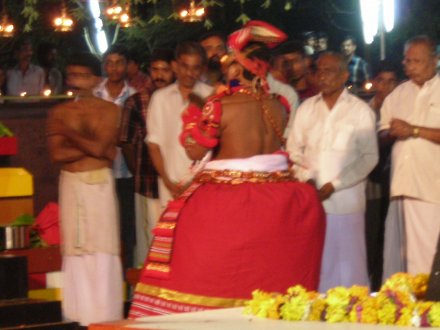 It seemed to me that they were just about done with the more entertaining parts by about 9, so I left.  Here is a last shot taken in the morning after sun up.