I left Kannur and went south to Ernakulam/Cochi. Cochi is what most people will recognize, as it's the tourist destination across the bay from the real city of Ernaculam. I was bushed after the crowded third class train ride, and spent the first two nights in Ernaculam where the train station is. That was fine. I went on a day long boat ride on some canals and on the big part of the river. It was okay, not memorable. The first evening, I checked out Cochi. It's touristy, but not too bad. I can relax here, and think I will do so until I feel like moving on.
There are some cute lanes here, plenty of multicuisine restaurants, and entertainment. I went to an abbreviated Kathikali performance the night I got to Ernaculam. Tonight I think I'll take in some Indian classical music. Kathikali is a presentation in costume and music of stories from the Mahabarata, Ramayana and the Puranas. I'll write on that later, along with theyam, the 15 hour religious ceremony I saw in Kannur.
Right now, I'm for just lazing for at least a couple of days. I did go out this morning and watch the fishermen who use ancient technology they learned from the Chinese in the 13th century to net fish near the shore.
The nets are spread out over the water at the end of long poles. With counterweights, four guys then hoist it out and collect the fish. About 8 of these rigs are spread out along the beach.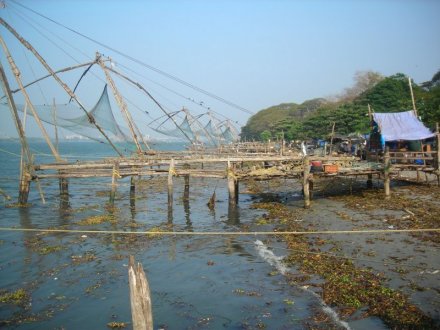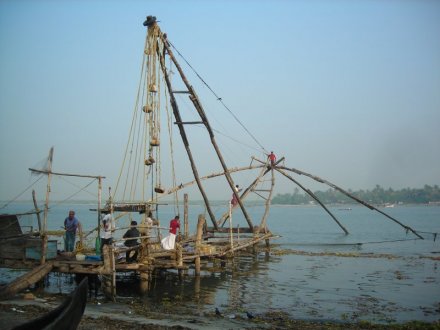 The fishmongers wholesale that and ocean catch to anybody who comes up. Behind the beach are some shacks. You ccan select a fish, or prawns, or these great fresh water mussels they have around here. They cook whatever you select for about 50 cents, and you sit on plastic or bamboo patio furniture for your meal. Two people can get, say, a sizeable rockfish meal for about a buck and a half while the sun sets over the water. Very romantic. Alas…
Like I say, I think I'll stay here a while. so I'll have time to keep blogging along. I'm not that busy.