"Ni hao" is Mandarin for "hello". I don't think I can safely say my Mandarin is coming along. I wish I could say it's coming along well, but it's slow process for my aging brain. That said, I am beginning to get the sentence patterns, am slowly learning some vocabulary, and am understanding a little bit more every day. A very little bit, but it is improving perceptively. In about two years maybe I'll be able to function on some kind of meanful level. I work on it every day.
China is feeling like home these days. I have a yearning to travel more, but for now I'm enjoying making a home here. Hey, Mt Rushmore is in a park across the street, so why go back to the States?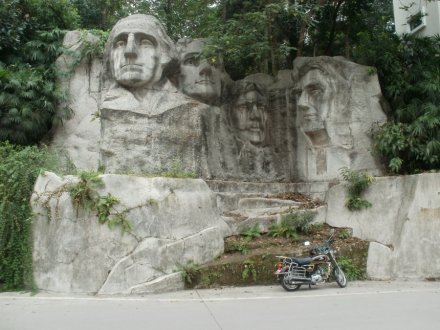 Okay, it's a petit Mt Rushmore, but I cannot think of a place more like South Dakota than Chongqing, can you? There's also a mini David, a normal sized Aphrodite (I think), a mini Notre Dame and more beyond this neoclassical park entrance.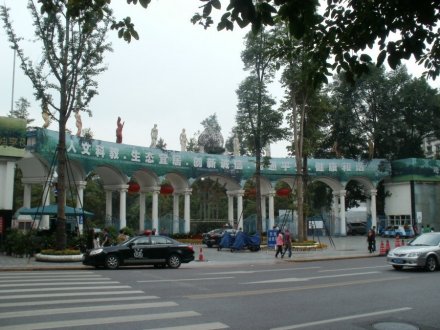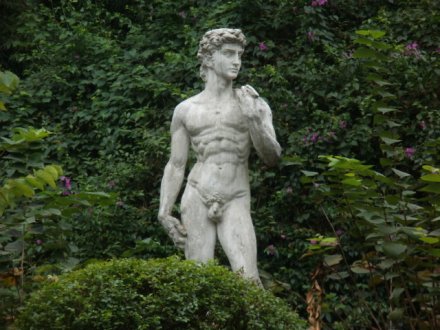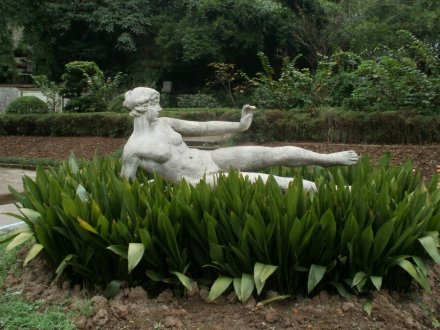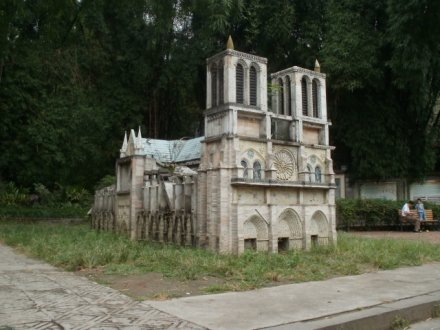 And now that we have a near proper kitchen with a toaster oven, I can make some of the foods we eat back in the States. I've made oatmeal cookies and pizza so far. The other day, our friends Pi Pi, Xue Xue and their baby girl, Meow Meow, came over for some meatloaf with Heinz ketchup, rosemary potatoes and salad with thousand island dressing. Of course there was kimchi, too. And since it was just after China's mid-autumn festival, or harvest day they call it in Korea, we had scrumptious moon cakes they brought. Everybody, and I mean everybody, eats these at this time of the year. They are basically pastry sweets with traditional designs molded into the top. Yum.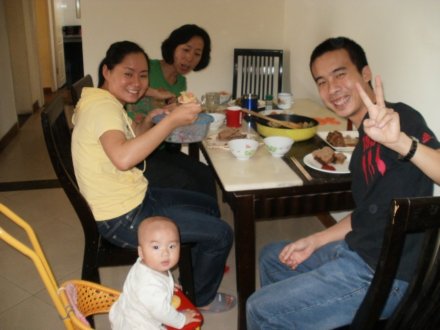 I wrote last time that Myung is starting up a business. She's going to have a store selling Korean cosmetics. Korean stuff of any kind is very popular in China. The rage hasn't maxxed out the market out here in Chongqing, so we think she has a good chance of succeeding with it. She's been busy with the planning. On October 6 she is going to meet with the distributor in Beijing, then go to Seoul to make further arrangements and pick up some stuff to bring back. The store front is nothing to look at now, but she'll have it remodeled. She wants me to wait to show a picture of it till it's done, but here is the pedestrian mall area in which it will be located and the typical stores around where she is.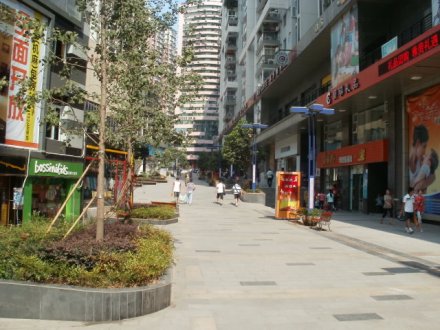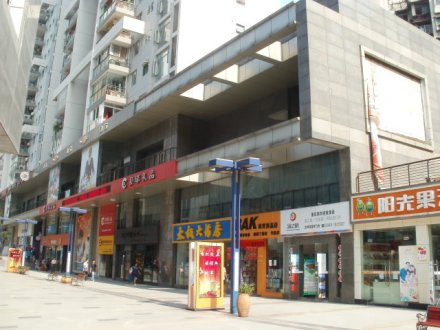 In the following picture, her place is the black K-3 place. K-3 is a popular Japanese backpack brand. It'll look a lot different when she's finished.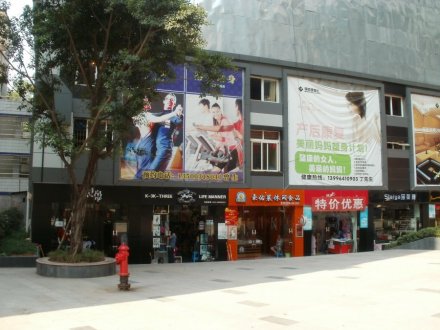 She's hoping to be able to advertise in the space above where the dance studio currentlly has that big display. I think it just might work, especially with a real Korean running it.
Now that she has settled on a location, we aren't running around all over town looking for a place. She's doing her own thing now. My days pass routinely. We get up and have instant coffee and breakfast together, usually western food like oatmeal or fruit with meusli and yogurt or eggs and toast (from our toaster oven). This morning we had Korean food, though, squash porridge. We watch some morning TV news, then look at the computer. Then usually we go somewhere, often just the store. Then she does her work on the computer while I study Mandarin. Then there's the continuing effort to clean up the crud around this apartment. Lunch and dinner happen. For me there is a lot of down time. Myung usually goes out for a walk. Evenings are whatever. Exciting, eh? What a homebody I've become. It doesn't bother me, though. I've been active enough for the past four years. I don't mind hanging out.
That's about it for now. I'll write again when there is something to talk about. Be well, all of you.