It's been about a week since I was in a place with high speed connection, but here in Udaipur it's all over town. I've been in Rantembore National Wildlife Park and the cities of Bundi and Chittorgarh. Ranthembore is reputed to be the best place in India to see a tiger, so I went on three three hour safaris in an open bus. We saw one tigress and her three cubs on one of the safaris. Here is proof, even though I couldn't get the shot off in the moment she was in the sun.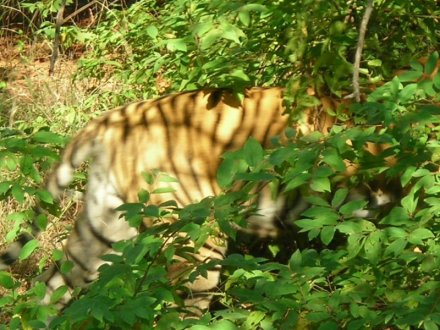 She just walked with her cubs along the side of the road, and we backed up as she went.
There are also loads of deer, boar and birds. I got a quick glimpse of a black leopard and a long distance look at a crocodile. There are also bears and antelope, but I didn't see any. It's not exactly the Serengeti. I was hanging out with a French gal who had just been to Kenya. I guess it's great for wildlife there.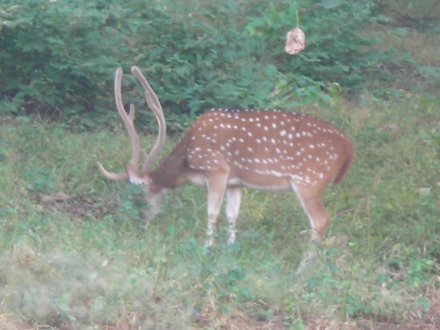 Besides that, it's pretty there.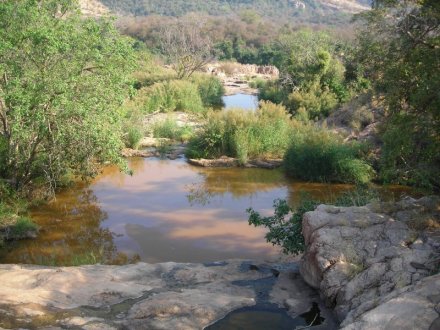 Then I went to a really nice city of about 80,000, Bundi. It is the most tourist friendly place I've been yet in India. Well, maybe Leh was more so. Anyway, they've had town meetings to teach everybody how to behave. there are no hotel touts, beggars, or hard sell. The shop keepers ask once if you want to come in. Everybody greets you. The kids are great. The rooms are what we usually expect. There are lots of sites to see. It's nice, I'm telling you.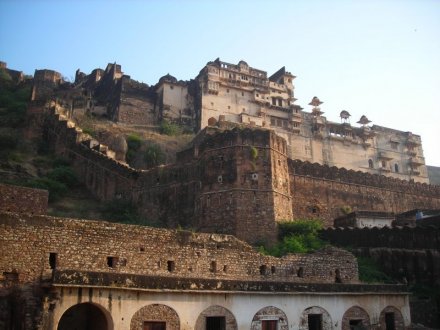 This is the view of Bundi Palace from my balcony. I'm definitely living large compared to other travels.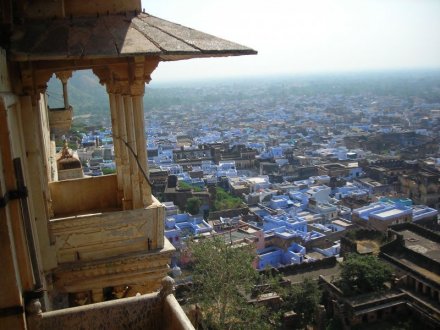 View of Bundi from the palace. The buildings in this part of Rajastan are painted blue. Udaipur is called the Blue City. OH, I had a good time here. Even the hotel was loads of fun. We were all one big gregarious group. AND, there were five other Americans there. that was a shock. One couple was on a 5 1/2 year motorcycle tour of Asia. What stories you hear. Another gal was a 70+ year old retired teacher from Tucson. Tough cookie, that one.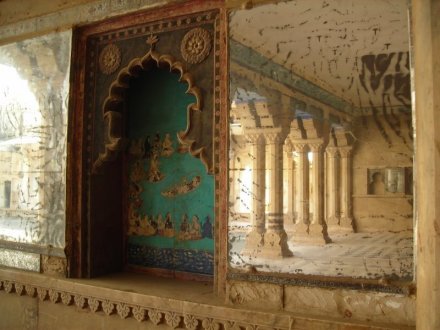 At first this looks like there is a window on the right, but it's a 300 year old mirror. This palace is famous for it's murals.
I went on a couple of tours while I was there. One was a Jeep tour with an Australian couple. Mostly that was educatiopnal. We went to the guides home village and some other villages. He talked for hours about the intricacies of the caste system, which about 80% of the Hindu population still ascribes to, which means 60% of the population of India. I've been needing some prolonged time with someone to get the basics, and this was my first opportunity. We even went to a village of people who had been been booted out of their home villages because they married outside their caste, for love bless their hearts, "like donkeys" to the conservative Hindu.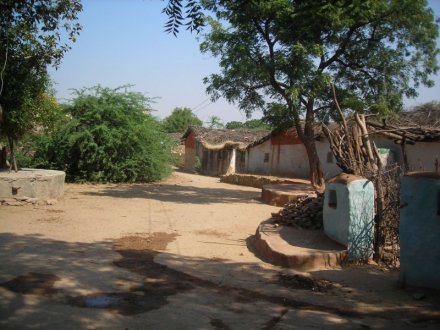 Typical looking village lane.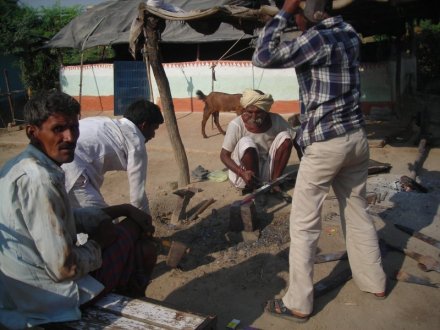 Â
Blacksmiths.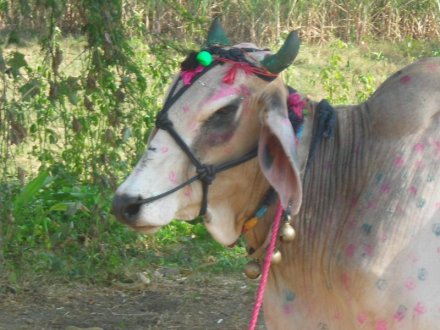 Many cows are made up for Diwali. At least the horns are painted, usually blue or green.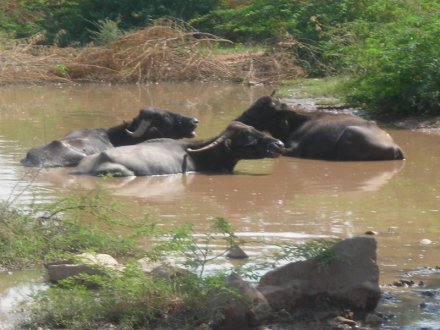 Water buffalo doing what they do best.
Waterfall about 30 km from Bundi. I didn't go out there with the Aussies. I went on the back of the guide's motorbike. Siva is the most worshipped deity around here. There is a temple below this fall. In there is a very old linga, or stone penis of Siva's. That's nothing new, as there are linga's everywhere. but the sadhu (holy man) in there asked us to feel up in this arm-sized canal in the stone and see what we can feel. Well, they have yoni here too, which are vaginas. I figured right next to the linga must be this yoni, so I thought I felt a cervix and said so. Wrong. The guide and the sadhu, especially the guide, blushed and said they are cow udders. Ever seen a dark Indian blush? I'm sticking with cervix though. I think they cleaned it up.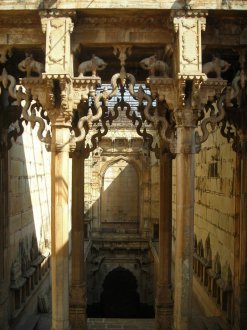 I had to throw in one more of Bundi's ancient attractions. This is inside what's called the Queen's stepwell. This one was completed in 1699. There are several in bundi. They are deep baths, fed by wells. You take staircases down into them. They are something to see. You can't see down in there, but it goes two stories more down, and used to be filled to different levels, according to the season and the queen's desires.
And last but not least…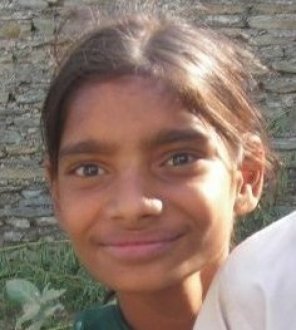 …Need I say more?