Tomorrow I'm leaving Jaipur and heading for Rathambore Wildlife Preserve to look at tigers, then looping around south through Bundi, Chittorgarh, Udaipur and Ajmer before going to the camel fair in Pushkar Nov. 2-4. There's sure to be internet connection in Bundi, Udaipur and Pushkar, so I'll be in touch.
Today I final took in the sites of the old city, called here the pink city, after the color of the old buildings and the subsequent color of choice for buildings here. there's the usual palace, museums, a couple of Hindu temples, other old buildings, and an 18th century observatory. It was interesting, but tiring. Here are some pictures.
Note the basic short distance taxi in the foreground. At least they don't pull it by foot, like in Laos.
As you can see, the women dress very colorfully here.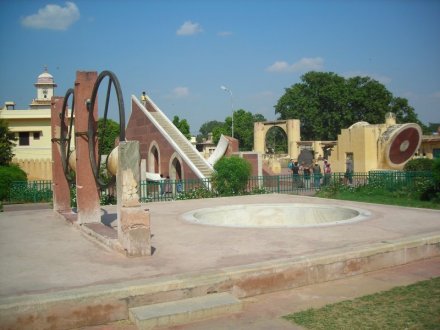 With these instruments, they could chart movement of the stars, predict celestial occurances and tell time.
With this huge sundial, they could tell time to within 20 seconds.
And finally, I'll throw in some elephants in make-up at Amber fort.