Well, somehow I managed to delete my pictures of the Golden Temple of Amristar. I know I was deleting ones I didn't want, but I'm sure I looked at them before doing it. Hmph. All I can say is that if you've never seen pictures of it, you might want to search Golden Temple Amristar. It is really beautiful. The central temple in the "pond of nectar" is entirely covered with almost a ton of gold gilding on copper plates. It's especially dazzling at night when spotlights are turned on it.
I was only in Amristar fo a day, so I don't have much to say. My impression was that it's a bit cleaner than most of India I've seen so far. That may be because it's a bit more prosperous. The Punjab is India's breadbasket, and the wealth is apparent. I lso think it's in the Sikh culture to keep things up a bit. My other impression was that the people are really nice.
The other thing I did was go to the Pakistan border village of Wagah. There they have a flag lowering ceremony that draws thousands a day, at least on the Indian side. To sum it up, the Indian and Pakistani border guards put on a competitive show of bravado. These border guards must have been chosen because of their height, which averaged about 6'5″. They have competitive goosestepping and jolly old stampng with their boots with taps. They are in the finest turn of the centurn uniforms with plumes that make them look even taller. they open the gate, and it's like watching the show and seeing it in a mirror as the Pakistani guards do almost the same moves. After the flags are lowered, there is a crisp handshake between the two guard leaders, and they shut the gates for the night. It's quite a sight with the people in the grandstands cheering and jeering, and singing patriotic songs to the music of the military bands. It's like a pep rally. As this is done at sunset, I don't have pictures of that either.
This morning Rakesh and I came to Dharamsala/McLeod Ganj. It is home to the Dalai Lama and his government in exile. Normally people say he lives in Dharamsala, but he really lives about 8 km up the road, here in McCloud Ganj. Despite the toursit scene, this feels like a special place. Beneath the superficial, this is the center of Tibetan Buddhism. The feeling of spirituality pervades the place. when I digst it a little more, I'll wite about it.
Be well, all of you.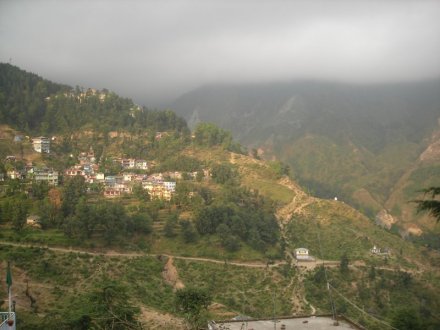 This is the view from the balcony of my room. It's relly thinking about precipitating. If it gets much colder, it'll be snow.