We're baaaack. Myung and I just got back from our six week trip. I spent the whole time in California, while Myung spent a couple of those weeks in Korea. It was a combination getting some stuff done, shopping and visiting friends and family. We pretty much got it all done, then it was time to come home. I ran out of money, anyway. The business and shopping parts aren't worth relating. Business is business. Shopping was for things we can't get in Ecuador or are prohibitively expensive. Visiting friends and family was nice, but there isn't much to say about that. As I think about what to put in this post, I'm thinking it's going to be mostly pictorial and commentary about what seemed fun and/or  might be interesting, especially to someone who isn't familiar with Northern California.
As soon as I started thinking about going, I started thinking about having some of the food that isn't here or is better there. I thought about the restaurants I used to like, and looking forward to eating there again. Our first airbnb place was in Berkeley. Right nearby is a well-known establishment called Brennan's. We ate our first dinner there and had their famous Fred Flintsone-sized bronto turkey leg and fixin's. Yeah, I really used to like these, and they're still good.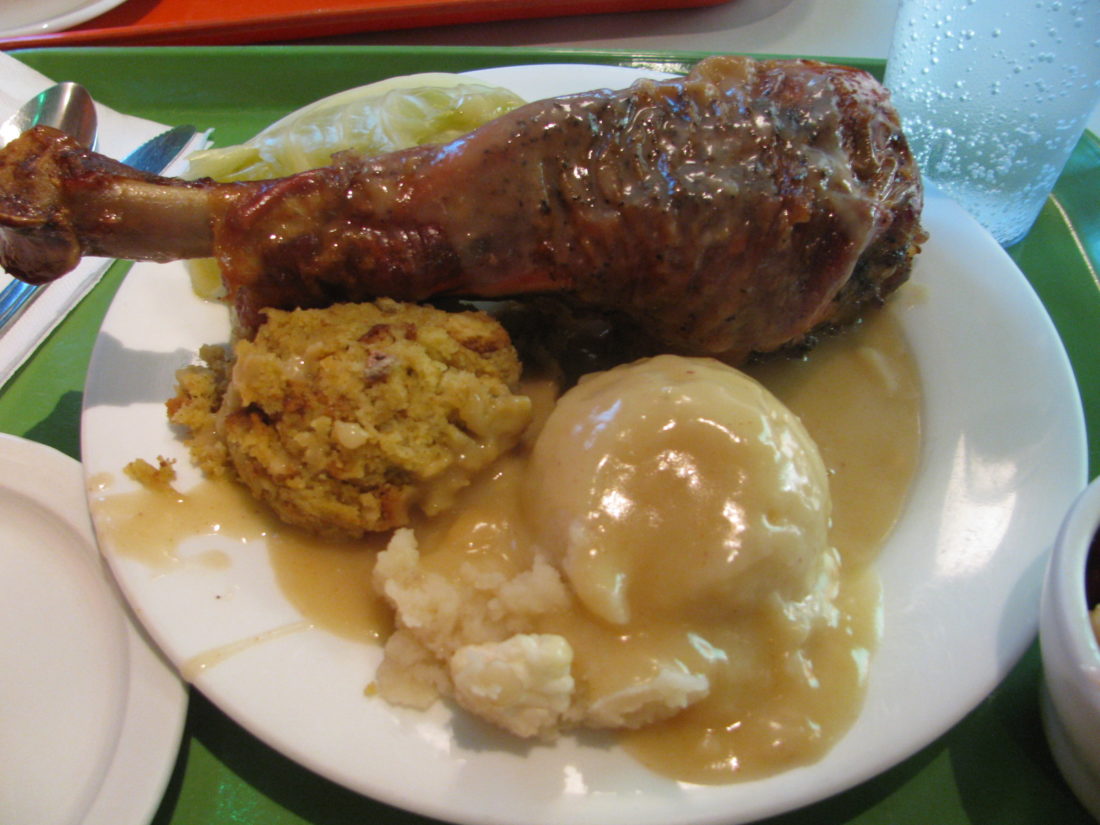 We did a lot of eating out. "Sardine Can" is a heckuva name for a restaurant.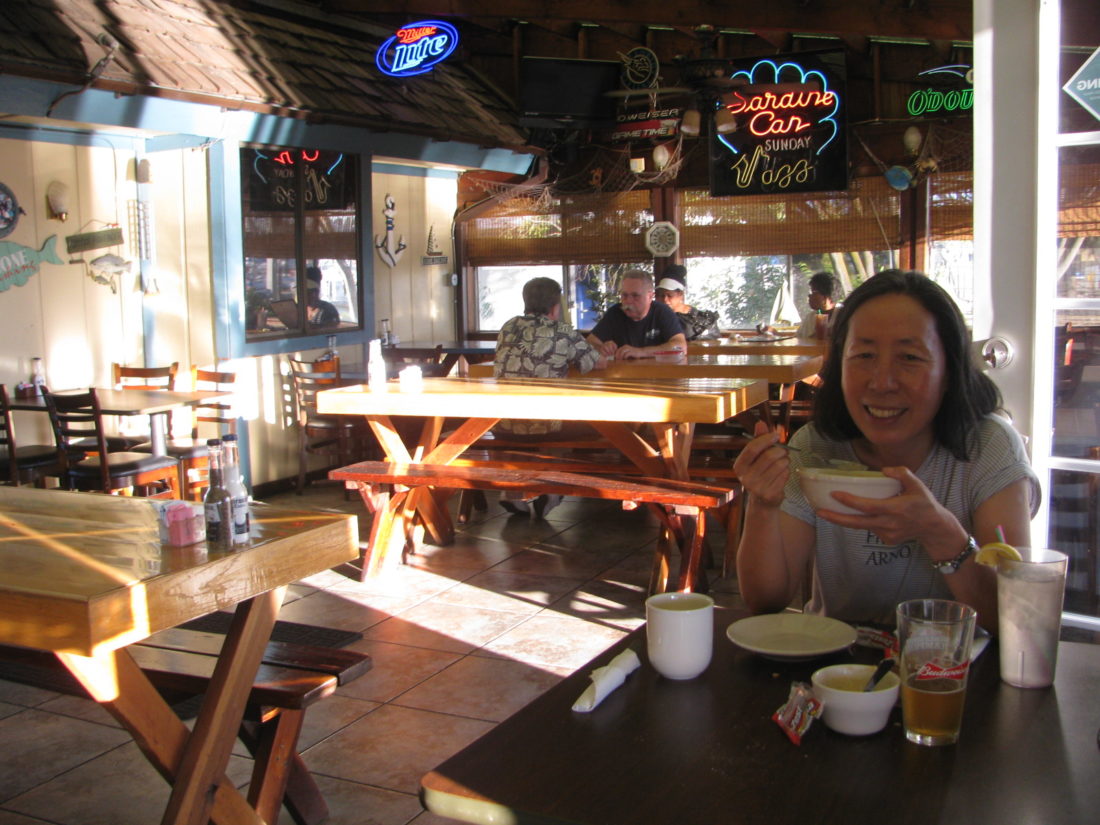 As always, food is always on our minds, especially Myung's. She bought foodstuffs from Korea. Fortunately, most of the Asian things she wanted to bring back is available in Oakland's Chinatown. There are many Chinese stores there and farmer's markets are increasingly popular all around the East Bay. Oakland's are great, with high quality at good prices, especially at the Friday market in Chinatown.
Oh, it's very Chinese there. But I saw this old busker at another, more yuppie market the next day. I'm told he goes to all of them.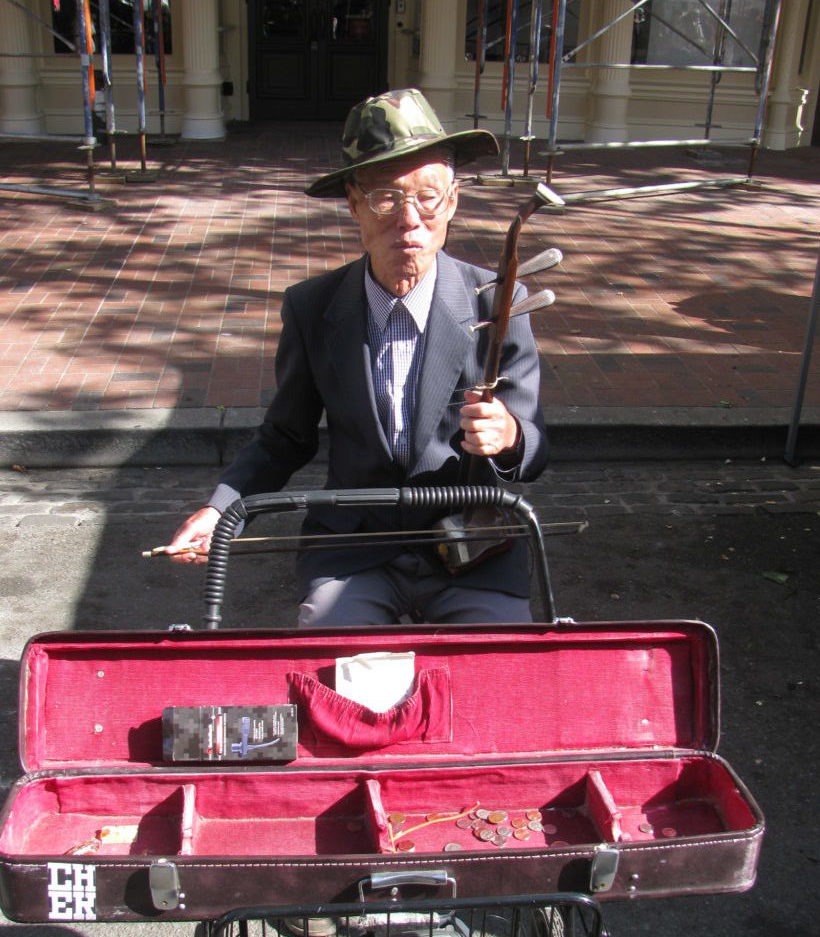 Myung went to Korea for business, shopping and family and friends for two weeks just four days after we got there. I spent the time visiting and having alone time. I took exactly zero pictures, but it was good. Myung took a few photos. Here's one of her friends.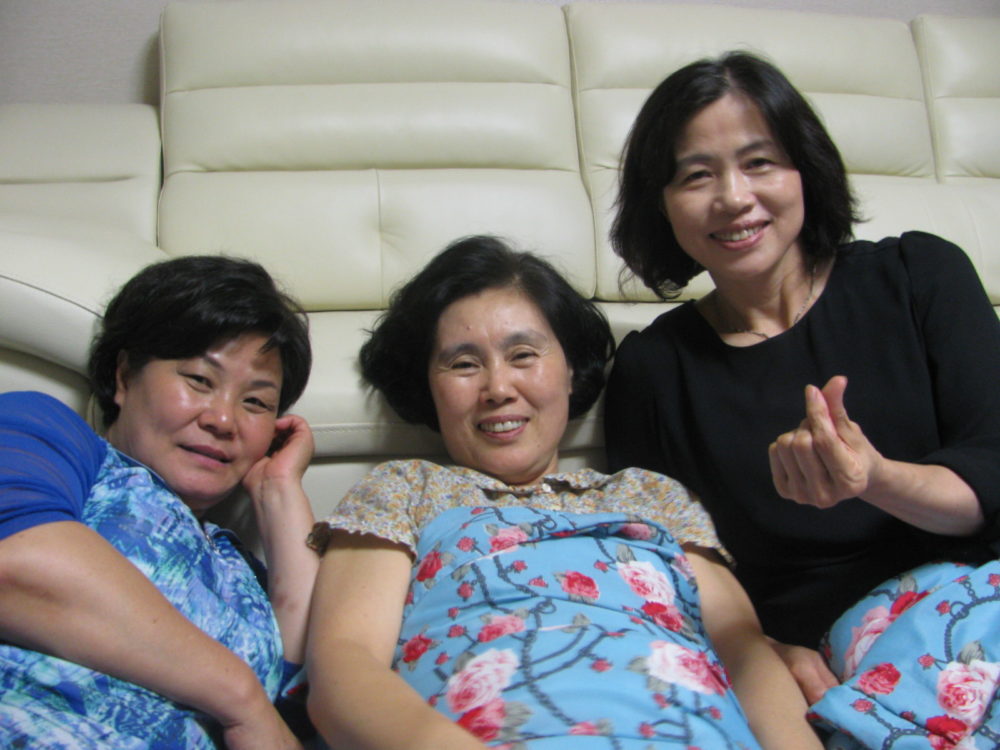 And here's one of picturesque places in Korea. Korea is full of lovely settings like this. As you may know, we spent about 9 months there between 2008 and 2010. For a lot of great photos and my thoughts from that time, you can type "Korea" in the search box right above "Archives".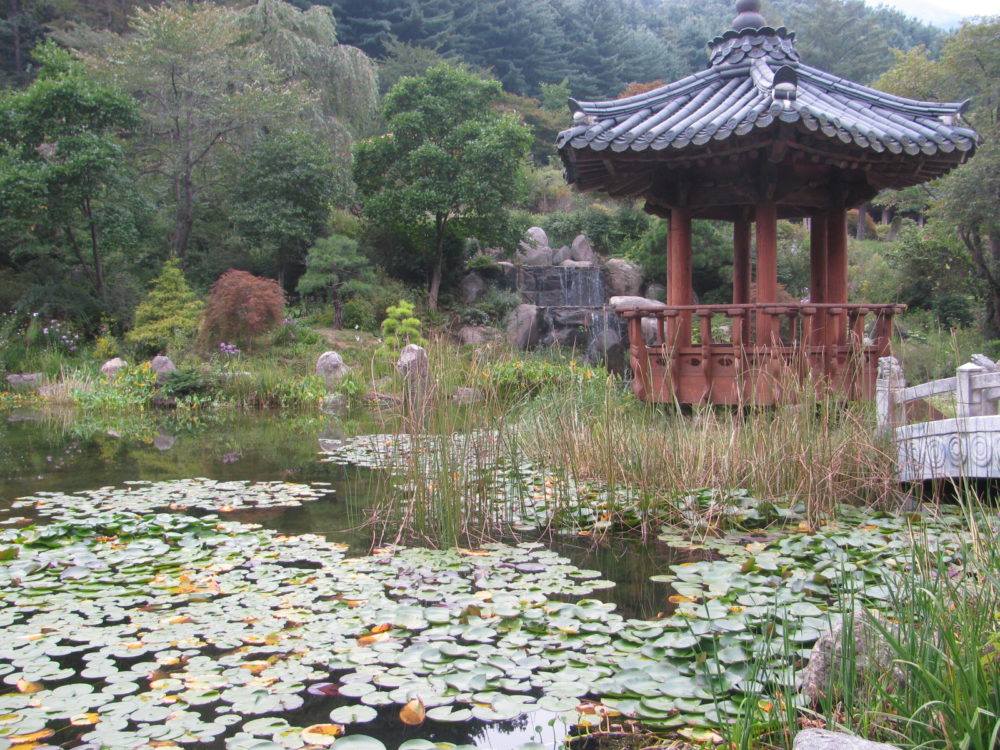 One of the things we did before going on a road trip up the coast was go to the last San Francisco Giants game of the regular season. As you may also know, I'm a huge San Francisco Giants baseball fan.  The Giants had to win to clinch a wild card playoff spot. They won, but went on to lose in the next round.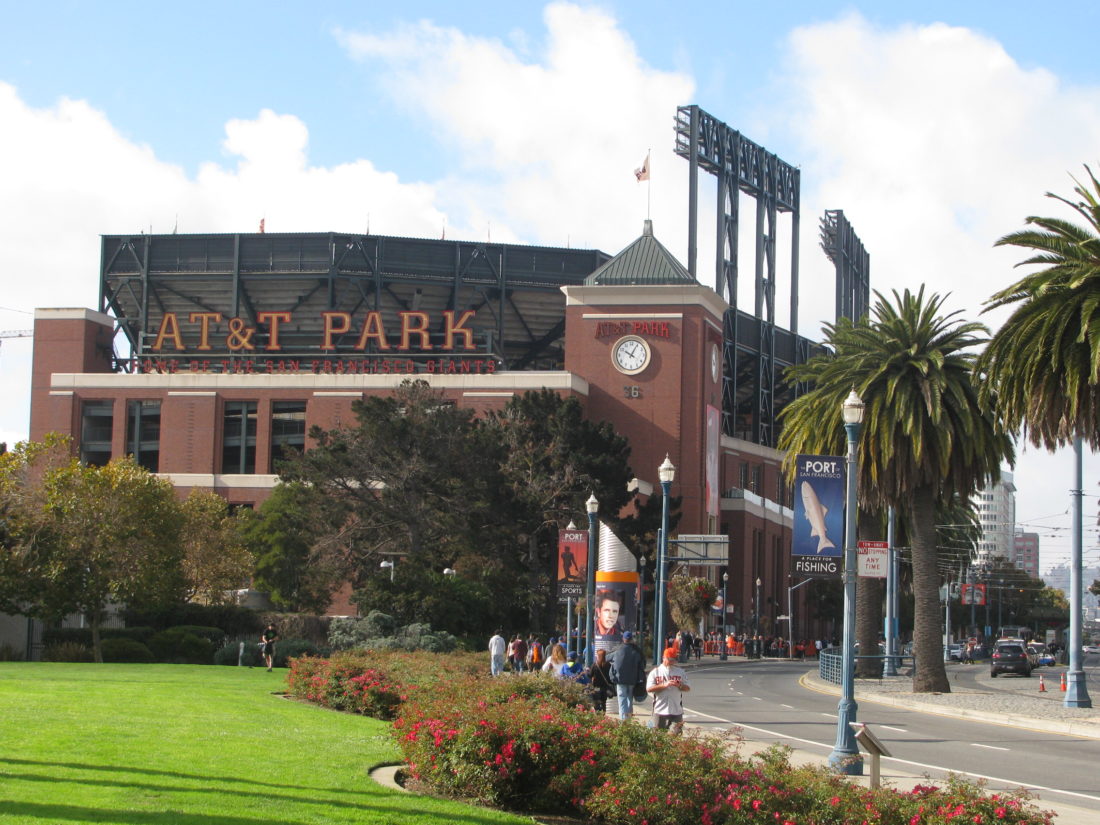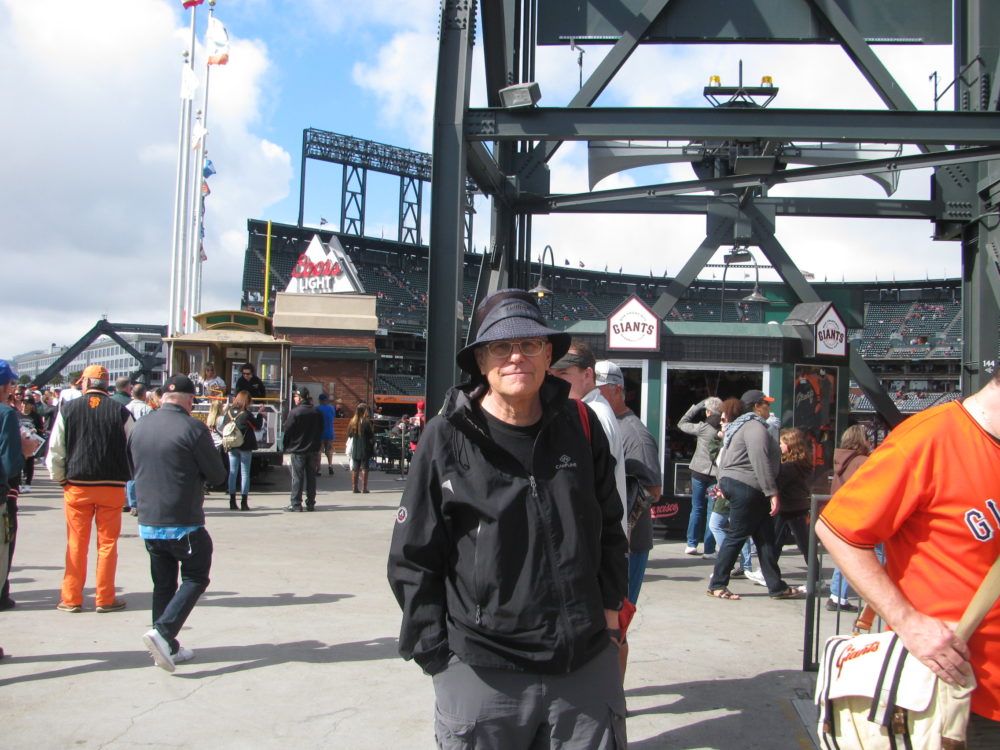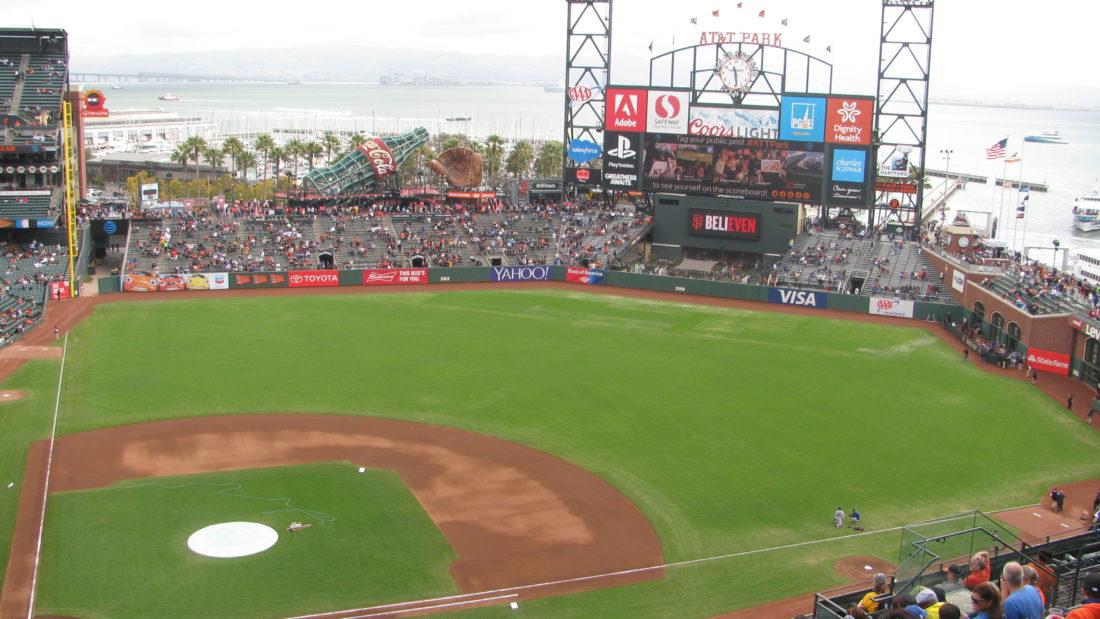 I wasn't only huge fan. This lady beside me was pretty enthusiastic.
Here's a random shot from the most popular trail in Tilden Park, part of the 120,000 acre (488 sq. km) East Bay Regional Parks. That's the Golden Gate bridge out there across the bay.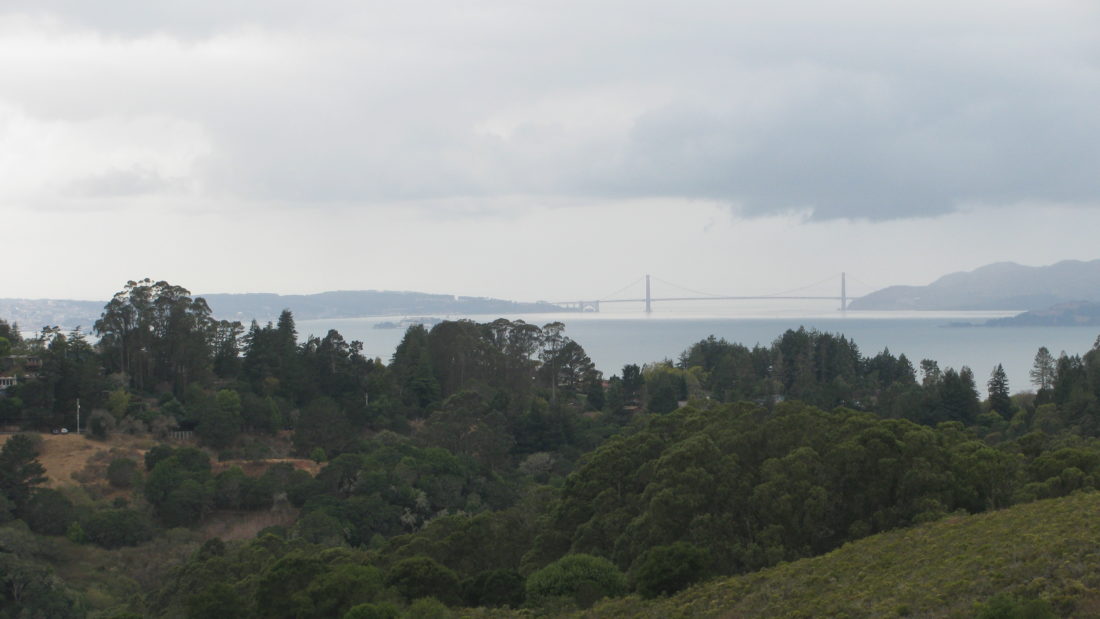 So, up the coast, north of San Francisco, we went. It gets real nice, real fast. It's such a beautiful coastline, one of the best in the world. I'm not just saying that. I've seen a lot of coasts. There are spots, but this coast goes one and on. Most readers of this blog are quite familiar with the sites.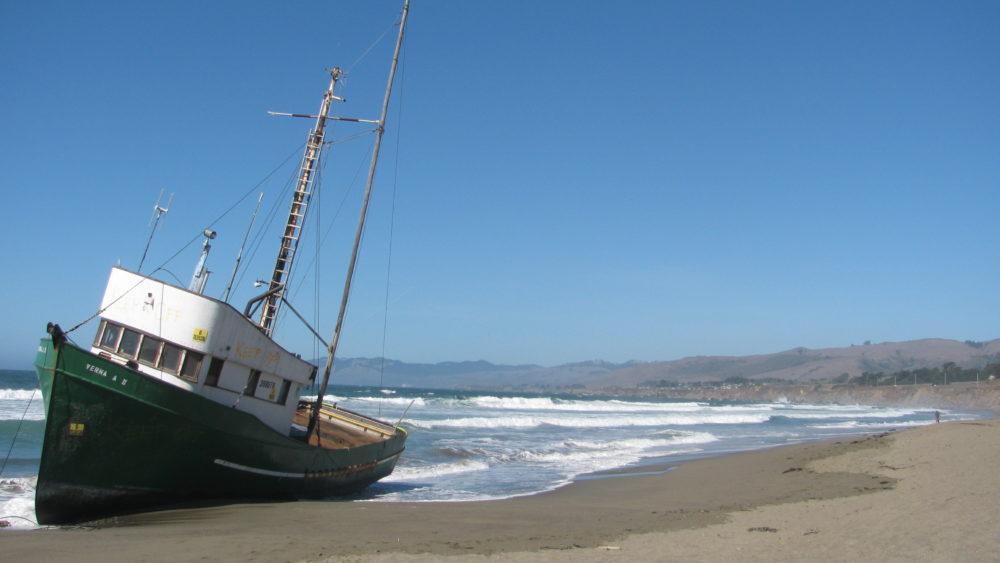 There are plenty of coastal photos coming up. I need to keep this post from getting interminable.
No blog about north of San Francisco would be complete without a picture of the Napa wine country.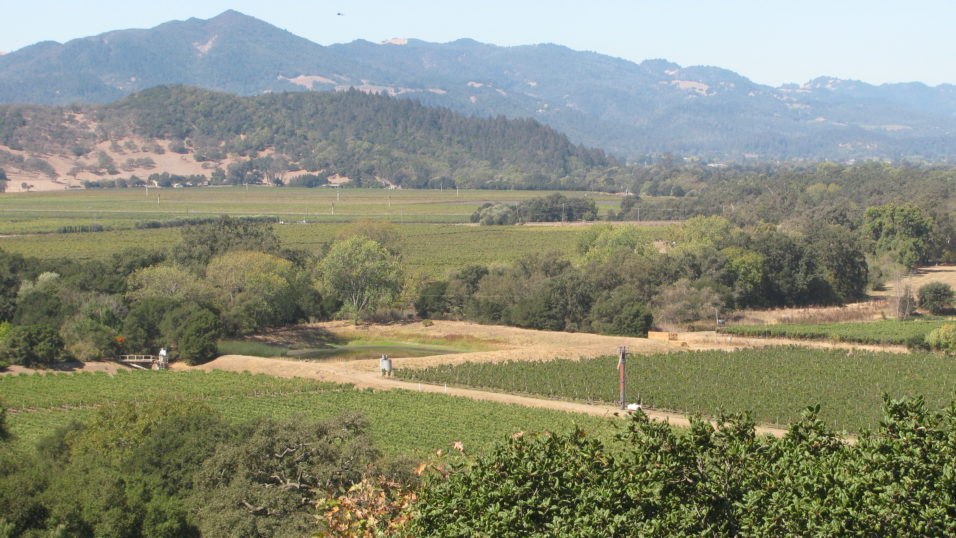 There are many cute towns all along the way…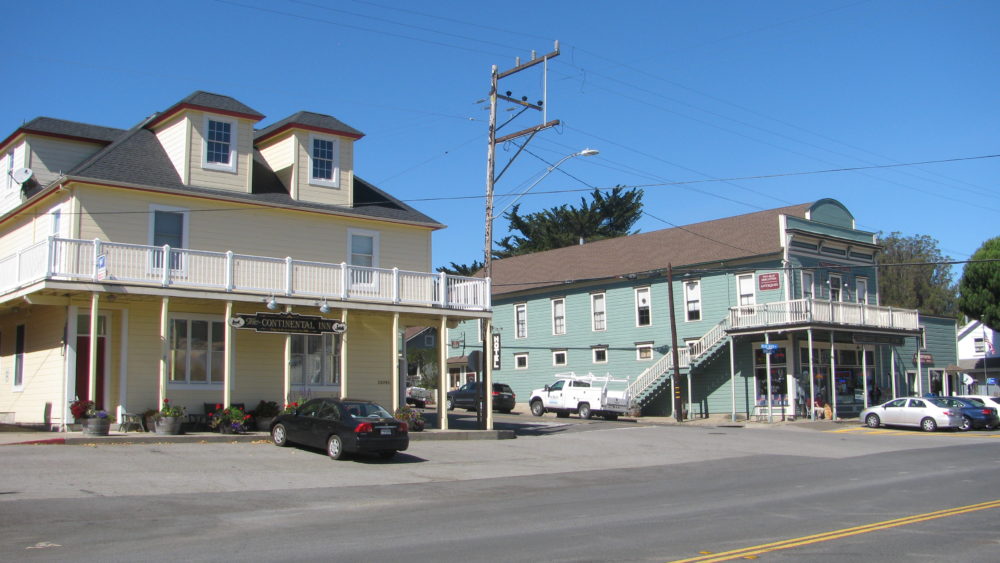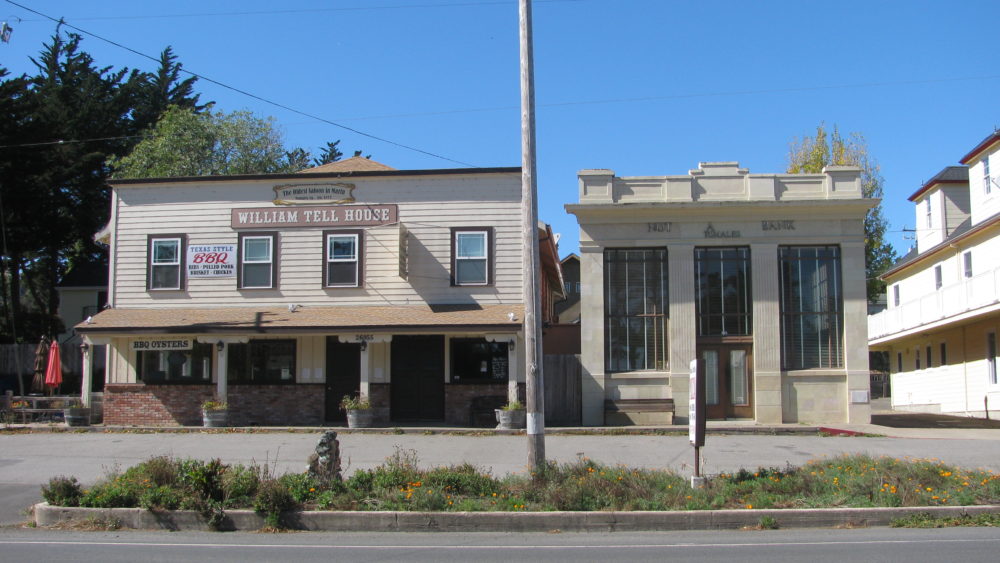 … but the cutest one is Mendocino. If it looks familiar to you, it's because it used for many TV shows and movies. It's a lot different than when I first went up there forty-some years ago. The buildings are still there and they haven't messed with the shoreline, but it's become like a theme park. There is little small town feel to it now. Plus, it's gentrified and everything is expensive. Oh well, it's still a nice place.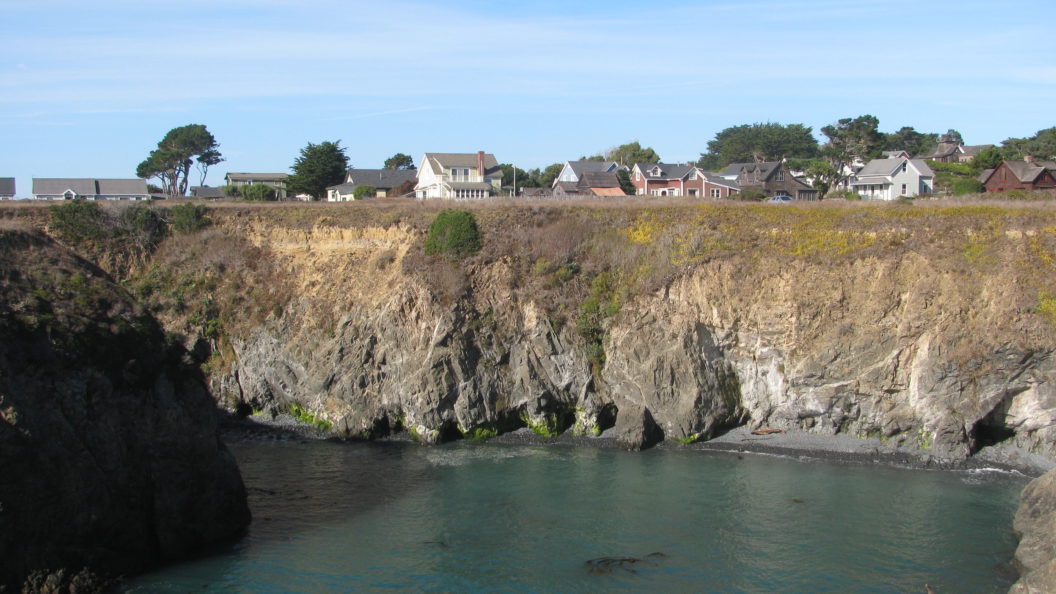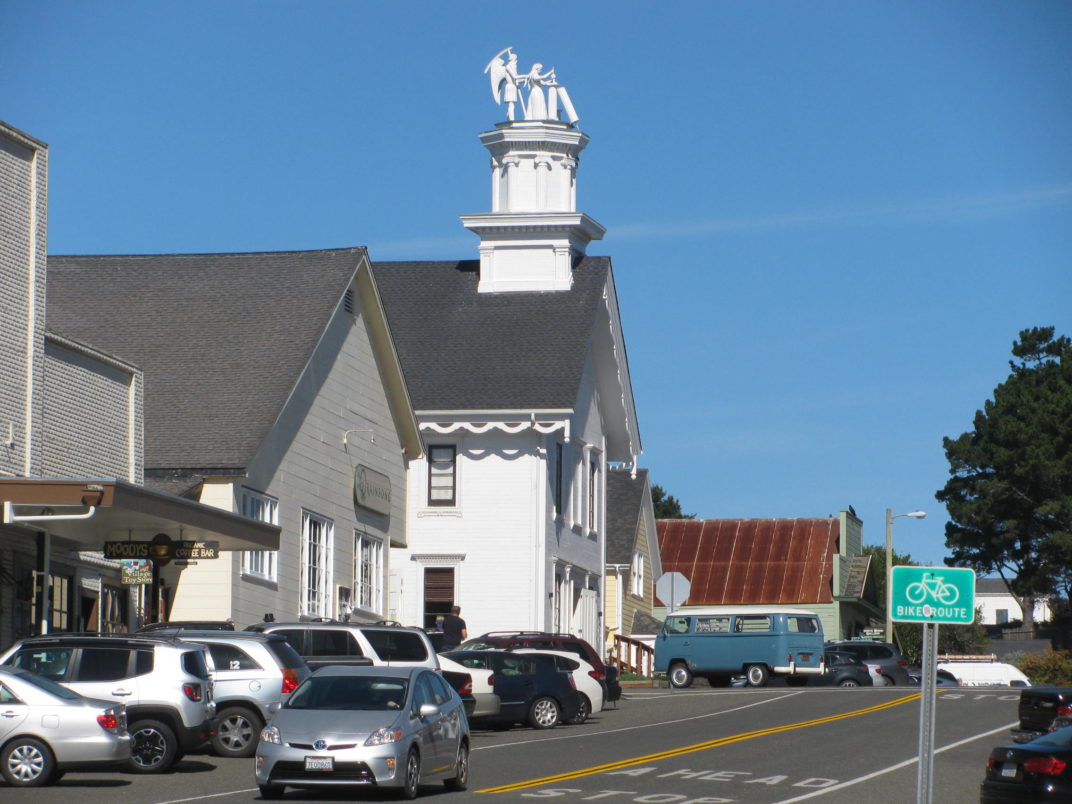 In the old days, you didn't see all these expensive cars. You could also get lunch for under $15. Now the cheapest sandwich to go, off this main street, is $9.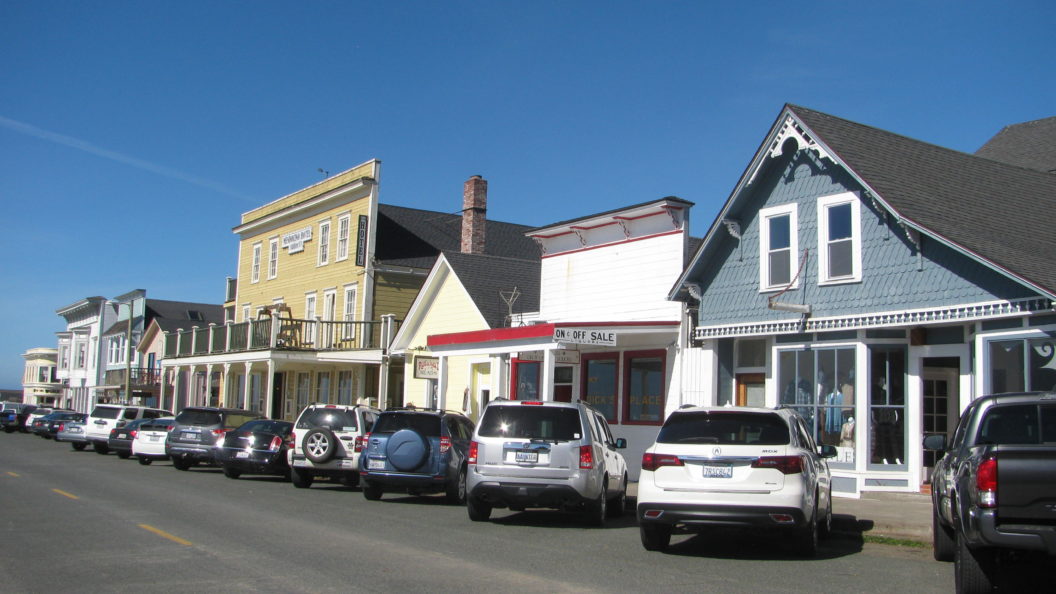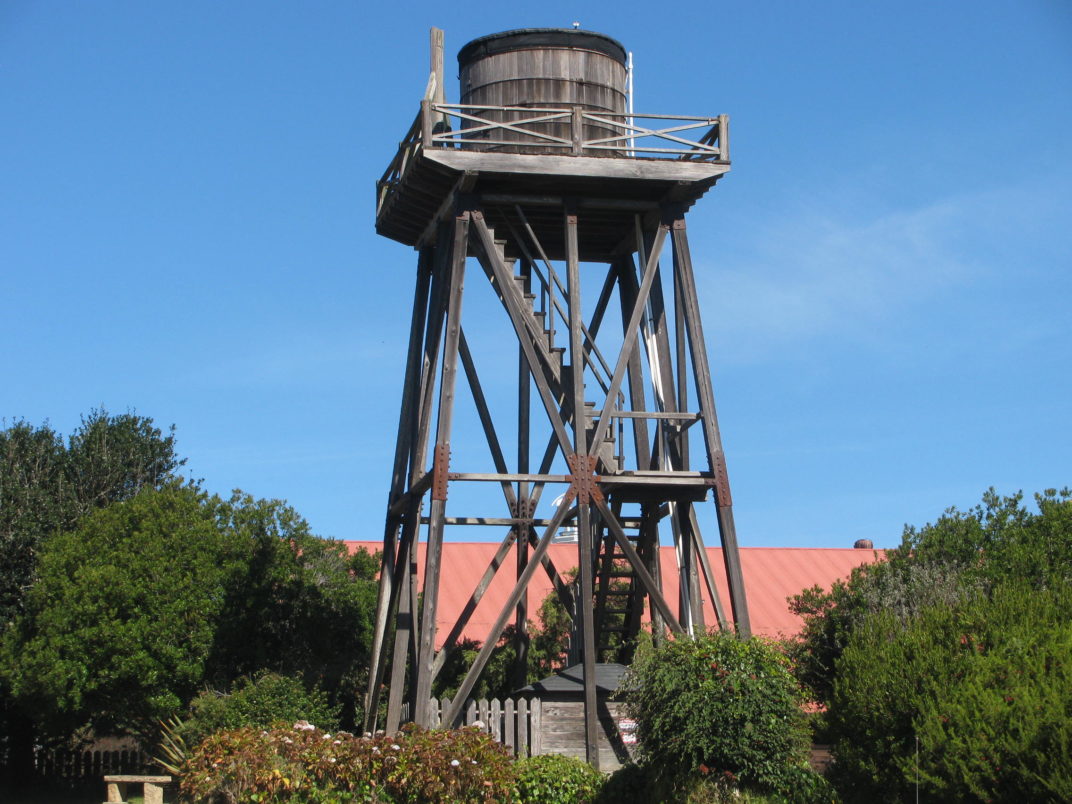 You still can't beat  the setting. Again, the coastline goes on and on like this. these next three places are within a couple hundred meters from that main street downtown.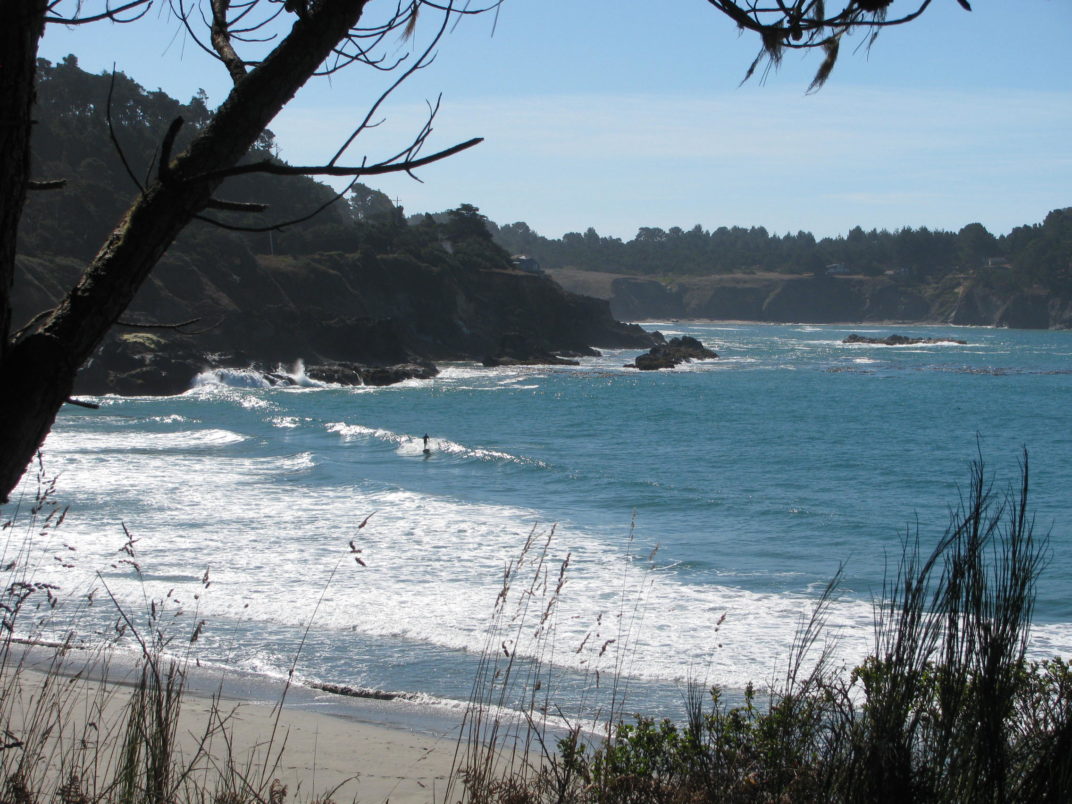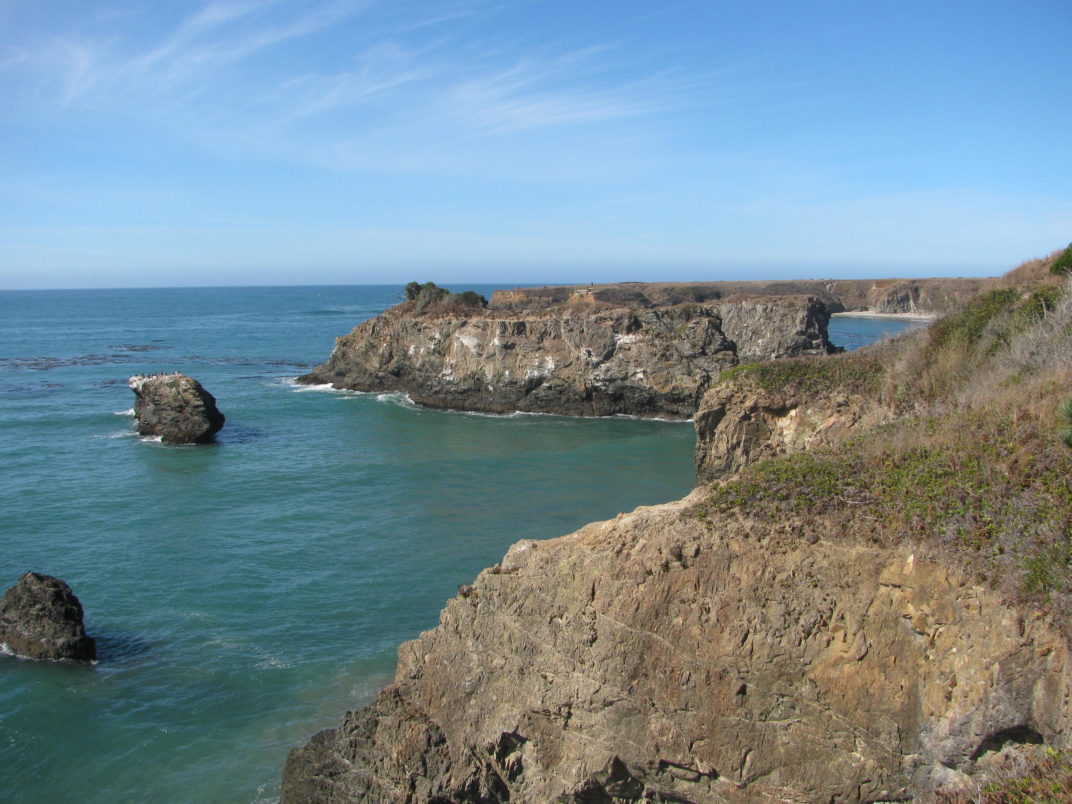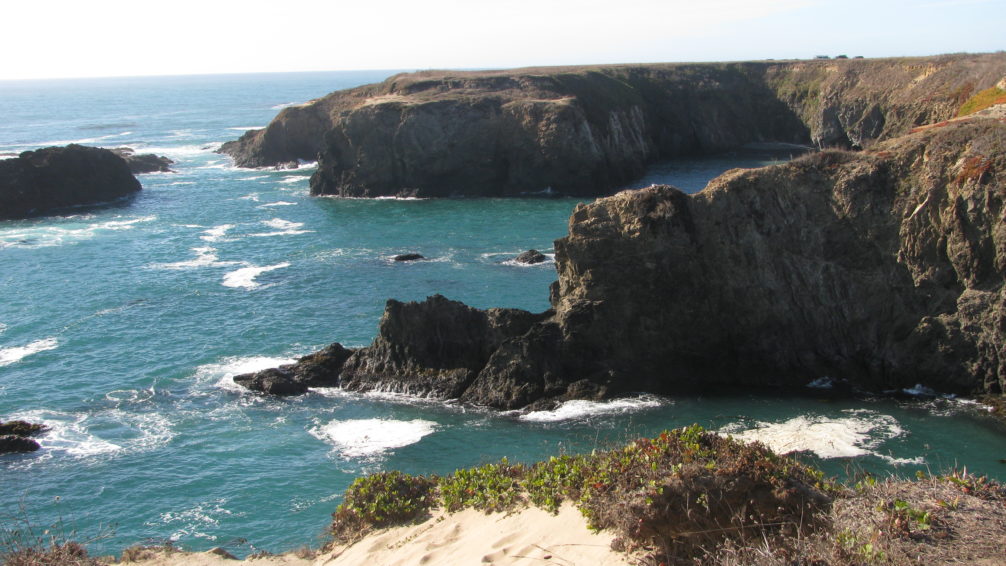 Staying overnight in one of the inns in town is prohibitively expensive for us, so we stayed in a cabin in the forest. That was really mellow. Here's the road to it.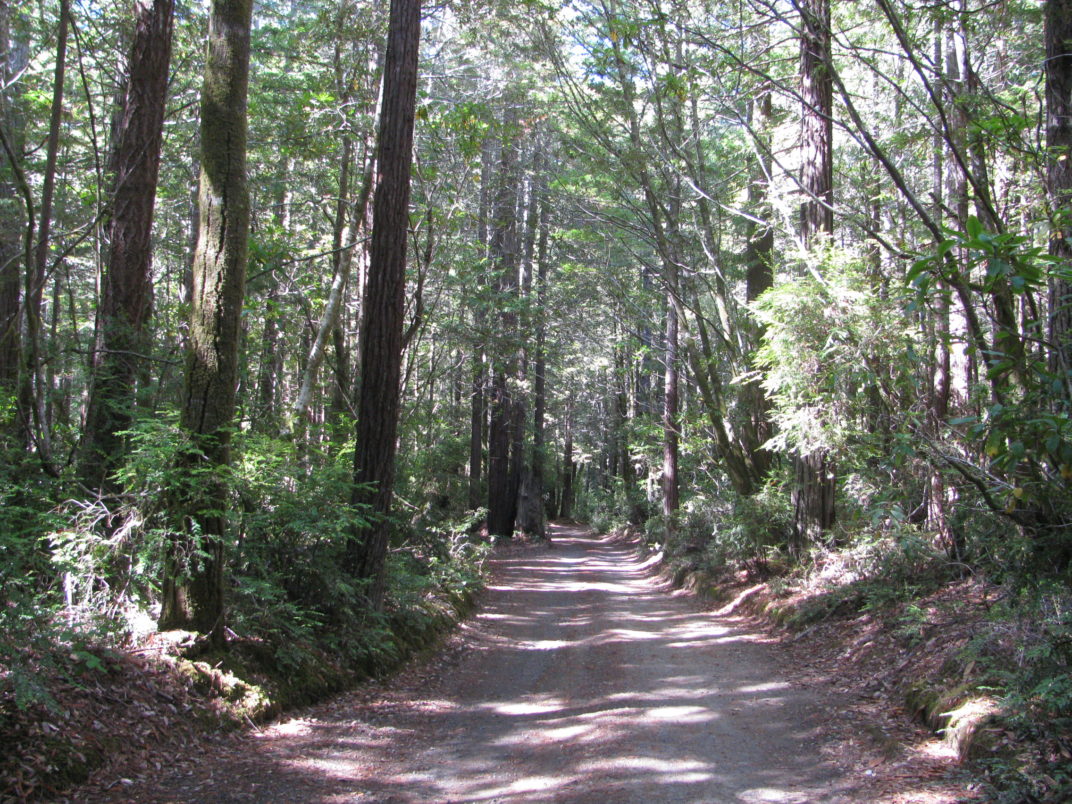 Here's the place.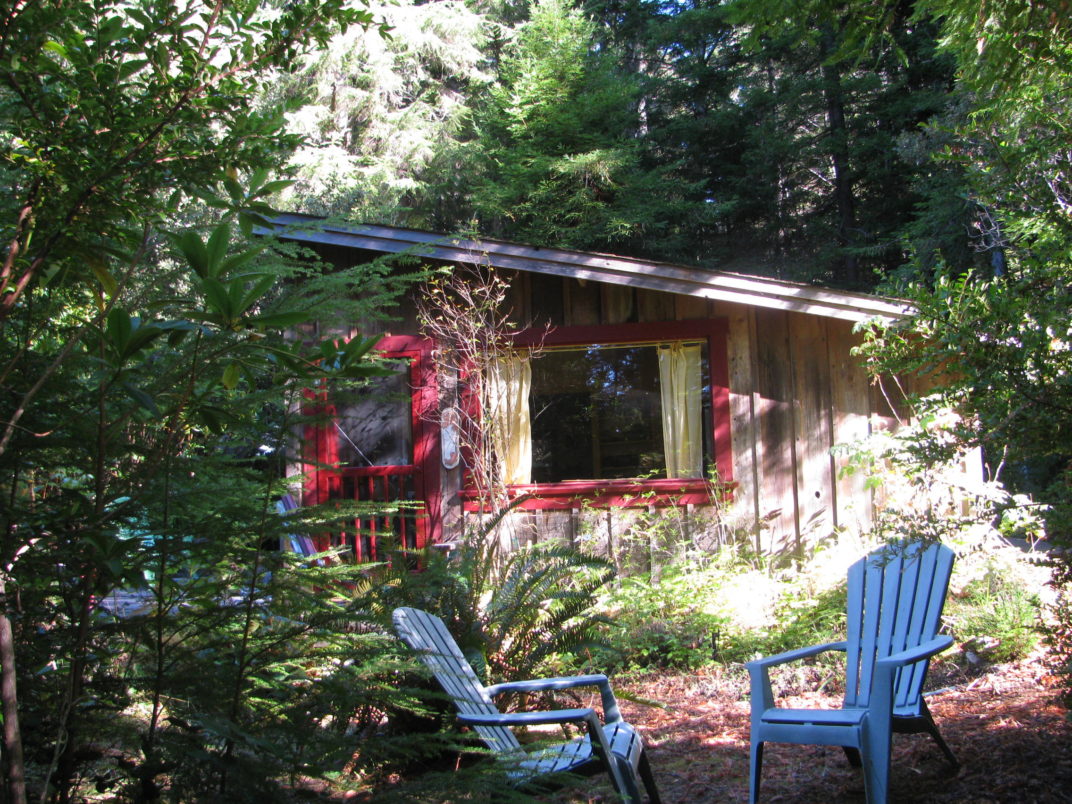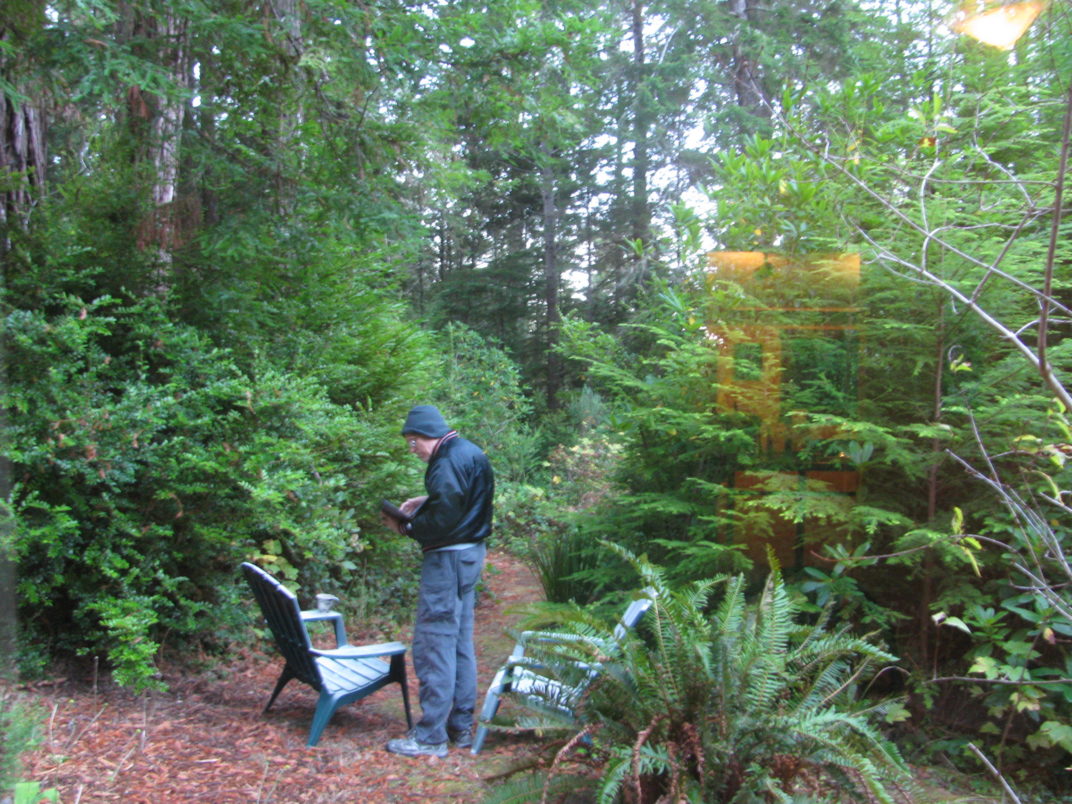 There was even wifi out in the chairs near the big house where the owner of the cabin lives.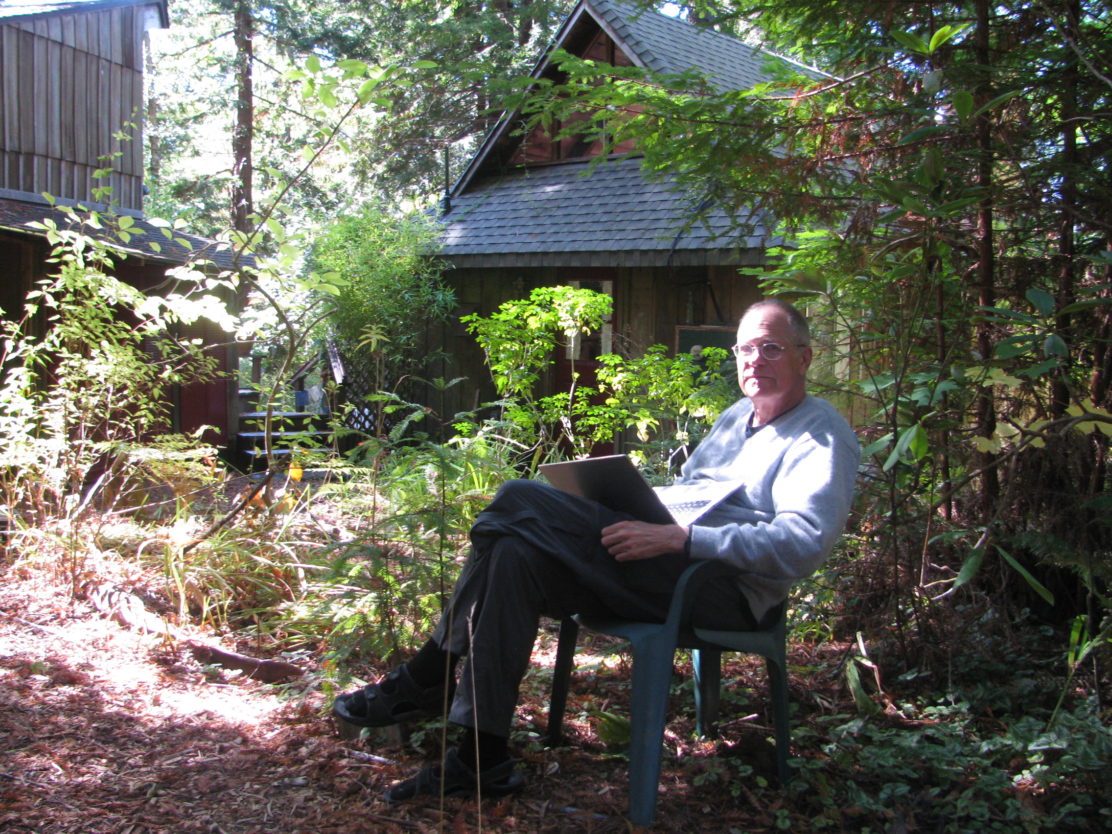 A short walk from the cabin through the trees brings you to Big River, which comes out in Mendocino.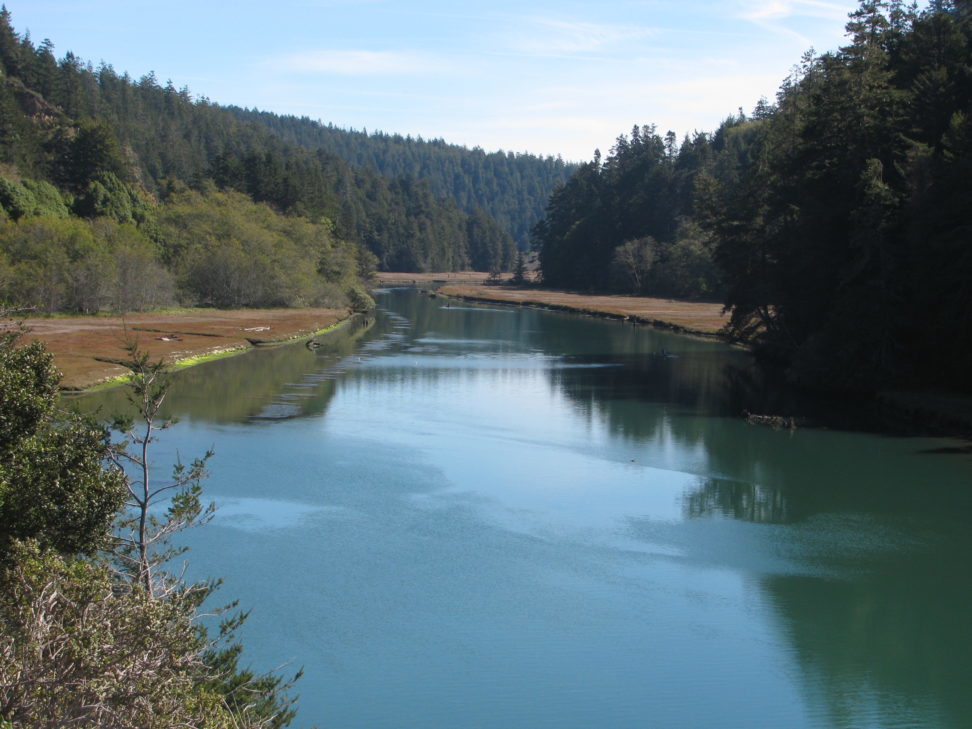 We stayed there three nights.
Going up the coast, before you get to Mendocino, there's Fort Ross State Park. Fort Ross was a Russian settlement and trading post when Russia had a presence along the coast. They pulled out of Fort Ross in 1827 and eventually all of North America when they sold Alaska to the US in 1867, but the buildings here remained. Obviously, it's totally restored, but you get a glimpse of how they lived.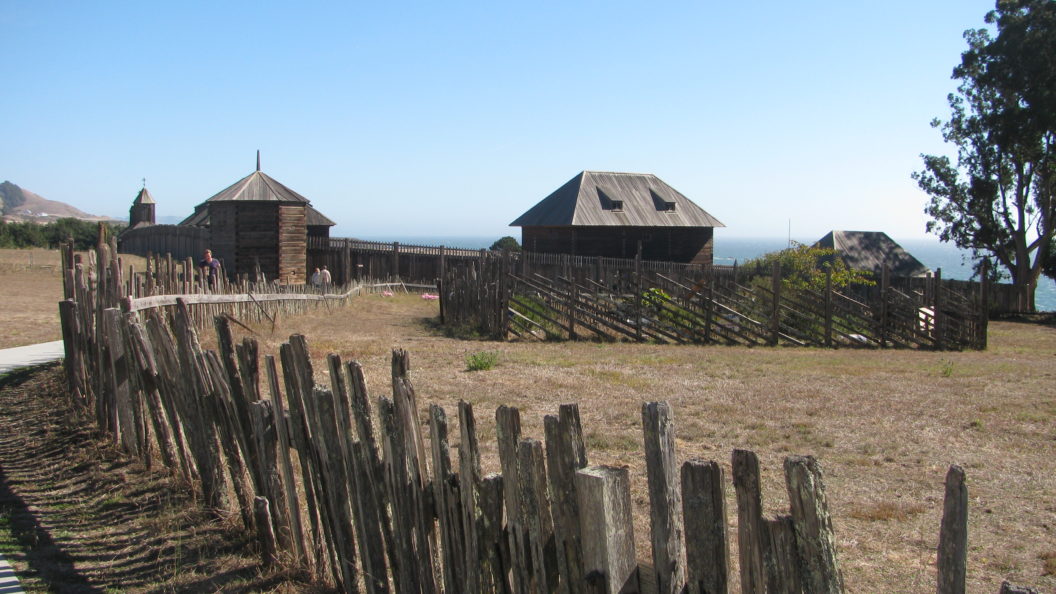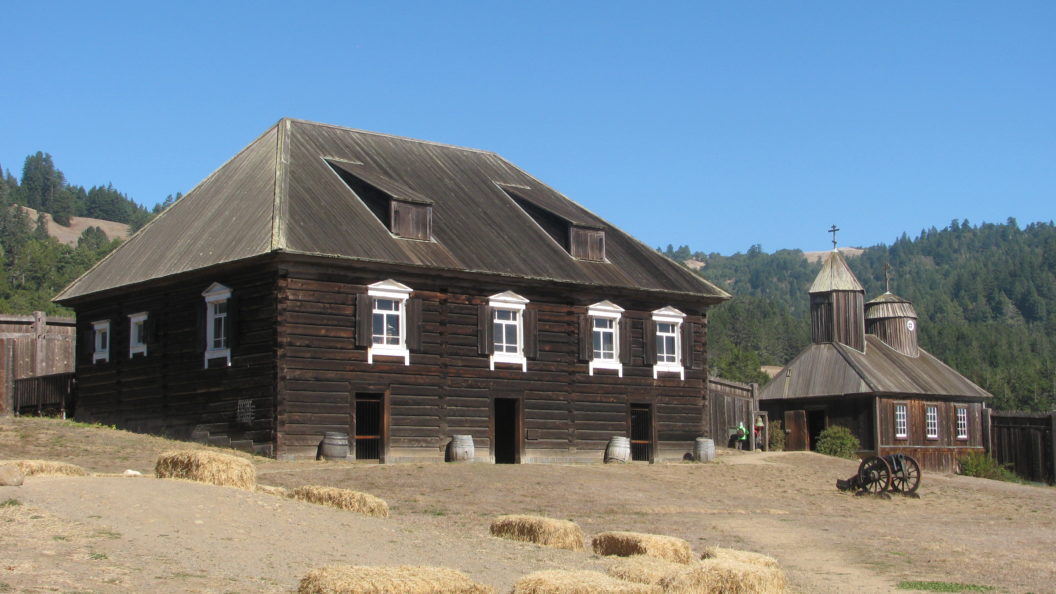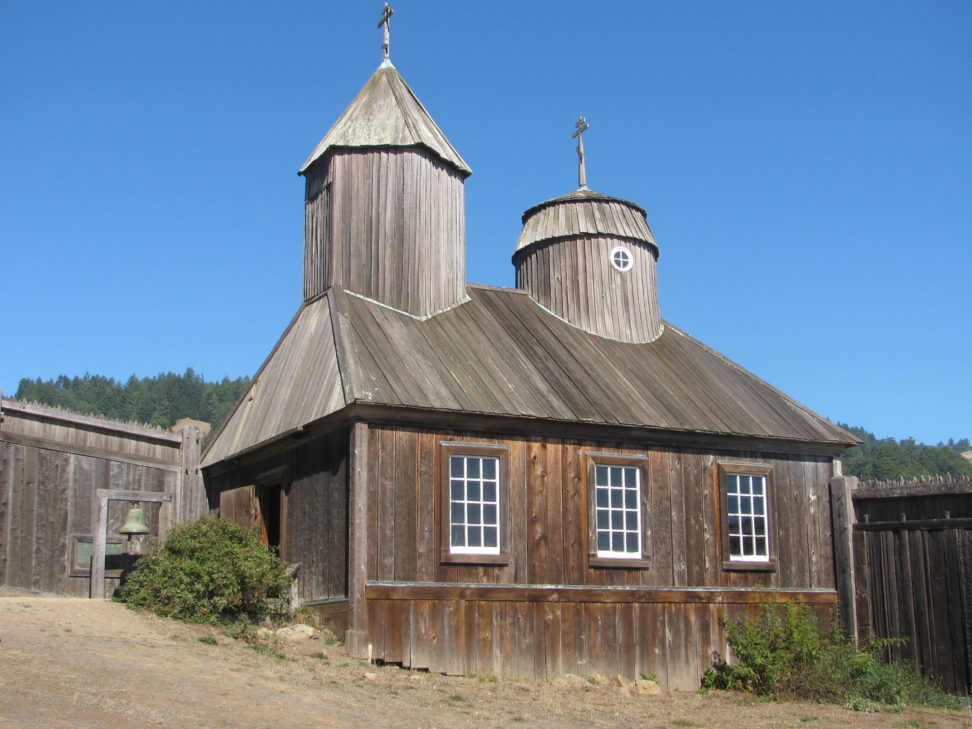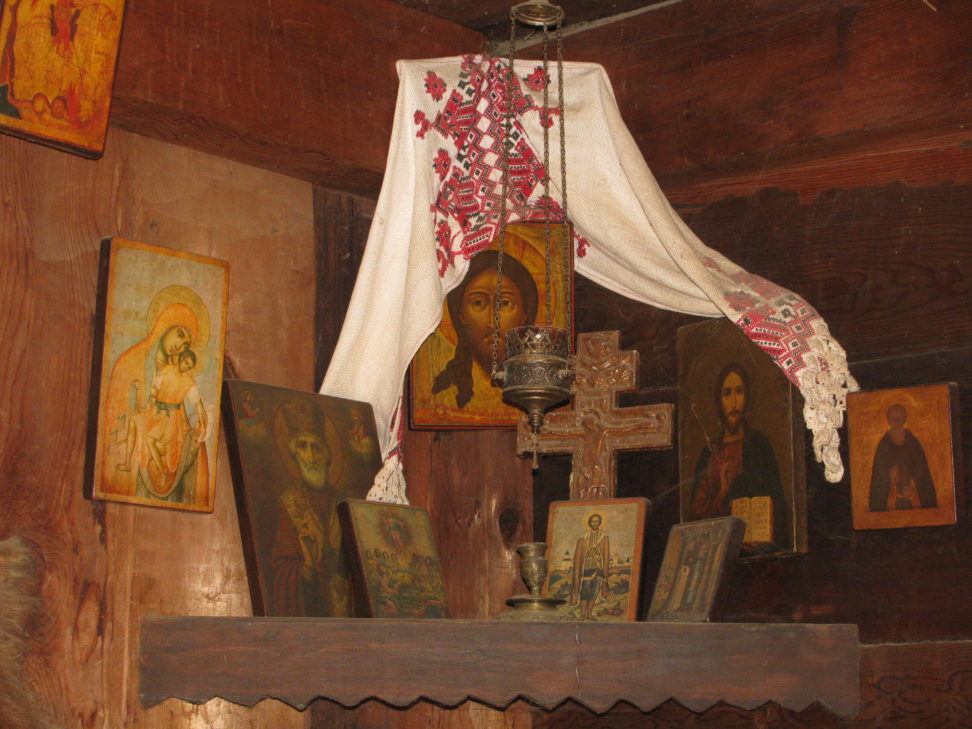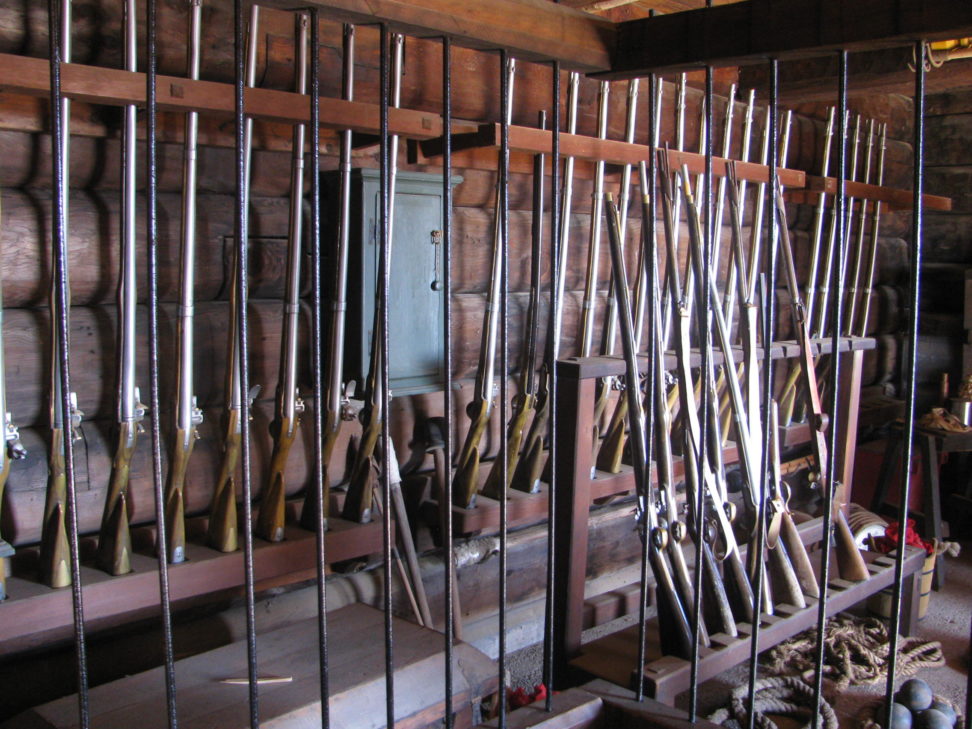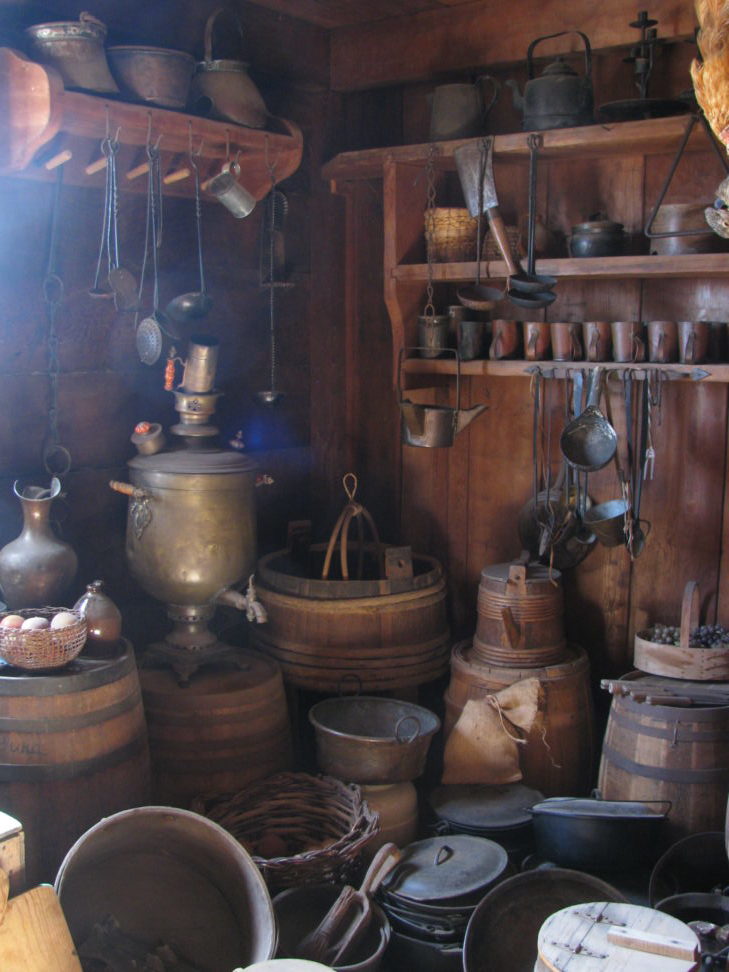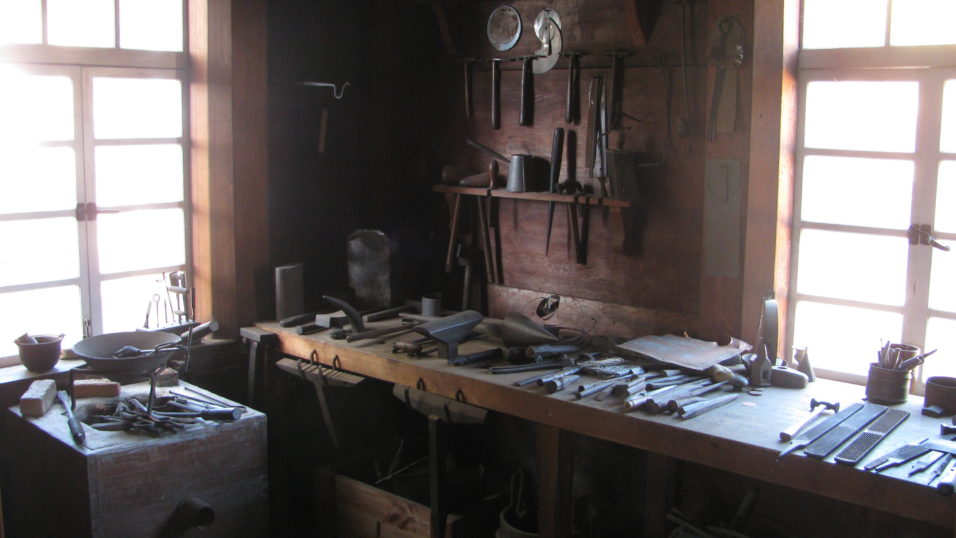 I've always found that place interesting.
Anyway, that part of California inland is pretty dense trees for the most part. You get the idea from the Big River picture. There really aren't many roads through there, even. The more north you go, the more forested it becomes. Finally, you get to the Humboldt Redwood State and National Forests.
Y'know, this post is getting too long. I need to break it up. I'm going to publish it up to here and do more later. See ya.