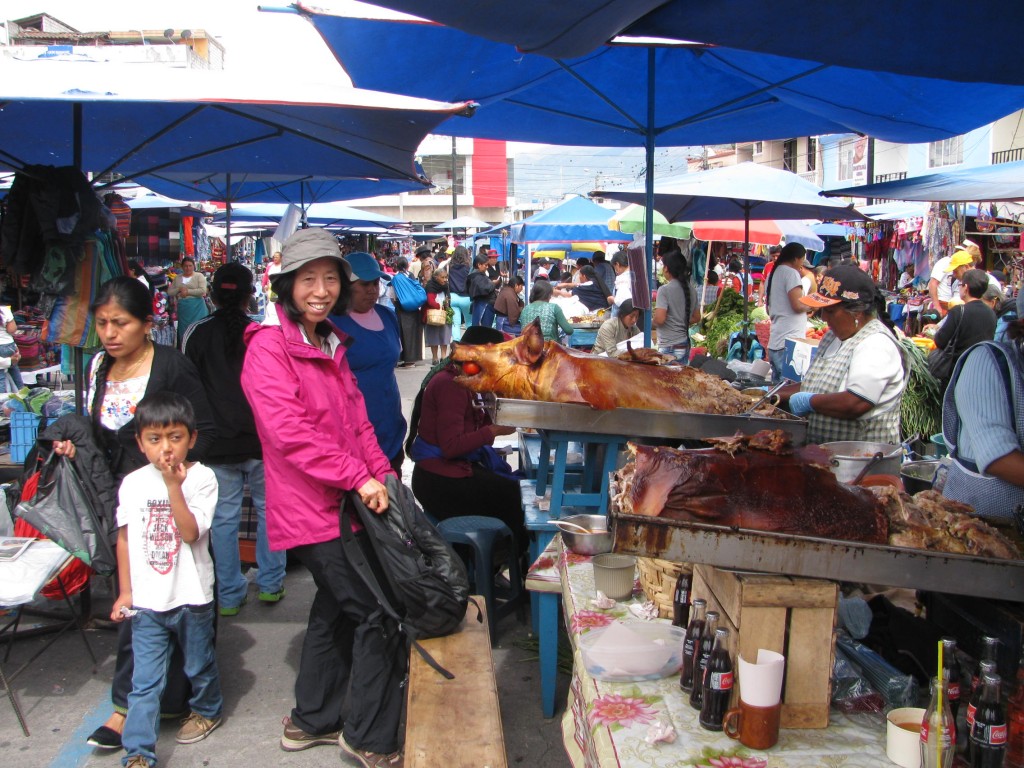 Well, it's in the hands of the gods now. It took a couple of weeks for Myung's police report to come from Korea, but all the paperwork for our residence visas is turned in. All in all, though a bit expensive, the process has been more or less painless. We saw all over the net how you have to go to your home country to get apostilled police report, birth certificate, marriage certificate, government pension verification and some other stuff which didn't apply to us, fortunately. Turns out, though, with the help of an Ecuadoran facilitator with an office in the US, I could get everything through her and with the help of my friend, Mary, back in Oakland. (Boy, I don't know what I'd do without her!) Ecuador changed the rule about birth certificates, so passports are adequate. Best of all, the Korean embassy in Quito can obtain Korean police reports and the Ecuadoran Foreign Ministry will apostille those coming from the embassy. That was the last thing to get done, as the facilitator who has offices in Cuenca, Ecuador and Danbury, Connecticut, did all the American stuff. Myung put in for her police report a couple of weeks ago, and the day before yesterday we went back to Quito, picked it up, and took it to the Foreign Ministry where they apostilled it on the spot. We sent it to Cuenca via Servientrega (Ecuador's FedEx/UPS/DHL), the office got it, and now we just wait about six weeks.
This is the best thing for us. I could oversimplify and say we are tired of traveling. There's more to it, though. I don't know about tired. It's more like the comforts of home are attractive to us, especially Myung. She'd like to collect kitchen stuff, supplies we don't have to time so they run out when we are leaving town, look forward to having those things next month she enjoyed this month, and so on. She might even try to do business again, though she'll have to get way better at Spanish. I'm looking forward to cheap socialized medicine (which is high quality here) and the many other benefits Ecuadorans enjoy. It gets even better for those over 65. Living here is inexpensive, so we don't have to count pennies. It's modern enough and you can buy mostly whatever you want. It's beautiful, really beautiful. And the people we've encountered so far are among the nicest, happiest we've seen anywhere.
It's not like we're about to get stationary. We do have to remain in Ecuador nine months out of twelve for the first two years, but as small as Ecuador is, it's very diverse. there's the mountainous central area where we live, There's tropical beach, there's the sophisticated capital, Quito, and the bigger port city of Guayaquil, and there's the jungle headwaters of the Amazon. Oh, and let's not forget the Galapagos Islands. That there is bit of a pricey excursion, but one of the benefits of being over 65 with a green card is you get half price everything including accommodations and travel. Maybe we'll go there after awhile.
About the only potential problem is Myung is having a problem with her throat in the high dry climate. We could go down lower in elevation, but then it'd be hot here, right exactly on the equator, and I'm loving the absence of mosquitoes. It's been nagging her ever since she got to Latin America, as we've been tending to stay in the cool mountains ever since Mexico, Antigua, and so on. She went to an American-trained ear, nose and throat doctor at the best medical center in Quito. The doc actually specializes in reconstructive surgery, but I think Myung's in good hands. If that doesn't work out though, we can always leave. As I've said before, we wouldn't mind living in northern California-like central Chile. That would be more expensive, but not as unforgiving as the US.
Other than that, we've been having a real domestic life in Cotacachi. A big day is going to one of the two cities nearby. We only took care of visa business in Quito (Myung did find fish sauce. Woohoo!), so there's nothing else to say about that yet. I guess it's photo time.
Mostly we have people and food pics. Cotacachi isn't as photogenic and Antigua was, by any stretch of the imagination. Here's a picture of the front of the church, with the big Jesus on the steeple.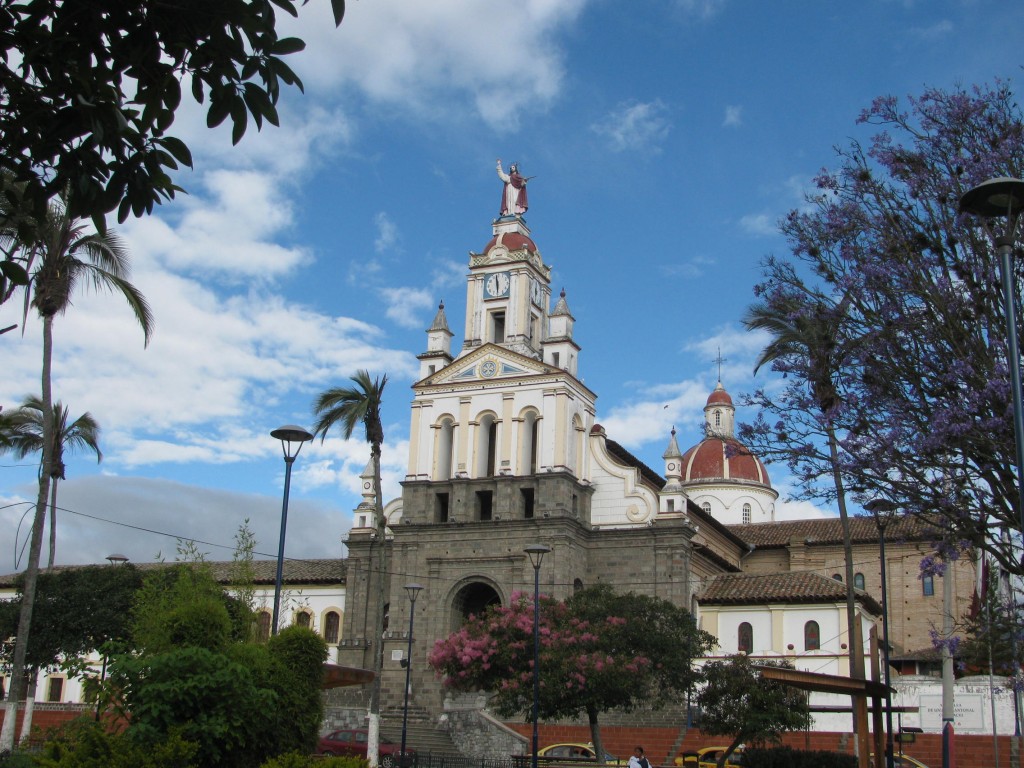 Here are some people pics. They are mostly, if not all, from the Otavalo Saturday market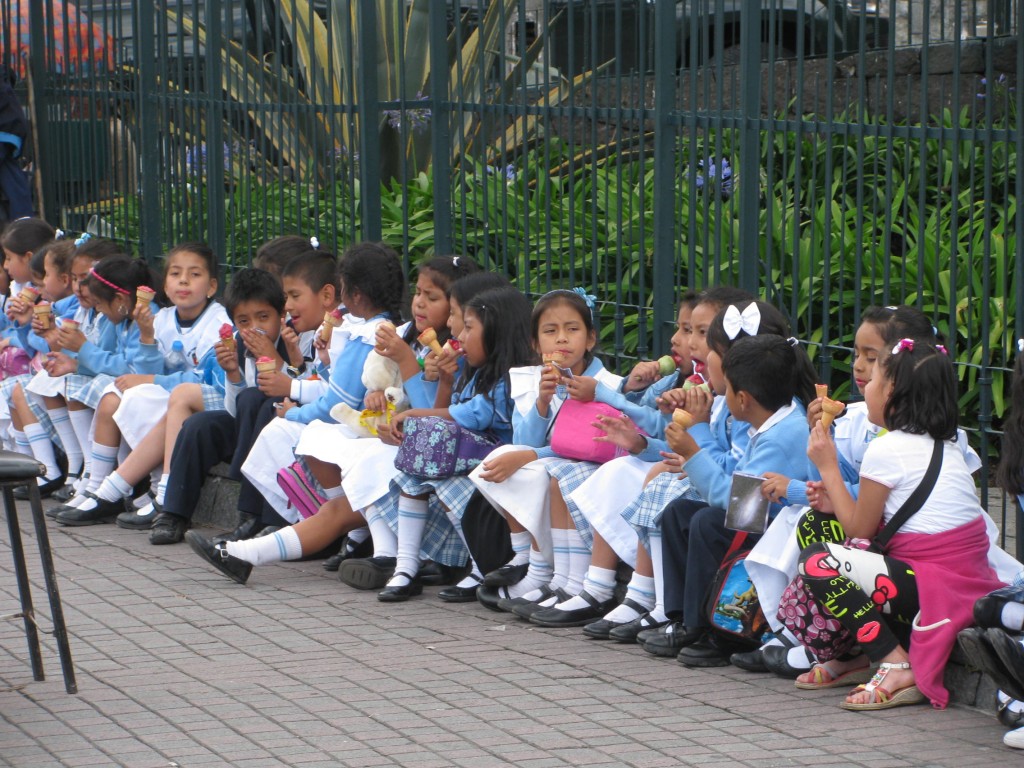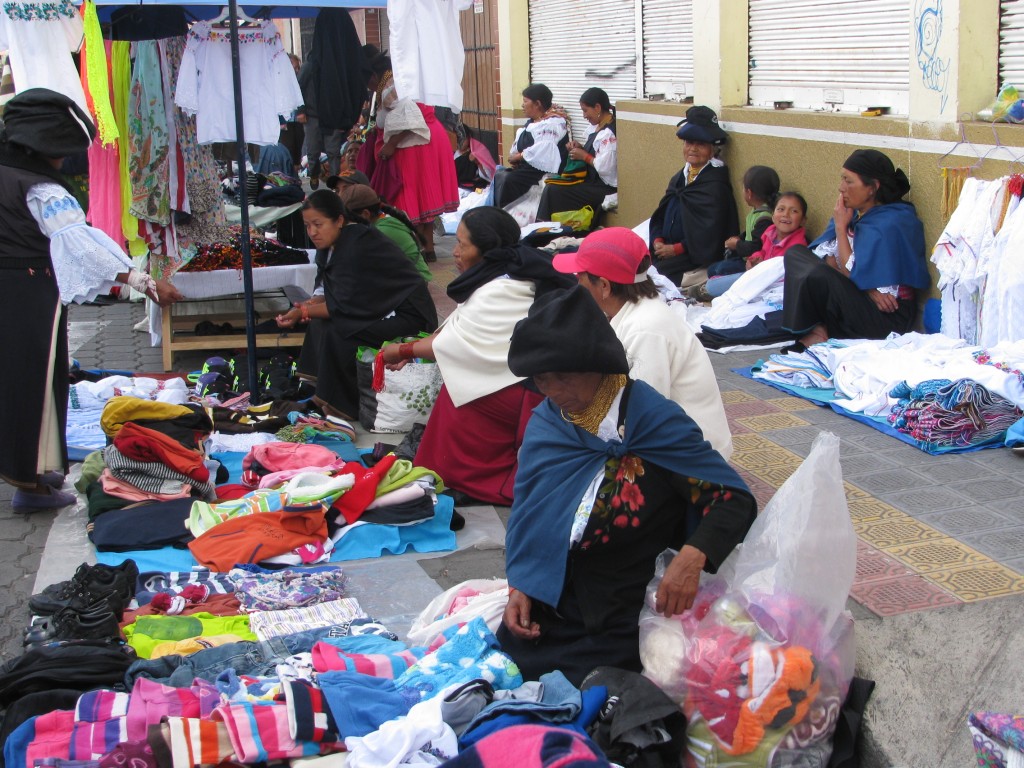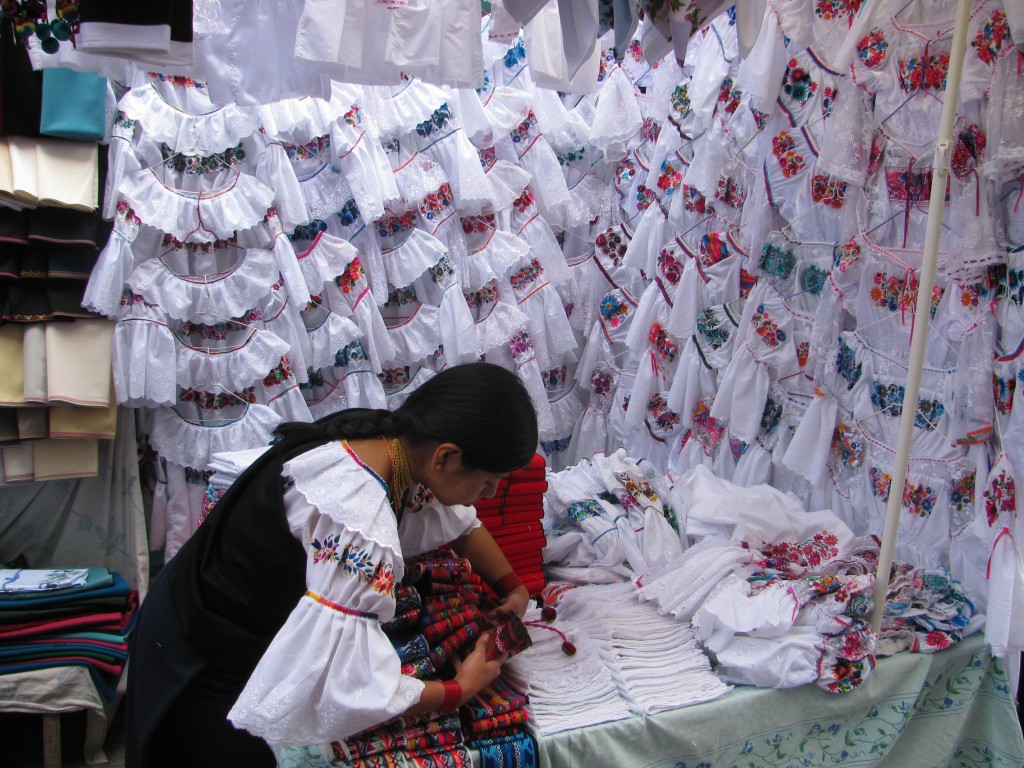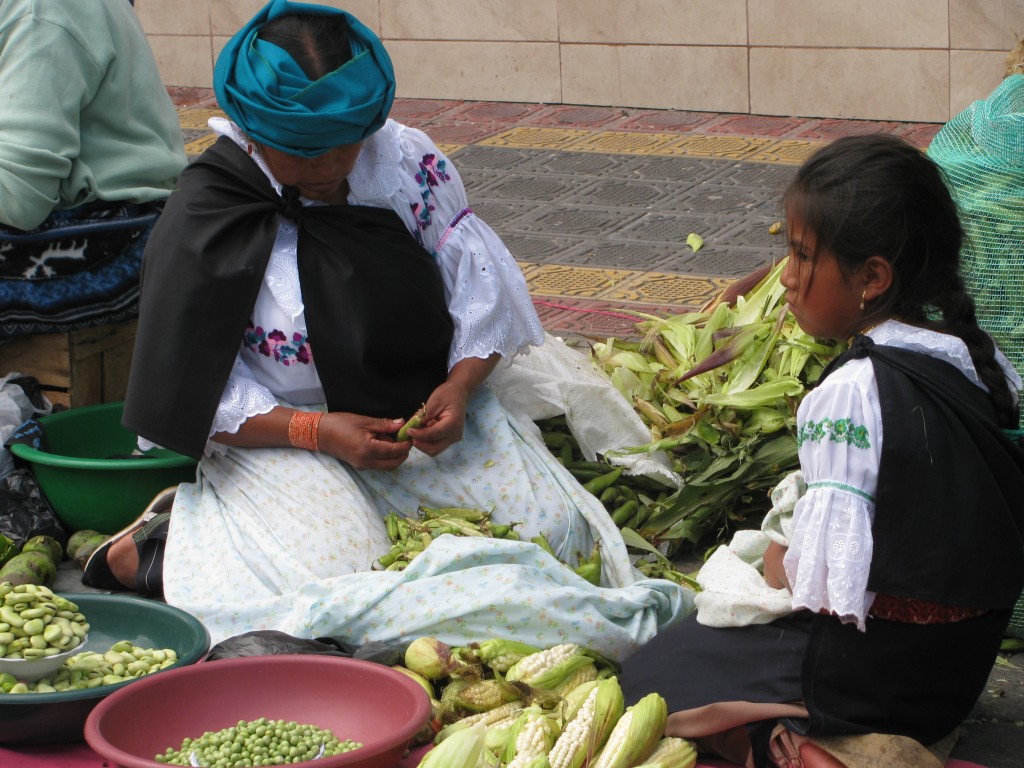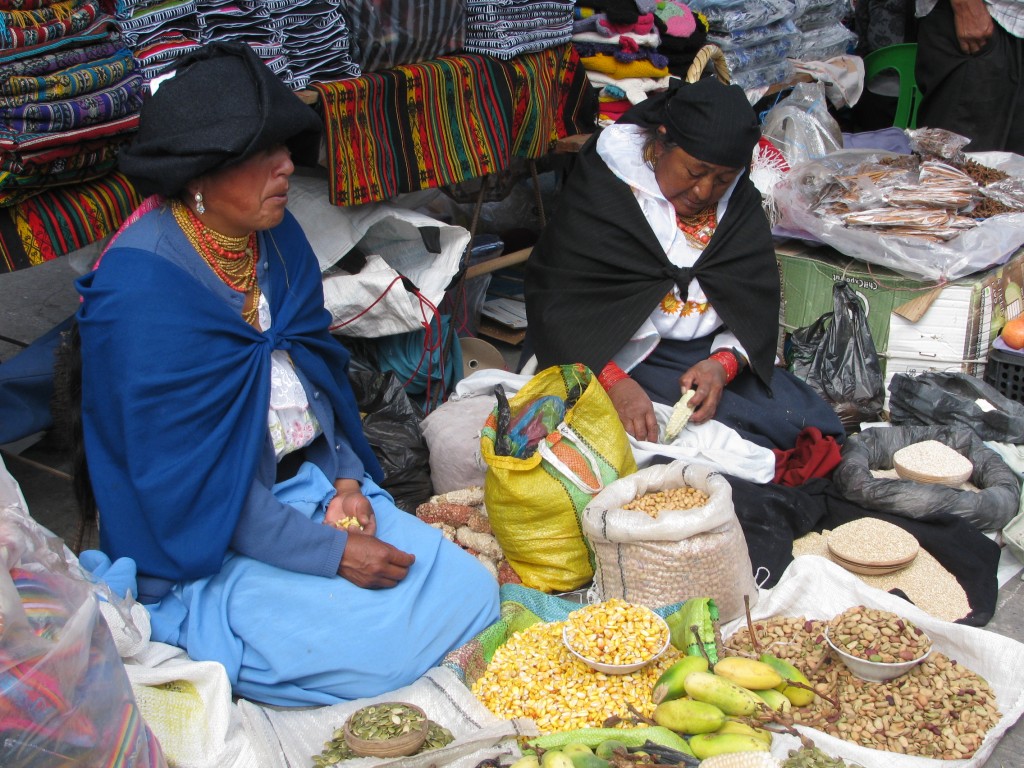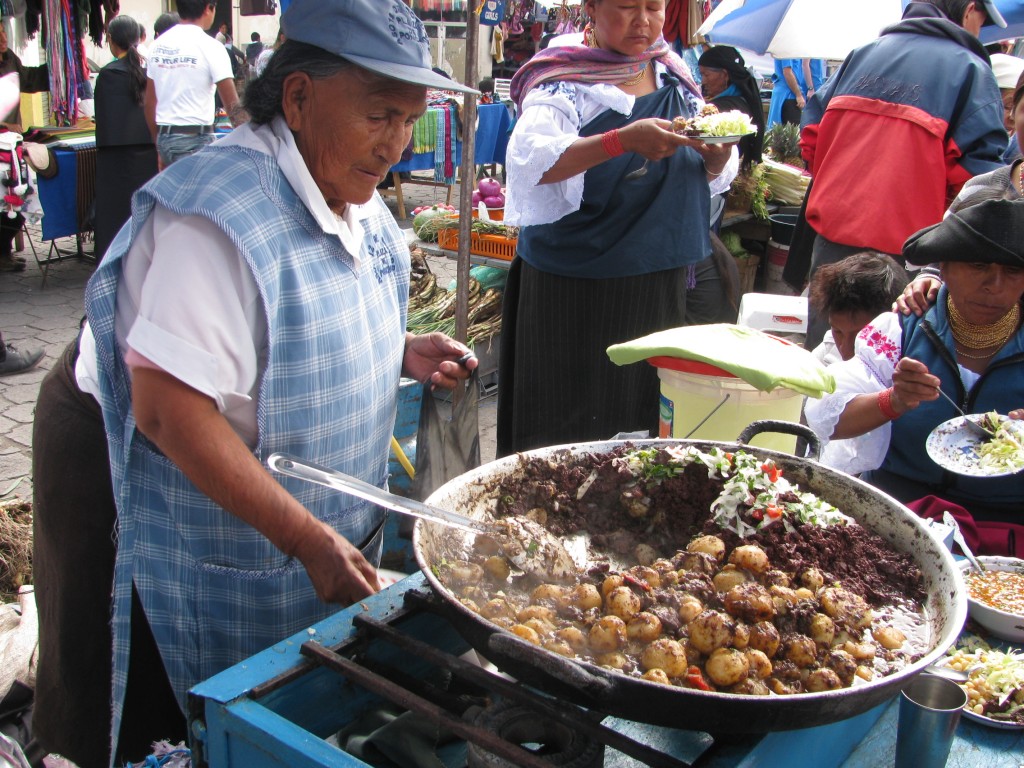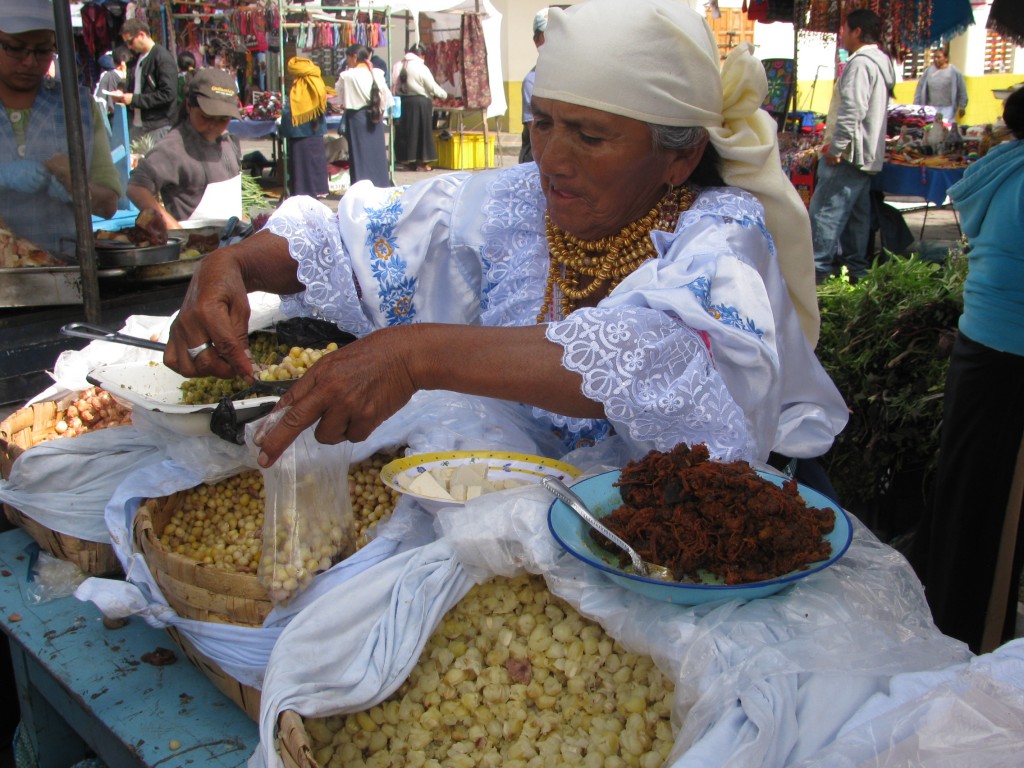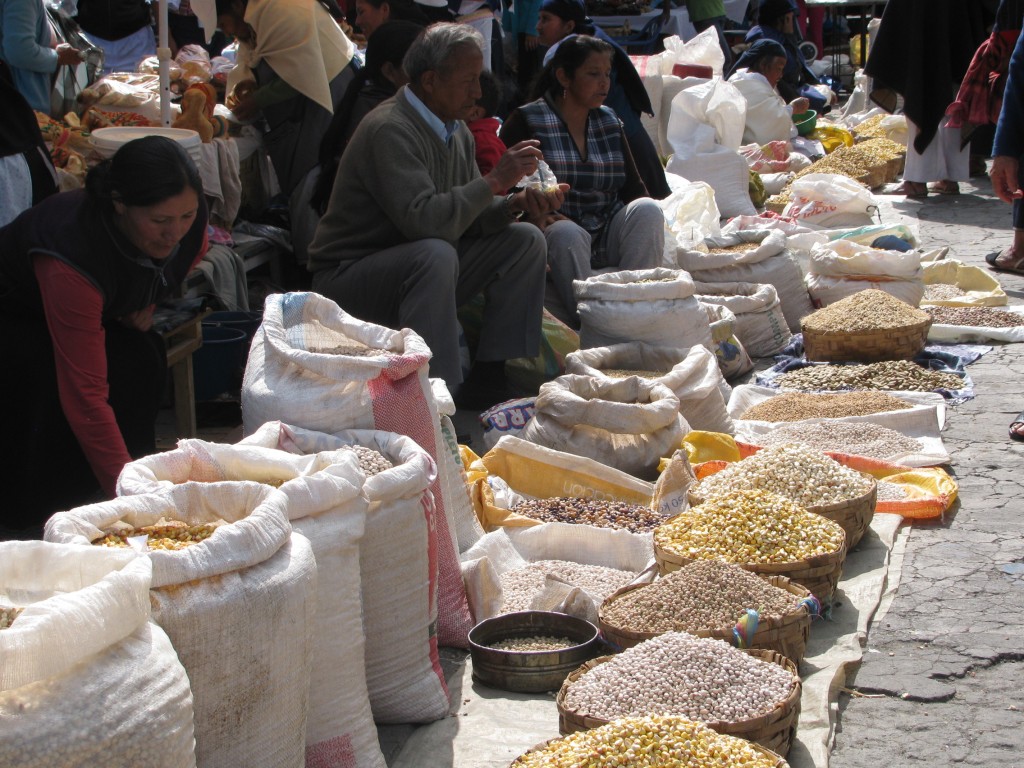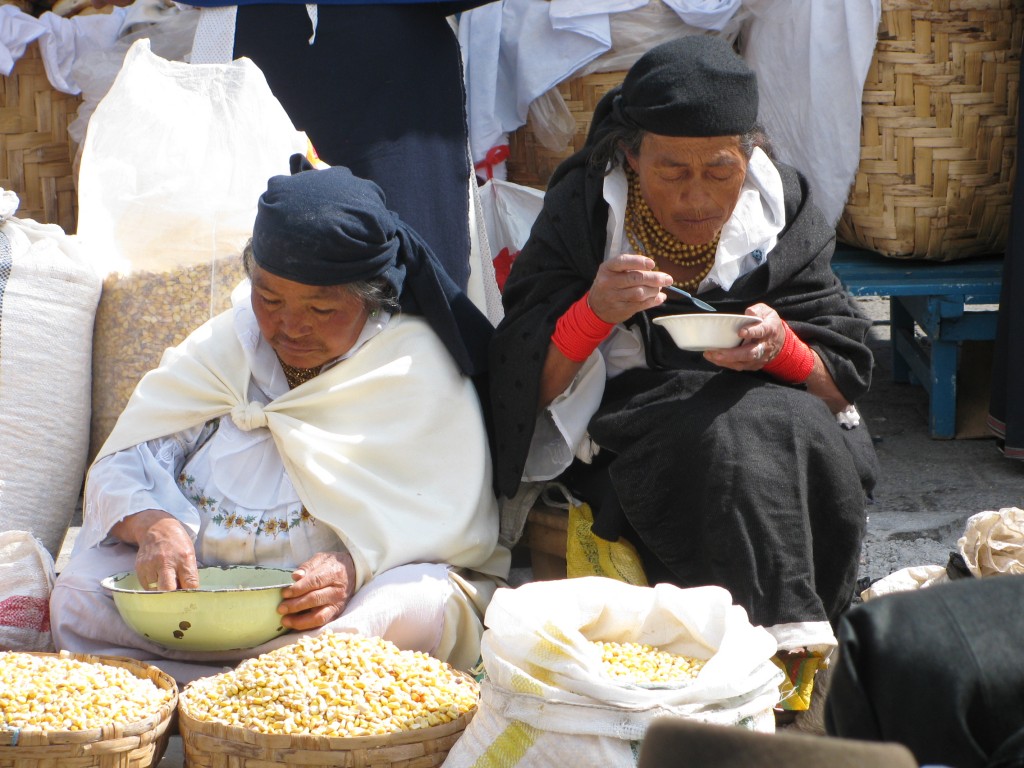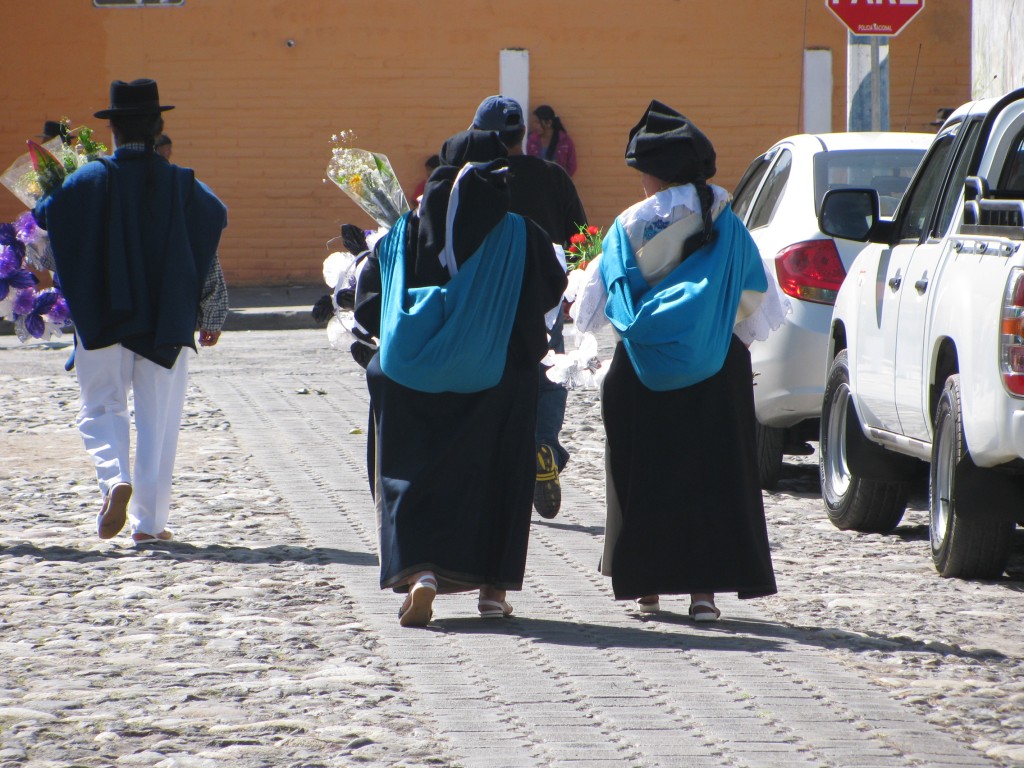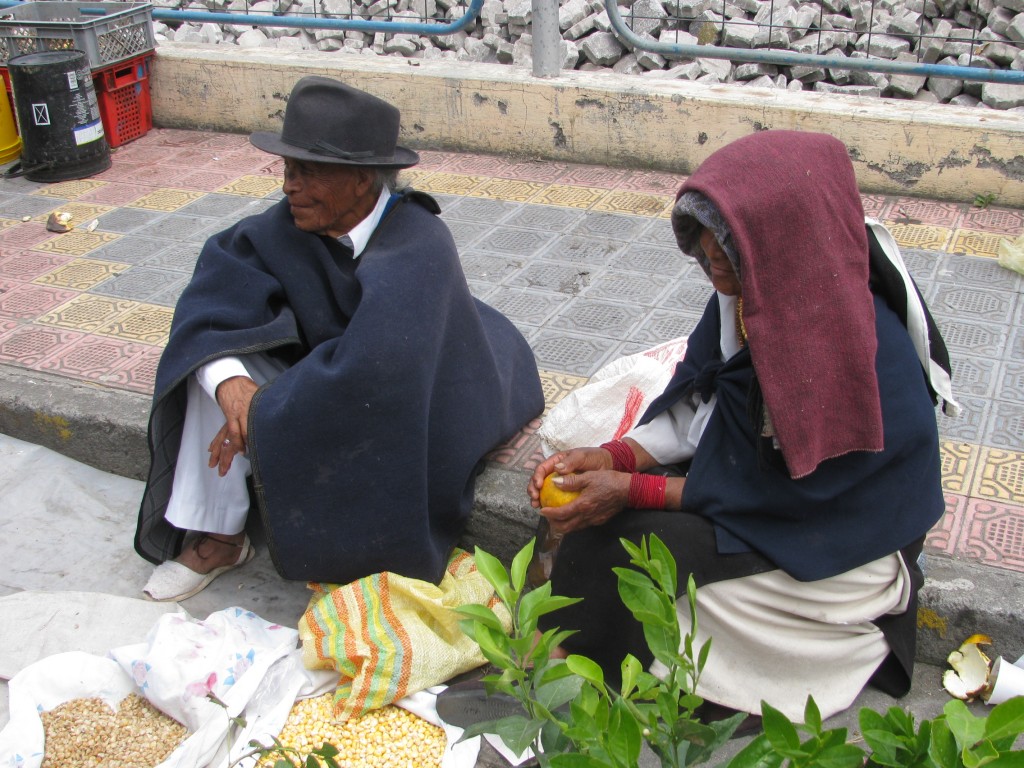 That Saturday was All Souls Day. I didn't go that time. I should have, as the cemetery was packed with people remembering their family and friends. I simply uploaded the whole batch of photos Myung took. Glance at them, or whatever.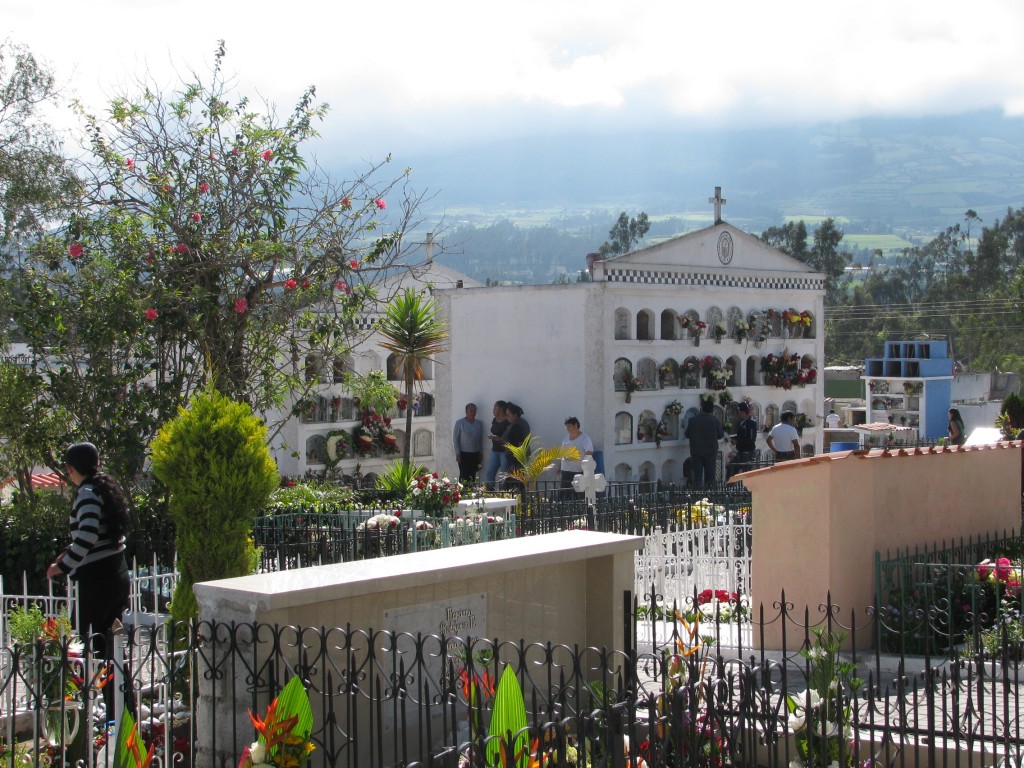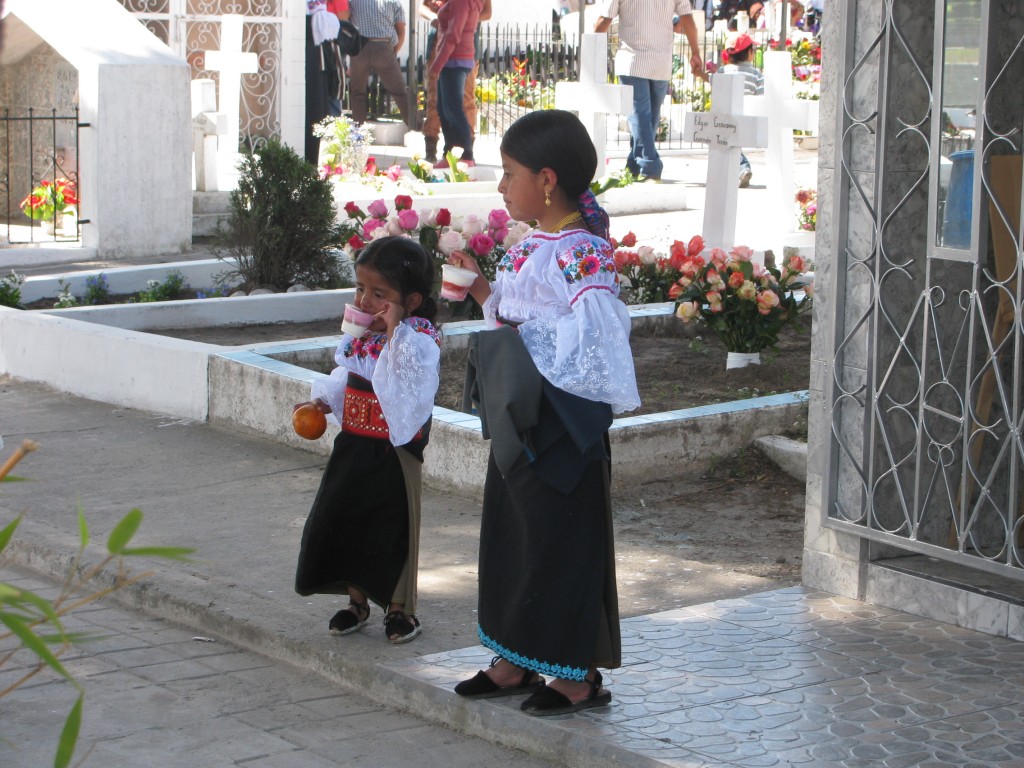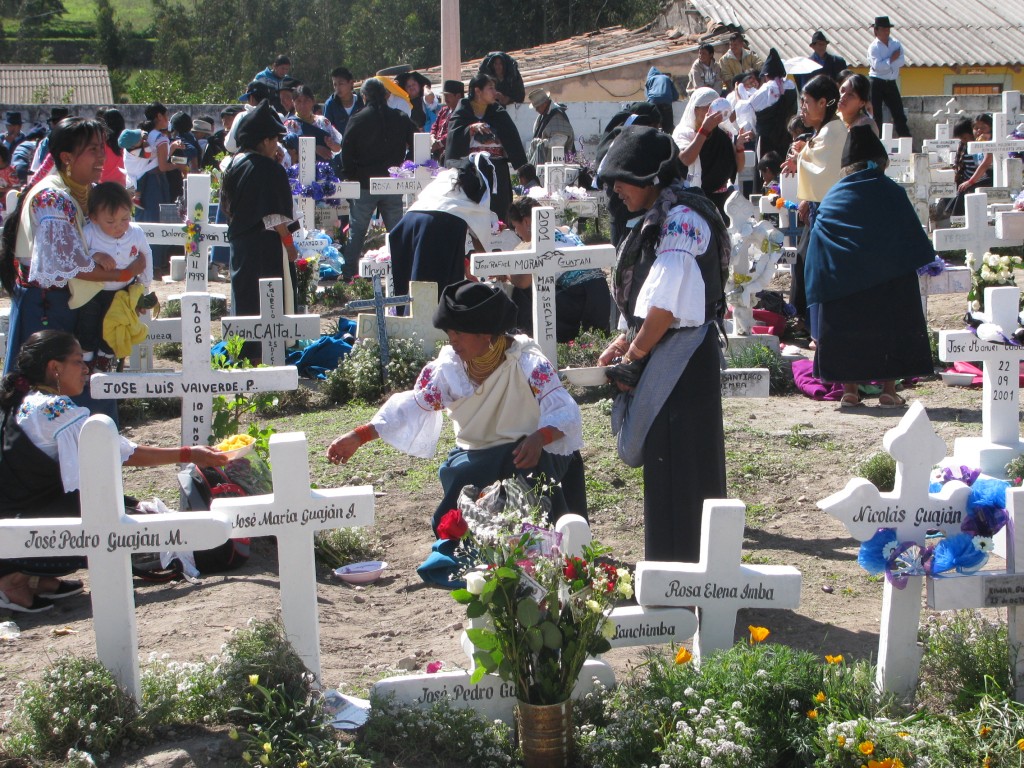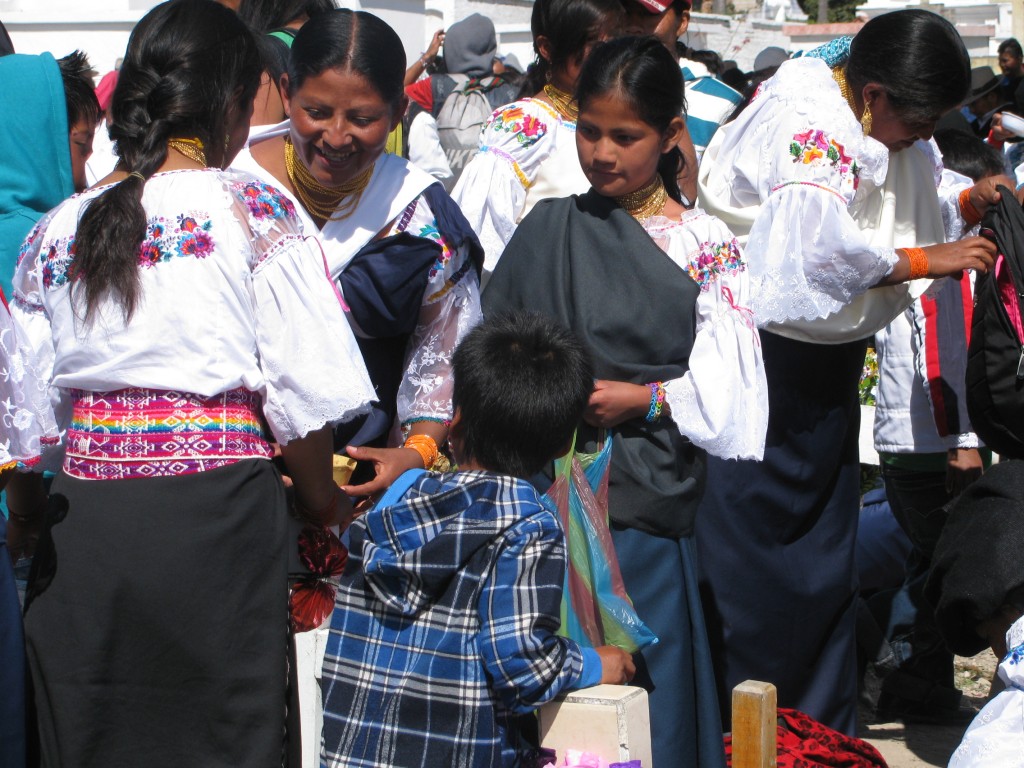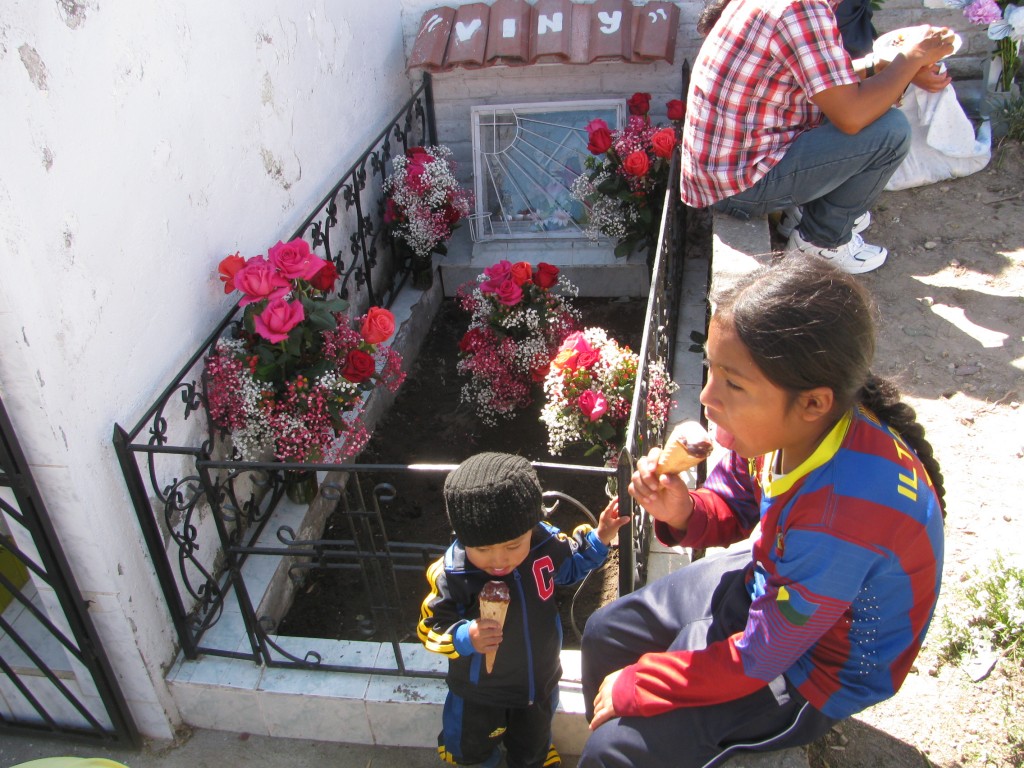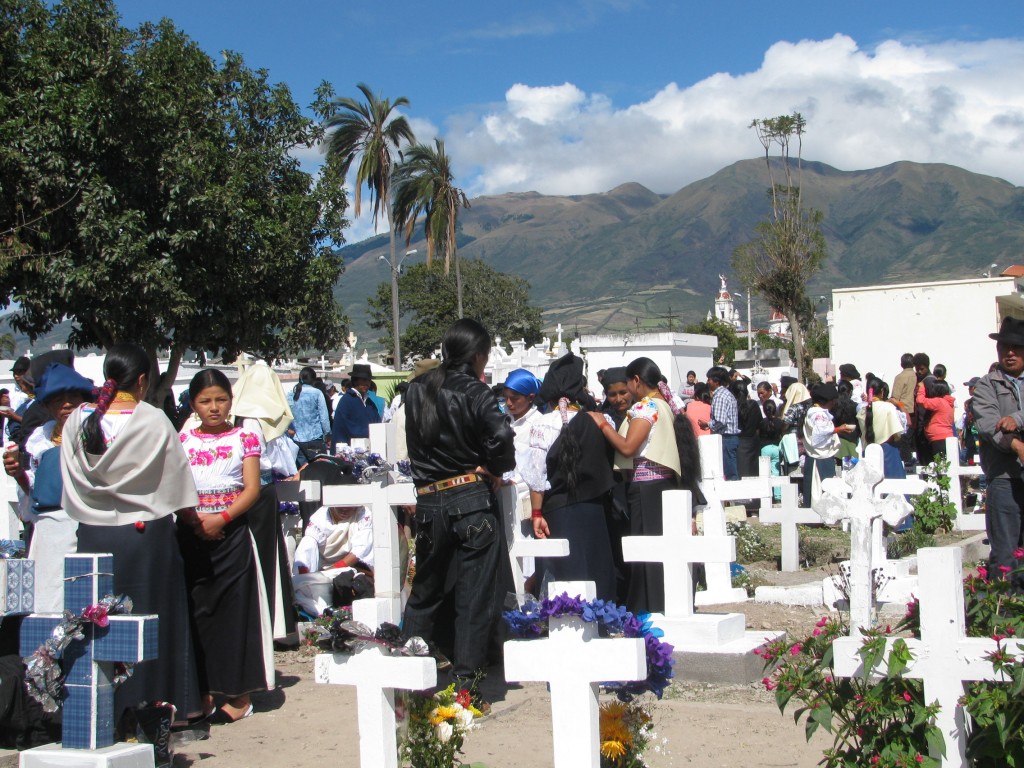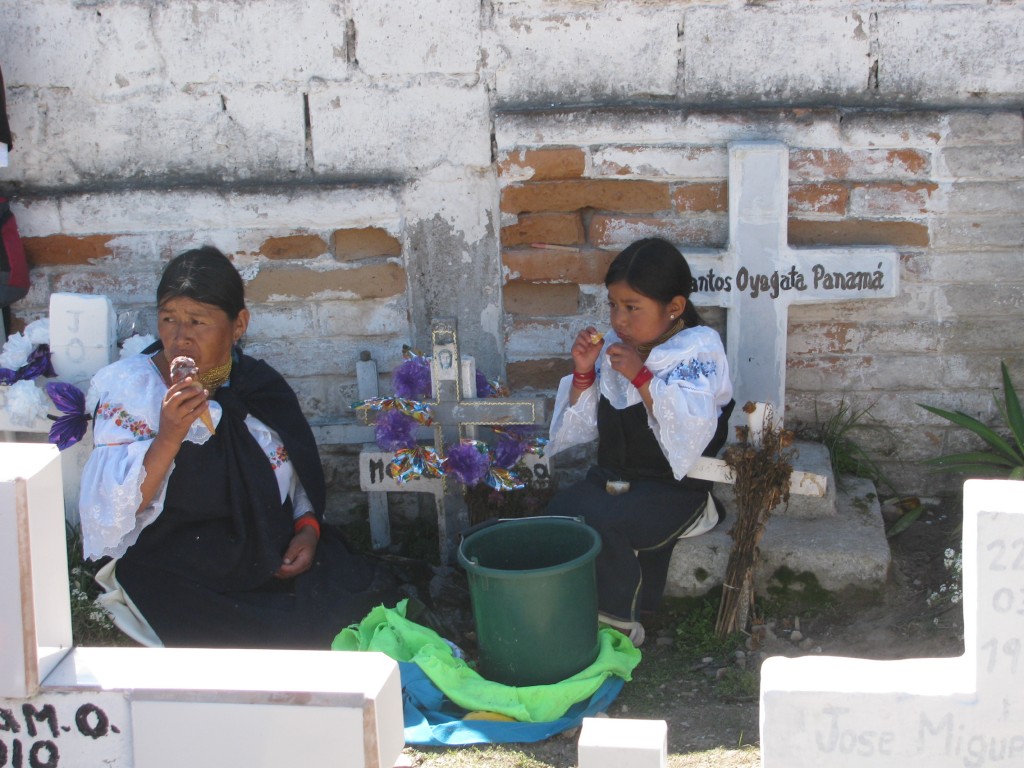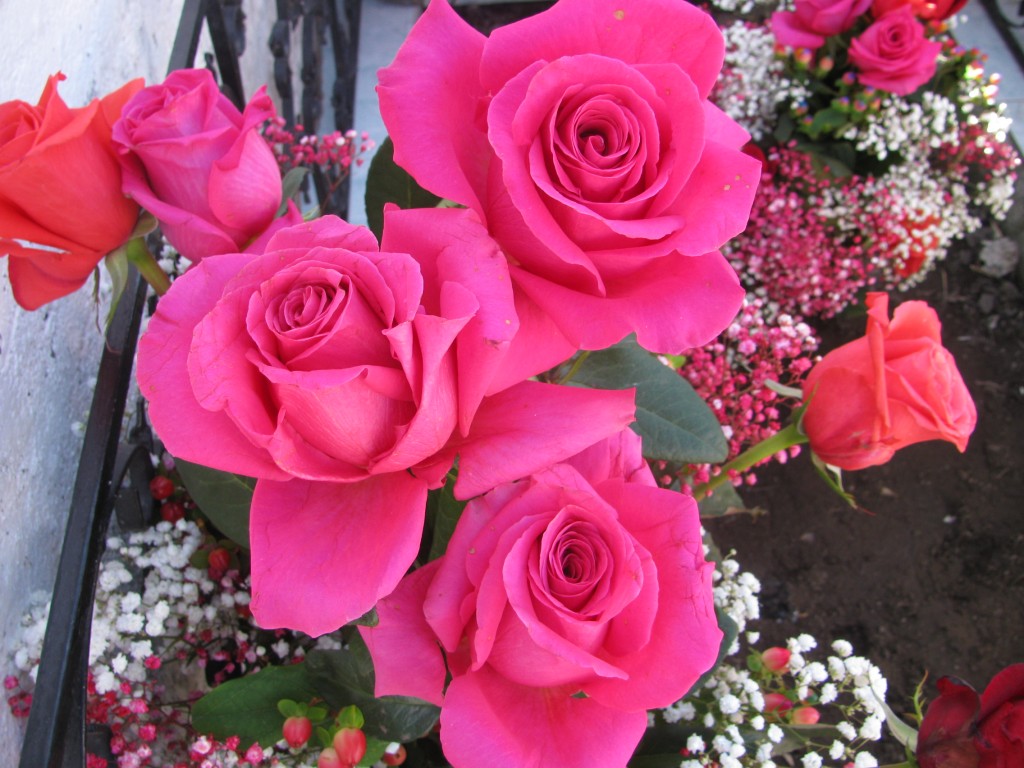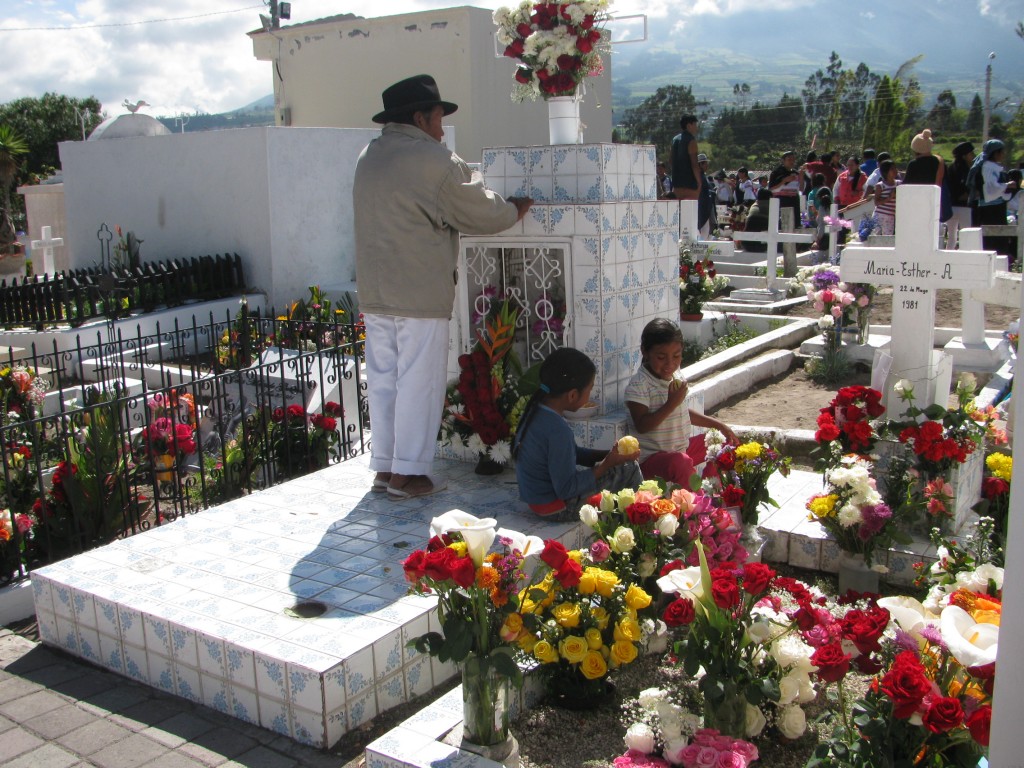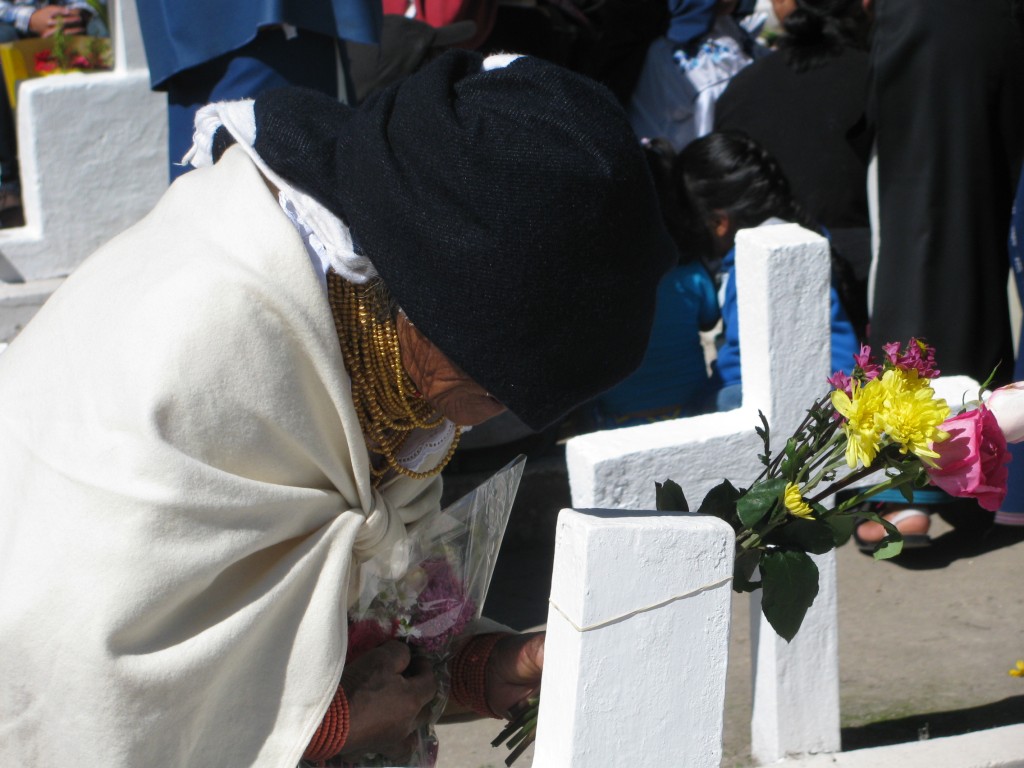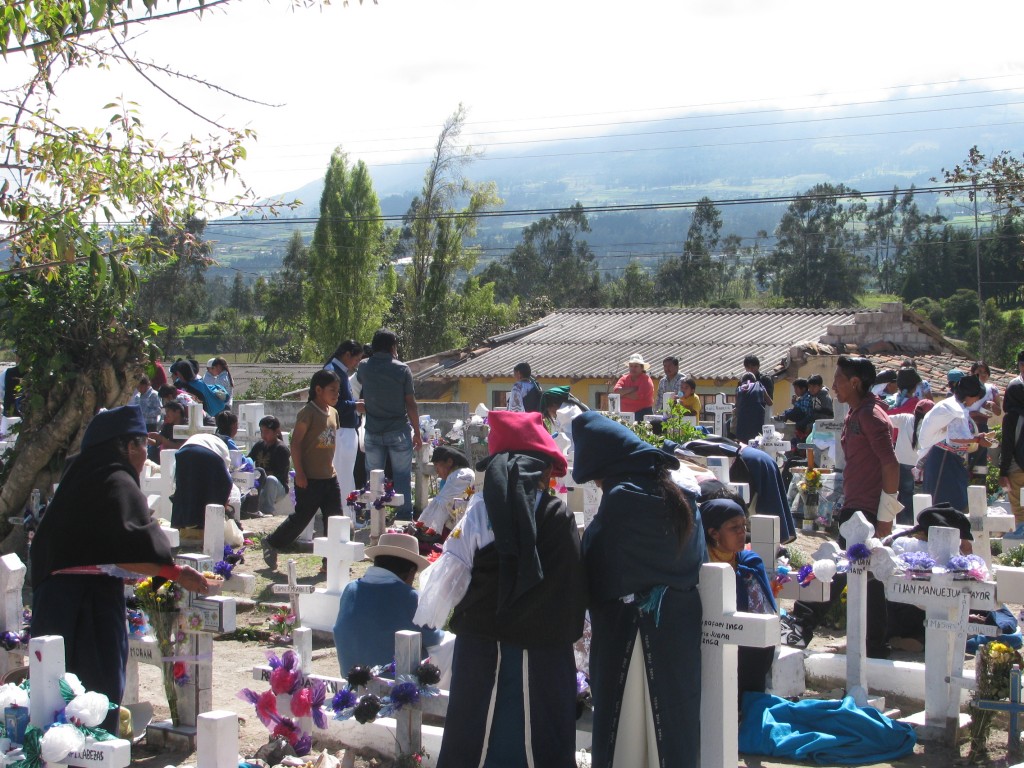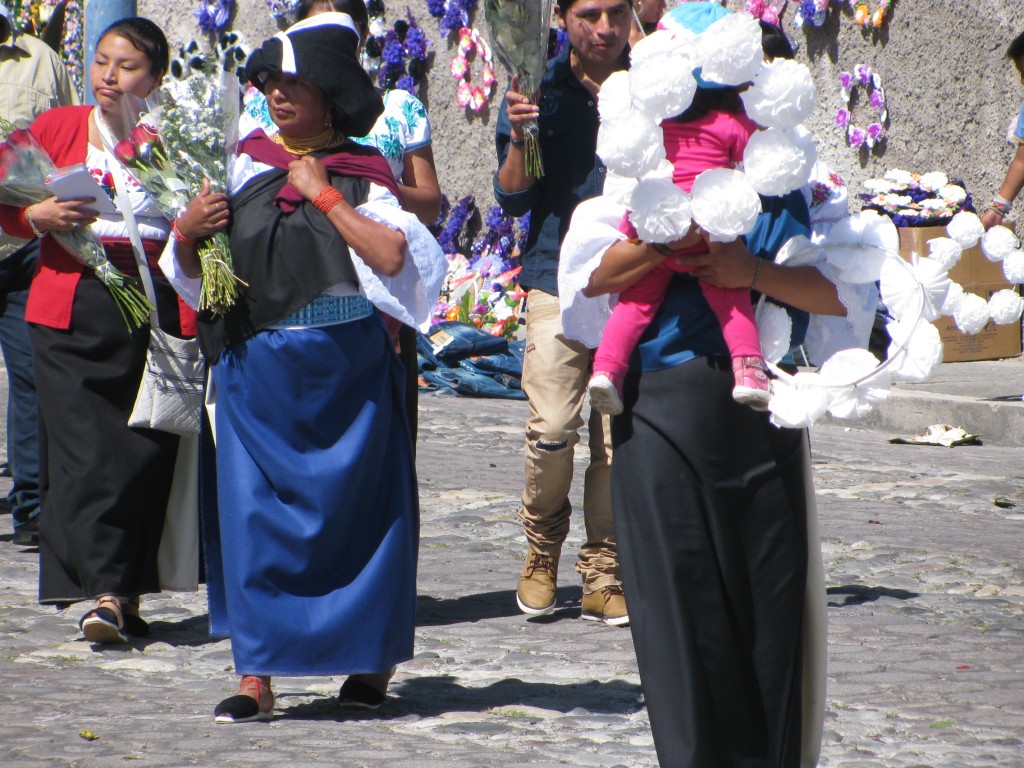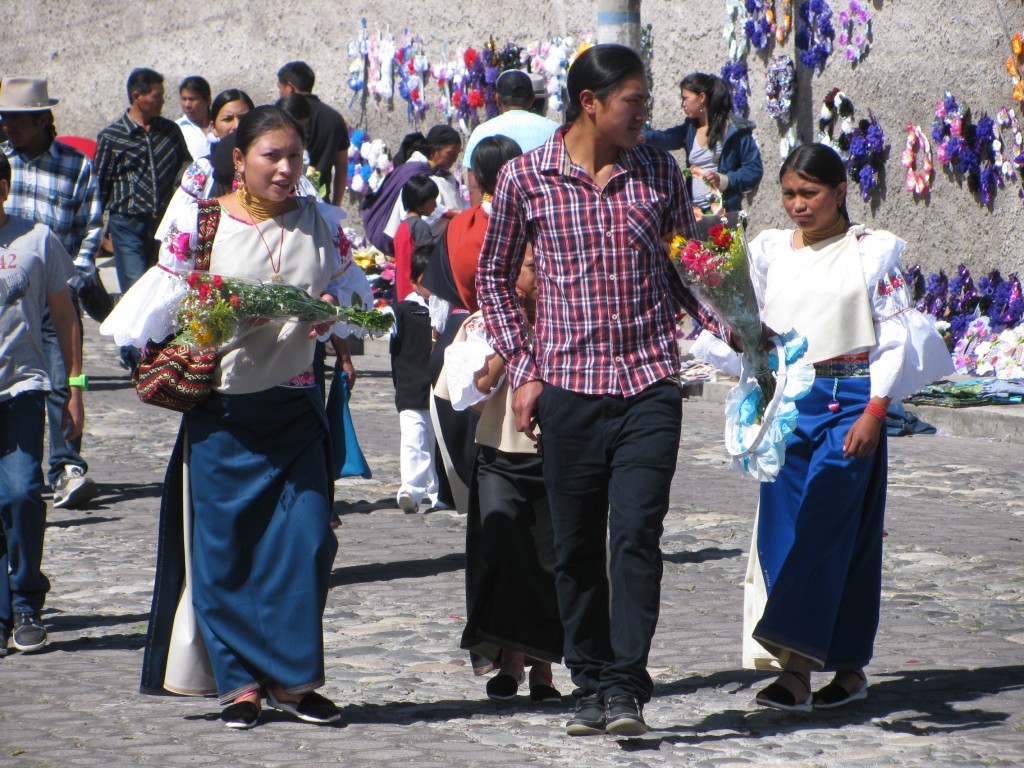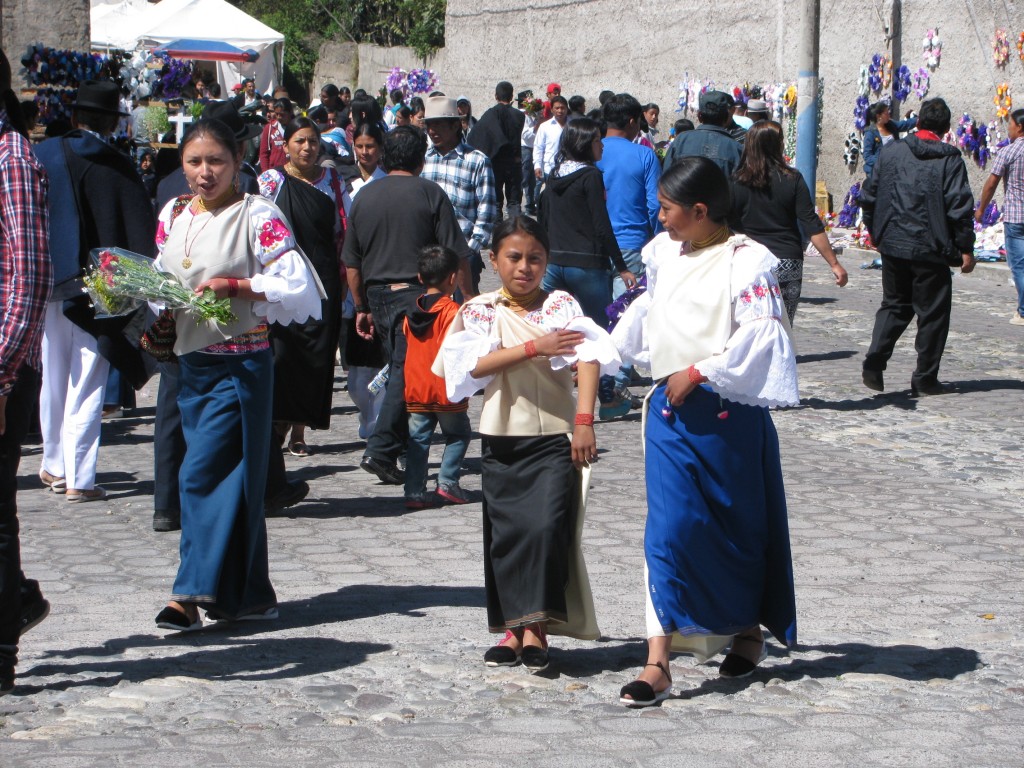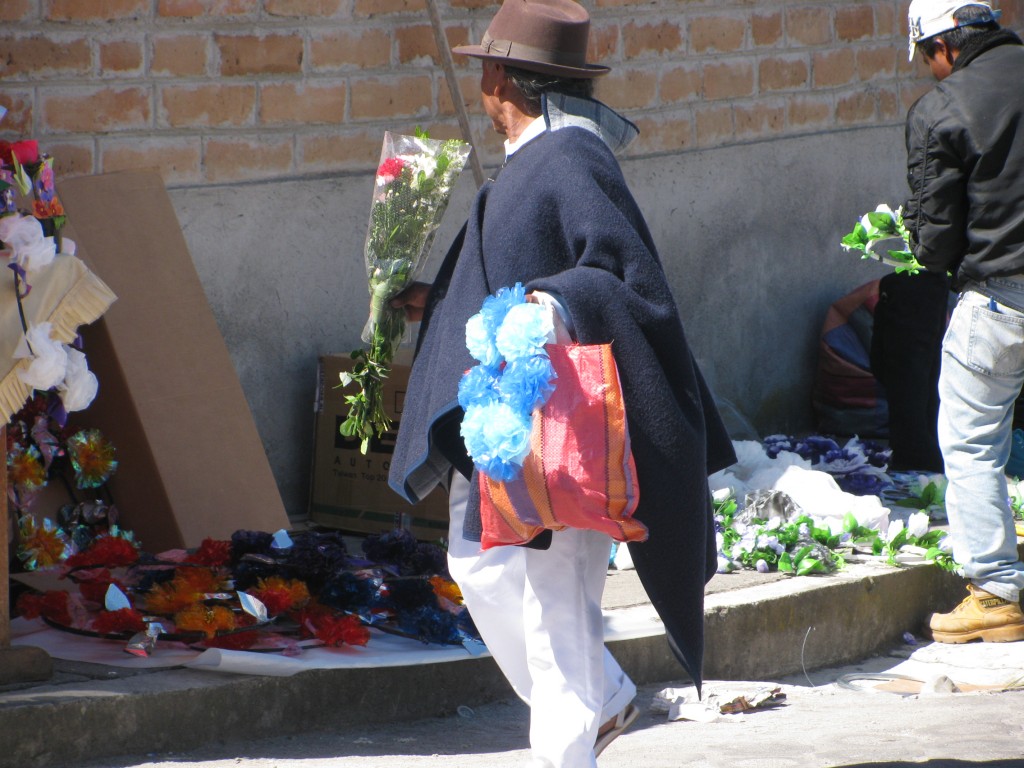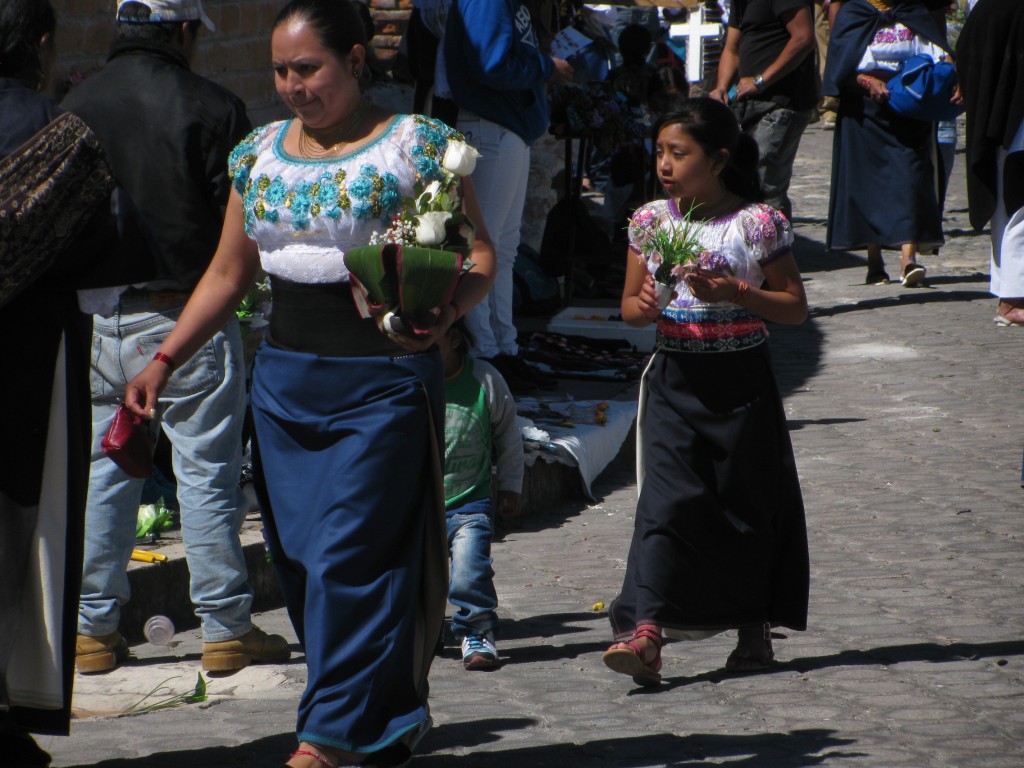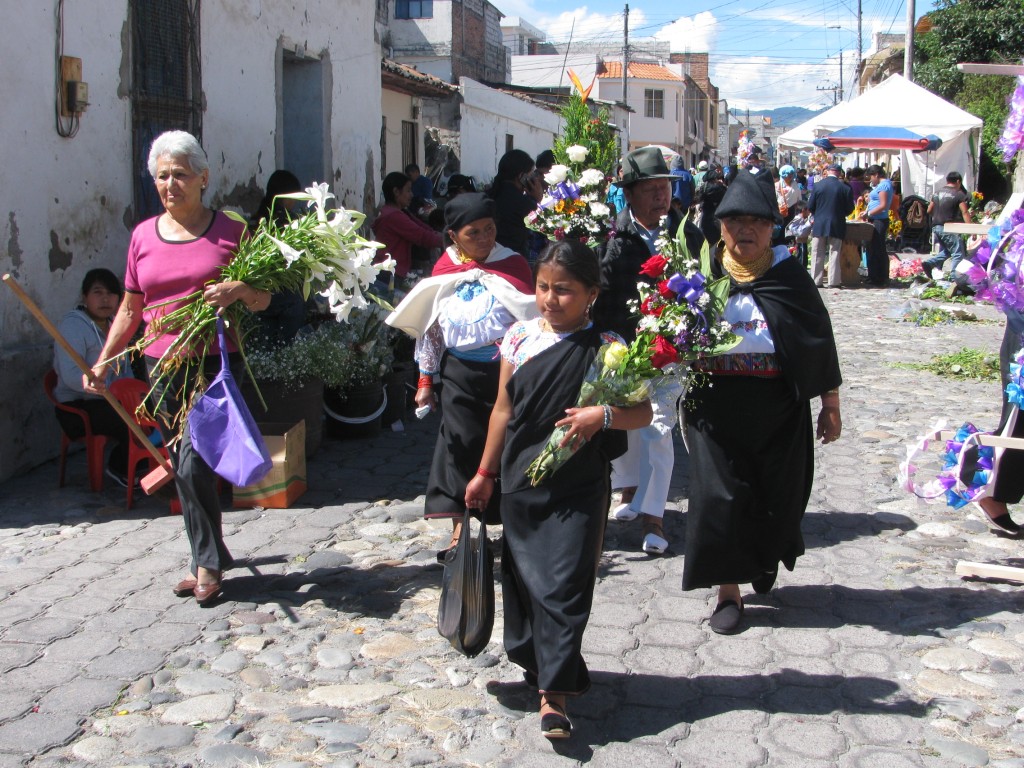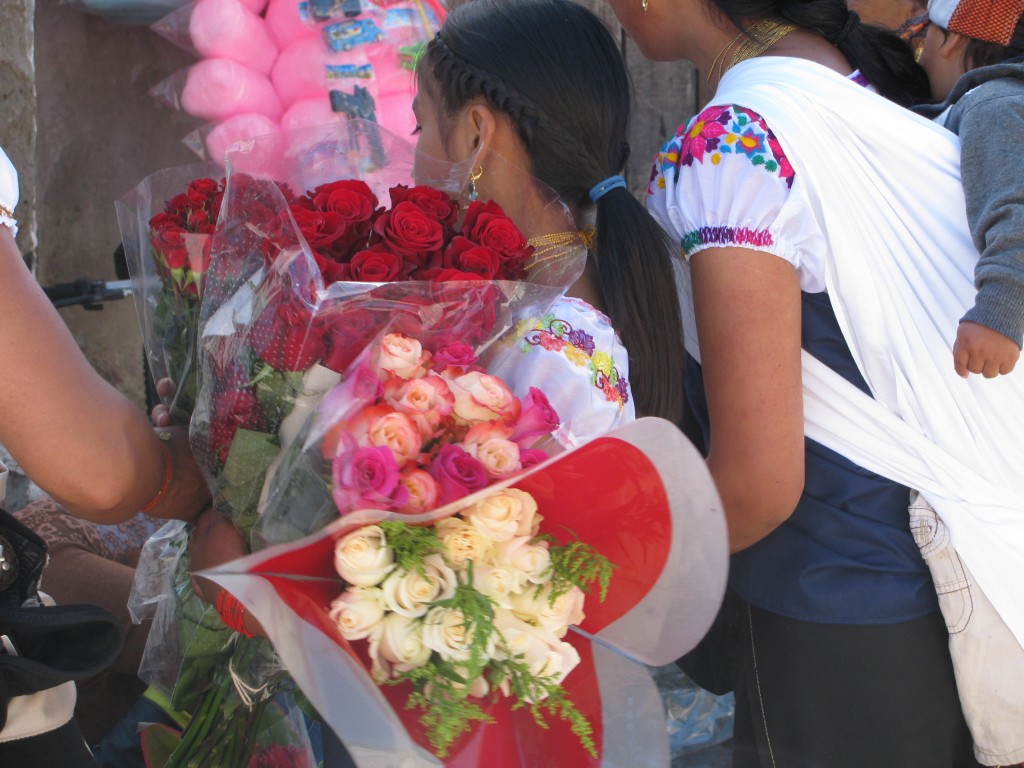 That's going to do it for now. I hope all you Americans have a Happy Thanksgiving. And as always, be well, all of you.