Lonely Planet says Chongqing is where you spend the night and arrange your trip down the Three Rivers Gorge. Well, we decided not to spend the money on that trip, but Chongqing has been a really nice experience. Both of us have seen so many scenic wonders that we are a little jaded sometimes. One can't see everything in the world, so since we have only about 20-30 more years to live, probably, and have to conserve money, we are seeing the cheap stuff for now. The best experiences are the personal ones, of course. Here in Chongqing we met up with a couple we met in Lijiang, Yunnan, and have had a lovely time with them, their family and friends. Besides that, Chongqing is really not such a bad tourist destination. There is much history, ancient and recent, around here. It was the World War 2 capital of unoccupied China, and over the centuries has been the scene of important historical events. Shoot, I like it here, though I do think most of the reason I'm having such a good time is because of the people we met.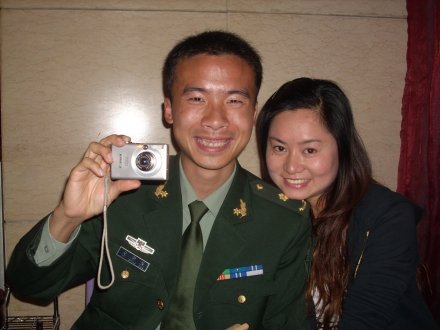 They are Pipi and Xie Xie. I'm definitely not sure about the spelling of her name. That's close. In pinyon, "x" is "sh". Oh, if you are wondering about Chongqing, "ch" is like the English "ch" with the tongue rolled back and "q" is like the English "ch". In the west, we call this place Chungking, like the brand of canned Chinese food. Pipi is a captain in the army and Xie Xie is an ICU nurse in the big state hospital here. He speaks a little English. We met their family and friends, went out to eat several times ( I am gaining weight to the extent that I better start watching it.), and toured around. Here is a picture of them, Myung and his best friend and his best friend's fiance. We were at a restaurant in the countryside near his hometown of Hechuan, an hour's drive north of here. By the way, it is very typical in China for a rural restaurant to grow their own vegetables and raise their own meat. Cluck, cluck, cluck our chicken lunch was carried out back for slaughter and the veggies were picked just before they were cooked.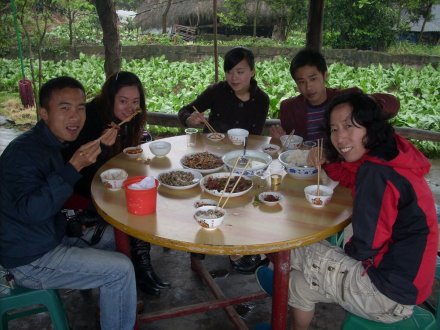 I'll spare you photos of Pipi's parents, uncles and aunts, and their families. The following photos were taken when we were walking around a fortress area where in Chinesae history, the Southern Song dynasty held off the Mongols for 32 years before falling and ushering in the short-lived Mongol Yuan dynasty. It really is an heroic, epic story. I'll spare you that, too. Now the place is a nice walk in the park.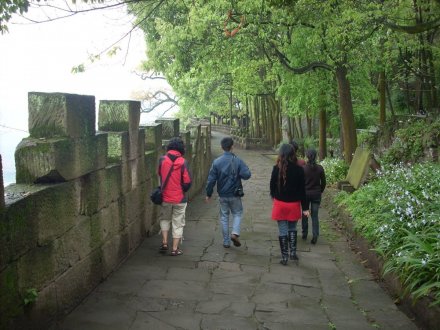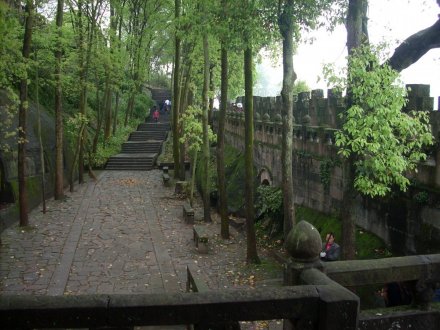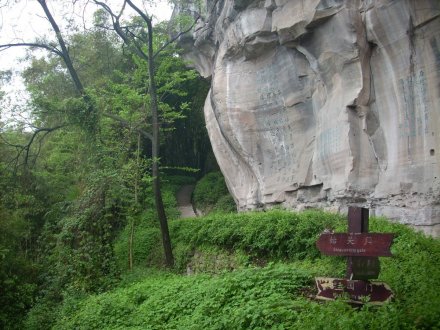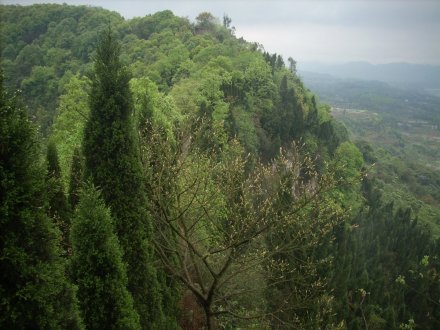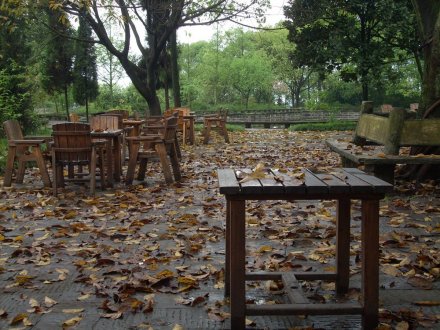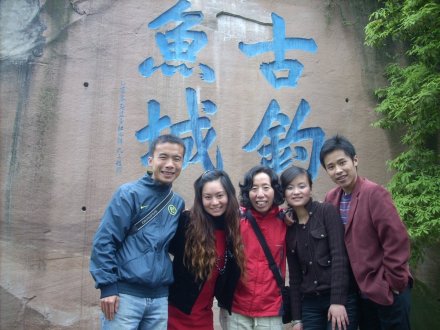 Chongqing has an old part of town which is mostly tourist shops, though if you venture away from the center, it's pleasant.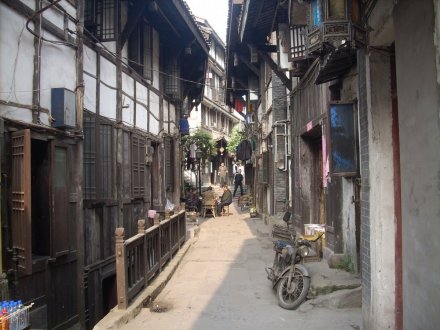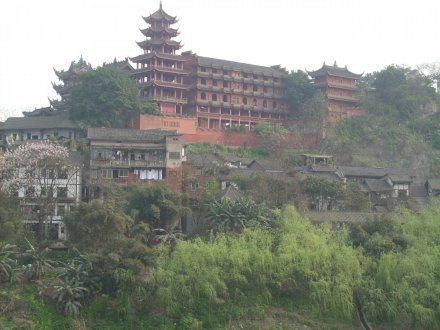 This is an artsy effort of a roof in a Buddhist temple in the heart of Chongqing, and one of the devotees.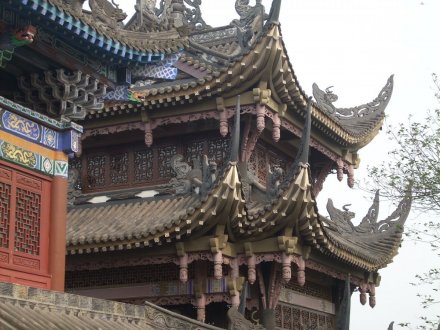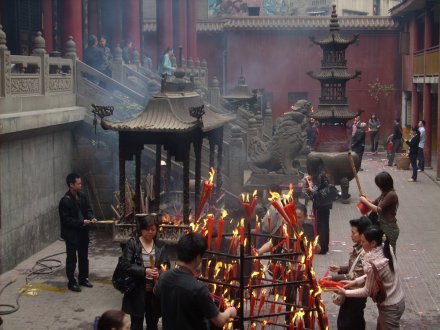 At night, this big city of 4 1/2 million is lit up like a Christmas tree. I'm impressed by how the planners have made an effort to make it as liveable as possible. And they do have plans. I went to the urban planning museum. That in itself was amazing. You'd think urban planning would be as boring a subject as possible, but this was a great museum. It made me interested in the subject and it was a good museum to walk around in. Lonely Planet said it was "fabulous", and they are right. Who'd a thunk it? Anyway, here are some of the lights.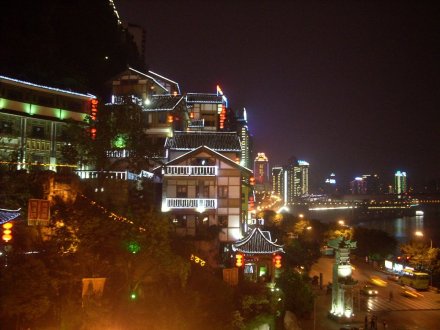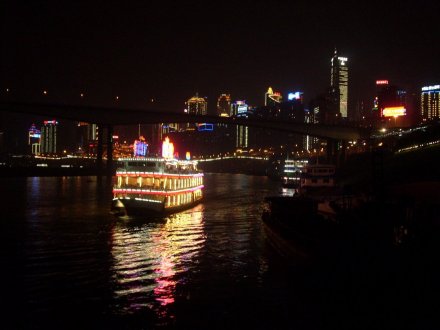 Myung is off trying to buy train tickets for Wuhan. If she is successful, we plan to go this afternoon on the 16 hour ride to there, then north to some traditional towns. If she is unsuccessful, we'll stay here till there are tickets. At any rate, that's it for now. Be well, all of you. I'll leave you with my new way of keeping Myung in line. It hasn't been easy, but my mates and I have a plan.