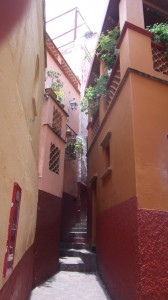 This is Callejon del Besos, Alley of Kisses. Legend has it that the daughter of a wealthy man fell in love with a common miner. When her father discovered this, he forbid them from seeing each other. In order for the young man to see his beloved, he rented the room across the alley, only 68 inches (200 cm) wide. So close, they could exchange kisses and touch. The father discovered them together and it ends in tragedy. He knifes his daughter in the heart and the miner dives to his death down a min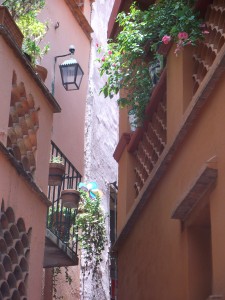 e shaft.
Some say Guanajuato is the most romantic city in Mexico. The custom, repeated all day and night by Mexican and foreign couples alike, is to kiss on the third step, the narrowest point. This  promises seven years of happiness together. If a couple passes this spot without kissing, they will have seven years of bad luck.
With this, I am done with Guanajuato, at least for now. It's been great hanging out in this nice, quiet hostel. I get so impatient with partying backpackers now. Yes, they are mostly young and want to have fun, but I'm taking the laid back lodgings every time I can.  My perfect day is doing something for a few hours and chilling. This has been especially good because I have had a big, airy dorm room with a view all to myself.
But, I've run out of things I want to do here and am going to Zacatecas tomorrow. I'll post from there, of course. Until then …