Guanajuato is a lovely city. I wonder how San Miguel de Allende became the favorite of expats? There is nothing I saw in San Miguel that doesn't seem nicer here. It's prettier, much more photogenic, and just as sophisticated. I'm considering adding this to my short list of where I could plunk down.
Guanajuato is almost all up and down, so as the city bus wound down to the center, it was hard to see what Guanajuato is like. I kind of don't like cities where I can't get the lay of the land on the way in. The hostel I booked said it was above and away from the noisy center, and the pictures on it's webpage looked like you could see around from it. This did turn out to be the case. From up high, one gets a better idea how Guanajuato is laid out. Here are pictures from the terrace outside my door.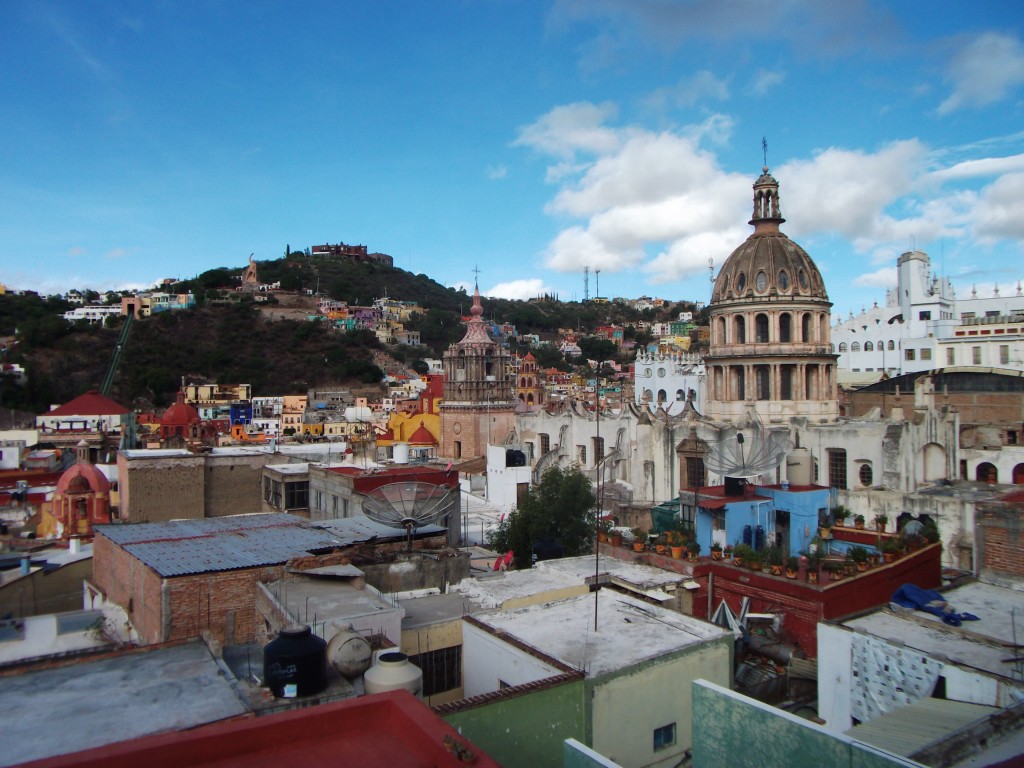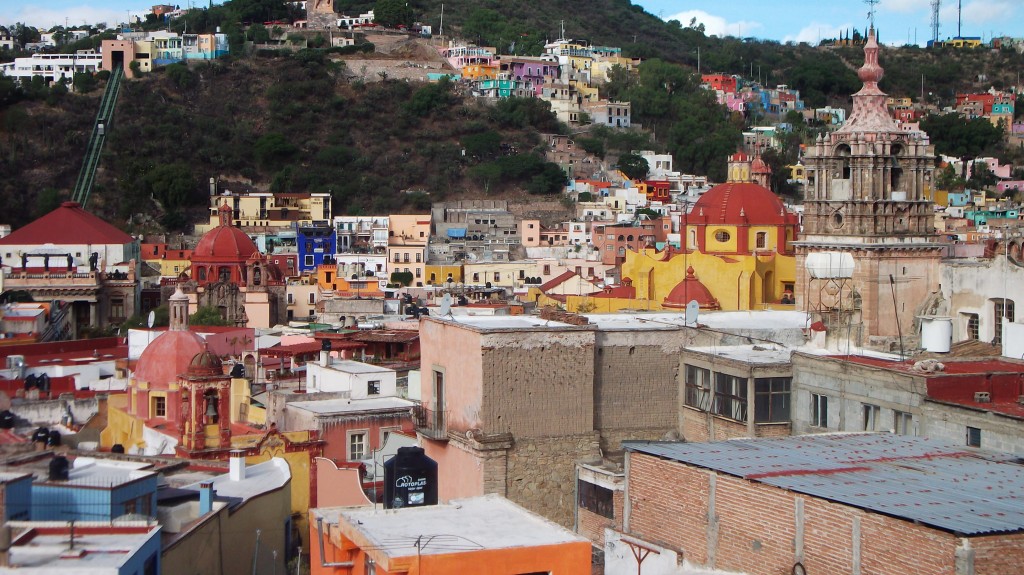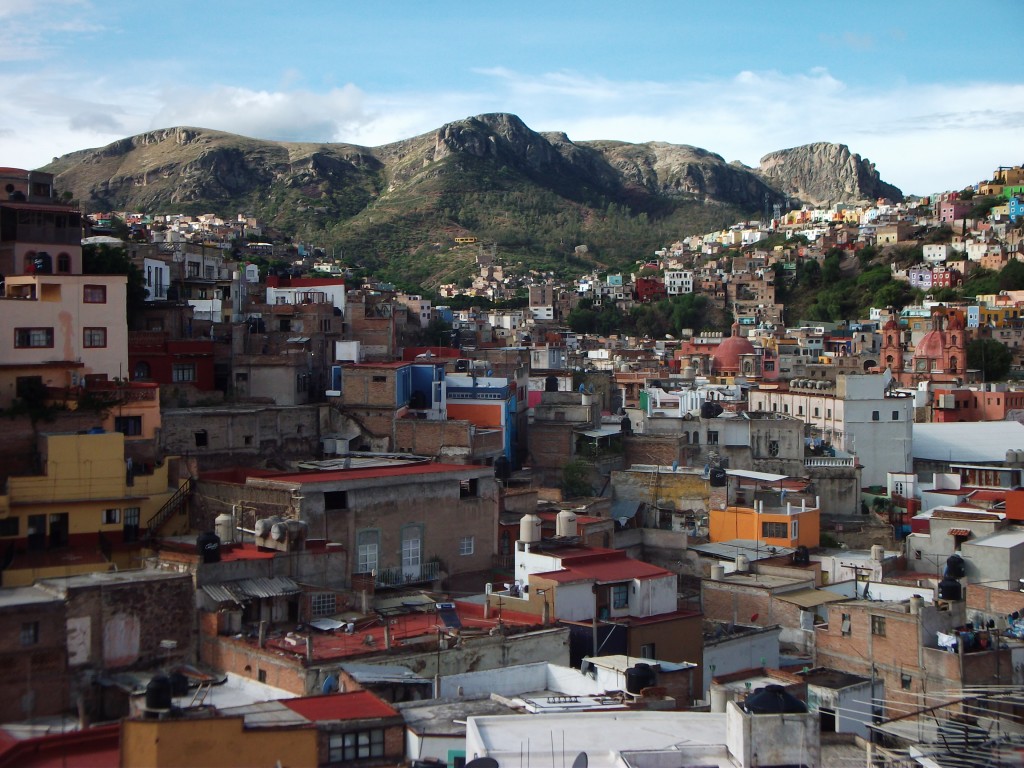 This is a great town for wandering. Due to it's maze of crooked alleys and streets, wander you do. I've gotten lost and unlost several times already. Let's go for a walk.
You go down a footpath, then a couple of little streets until you get to this corner.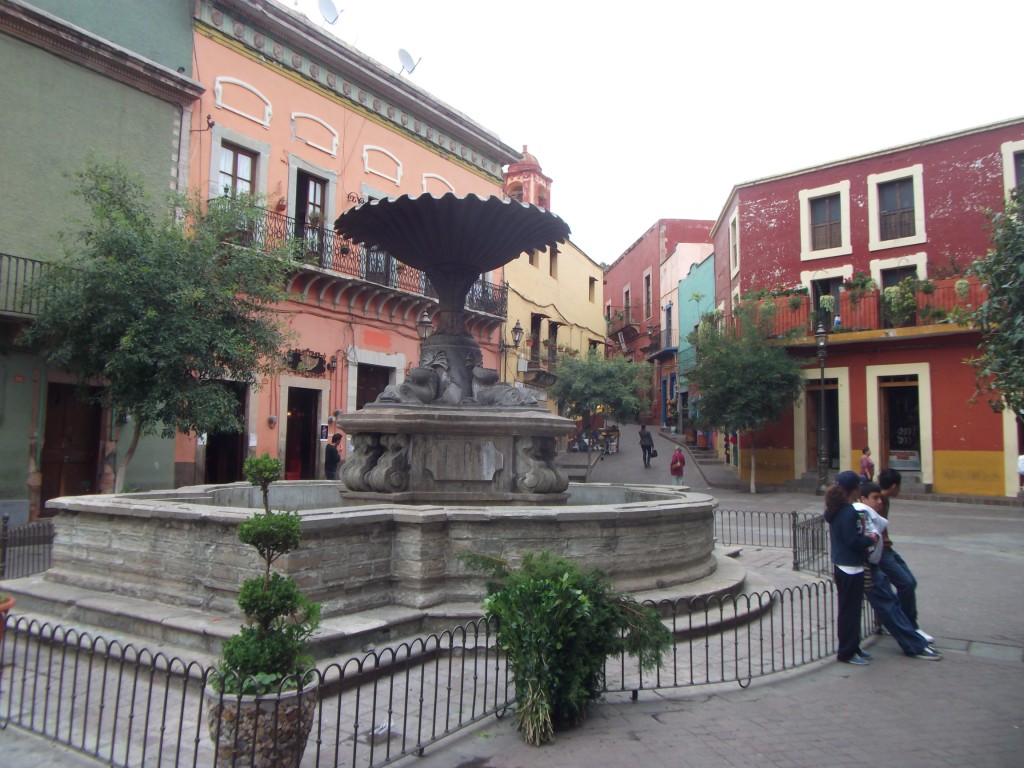 That fountain was my landmark the first day, or I don't think I would have remembered which street to take up to my place. If you stick to one of the two main streets from there and not into the warren of alleys, you continue to go down until you hit the main plaza. This is the weekend, so it's been busy down there. There's a shady, triangular park…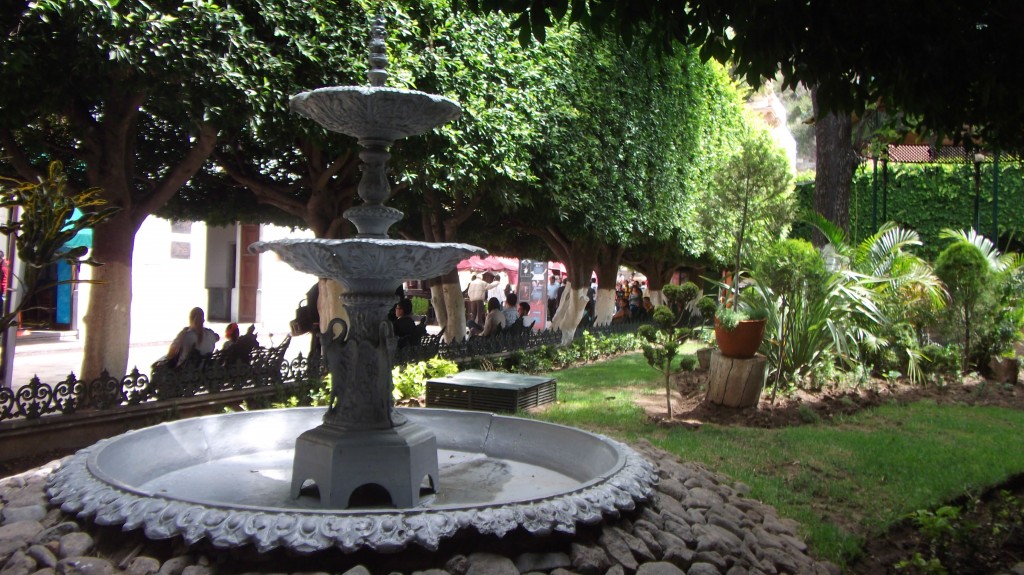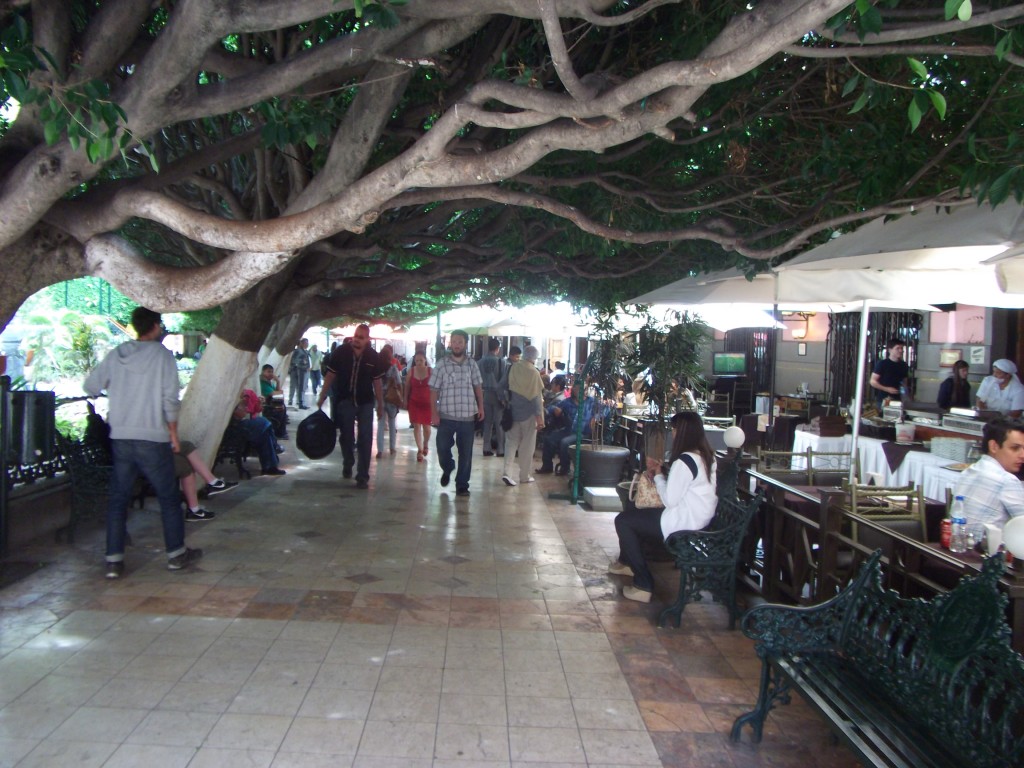 Actually, on the walk I took today, this was where I ended up after about four hours. I sat on one of those benches on the right and listened to this band behind me serenade the diners.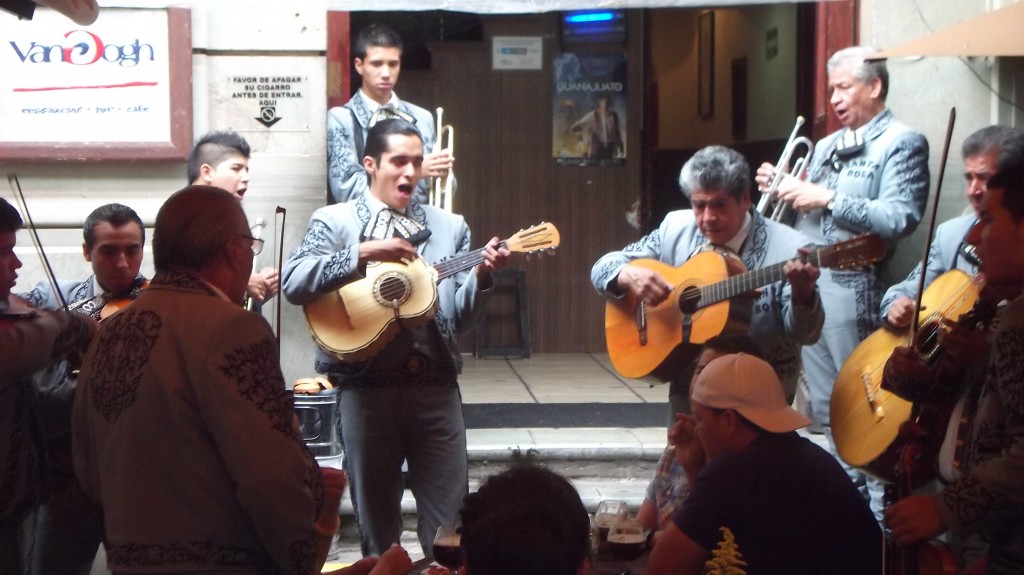 Here is the scene around the outside of the shady area.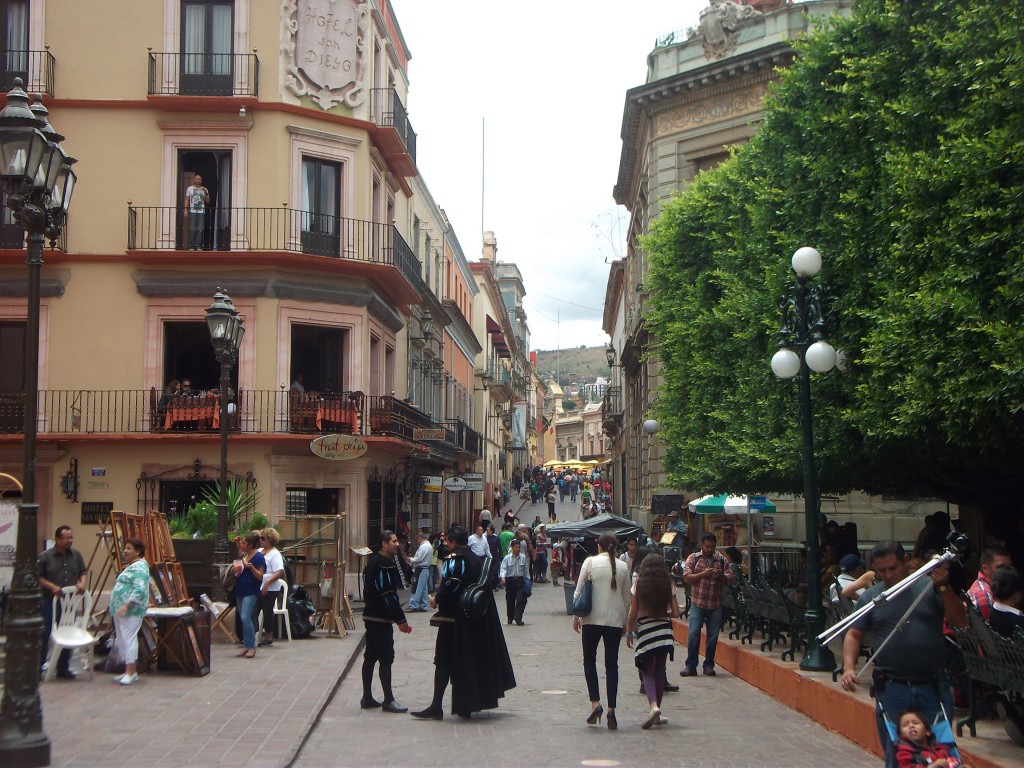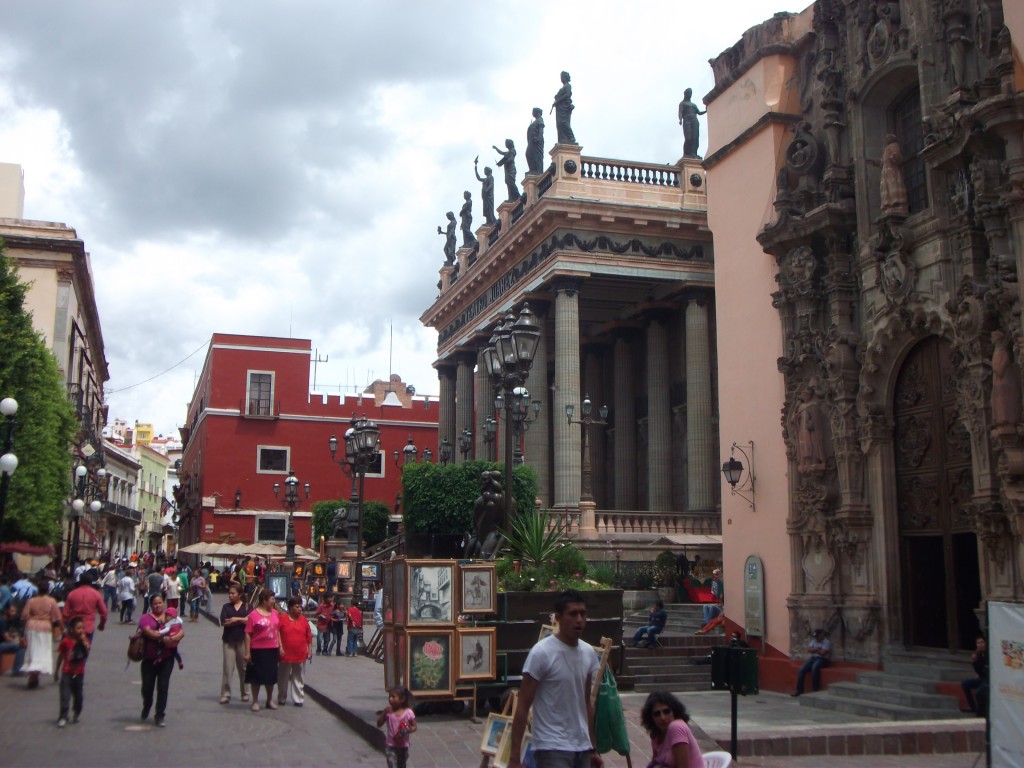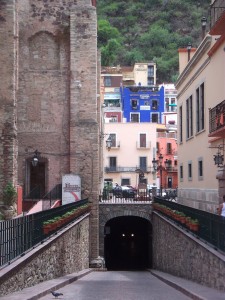 If you look down the right side of that theater, you look down what used to be vehicle access to the Subterranea Padre Miguel Hidalgo. See the headlights down there? The cars make a left and go underneath. Nowadays, that way is one of many pedestrian access points to a one-way road in what was the Guanajuato River before the river was diverted in 1905 after it flooded the city. This tour is all out of sequence from the walk I took, but let's go down there, anyway. Here's one end…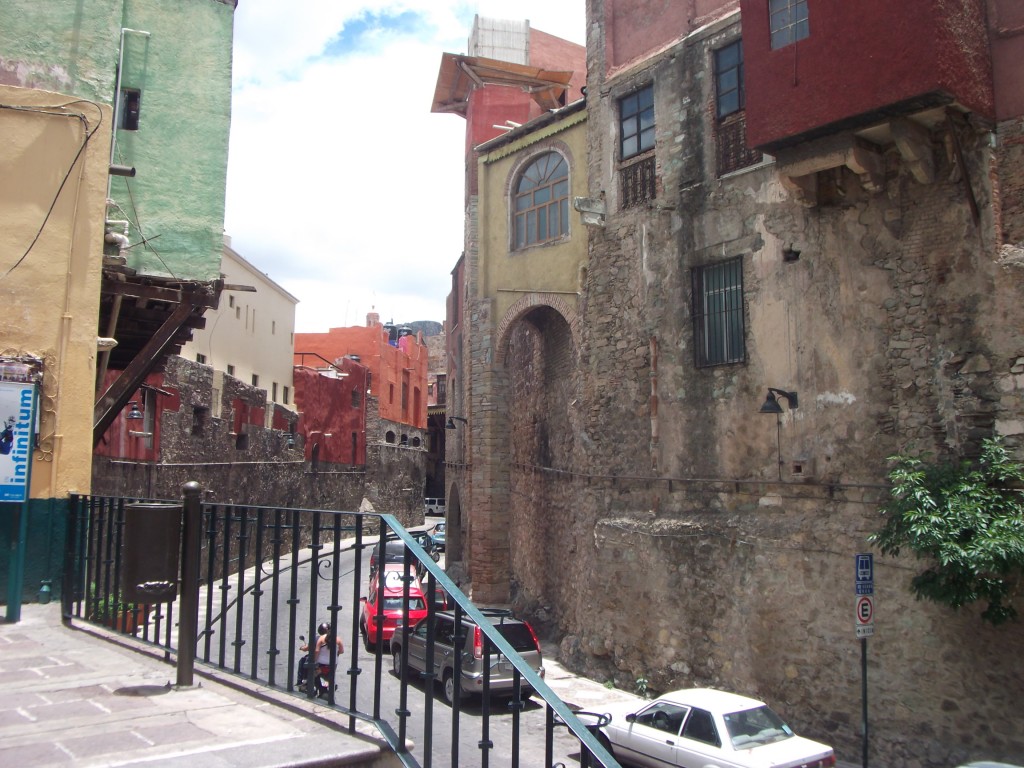 Then it goes like this. I don't have any pictures that show how it's really a pretty walk, photogenic is some places. Of course, I couldn't capture it.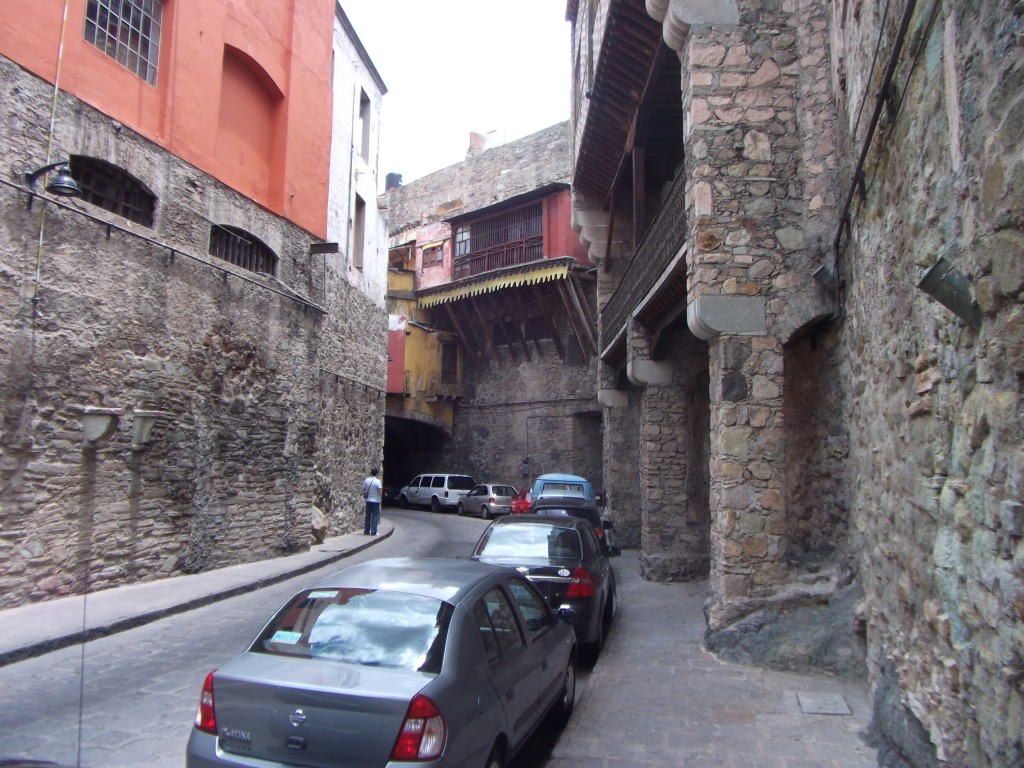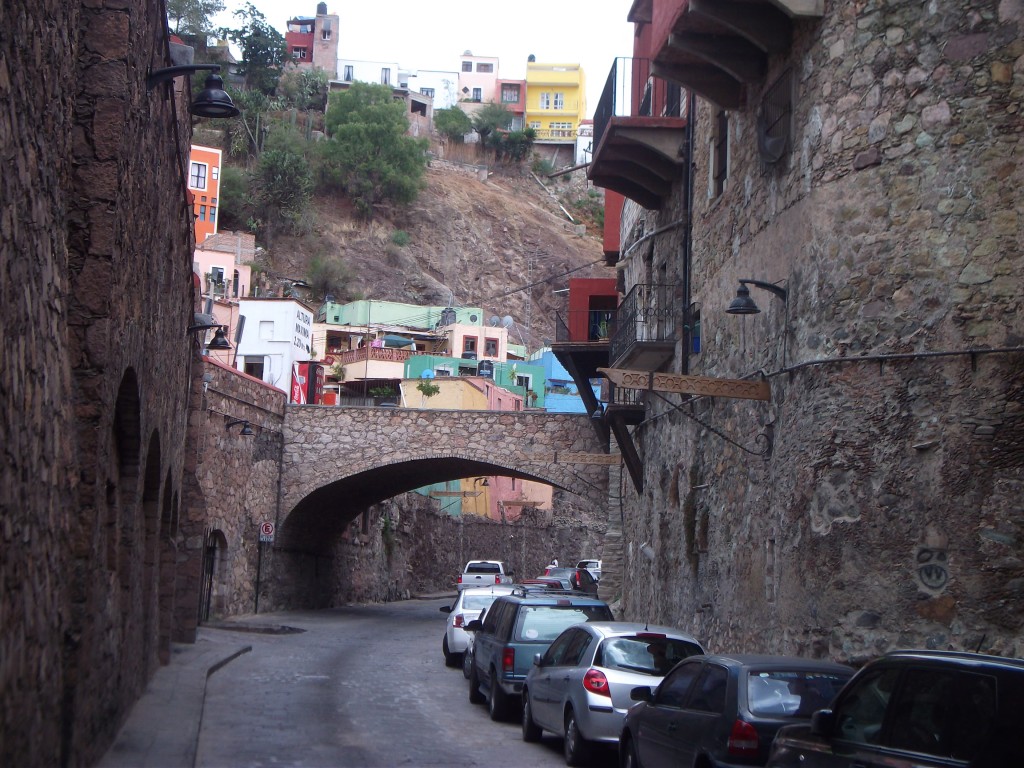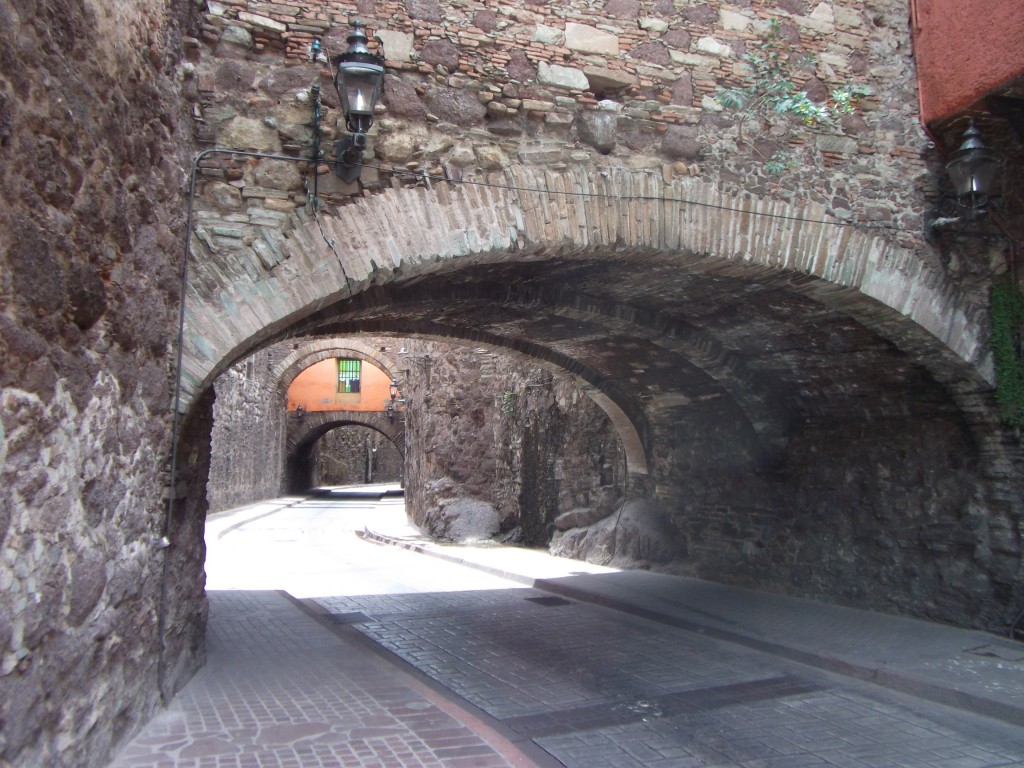 You look up at these funky homes and stuff.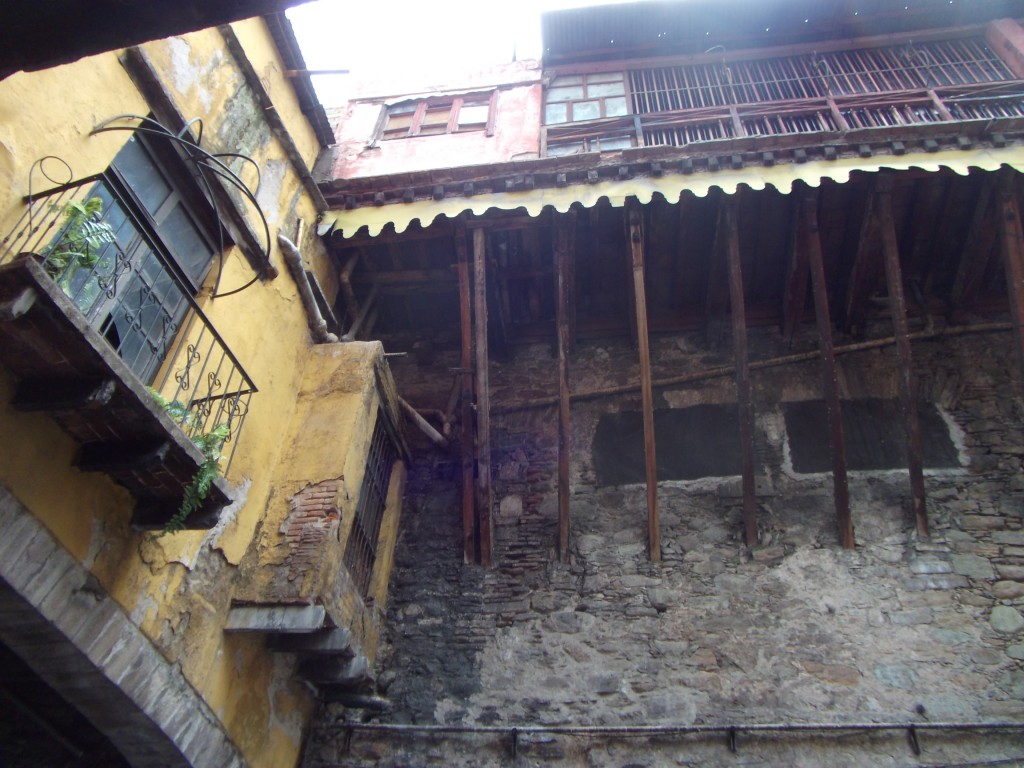 After walking that for a while, I came out in a neighborhood area.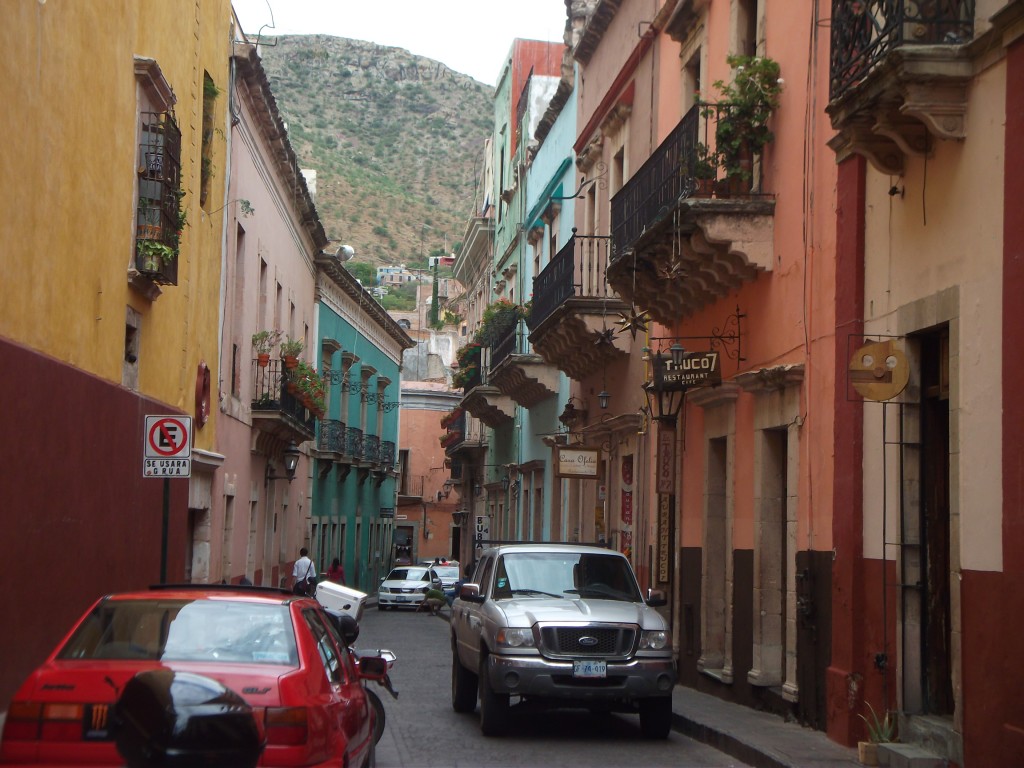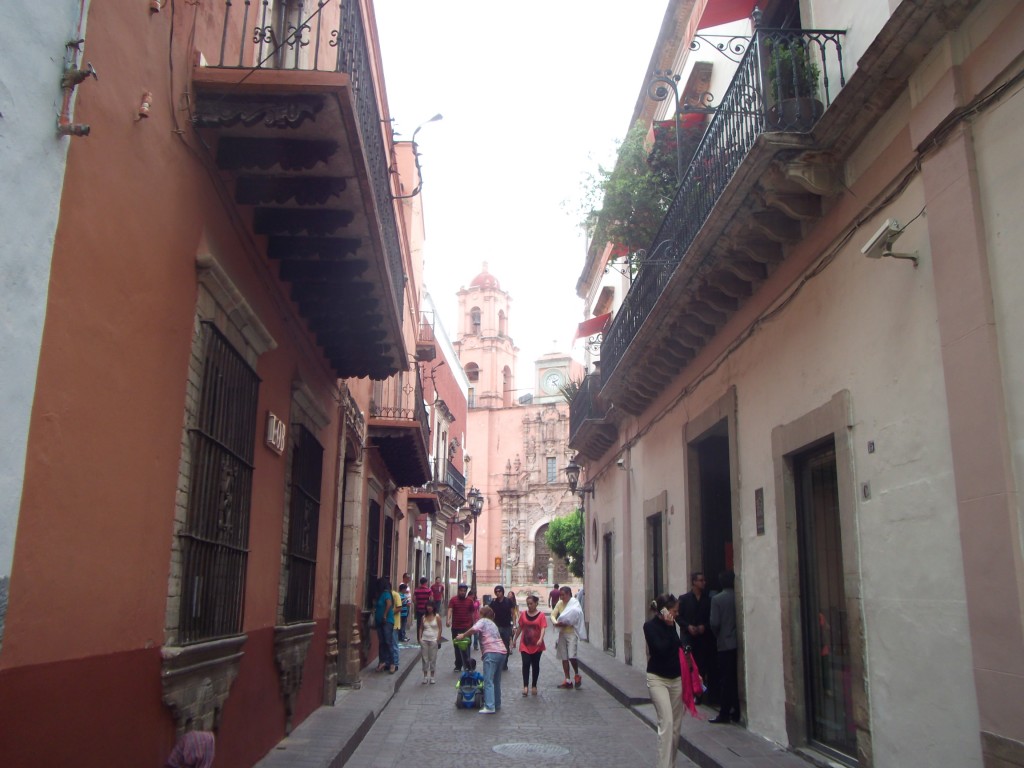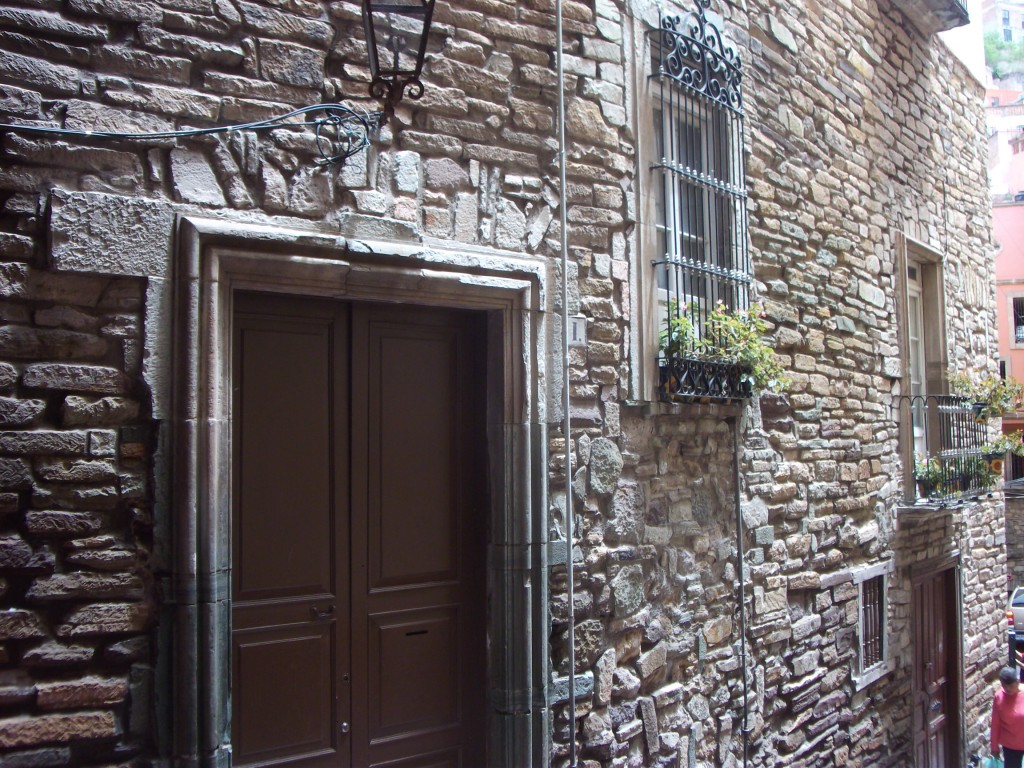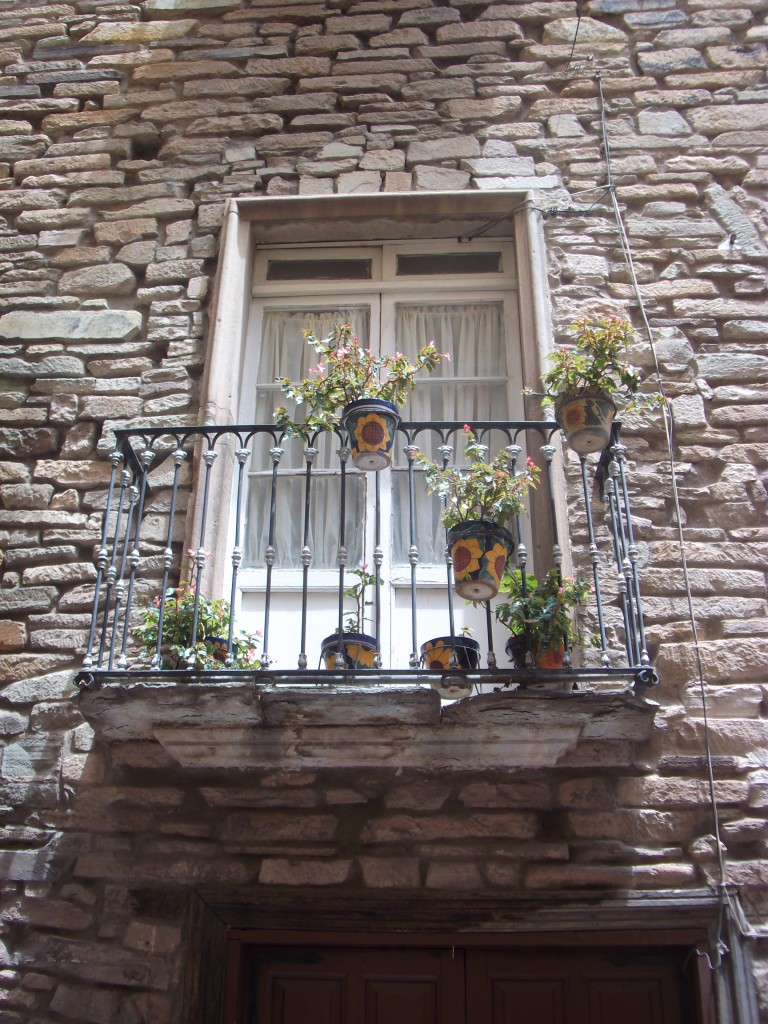 Then I came around toward the center…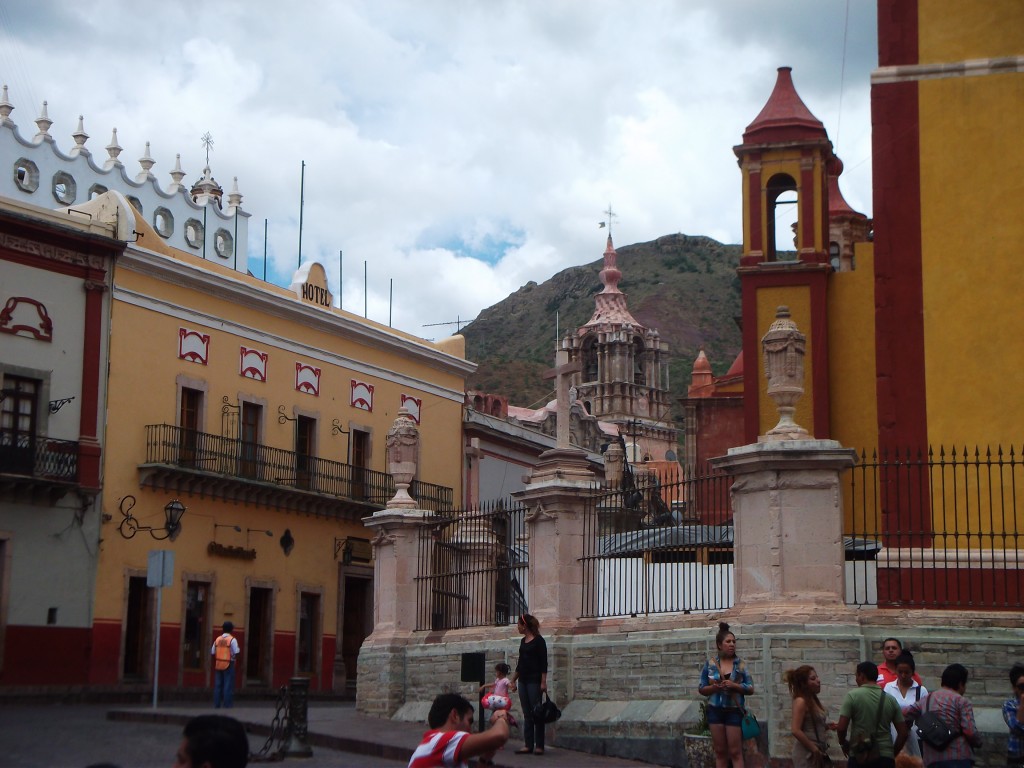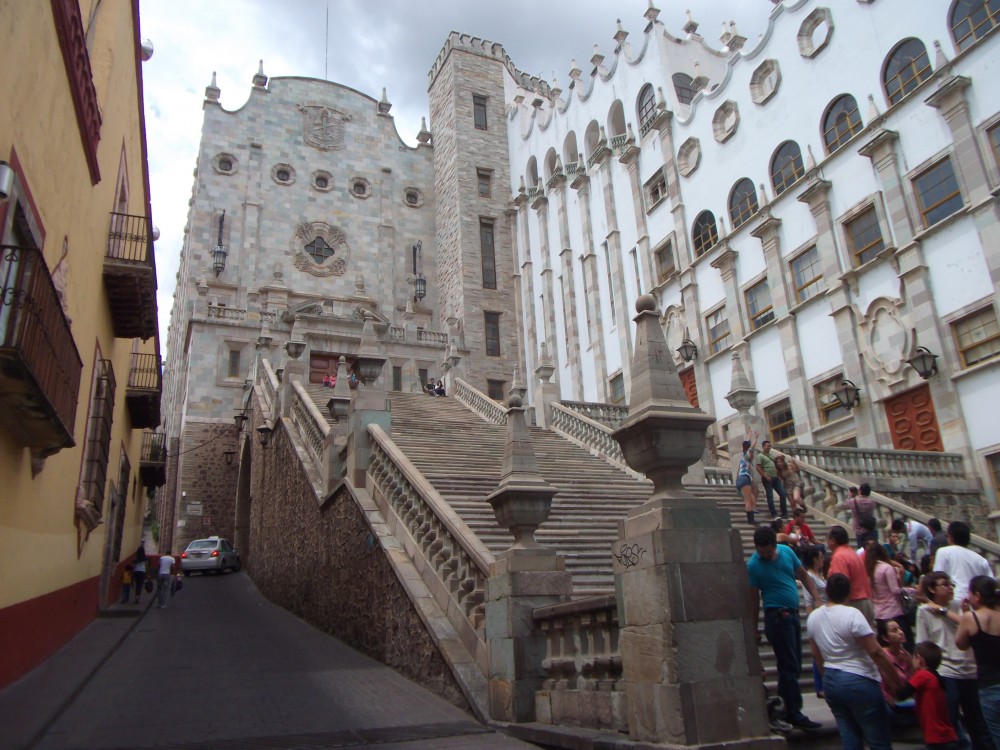 … where there were even more people than when I left.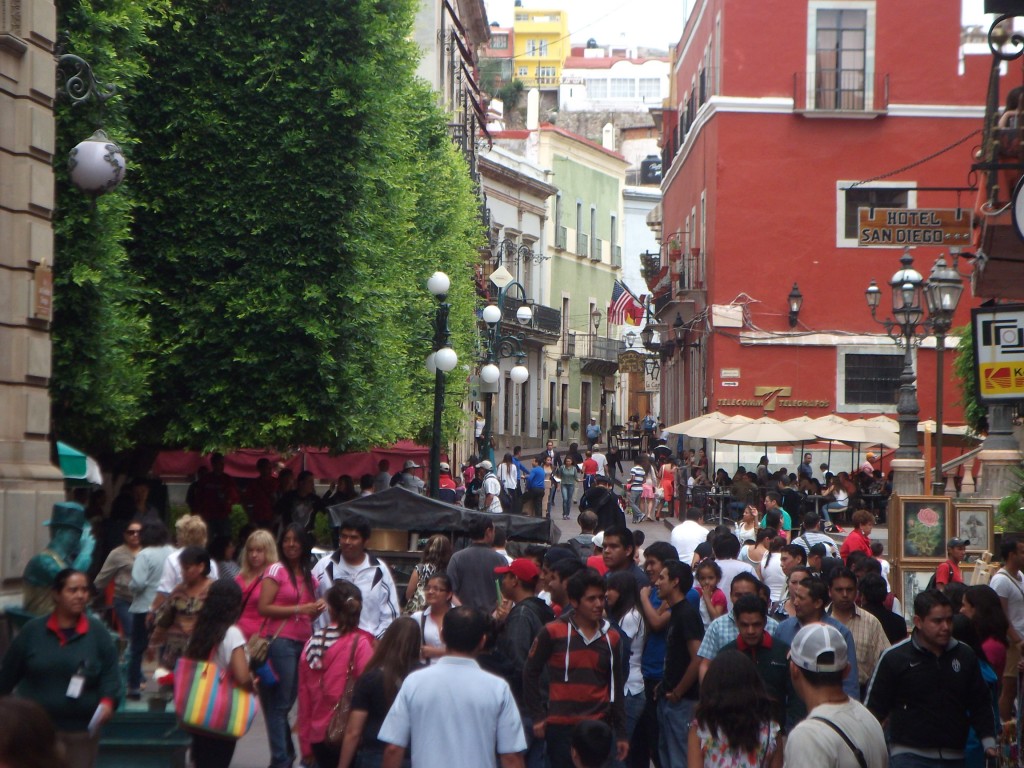 A cute thing was these guys who made themselves up like they were made of copper. They mimed and posed for pictures.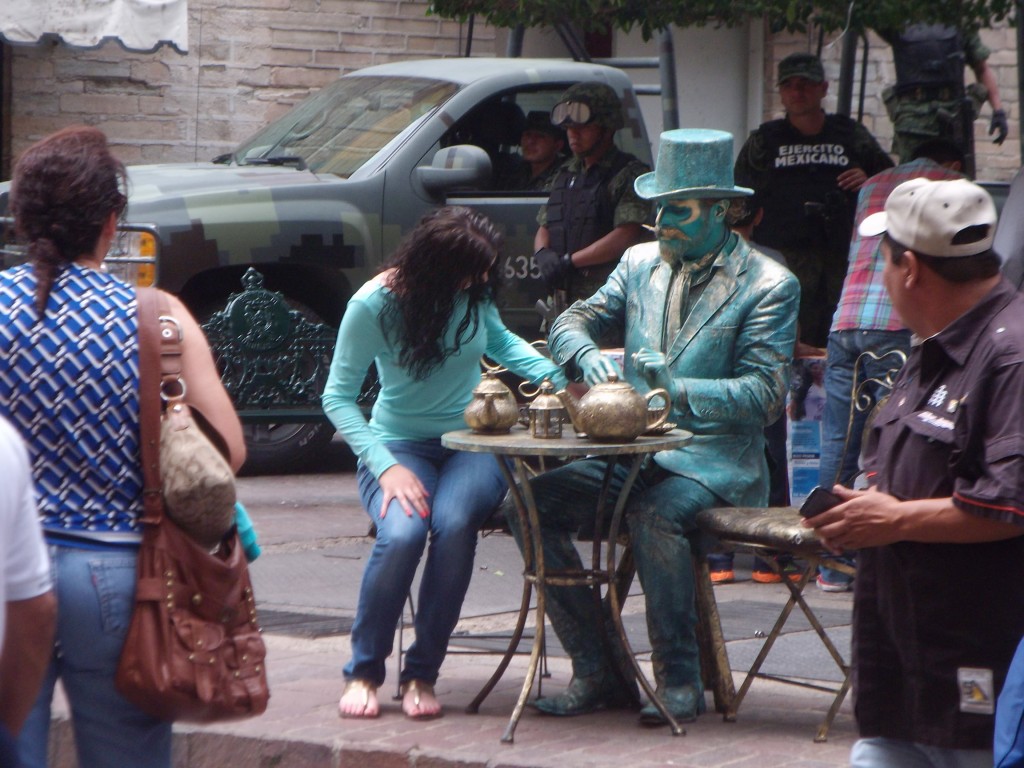 This guy has a little hose behind him. See? So, he is sitting there continuously pouring a drink. Pretty cool live fountain. I didn't move quick enough to get a picture of him handing one of the carnations, tin man-like, to a little girl.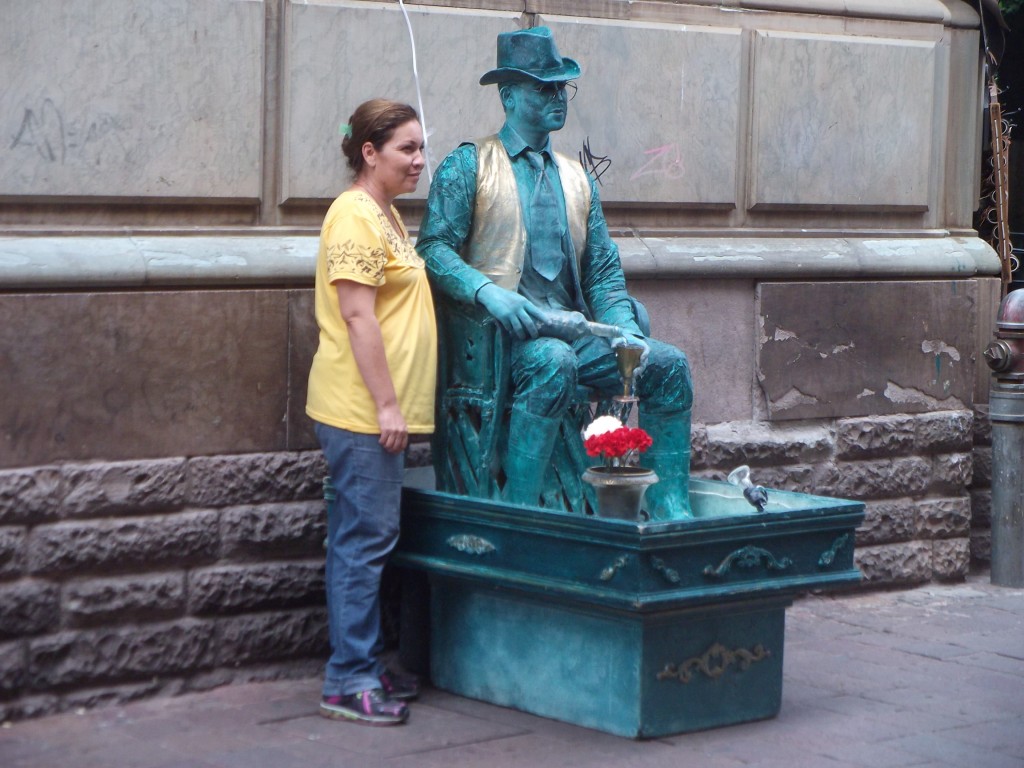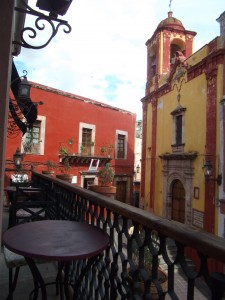 It was at that point I sat on the bench and listened to the band in the restaurant I was telling you about. After that, it was about 4 o'clock and I was a little hungry. I started back toward the hostel and grabbed a slice of pizza, thinking I'd make some spaghetti I have in the kitchen. On the way up the hill, I passes this chic tea house/bar/restaurant in front of which I had seen a sign saying there was live jazz from 11-5. At noon there was no music, so I went on the walk. On the way back, I could hear it on the street, so I went in and gave myself my weekly treat. There was a little table on the little balcony next to the drummer. Here are the views to the left and right, and of the dudes. They were good, especially the bass player.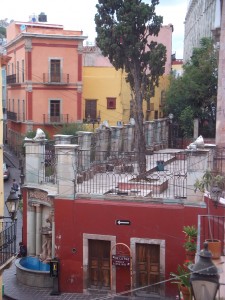 Music is a big deal in Guanajuato. There is a music school here. Students and guest artists from all over put on frequent shows at the many venues. There is something just about every night, and usually two, three or four programs on Fridays, Saturdays and Sundays. The first evening I got here, I went to a piano and oboe recital in a room next to where this jazz was. There is a school symphony, a ballet company, voice, and a serious folklorico department. The environment attracts musical and other artists, not to mention money, to town. This is why I say Guanajuato is chic, compared to San Miguel de Allende. San Miguel isn't particularly classy. Don't get me wrong, I like San Miguel. It's got plenty of stuff.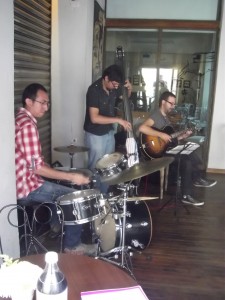 It's just Guanajuato pulls it off with more style
Look at me, t-shirt and sandals in a swanky bar, discussing chic. I do, though, recognize the difference between San Francisco and Sacramento (not to mention, God help us all, Stockton!). With enough money, not that much by most Western retiree standards, in my opinion Guanajuato would be a very nice place to plunk down. Even without much money, like yours truly, it would be nice. I'd just have to budget. The performances cost 4-5 dollars, which is doable. The jazz club thing could add up, especially with drinking and eating. My treat was a plate of nice cheeses with good bread, along with an actually fine glass of Mexican white wine. I was wondering if the expensive Mexican whites were any good. My glass was from a 20 dollar bottle, and it was dry, had plenty of character and a good nose.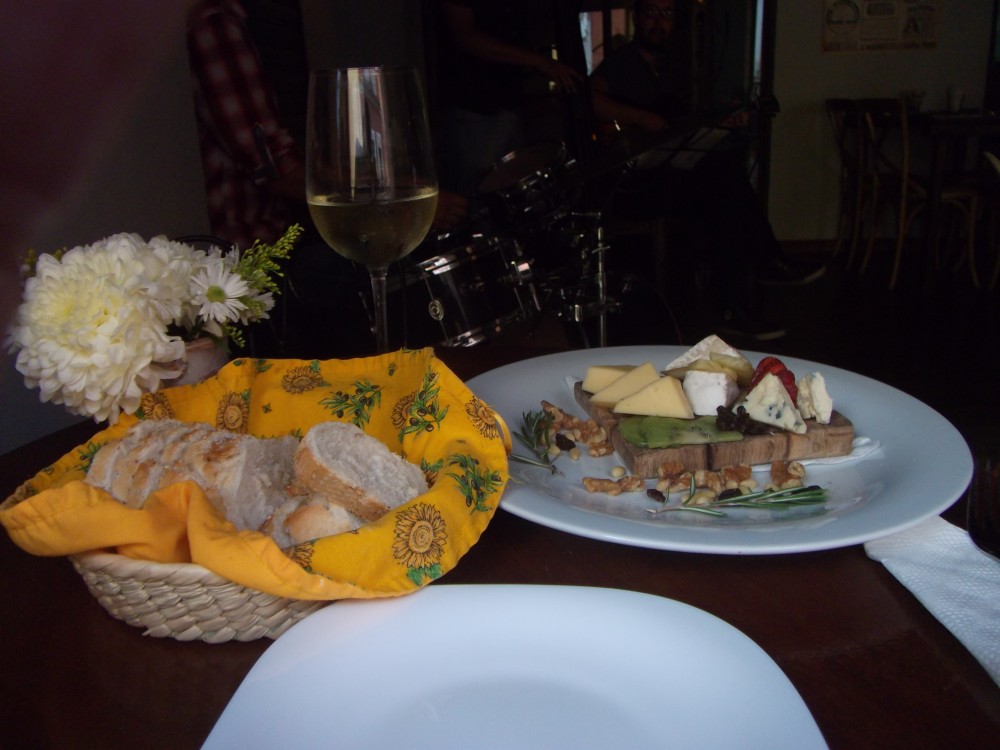 Speaking of chic, this is some kind of dorm I'm staying in. It's, like, three beds in the Astrodome. I'm the only one in here tonight, typing away in that bed with yellow sheets. As you saw, though, the view is good.
Boy, this was a long post for having only been here two and a half days. For sure, I will have more to say. I don't know how long I will stay in Guanajuato. Maybe few days. Who knows? I'm not that busy.
Be well, all of you.