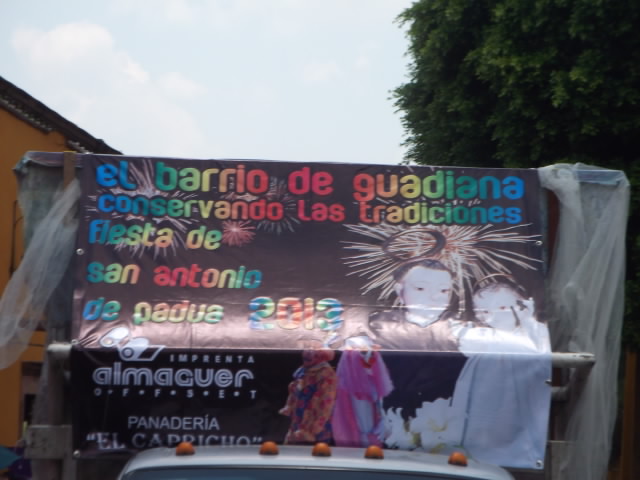 You may want to fly through this post, or skip it altogether. One of the reasons I came to San Miguel de Allende now was to see this soiree. It was a hoot. Actually, it's a religious holiday honoring St Anthony of Padua who lives from 1195-1231. Right here, I'll insert a thing I copied off the net about Day of the Crazies. Then comes my practice at uploading many pictures at once.
Pascual Baylon Yubero was born into a peasant family in 1540 and spent his youth toiling in the fields of Aragon, Spain, tending his meager flock of sheep.  Consumed by devotion to God and commitment to prayer, Pascual joined the Franciscan order as young man and dedicated his life to veneration of the eucharist and abnegated service to his Franciscan brothers as shepherd and cook.  Numerous miracles on behalf of the poor and aggrieved were attributed to him, and following his death in 1592, Pascual Baylon was beatified by Pope Paul V and canonized as a saint of the Catholic church by Pope Alexander VIII in 1690.
It is said that San Pascual Baylon's passion for prayer was such that he was given to ecstatic visions, most notably of the Holy Eucharist, which appears in most representations of the self-effacing saint.  In reading up on San Pascual's legacy, we were moved to wonder if his visions had ever come to include, say, a mariachi band made up entirely of Bart Simpsons, or perhaps a bright green outerspaceling in full Santos Laguna football kit.  Sound crazy?  Oh, it's crazy: It's the Day of theCrazies in San Miguel de Allende, Mexico — el Día de los Locos — and it's loonier than an extremely loony mountain goat.  Here's how San Pascual got the party train rolling:
Although he was actually designated as patron saint of eucharistic congresses by Pope Leo XIII in 1897, since much earlier San Pascual had come to be known as patron of field and kitchen workers, for his lifelong labor as shepherd and cook.  Since the 17th century, pilgrims from around southeastern Spain have gathered in the village of Orito on May 17, San Pascual's feast day, for the Romería a San Pascual, a celebration in his honor featuring music, dancing and revelry.  Over in the colonies, the relatively recent converts to Catholicism were keen to get on board, and in the central Mexican town of San Miguel the agricultural workers, known as hortelanos, initiated a tradition of dancing to their patron each year on May 17.  According to tradition, the hortelanos danced to flute and tambourine, some dressed as scarecrows, and gave away fruit and vegetables from their fields to the townspeople who gathered to see them.  One version of local lore holds that in time, members of the higher social classes, eager to beseech San Pascual for favors, began to join in the dances.  To avoid being recognized in such a vulgar pursuit, the social strivers would conceal their identities with wild disguises, thus the "locos" or crazies.
But San Pascual wasn't the only saint in town.  He was outranked by the venerable Saint Anthony of Padua, who had been canonized in 1232, served as patron saint for a veritable grab bag of themes, and was represented in old San Miguel by the Church of Saint Anthony of Padua, located on Saint Anthony Plaza along Saint Anthony street in the Saint Anthony neighborhood.  The parishioners took their San Antonio seriously.   So when the feast day of San Antonio de Padua rolled around on June 13, up went the streamers along San Antonio street and out came the tambourines and flutes, and oh, they danced.  Such was the fervor of the Feast of San Antonio that in time it snowballed into a serious rager, joined by various cuadros, or platoons, of merrymakers from other neighborhoods.  These came to include a cuadro that danced "El Torito," a traditional folk dance from the nearby town of Silao which featured costumes simulating ranch hands and an ill-tempered bull; the Los Locos cuadro fresh off their own feast day the previous month; and others such as Los Gallos, La Danza Grande and Los Jardineros.  By the early 20th century, the two saints' celebrations had largely morphed into one, and as the years went by, the costumes of the revelers became ever more barmy.
Today, the once humble offering by agricultural workers in honor of their patron has come a long way.  The event now takes place each year on the first Sunday following June 13, and city government has issued guidelines for the parade to maintain order and safety.  Parade representatives work together with the departments of Public Safety, Transportation and the Municipal President's office to closely coordinate the festivities.  The over 1,000 costumed Locos are organized into four large cuadros, named Cuadro del Parque, Cuadro Nuevo, Cuadro Antiguo and Cuadro del Tecolote, according to veteran Loco Emigdio "El Gordo" Ledesma, who has danced in the parade for over 50 years.  Mr. Ledesma told us that each cuadro is made up of 16 groups, each of which may include up to 40 or so dancers and chooses a theme for its costumes each year.  The costumes, ranging from simple to astonishingly elaborate, are made largely by the dancers themselves in the weeks prior to the event.  The dancers ride on or alongside colorfully festooned floats upon truck beds, and these days many include advertising for local businesses sponsoring the groups.  Music booms from speakers rigged precariously to the trucks, and the hortelanos' gifts of fruit and vegetables have long since been replaced by candy, much to the delight of local children.  Throngs of locals and tourists from other parts of Mexico and around the world clog every bit of available space along the parade route, straining for a view of the eye-popping Locos.  The event reportedly drew some 80,000 spectators this year.
With some costumes channeling Sponge Bob or the Na'vi from Avatar, one might be tempted to conclude that the original traditions have been lost on younger generations.  Fortunately, this appears to be far from the case.  For every Bob Marley or Transformers-inspired costume, medieval figures and scarecrows still  abound, many adorned with hand-sized rakes, trowels and hoes in honor of the field workers of old.  Listening to the youthful dancers from the Cuadro Nuevo recite to us the story of San Pascual Baylon as we joined them for chicharrón and frijoles charros after the parade this year, we felt confident the saints and hortelanos will remain an integral part of el Día de los Locos for years to come.