It's hard to believe it's been almost a month since Myung and I got to Laos. We've actually taken our time about seeing some of the stuff here. After several days in Luang Prabang, we went to Vang Vieng, Vientianne, Savannakhet, Pakse and Si Pan Don, which translates as 4000 Islands, in the far south on the Cambodian border. It's been great and mellow at the same time. Mellow is a good way to travel in these parts during this hot part of the year. In the heat, one's desire to do much outdoors is somewhat limited. Myung wilted, so we got air conditioned rooms for the rest of the time. Ah, luxury is nice.
Laos has changed dramatically since I was here nine years ago. There are paved roads tomany places where there were none before. There is reliable electricity and other conveniences, not the least of which are internet access and cell phones. Except for those things, I think Laos is much like Thailand was about 20 years ago. The villages are very villagey. Even the tourist places are so much less jaded than in Thailand. The down side is that the prices are up. It's about as expensive here as in Thailand. It's still cheap, though. Guesthouse rooms run from $5 to about $12, if you get air con, attached bathroom and a TV. There are still remarkably few cars, vans and even trucks on the road, but at least there are roads. China is obviously very invested here. Many of the businesses and investments are Chinese. The flood of capital is changing Laos quickly. My advice is to come here as soon as possible while it's still what you'd imagine Laos to be.
Vang Vieng is as diferent as it gets from before. Nine years ago there were about three guesthouses, very little tourist scene and it was bout 1/4 as big. The things to do haven't changed. The main things are still to gawk at the sceneryn go to caves and trekking, and to tube down the Nam song River. Drugs may be illegal, but you'd hardly know it. Joints and "happy" food and drinks, and opium and mushroom tea are on the menus in some of the restaurants. It still feels mostly like regular Laos, butnot for long, I'd wager.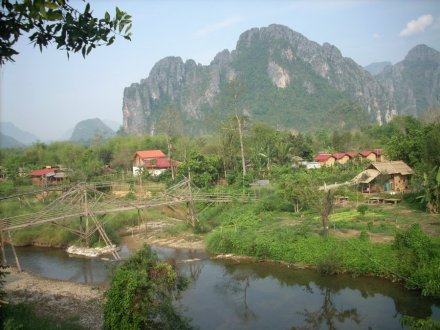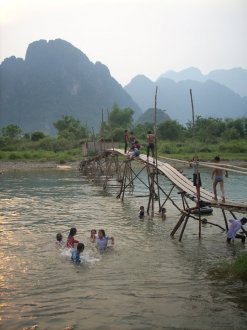 We chiiled out there, if chilling is possible in the hot season, and headed for Vientianne. Need I say things are changing there too? There are paved roads in most of the city, sidewalks, and a generally western feel. It's still boring, though. the best thing we did was go up to Buddha Park during the first part of the lunar new year festivities. This is the biggest holiday in Laos. It's atime for renewal. The most obvious celebrating is in the form of throwing water on everybody, like Songcrans in Thailand. We drove a motorbike up to Buddha Park, getting soaked along the way, to see the religious stuary there. This place was a single man's creation. He was trying to meld the worlds religious symbols into one,and was clearly unique in his view.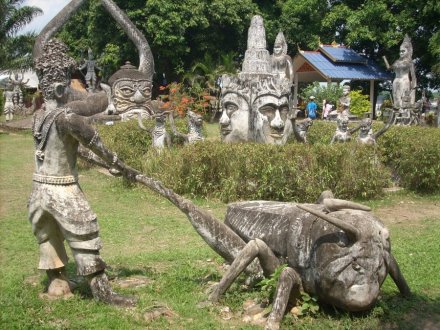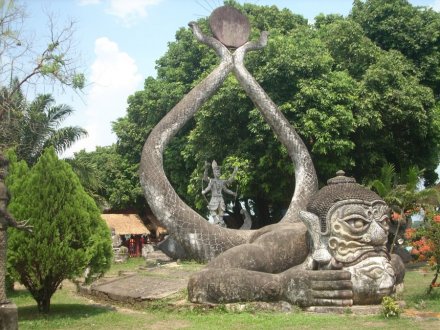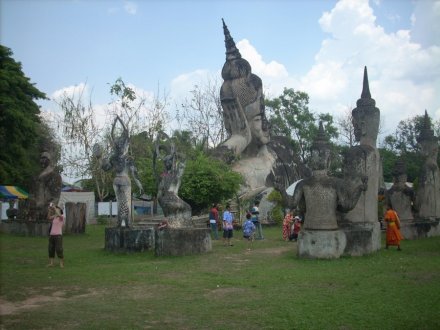 That's Myung in the pink, taking a picture. And what's up with the guy pulling the leg of the grasshopper? I think he was pulling our legs. They had a Miss Laos-like contest too.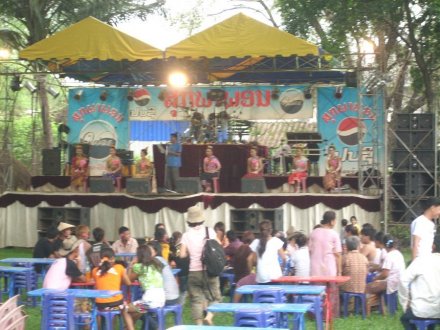 From there we went to Savannakhet. That's about nine hours by bus from Vientianne and we stopped over there on the way to Pakse. Lunar new year festivities were still going on, so we basically tried to stay dry. Here is the view from the balcony of our guesthouse.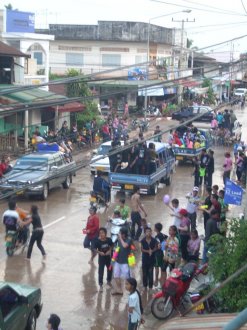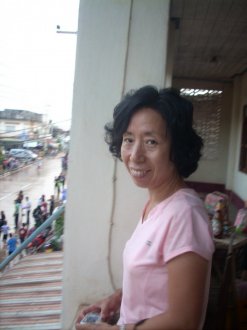 From there it's only about a three hour ride to Pakse. It used to be you had to take a boat down the Mekhong River, but hardly anybody does that anymore. Pakse is not much, but it is a main transit point between Thailand, Laos and Vietnam, as well as the gateway to Si Pan Don. Si Pan Don is very tranquil, though becoming a tourist center, especially in Don Det, right on the Cambodian border. We stayed on Don Khong ("Don" means "island".) which is more "authentic".
We stayed in Don Khong for three days and took a daylong boat tour down to Don Khong. On Don Khong we lazed around mostly, watching the colors change during the day on the Mekhong. As usual, we rented a motorbike one day and drove aound. By the way, Beerlao is as good as I remember, better than any of the Thai or Indian beers or any of the mainstream American beers.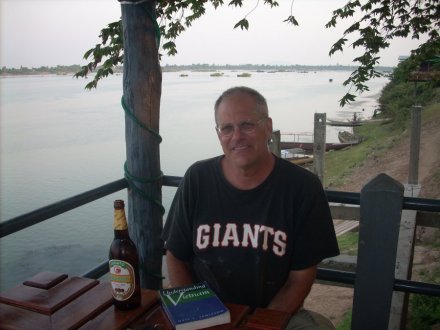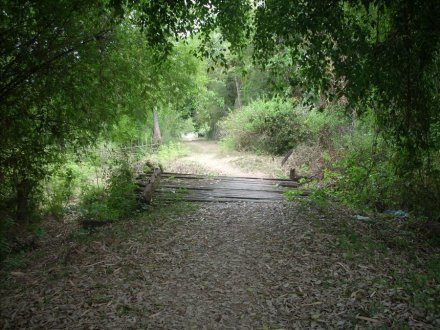 It was a Sunday, and here was a group of people having food and fun in one of the villages.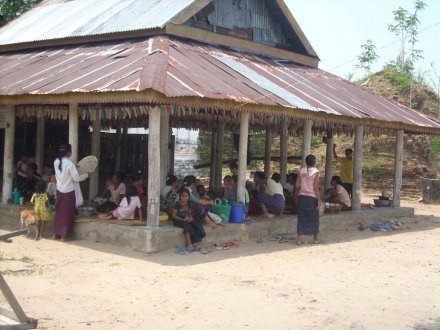 Si Pan Don is an area where the river is dotted by many, many islands and bushes growing out of the water. These pictures are mostly taken during our boat tour.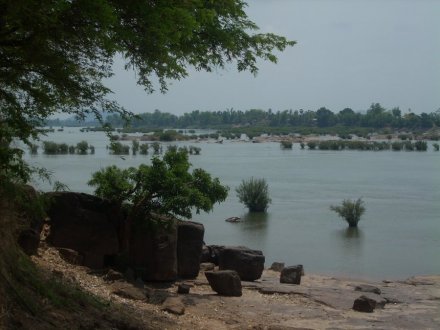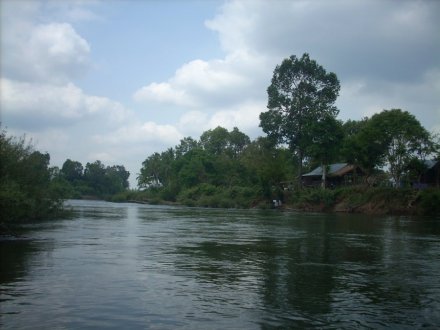 Don Det really is a lovely place. It's no wonder it's attracting tourists in droves, as droves go in Laos.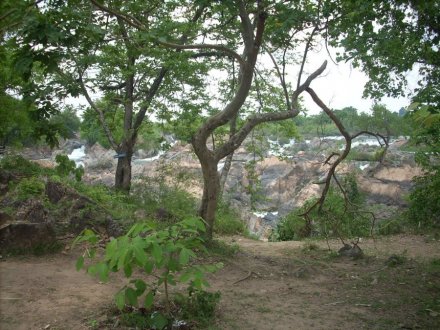 There are numerous waterfalls along the Mekhong down there. The largest is Khone Phapheng. It's the largest, by volume, in southeast Asia and looks like a little Niagara Falls, about a third as big, I'd say. I couldn't get it all in one picture. The normally placid Mekhong falls off here and forms a natural boundry with Cambodia.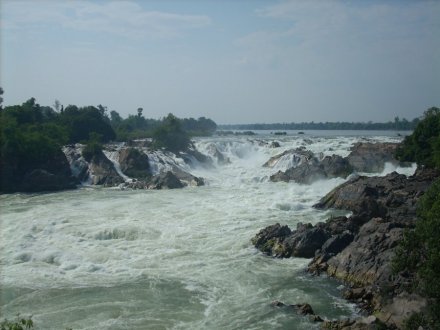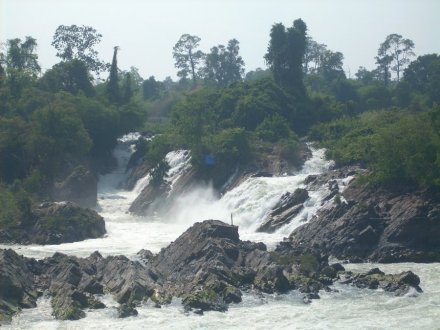 One of the big attractions there are the Irrawaddy dolphins. I presume they are the same as the Irrawaddy dolphins which live in Myanmar's Irrawaddy River, and slightly different than the highly endangered Gangetic dolphin in India. They are endangered but there is a place in the Mekhong where it forms the border with Cambodia where there is a thriving community. Now, anybody who has tried to photograph dophins can tell you, it's hard to get a good picture of them, even the nonthreatened oceanic types. We saw many, and here's something like a picture.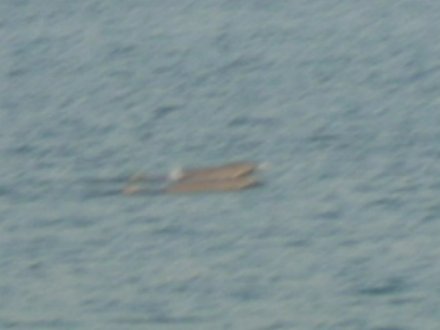 I'm never going to get a job as a National Geographic photographer. Plus, my little camera isn't going to take good pictures of moving animals at 50 meters. WE finished dolphin watching at sunset. Here's the stretch of river where we were taken to see them.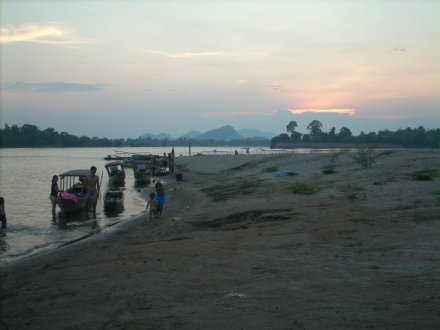 Between Pakse and Si Pan Don are the Angkor period ruins of Champansak. It's no Angkor Wat, but not as crowded with people as I've heard Angkor Wat/Siem Reap is now.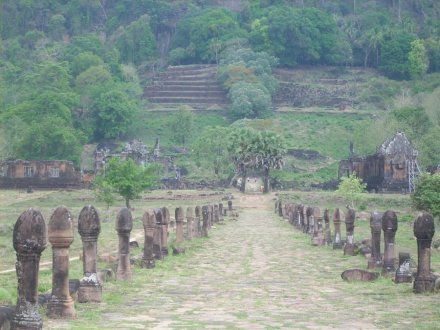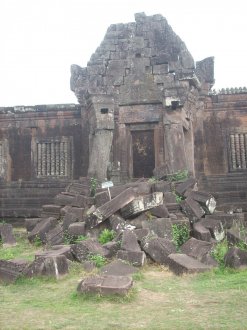 I'm writing this from Pakse. Myung took a morning bus to Udon Ratchanburi in Thailand and I'm going east to Attapeu this afternoon. From there, I'll go to Pleiku, Vietnam, tomorrow. Myung is going from Bangkok the day after tomorrow to Seoul where she is going to patch her bones after 8 months on the road herself and figure out what she wants to do next. She may decide to stay there a while or go to China or Nepal. Maybe we'll travel some more, maybe in China, or maybe she's go to Kathmandu to send handicrafts back to Korea. It's likely at this point that she'll stay in Korea of a while. She'll let me know in a couple of weeks where to meet her. Any place is fine with me, though the way she tells it, Korea may be a little expensive for me. Whatever. I look forward to being with her again. For my part, I'll go to Pleilu and decide what to do next. I may go straight on to Nha Trang where there is good diving. I wanted to dive there nine years ago, but a typhoon trashed the coast of Vietnam just while I was there and, needless to say, diving was not an option.
So, that's it from me for now. Be well, all of you.