Myung and I have been in Luang Prabang, Laos for six days, just hanging our, trying to get around to doing something every day. It's generally pretty hot, so it's easy to do nothing. Luckily the two rooms we've taken are cool even in the middle of the day. Luang Prabang has a lot of history and the whole town is a world heritage site. That said, there isn't all THAT much to see here. There are 31 temples, some of which go back several hundred years, but there isn't much else left from it's ancient days of glory. And the temples could be better cared for. There is a lot more money around here than there was nine years ago when I was here last. It has changed tremendously. It was a neglected city where some but not many tourists went. The temples were in even worse shape. And it was quite poor. Now it's a bustling tourist center with all the things you would expect at such a place. There are dozens of guest houses and restaurants catering to foreigners, bars though not much of a nightlife, and such things as mostly reliable electricity in many places, internet and bank ATM's. You can tell by the tourists here that Luang Prabang's biggest problem may be in absorbing a really boisterous, western party crowd. They look so out of place here, but times change and so will Luang Prabang.
I have many pictures. I'll just start putting them in. I think I'll go chronologically. We crossed over into Laos at Huay Xai, spent a night there and took a minibus through the mountains of northern Laos for 13 hours to Luang Prabang. Many people take the popular two day boat down the Mekong River, but we heard and subsequently confirmed it is uncomfortable. Along the way, you could see things had changed, and not changed. There are more people dressed in pants and t-shirts and less in traditional style, but they are still doing what they have always done. What you see on a bus ride is people along the road, often selling stuff. This is like Thailand was a long time ago. I assume before long Laos will be as "boring" as Thailand has become. Anyway, here are pictures I took of some people along the road who were mostly selling and bartering, but socializing a lot.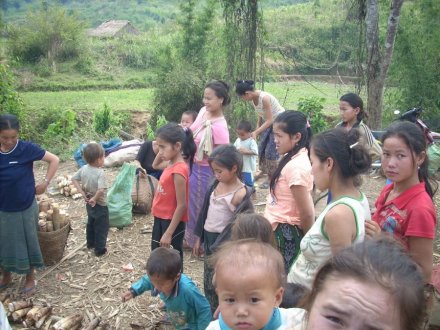 Most of the old wats and what is the world heritage site called "Old Luang Prabang" is on a thumb where the Mekong meets another smaller river. The center is dominated by a hill called Phou Si. Here are shots of the surroundings from up there.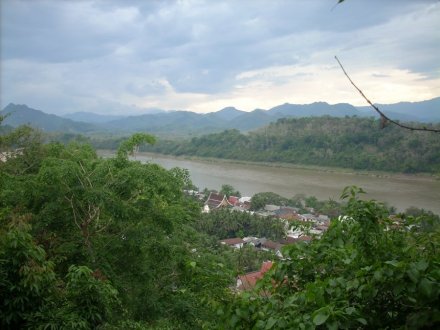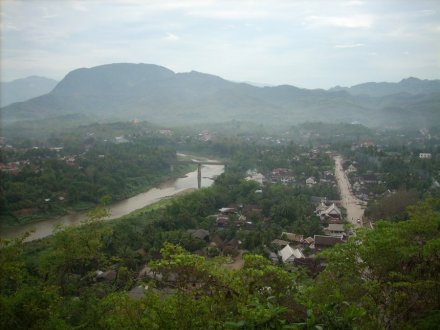 If the communist government here ever discouraged Buddhism, you would never know it. There are shrines and devotional activity everywhere, about the same as in Thailand, which makes sense since Laos was in Thailand before the French took it away during their Indochina colonial phase. Every morning at about 6 o'clock the monks file by with their begging bowls in groups from the different wats. Mostly people give each monk a small handful of sticky rice, but there are other things in the bowls except rice, like money. It's a good thing they get something other than rice from some people, as mostly people give them more than enough rice to starve on. I haven't seen a fat monk here yet.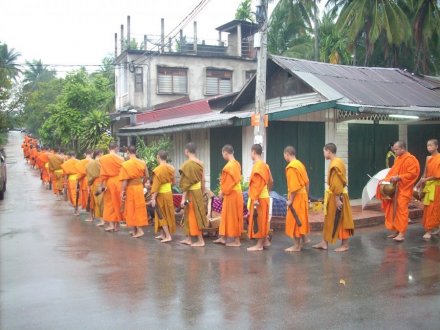 As you can see, we did get a little unseasonal rain, but not much. After watching the monks, Myung and I usually walk up past the main tourist street to the market where they have the cheapest baguette sandwiches and Lao filter coffee, with sweetened condensed milk like I like. This is our western food fix of the day, usually. You can get it with Lao fillings of tofu or chopped boiled eggs, plus lettuce, tomato, cucumber and onions, or you can have canned tuna, American cheese singles, Oscar Meyer type sandwich ham or BBQ chicken. You can even get Best Foods mayonnaise or French's mustard. Like I said, times have changed.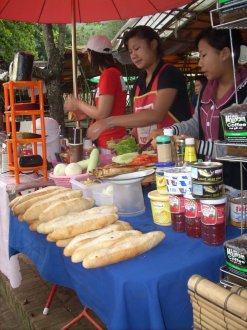 Here are many pictures of the market area. It's like markets just about anywhere in the developing world.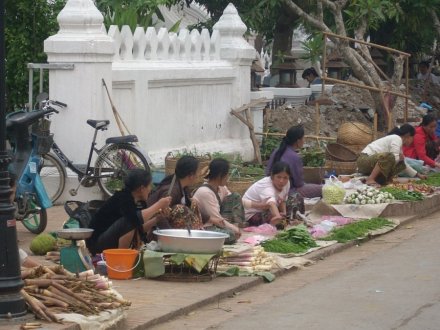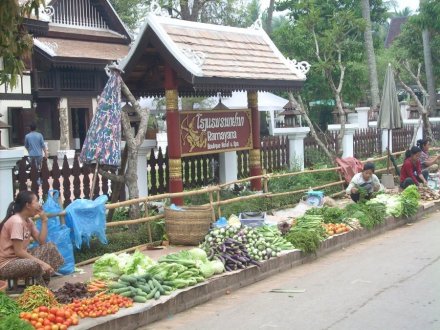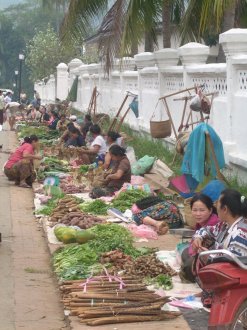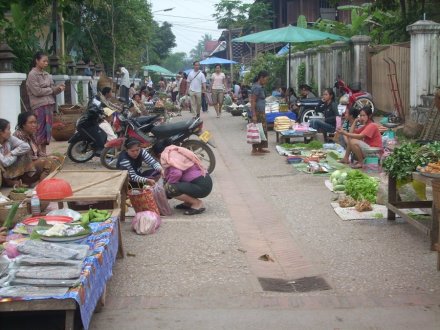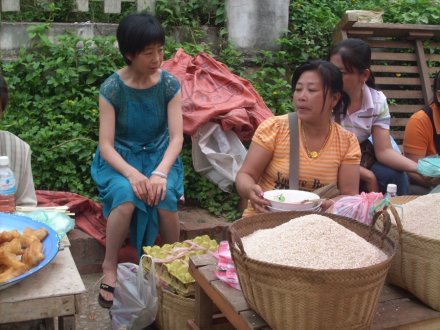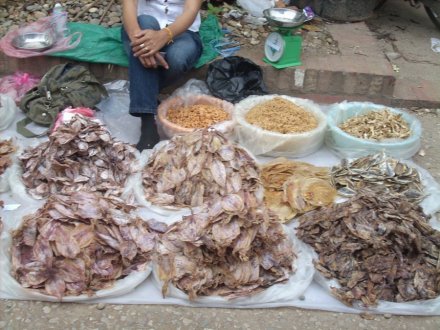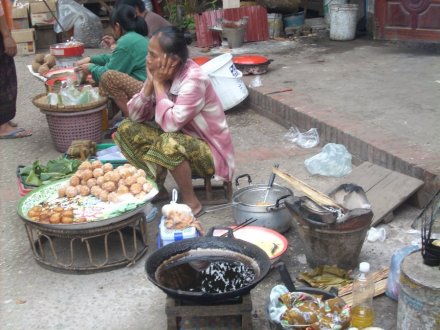 Here is how a lot of people dine out.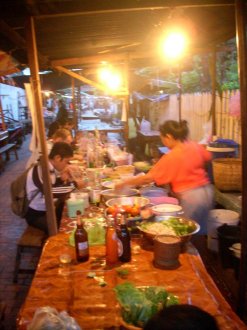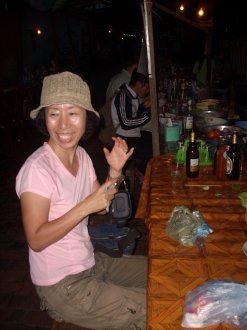 One evening we went to the Royal Ballet which usually is about episodes of the Ramayana. There is no photography allowed during the show, but here are a couple of the performers who posed afterwards.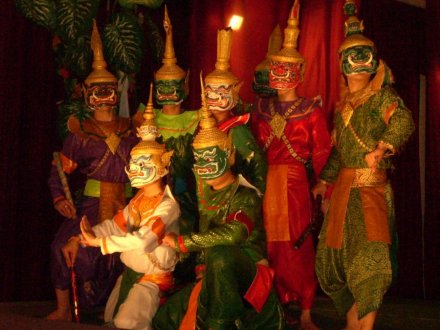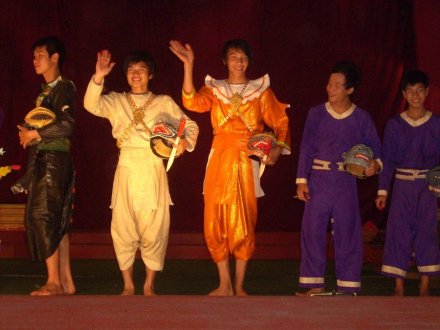 You've already seen many wat photos, but here's just one more, of the wat on the grounds of the theater and the palace which is now a museum.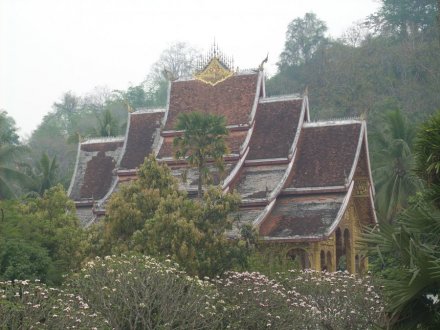 There are a couple of nearby places many tourists go. One is a waterfall I think we'll skip. The other is called the Pak Ou caves. There are two caves, each other many mostly small Buddha statues, some hundreds of years old. It's an interesting place, about an hour and a quarter's ride back up the Mekong. We went on a boat like the one below. That is what most of the people transporting boats look like here. The one picture doesn't do justice to the emerald green hills that surround this whole area.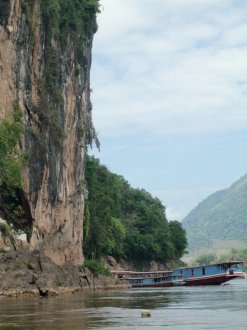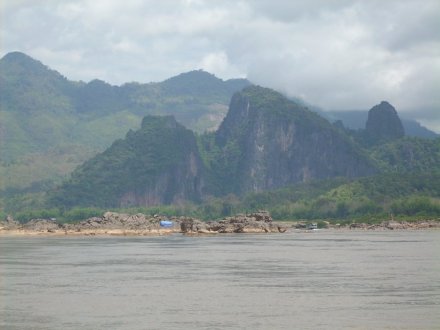 As in Thailand, little birds are sold to people be set free. It's all about giving sets one free. This cute kid was selling them on the steps up to one of the caves. By the way, they are trained to return to their "owners".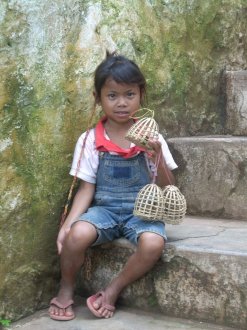 It looks like we'll head down to Veng Viang tomorrow. It's famous for beautiful limestone cliffs behind a backdrop of the Mekong. I'll blog from somewhere in south Laos, or maybe Veng Viang. Be well, all of you.