Though some might say my travels are slow, to me they are sometimes whirlwind. I just came to Morelia, Michoacan, after spending a measly two weeks in Oaxaca. In Oaxaca, I went to the two places "everybody" goes to, the beaches of Mazunte, San Augustinillo and Zipolite, Oaxaca City and some places near there.
It is the off season for tourists everywhere in Mexico, so even if I wanted to party down at the beach, it isn't happening. There were very few people at the beaches and most of the businesses catering to tourists aren't even open. Even the main beach, Zipolite was practically empty. This is fine with me. I've been to many beach resort areas, and empty beaches are just fine with me. I hung out at at cliff-side hostel above Mazunte for a week doing almost nothing but uploading onto Snapfish my pictures since I hit the road in 2006. The uploads are slow, so I am still only about halfway through that project. It was particularly slow with the ultra slow and sporadic internet connection in Mazunte. But slow was fine with me. I just sat and read on my porch and wandered down to one of the resort areas from time to time. Here is the view from my porch.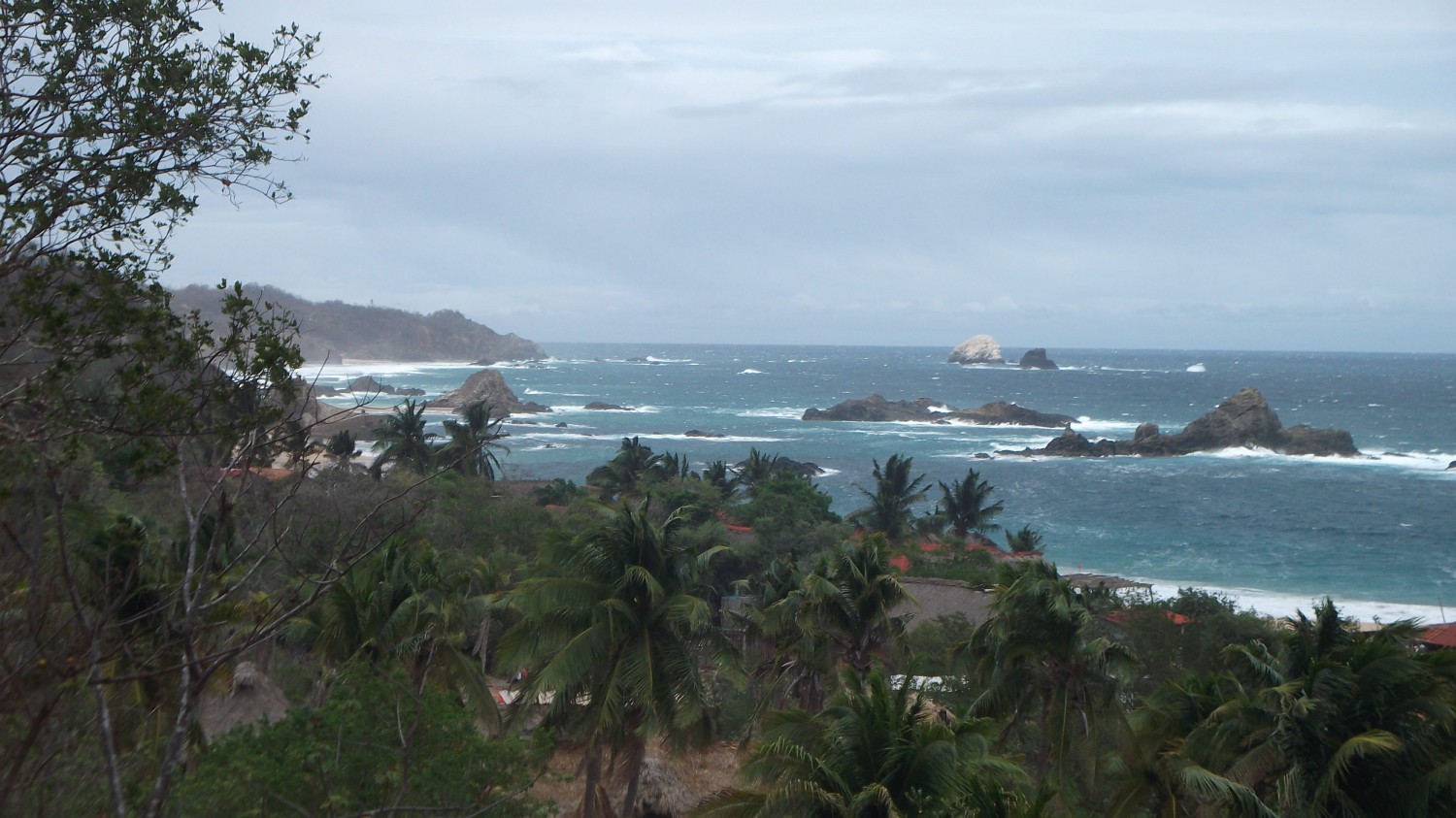 If you think I'm holding out on telling about what I did, don't. I was the only one at my hostel. I was in my own private Idaho the whole time, only occasionally talking with the owner. So, all I can do is post a few pictures from down by the water and move on to talking about Oaxaca City.
Mazunte beach isn't particularly photogenic, so here are pictures from the next beach over, San Augustinillo, about a kilometer east. There are some nice looking places to stay above that beach.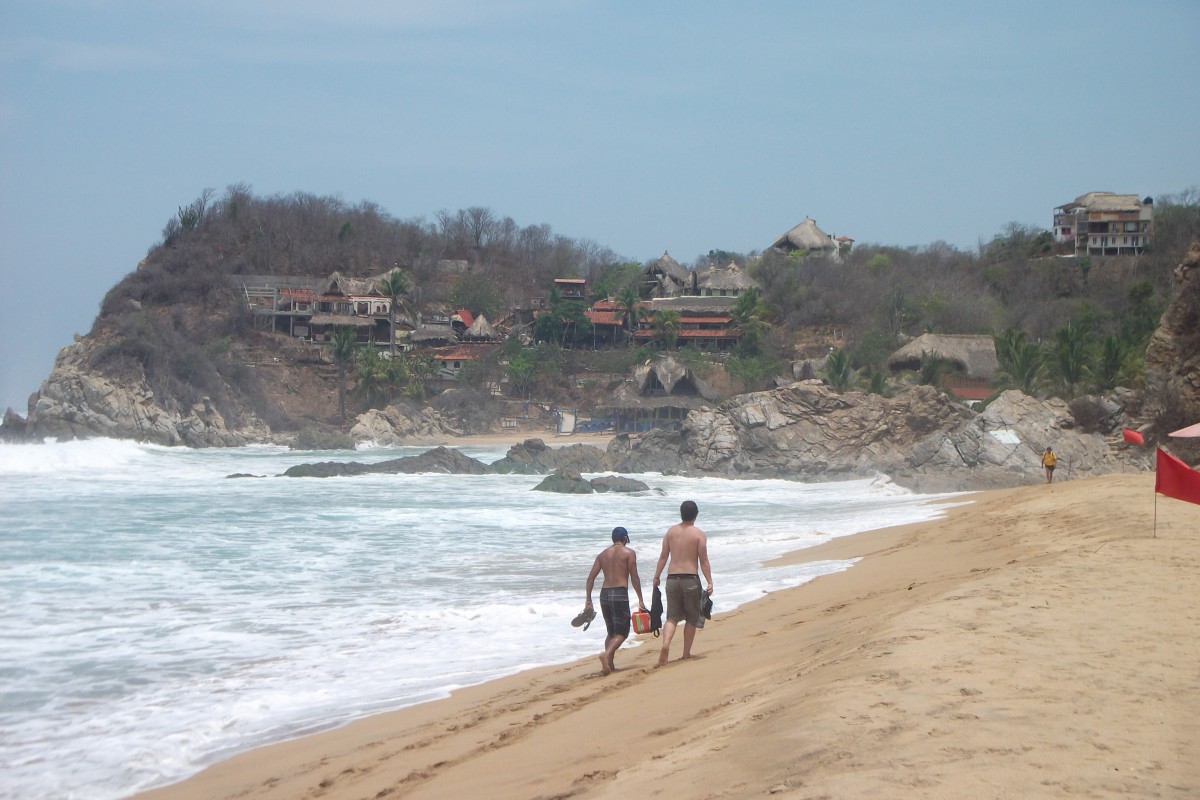 When I walked there, my doggy companion and I would chill out at this chair and watch the surf. This is the Pacific coast, so the surf comes in pretty hard.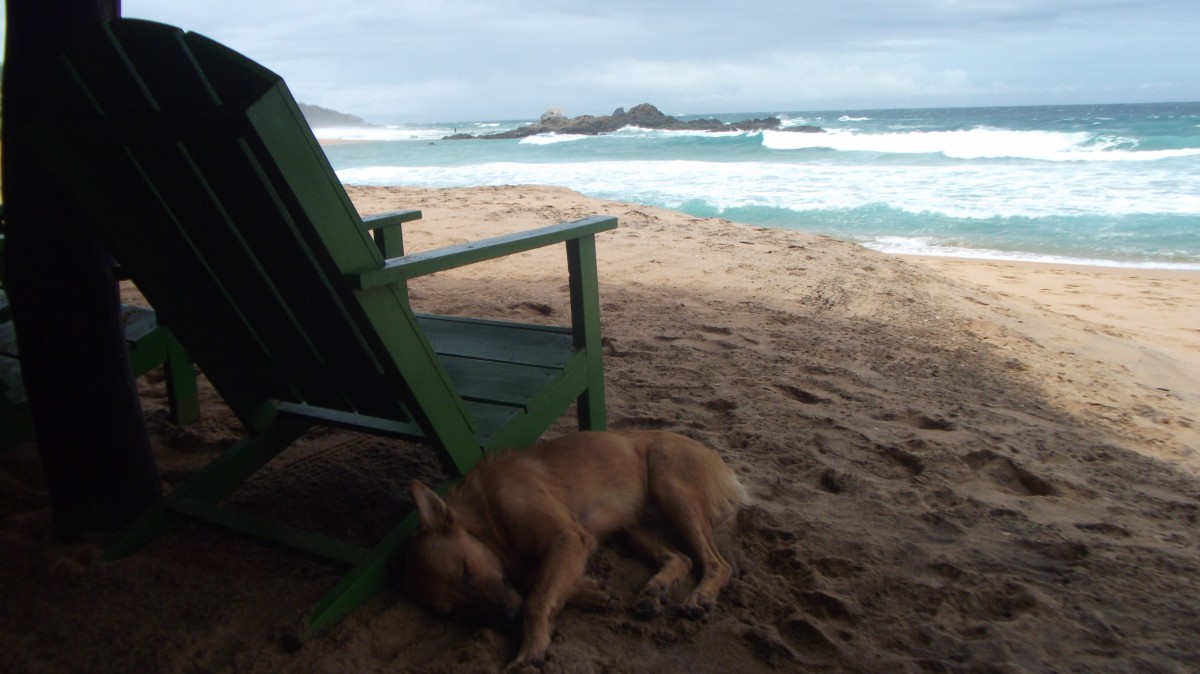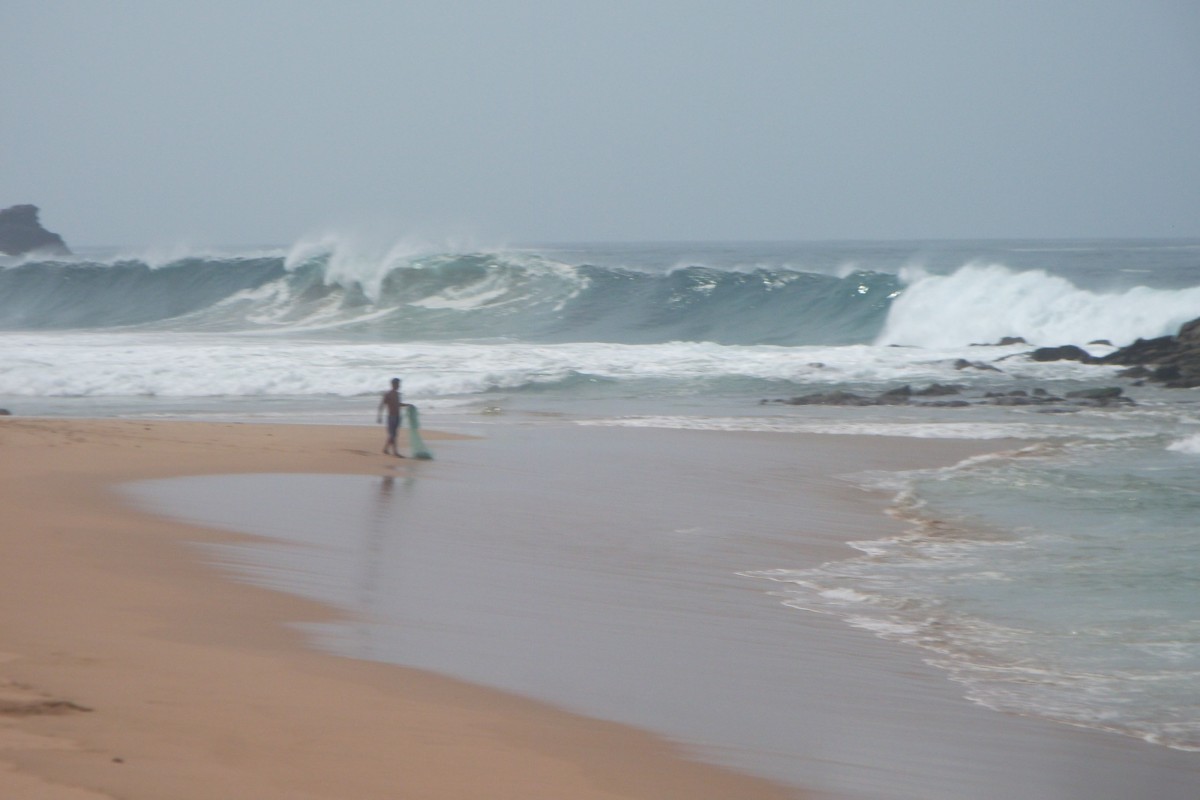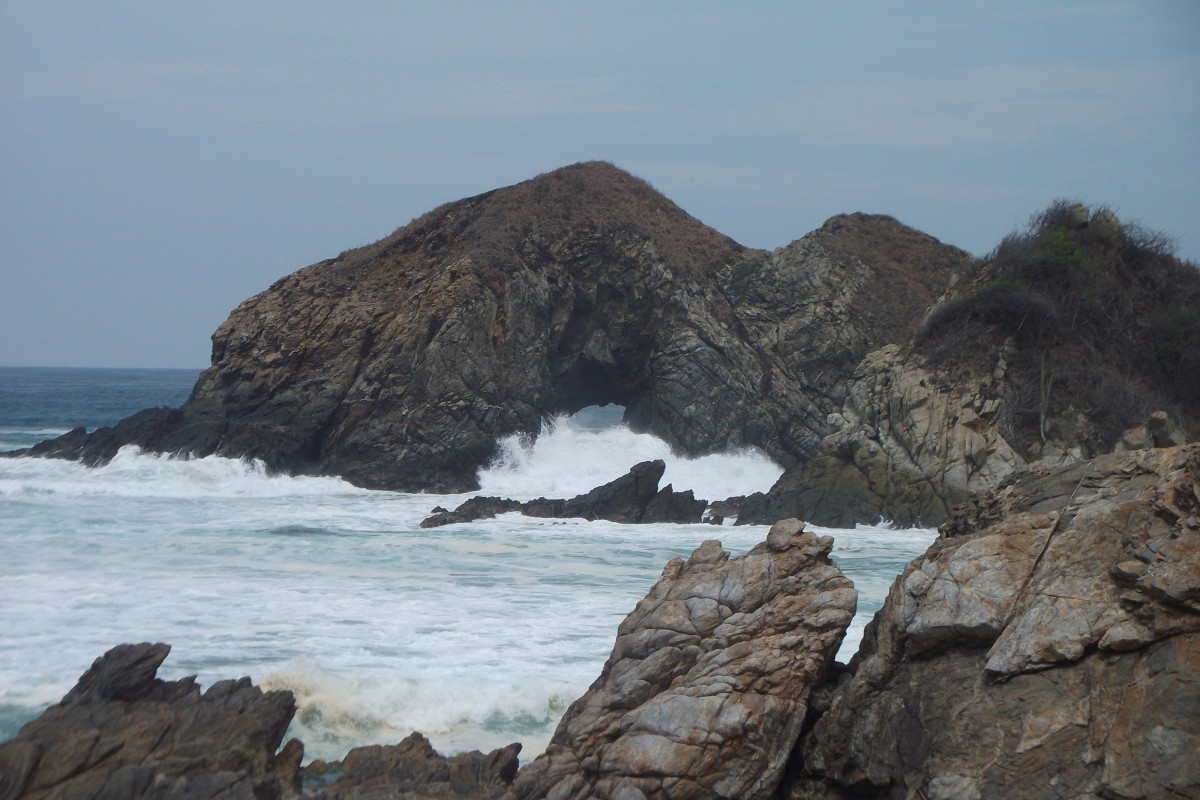 Just for the record, here is the beach in front of a kilometer of beach hostels, shacks and dive bars on Zipolite. On-season must be a lot like Koh Samui in Thailand was many years ago, with overlapping loud music and partiers. The beach is famous for nude sunbathing. Now, Zipolite is dead as a doornail.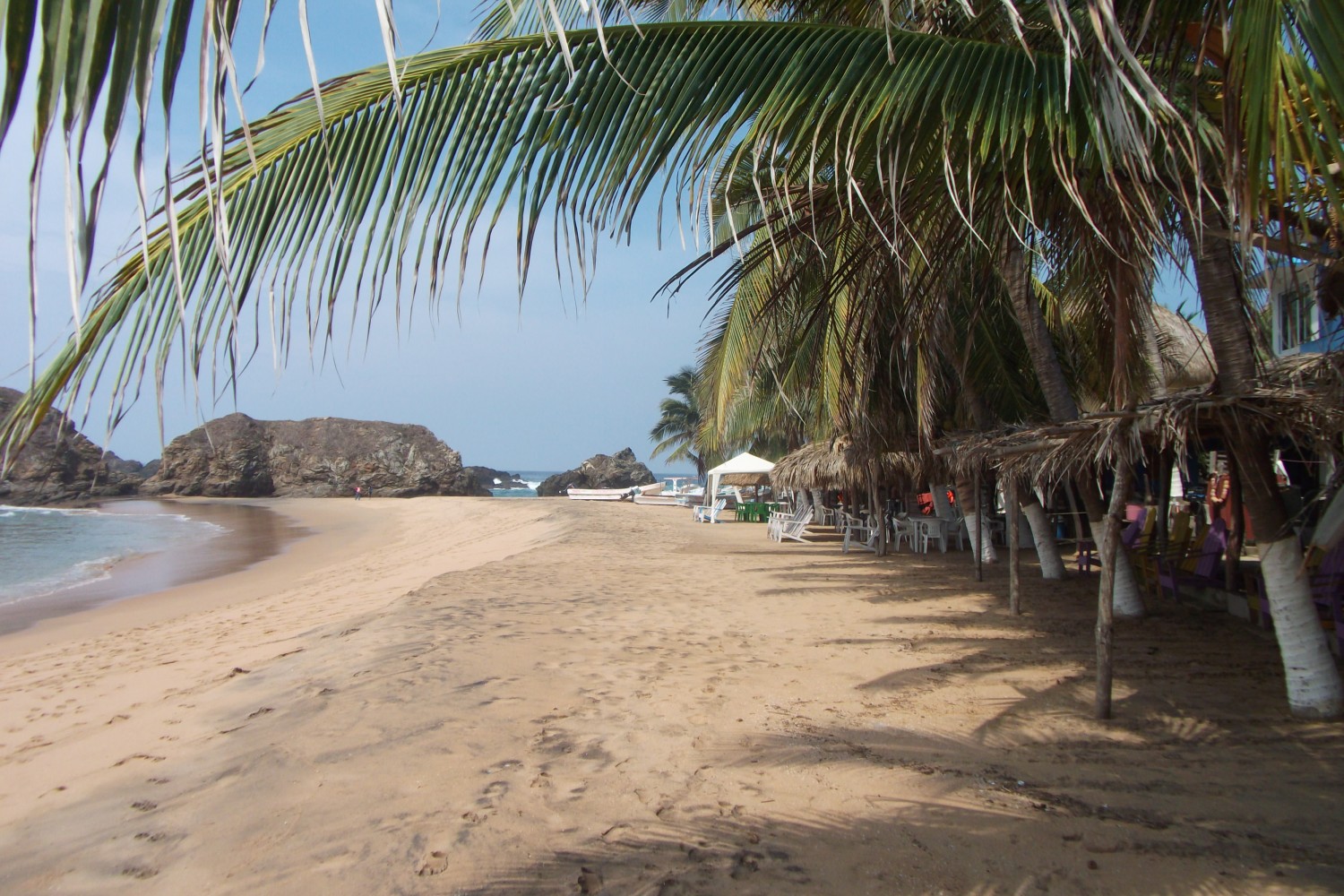 I finally got bored with that and wanted to upload photos onto Snapfish faster, so I went straight to Oaxaca City.
Oaxaca City is smaller than I imagined, about 270,00. Like the other cities I've been to, it has a nice historic center. The historic center isn't that great, but here are a couple of pictures.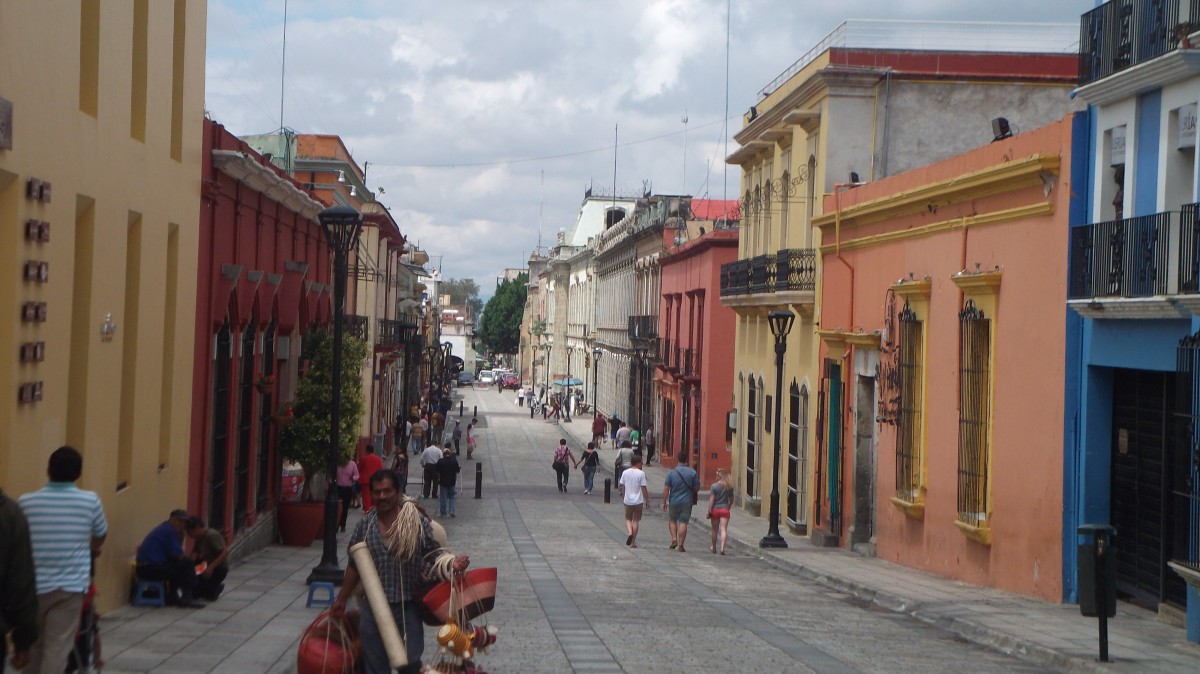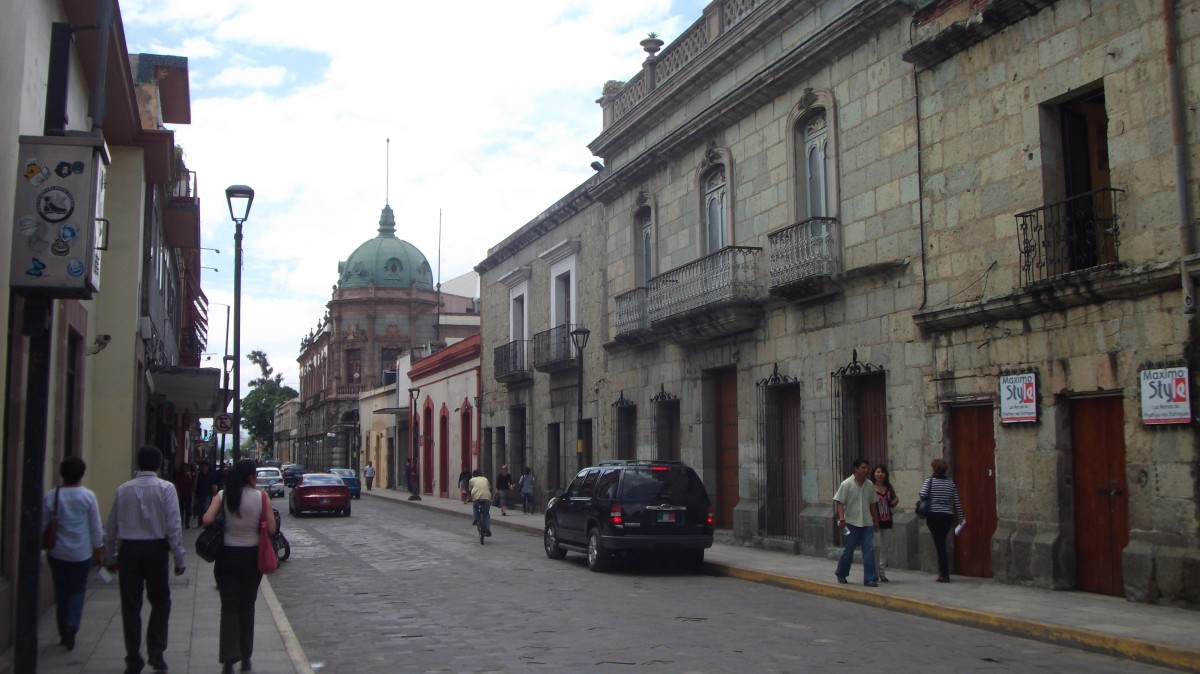 As usual, the zocalo is nice.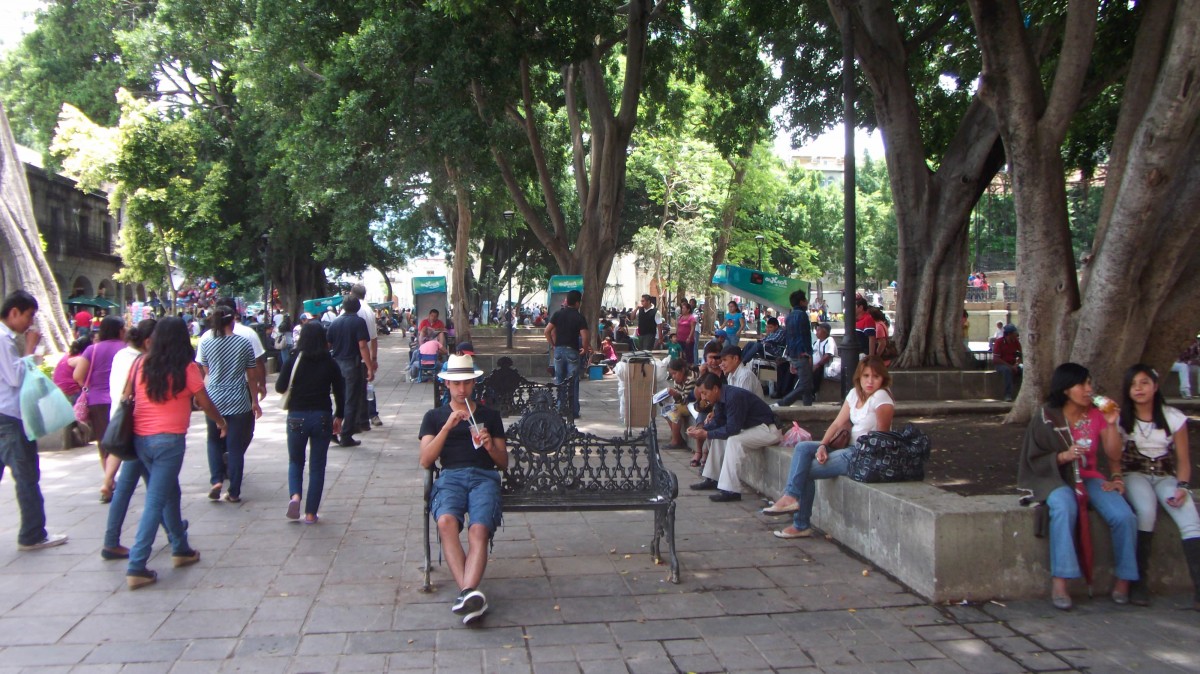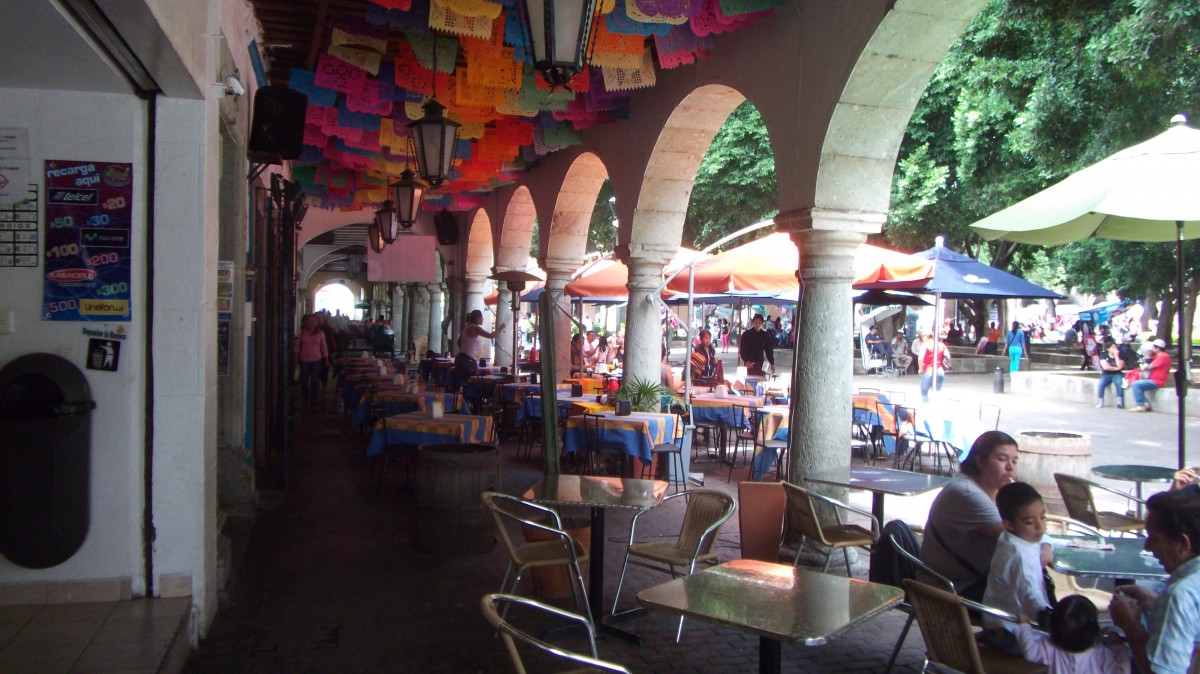 And, of course, there were nice buildings. Inside the second one were good murals.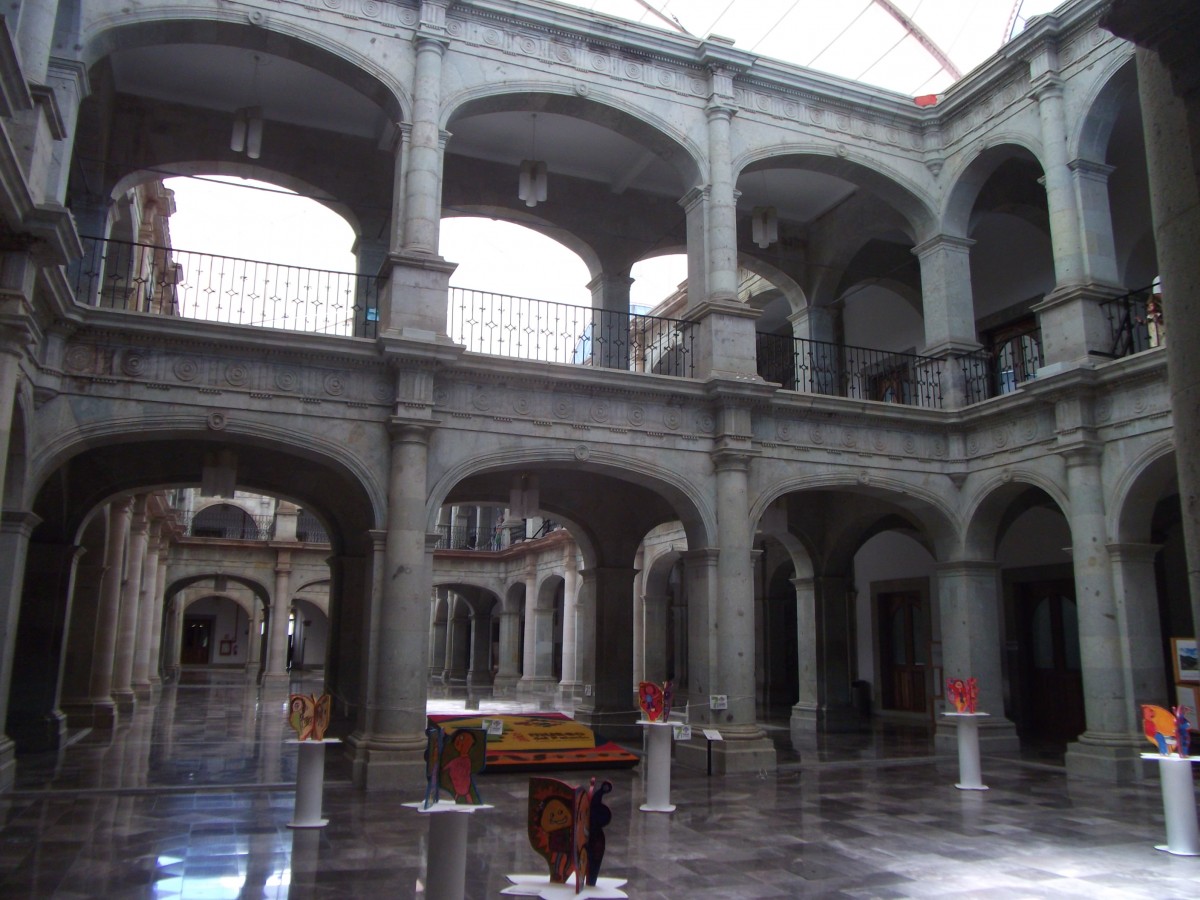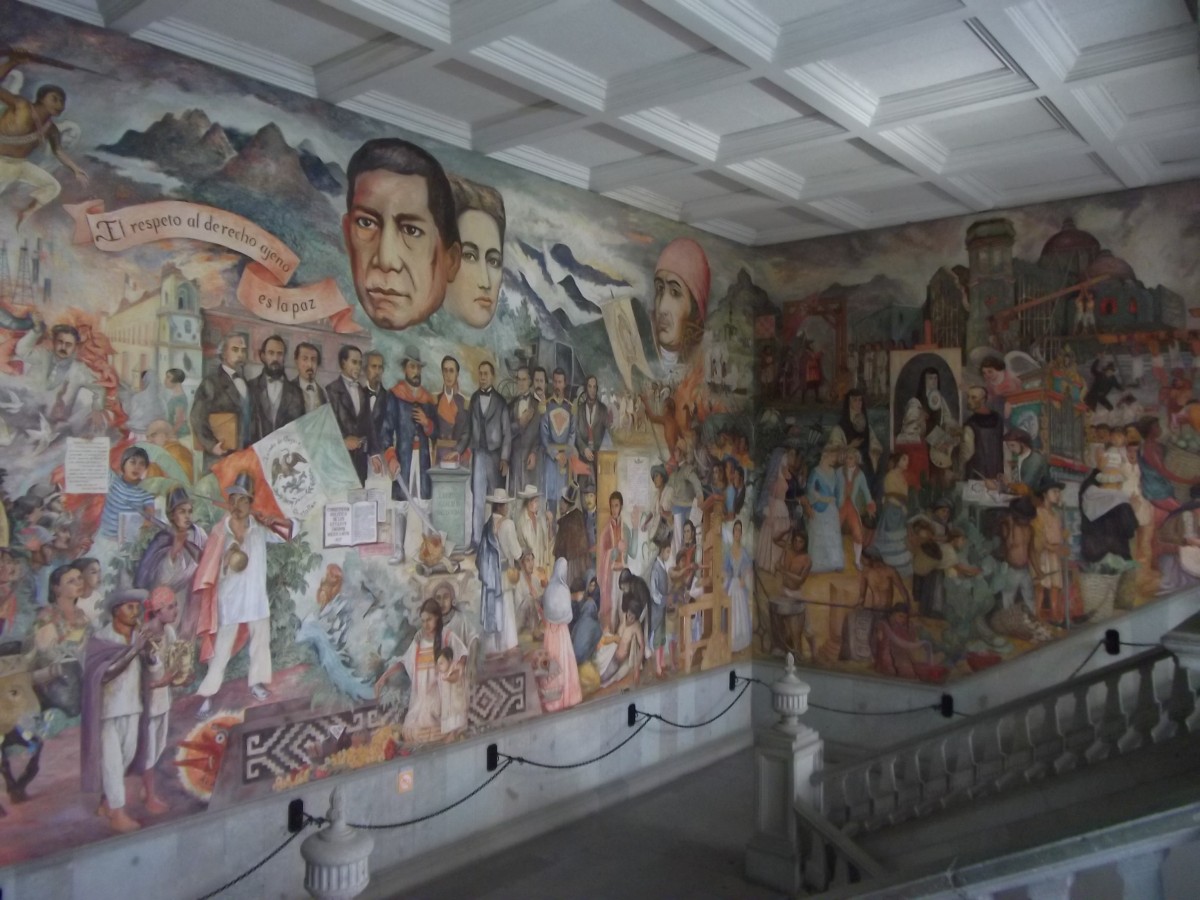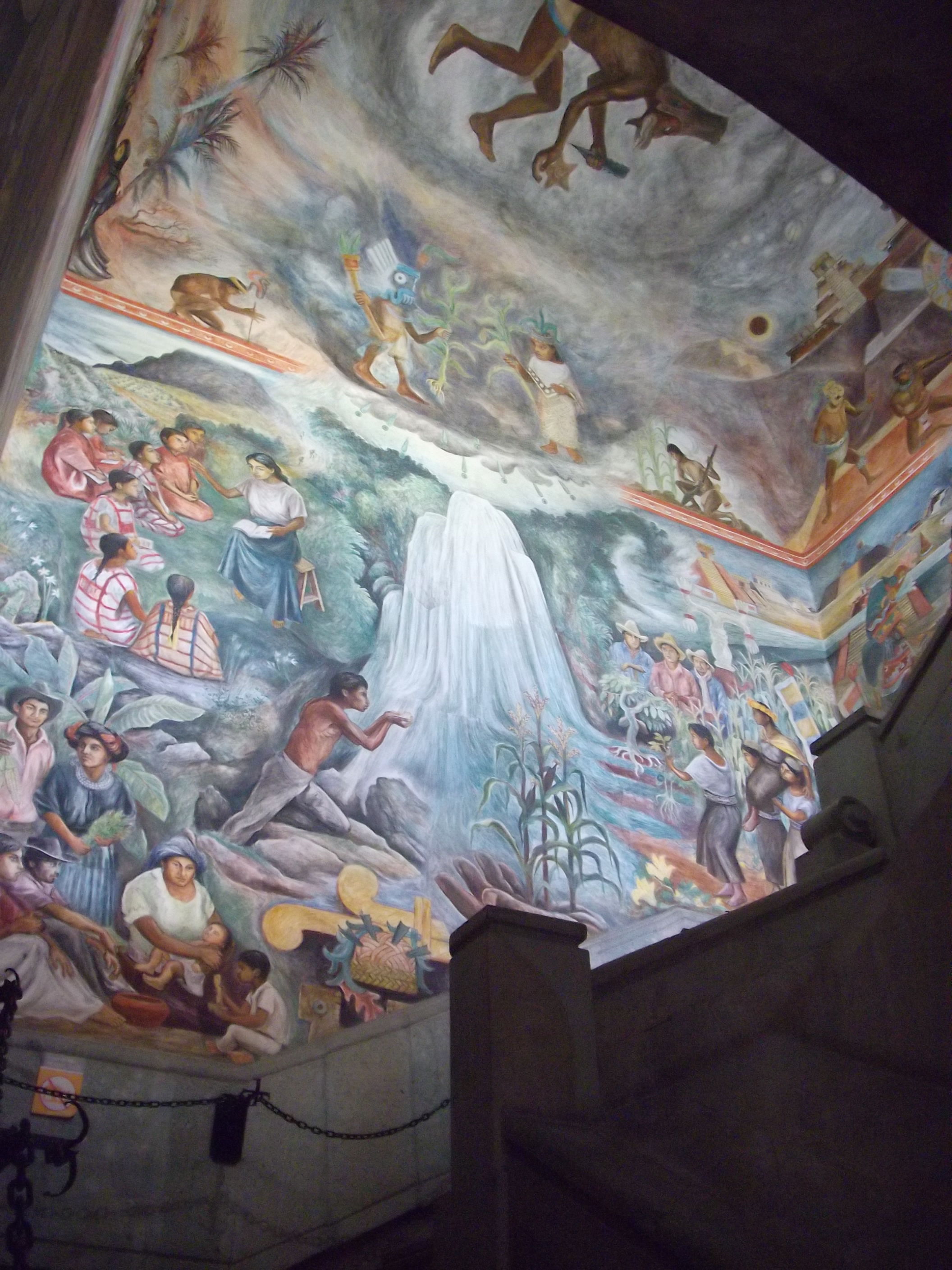 My hostel was very nice, right across from this park.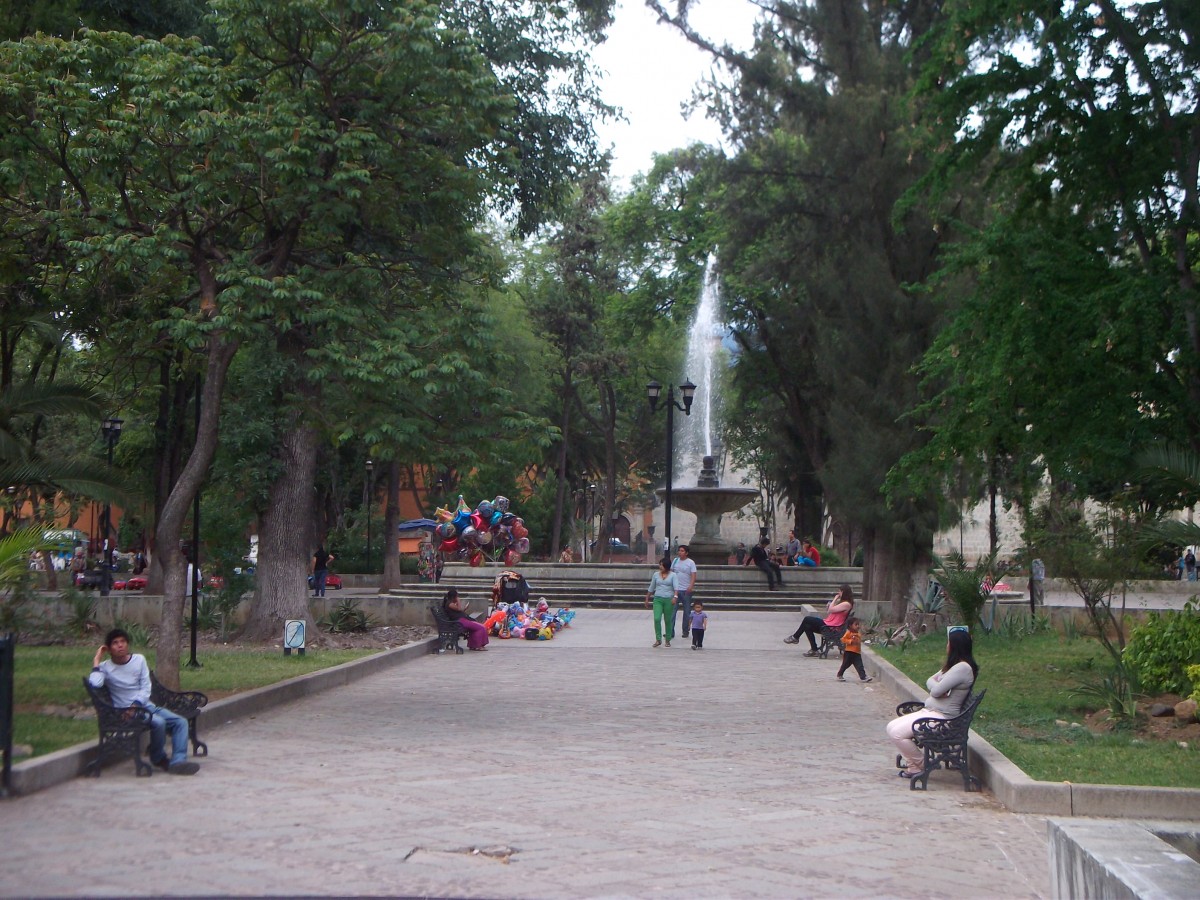 Near Oaxaca City are some interesting sites. One is the ruins of Monte Alban which date back over 2000 years.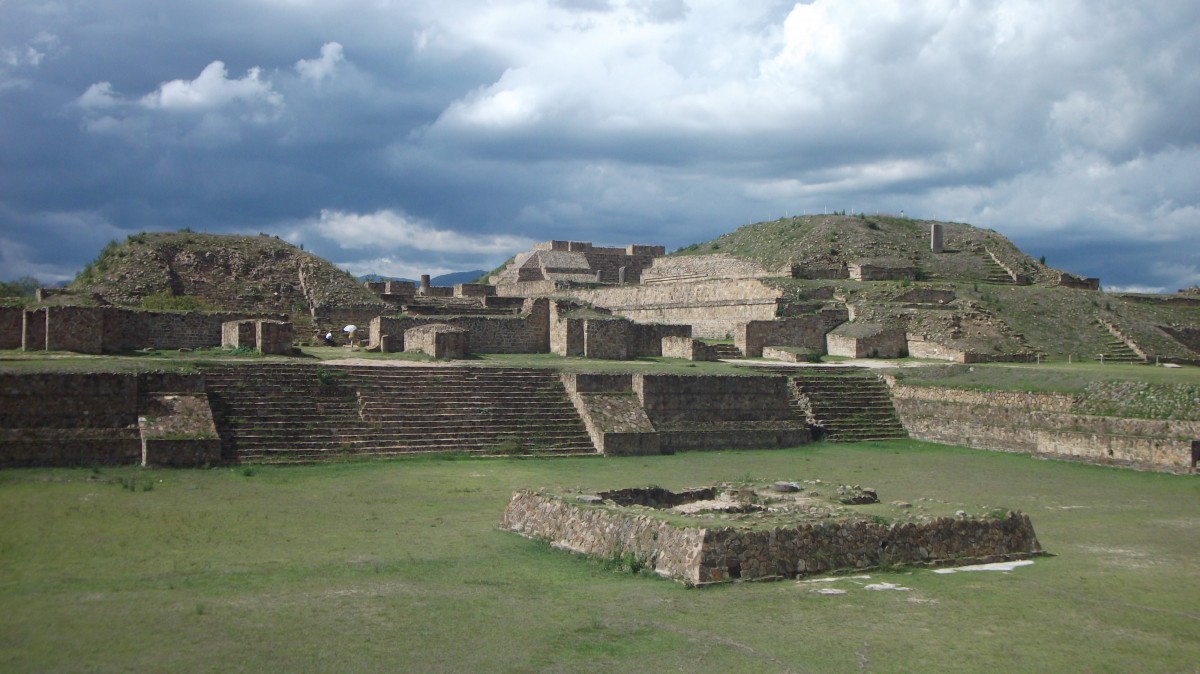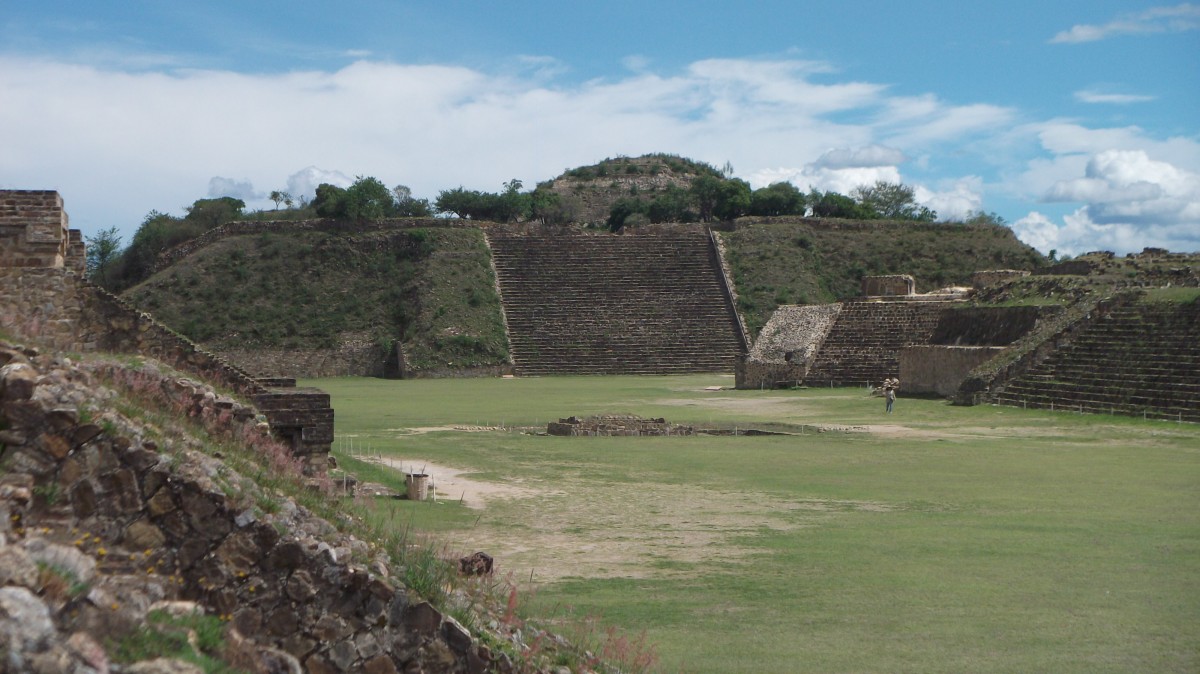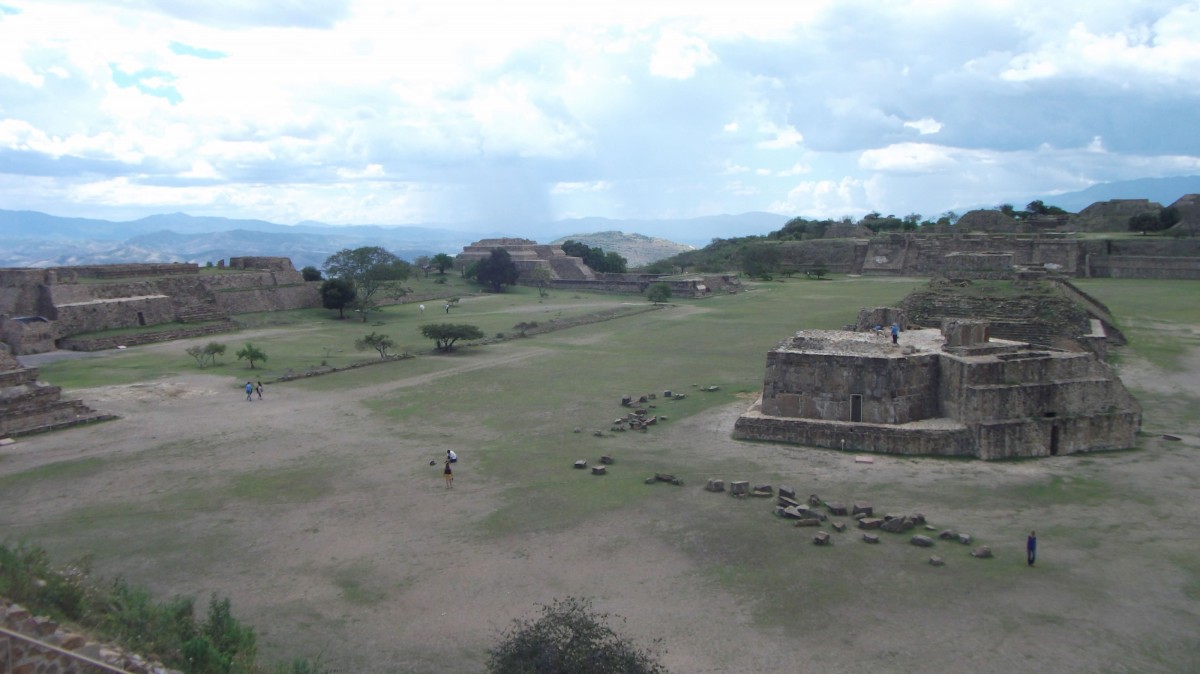 There's a nice restaurant up there with a nice view from the patio tables.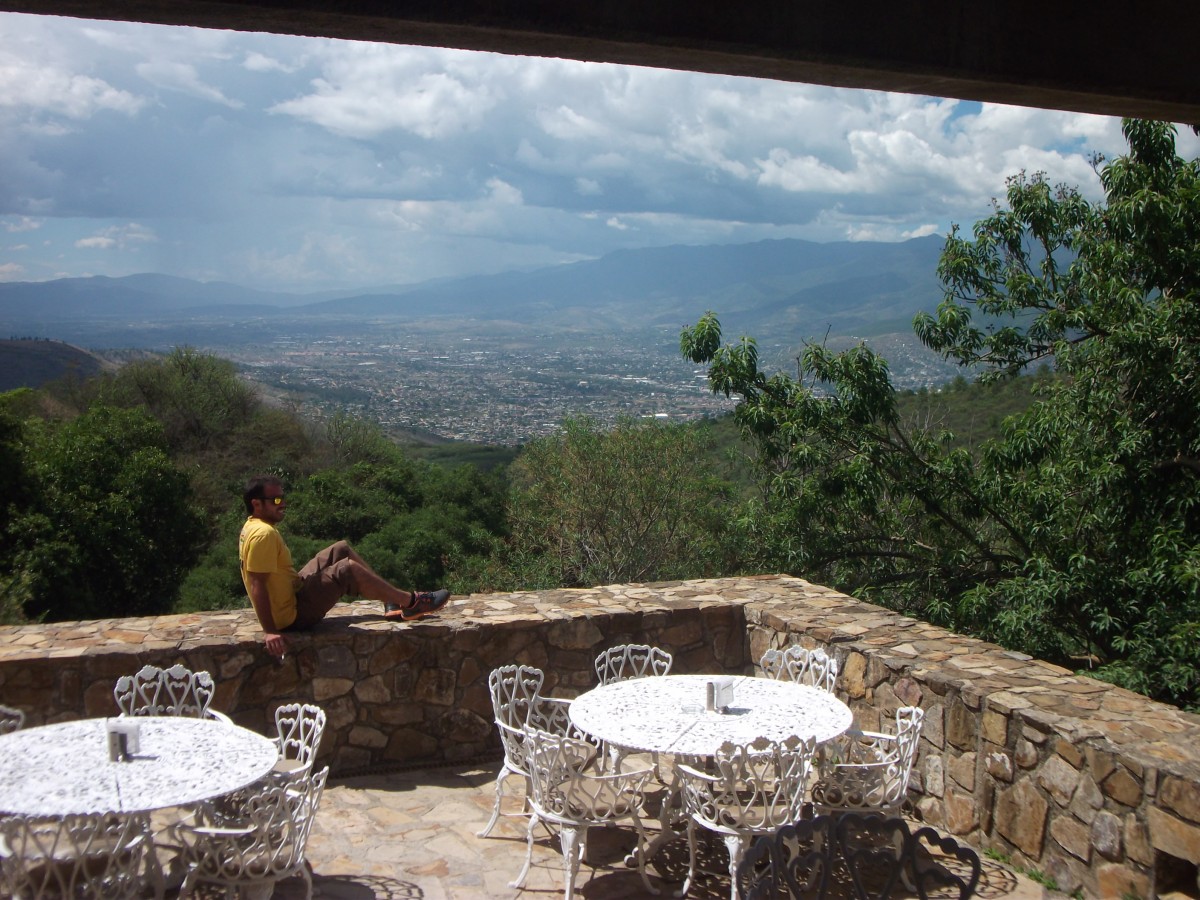 Another place "everybody" goes is Mitla. It's a very old city with even older ruins of it's own. Here's a shot of one of the churches from the ruins.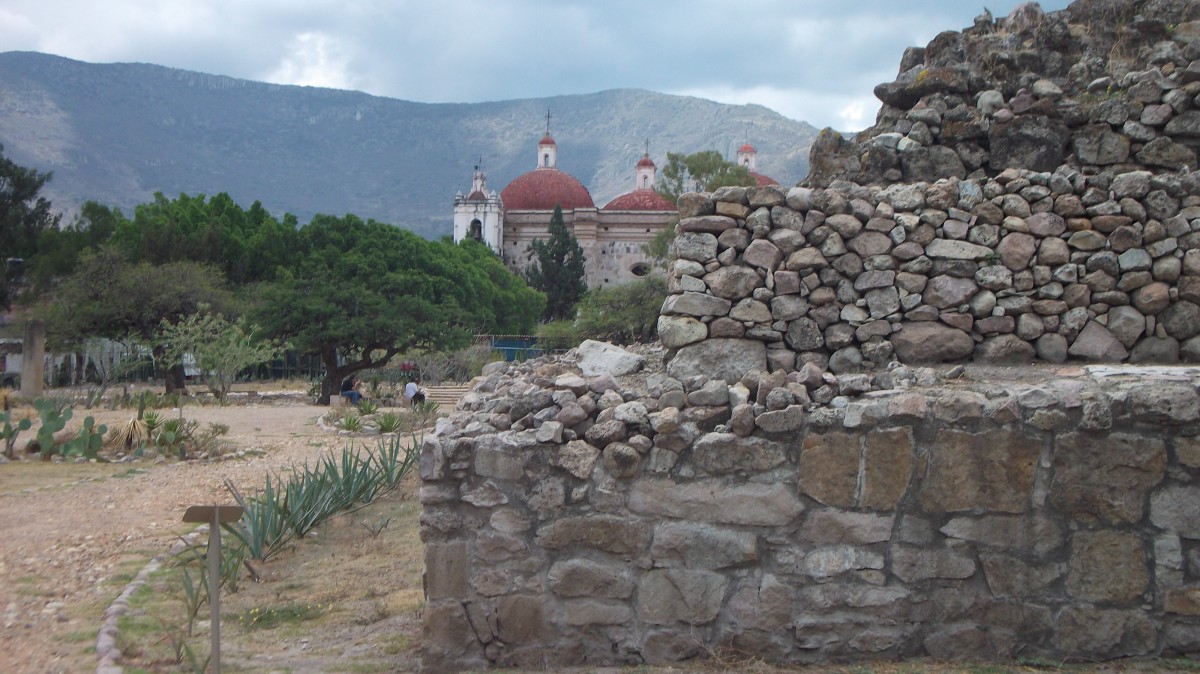 Here's one of a church built right on top of the platform of what was an ancient temple.
I went to Mitla and the other place coming up, Hierve de Agua, with a couple of the guys from the hostel on a tour. It's just easier that way and hardly more expensive than patching together time consuming colectivo rides. We went to a place famous for weaving. The photos from there are lousy, but here are a couple. Those of you who have traveled at all to places like this have seen this. Hand weaving is done nearly the same everywhere. The wool (or whatever) is spun…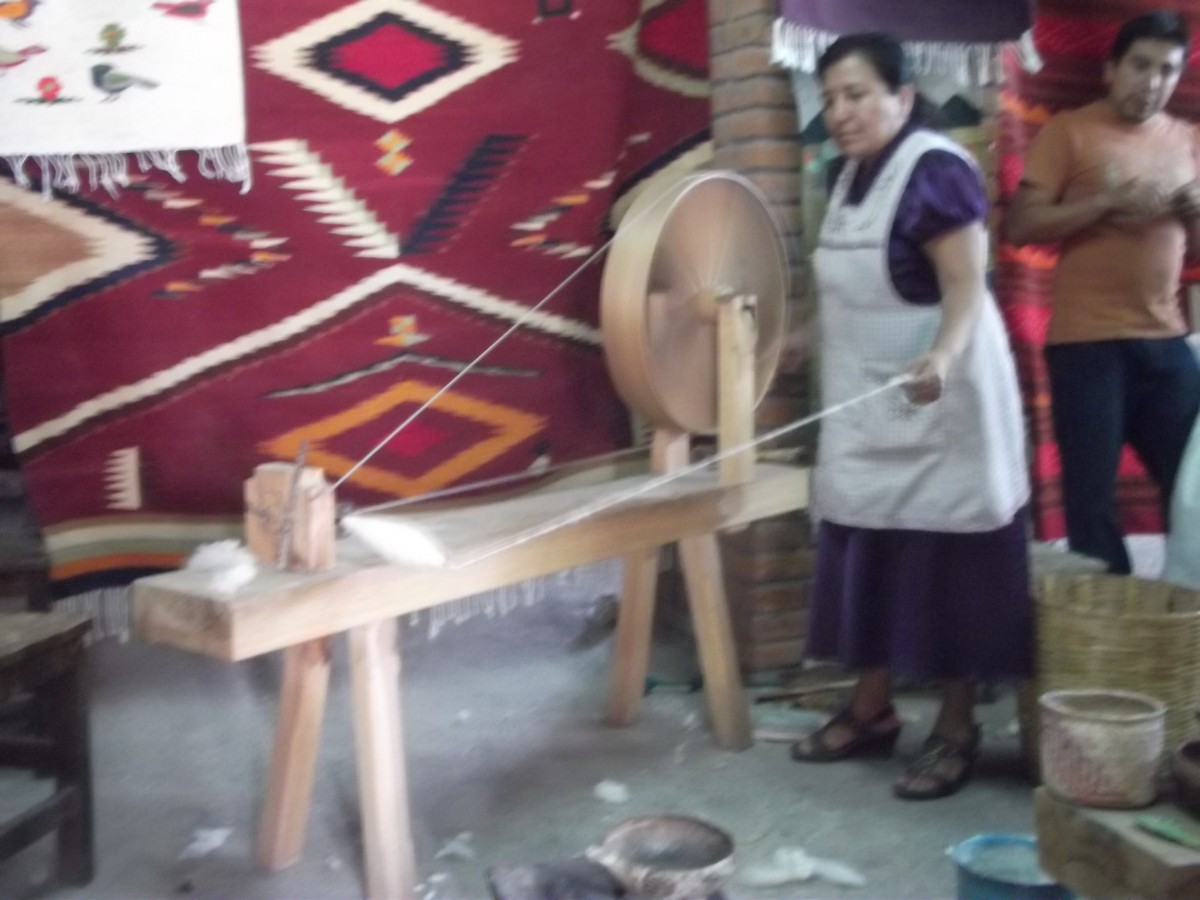 … and dyed. Here is all natural dye. The colors are mostly variation from a red dye produced as a by-product of a worm which is put inside a kind of cactus which turns the insides red. The other colors are from other plants and minerals.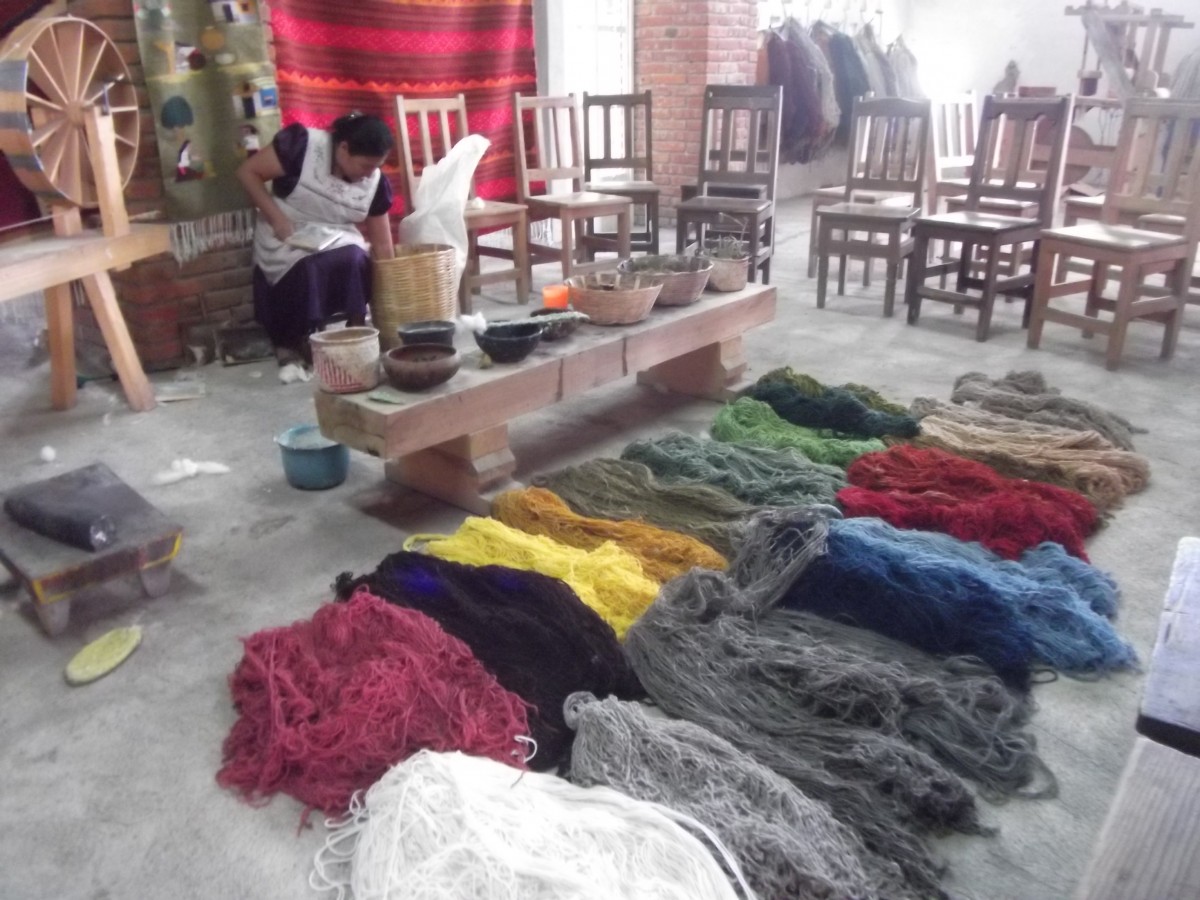 Here, the guys work the looms, not the women.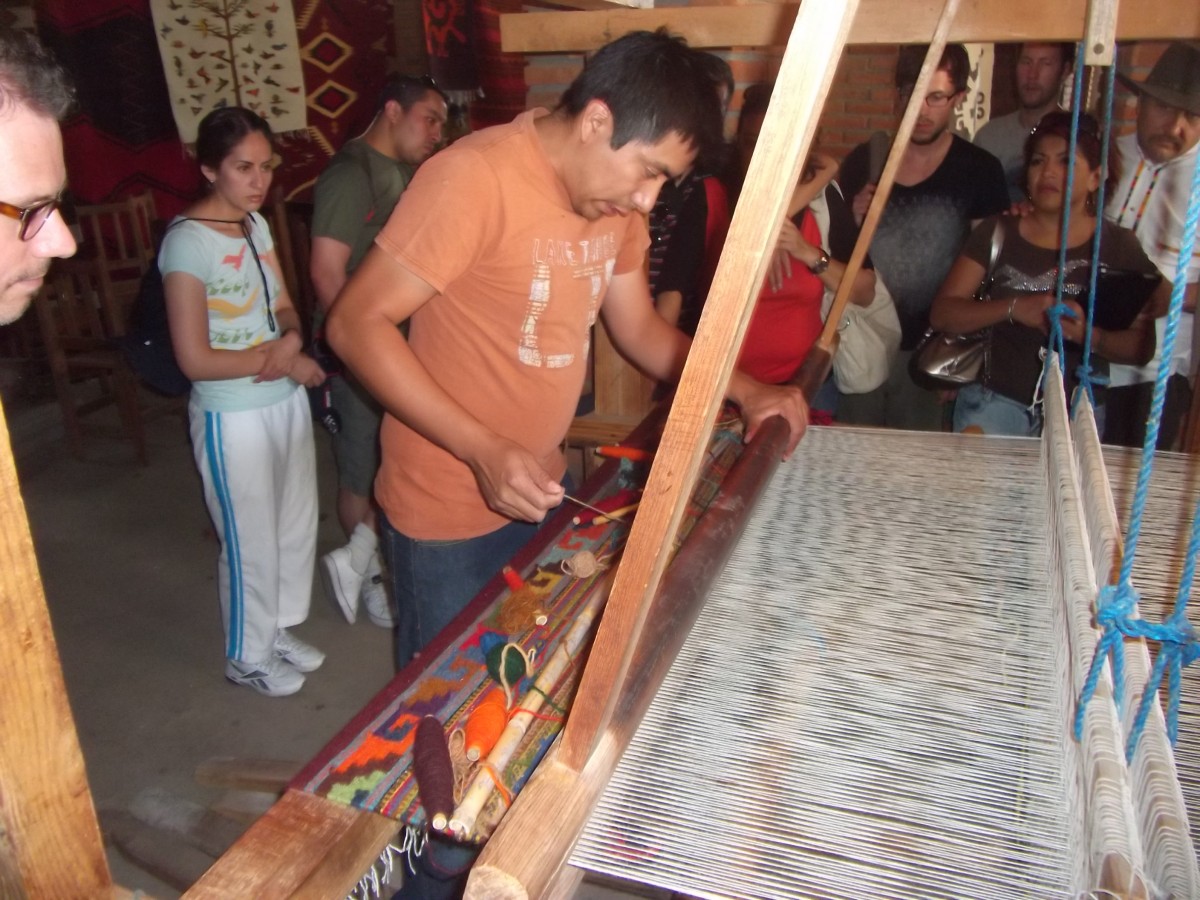 Let's see, we were also taken to an artisan mezcal "factory". Small batch, practically hand-made mezcal is popular here. Mezcal is similar to tequila. No pictures of that. I think I forgot, as there was unlimited tasting. Nothing like several snorts at lunchtime to make you lazy.
The last place we went was Hierve de Agua, a place where cool water bubbles out of the rocks making  pretty pools on the rocks.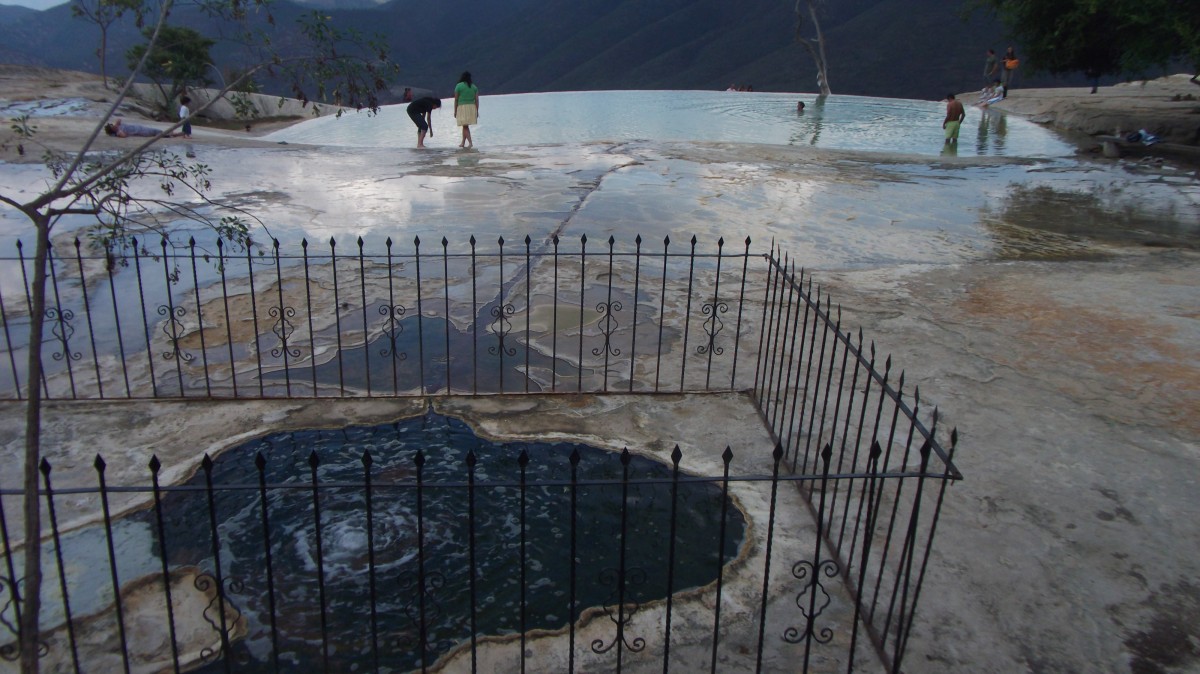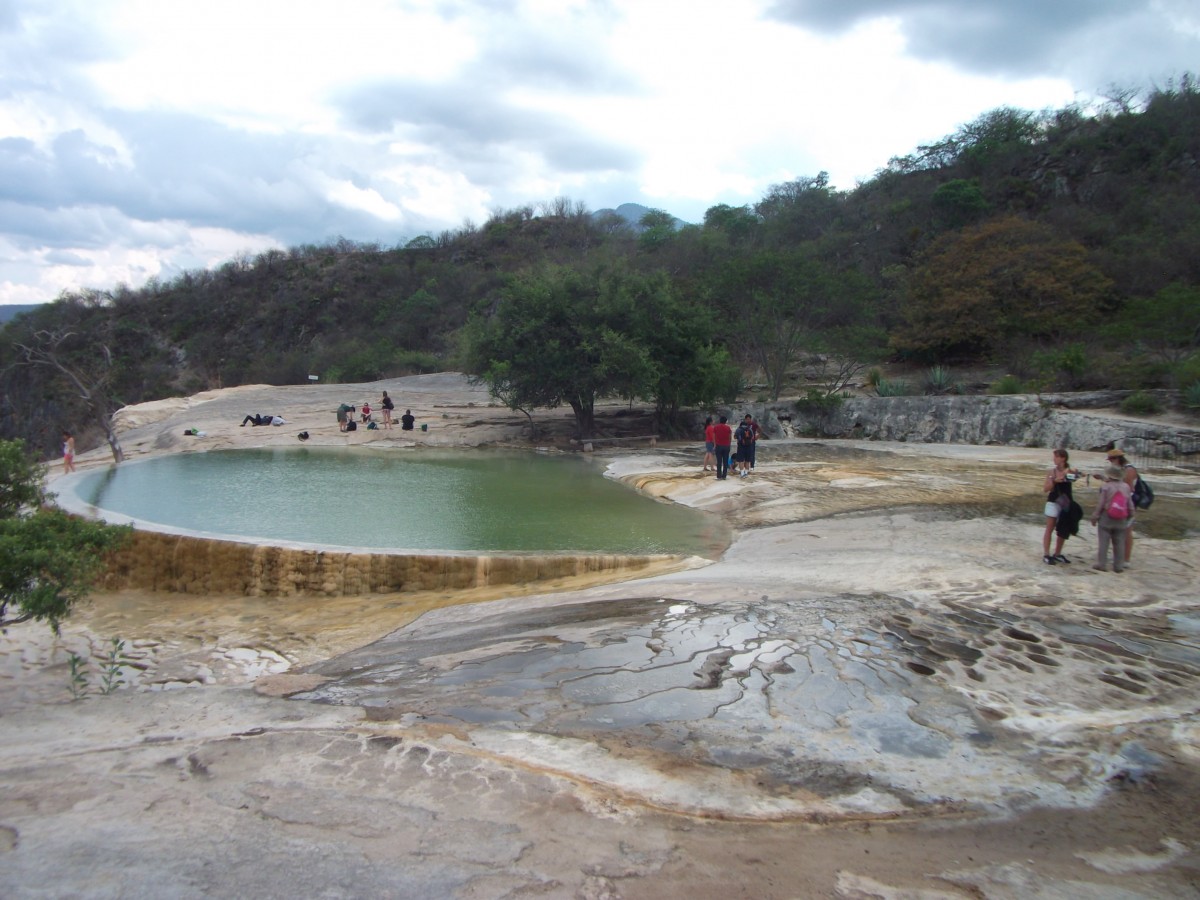 There's also a mineralized (no water at this time) waterfall. I've never seen this before.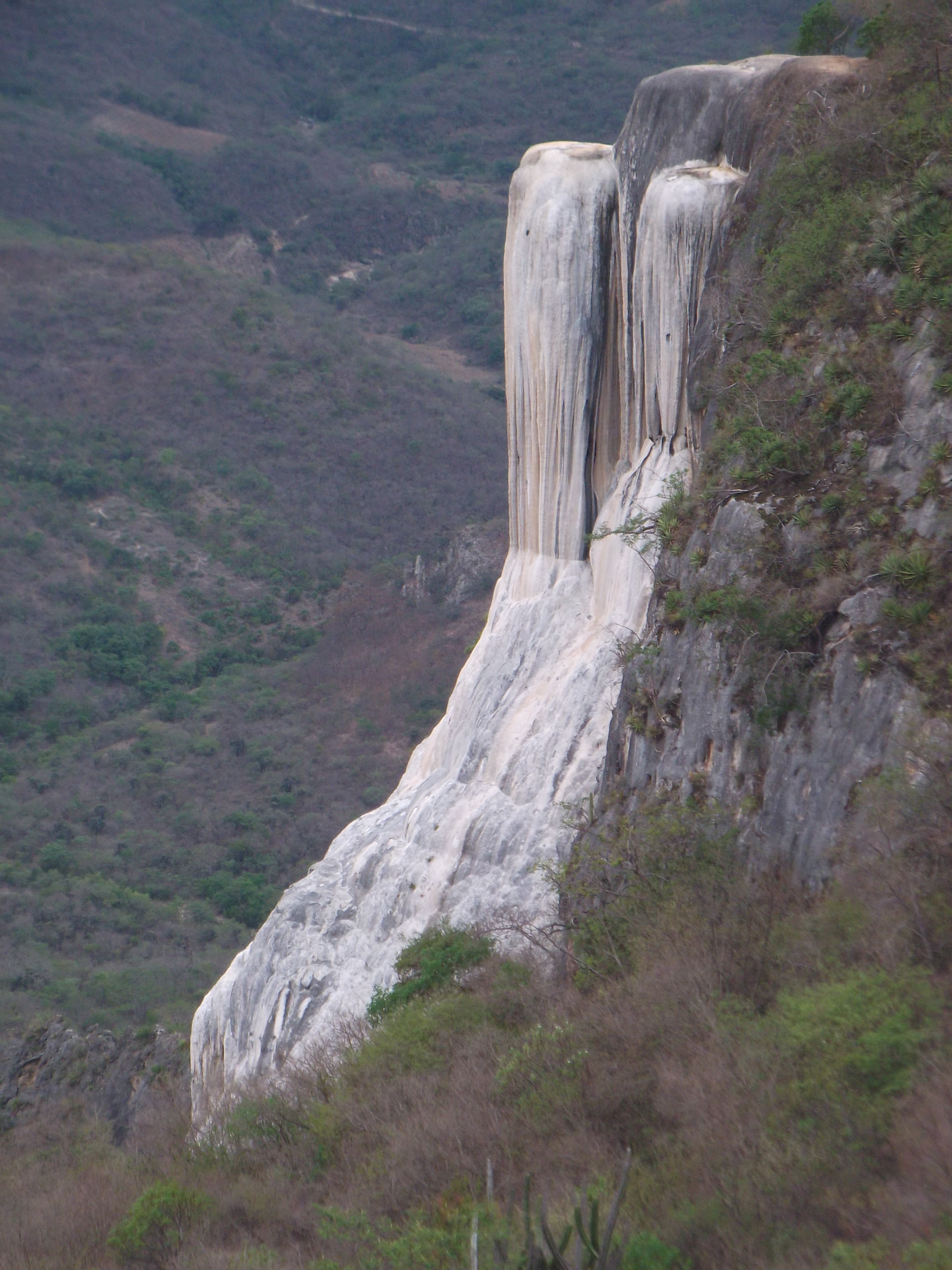 There's plenty to do in and around Oaxaca, like, there's an art scene, but I decided not to stick around and partake in any of that. I hung out with a group from the hostel, making up for the isolative self I was at the beach. Three of us left Oaxaca together and made for Mexico City. They planned to stay there, while for me it was just a transfer point for Morelia, Michoacan, where I am now. This time, I stayed with them at the most popular hostel there, right behind the cathedral. Here is the view out our window.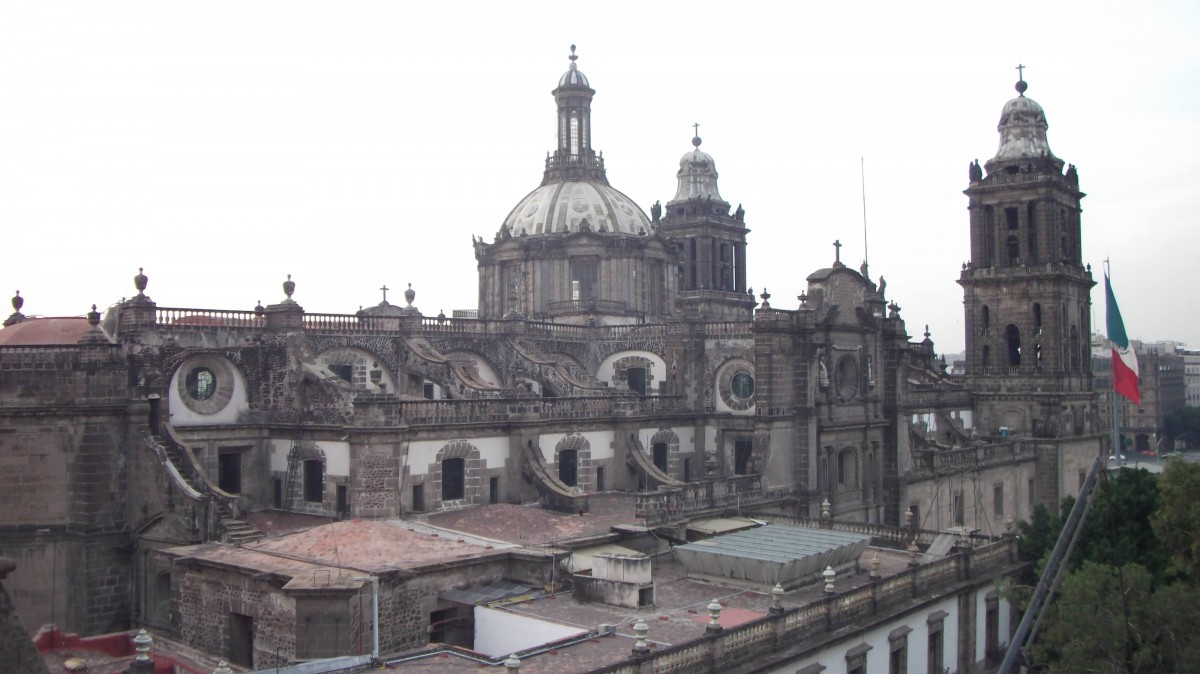 So, that's it for Oaxaca, at least for now. I'm in Morelia now. From here I will go to San Miguel de Allende and Guanajuato. After that, I don't know. It doesn't look like Myung will be joining me anytime soon, as she is getting little interest in taking over the lease on her shop space. I had hoped that she would join me while I am in Mexico, but who knows what's going to happen with that. I may head back south to Guatemala, or maybe I'll decide to do more here.
Until next time, be well, all of you.