I almost named this entry, "Wake Up, Maggi". Imagine, if you dare, Rod Stewart's song "Wake Up, Maggie" as a march. Sing along now.
WAKE up, Maggie, I THINK I got SOMEthing to SAY to YOU /  It's LATE SepTEMber and I REALLY should be BACK in SCHOOL./ Etc., etc..
The routine most of the time was to get up around 5:30AM, have the tea ( and coffee, in Beatrice's case) and breakfast, break camp and head out. Usually we got to where we were going to camp around 3PM, then have some Maggi soup with our ponyman, Namgang. After about the first three days of walking at a rhythmic pace, then having some of this worst noodle soup in the world, "Wake Up, Maggie" began to run through my head every time the going got monotonous. In some ways it was a long month. How would you like to live this way? I'm telling you, it's not easy being in here. Our Tibetan Buddhist ponyman/guide chanted prayers all day. I had this.
Anyway, back to the beginning. After all that preparation, we actually did get out of Leh on June 24. We spent the night in Lamayuru, a village around a famous monastery afew hours bus ride west of Leh. Last years blogging had a picture. Here's another.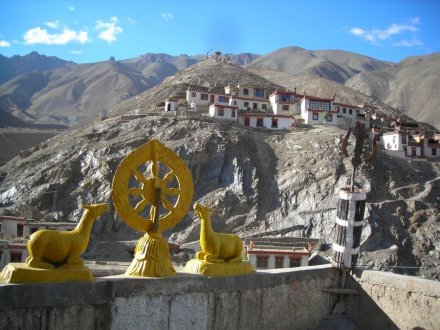 We stayed the night there, waiting for Namgang to bring the ponies by truck the next day. Plans are never really definite with this trip and with Namgang. We didn't know if he would be able to get the use of a truck. Ladakh exports nothing. Everything is trucked in from Srinigar or Manali, and the trucks go back empty. It was supposed to be easy to get a truck to haul seven ponies to Lamayuru on it's way back to Srinigar, but you never really know. But late in the afternoon on the 25th, a truck full of ponies, supplies, and Namgang rolled into town. We were a little worried that the ponies might have gotten injured on the way, but there was nothing serious, just a few scrapes. That was great. We were on our way.
I'm not going to try to give you a description of every valley, pass, village or other sight. Let me get away with mostly generalities. In general, it was amazing. The views from anywhere in this little corner of the Tibetan plateau north of the main Himalaya range are spectacular, but it's more breathtaking when you get into the high country and the valleys in between. Walking and riding a pony are completely different than riding along in a vehicle or wandering short distances up the beginning slopes. Everything is closer, more earthy and somehow more real. There were a couple of roads into a couple of the spots we were in, but mostly we were out there alone with the marmots, wild asses and sheep, birds and a few other trekkers, Ladakhi villagers and nomads.
As I said, usually Namgang would wake us up early, either by his leaving the tent to look for the ponies (which sometimes took a couple of hours, as they were left free at night to graze most of the time and I suspect tried to get as far away as possible from getting loaded up in the morning), or by his making hot water for tea and coffee. After that, he'd make flatbread in a 9 inch cast iron skillet and reheat the rest of last night's dinner for breakfast. Beatrice didn't think much of these leftovers and sometimes made herself something, especially when we still had some of the more perishable or delicate good stuff. Much of that didn't survive for long. About out third night out an animal which they say looked like a lynx but the villagers said was a fox was spotted outside our tent carrying an egg in it's mouth, and about 20 of the eggs disappeared at that time. I didn't have my glasses on, but that would have had to be a mighty tall fox, as far as I could see, as he looked into the tent as if to say "What else have you got inside there, hmmm?" Almost all the rest of those two flats of 60 eggs got broken soon after, along with other fragile things I didn't think we should try to bring in the first place. Oh well, we had a few discussions about that.
That was a long time between pictures. I think I'll break the tedium.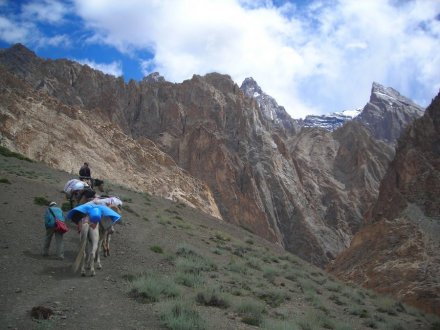 Namgang walked the entire way. He's been taking his ponies through these parts for ten years and is in unbelieveable condition. Virtually all of the trekkers in here do it on foot also, but they don't have to chase these half wild ponies all over the place to keep them in line, much less track them down when they are allowed to roam, much less take care of them and a couiple of not-so-conditioned trekkers and their camp, much less cook and clean. He is an amazing guy to whom we owe A LOT.
Another common system we had was for me to act as a kind of assistant ponyman. After breakfast, Beatrice would take off walking of with the horse she bought while Namgang and I struck camp, loaded the ponies, and started on our way after her. That worked well when she was walking because she went very slowly, especially if it was at all uphill and the elevation was over, say, 14,000 ft. Namgang did the hard work and all the work that took any expertise, but I was generally able to keep up with him for the first couple of hours (or I could get on my pony) and keep the pack together. The ponies don't really like going uphill either. One place we called No Name Pass because it isn't named on any map, Namgang hadn't been that way, and turned out to be a grueling 3000ft climb which practically killed the horses and us, had a nice payoff at the top. This is at about 17,000 ft.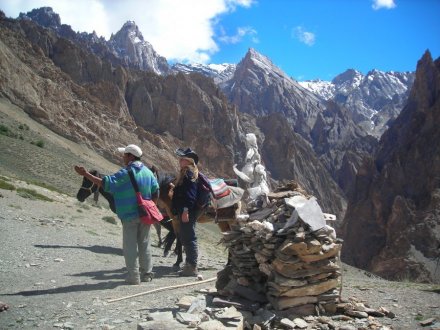 There's Namgang saying "I think we should go that way".
We had two ways of measuring distance, Namgang hours and Richard and Beatrice hours. It was important to make sure we were talking about the same system. When we caught up to Beatrice, we'd figure out how long the rest of the day would take, and then he would usually go on ahead. We'd mosey along behind smelling the flowers, admiring the beauty, having some lunch, and dealing with our ponies alone. He's usually have camp set up for us and be waiting to make Maggi (He loves sthe stuff) when we strolled in by mid-afternoon.Â
Namgang said all the time, "It never rains in Ladakh". I think global climate change has hit here, as it rained a little bit almost everyday, occasionally fairly hard. Fortunately, it was also rather warm, so at least we weren't snowed in anywhere. One of Beatrice's good ideas was to get some plastic to cover the tent. Most Ladakhis use army surplus parachutes as tents now (instead of yak hair)Â and the rain basically saturates them in no time so that they drip on you. Blech. Here's a typical set up with the plastic on. Pretty colorful on a grey day, I think.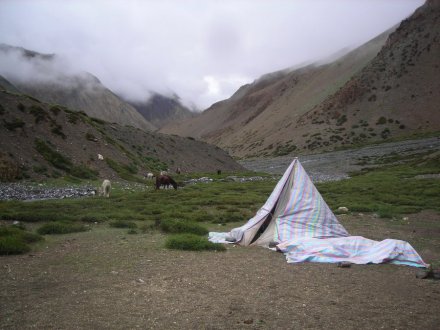 Â
As you can see, the plastic also made it possible to leave a lot of stuff outside. Namgang lives in this tent during the winter at 30 degrees centigrade. To bad that plastic would never survive. Like I said, he's tough. The horses stay outside. It wasn't all that warm here in July. It usually froze at night anyway, and some of the wind chills were bitter, especially if it was raining.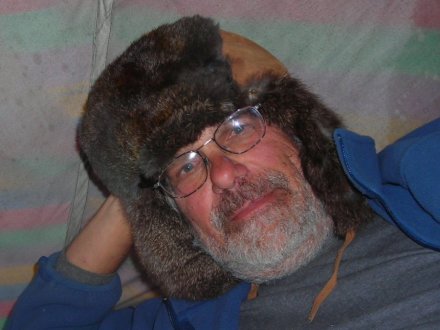 Â
By and large, though, the weather was good. Often a significant part of the day was actually warm. Only once in the hail did we have to seek shelter in a currently unused nomad winter village like this. Most of the nomads are at the higher elevation summer pastures with their sheep, yaks and dzo a cow/yak mix).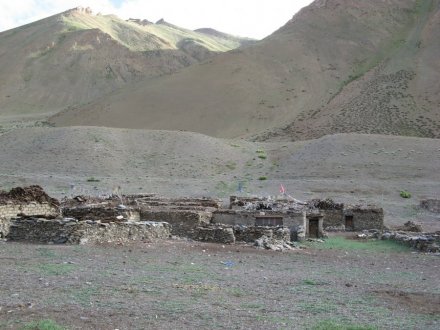 Â
About the ponies… Nobody ever goes on a horse trek like this. Even when the weather is it's usally sunny self, all the westerners who trek in here sign up at a tour shop in Leh or arrange it via internet from abroad. They walk, and the tour company provides ponies and ponymen for transport of supplies (Namgang's usual job), a guide, a cook and usually a helper. In good weather, as many as 50 ponies could be on a given trek, with all the trekkers and locals included. These go usually to a part of where we went called the Markha Valley. It's accessible at both ends and is only over the first pass south of the Leh Valley. Beatrice, wanting to go into these mountains but in no way capable of trekking on foot, arranged to go with Namgang last year for a month. She did it again this year, this time for 10 weeks and she invited me along for the first month. She bought a pony this year, as the $6/day rental for that long would exceed the value of the pony. I rented mine.
So, it became a lot about the ponies. She rode when she was a teenager. I've ridden enough to get along okay. But it wasn't always that easy. These aren't the nice stable ponies we usually see in our countries. They are half wild and unused to being ridden. There isn't much choice in animals to ride, so our choices were limitd to these two. Often the ponymen neglect their animals, so they are too weak or too sick or wounded to carry people. They are little anyway. She bought her pony because it was the only one she could find strong enough to carry her. But he was young, castrated late, and was wierded out by everthing from the color blue to any other animal bigger than a bird. He also had some trouble figuring out what was expected of him. All in all, Beatrice did rather well with him. At least she stayed on, which was good because she had some trouble getting on. He is learning, too. They get along pretty well. Here is "Freund" doing her (hand).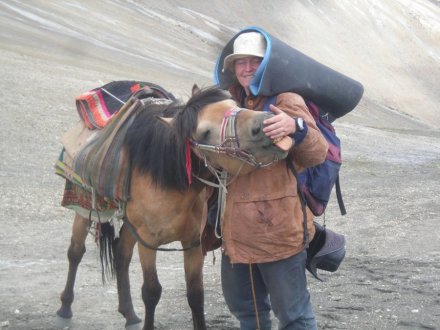 Â
Mine was the strongest of the lot. I called him "Red". He is a veteran pack horse whose only goal in life is to hang out near the back of the pack, trudge on, and loiter at any grass he finds. In his real life, he's slapped on the butt to keep up with the rest. With me I just let him fall behind by sometimes several hundred meters. I learned that as soon as his friends were nearly out of site, he'd catch back up again. When we were all going together as a group, I could just sit and look around. He rarely made any sudden movements. I was just another sack of potatoes to him. Sometimes he's fall asleep and fall to his knees. I almost went off a couple times, being half asleep myself with "Wake Up, Maggie" going through my head. Once, on the second to last day, he took off at a gallop with no warning for some reason. My feet weren't in the yops (I don't know the English word for the things you put your feet in) and the reins were sitting on his neck. After almost a month, what a surprise that was! That was almost very bad news. I was bouncing on my sacrum, and if he had decided to turn, my trajectory was going to be a lot different than his.. Actually, the way he was was just right. I usually didn't have to think much. He could be ridden away from the pack. In general he was a lot like the bucket of bolts I left to gather dust in Copperopolis, a little hard to start, easy to drive and park, and never stranded me even the one time that car did.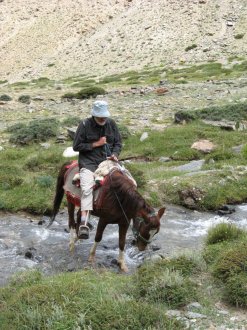 That picture reminds me. How many times would we have had to take off our boots and socks to cross rivers if it hadn't been for the ponies? Many. Only a couple of times did he have to wade through chest deep water and my feet and pants got wet anyway. And that reminds me of how remarkable it is that they can wade through rushing glacier/snowmelt more than a meter deep, unable to see the bottom. I don't know how they even stay upright, much less not break their legs.
Speaking of snowmelt, sometimes the warming sun was out and the water not so cold that you couldn't bathe and breathe at the same time.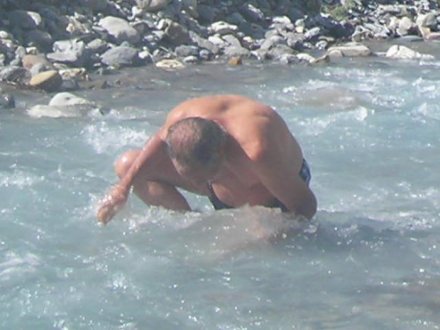 Beatrice preferred to heat up a pan of water on Namgang's kerosene stove and wash the important bits inside the tent. One time, though, near the end, we were in a long valley where the water was warmed for a long time before it got to us and it was actually not frigid. We both got in and it was nice, almost.
Sometimes we would go for days, and the only people we would see were these villages from nowhere who would come  to collect a camping fee and a grass charge for the ponies. Sometimes they would hike the same pass we had just gone up to get it. Most often, they were officiall sanctioned and had proper receipts. The usual camping fee was $2.50 per night, and the grass fee was about $1.25 per pony. For that kind of money, they would walk for hours to collect. Most of the time, they would collect when we were near a village, knowing we must have spent the night in their territory. Here's one of the guys who came to collect. If the weather was cold and/or rainy, they might come inside for awhile.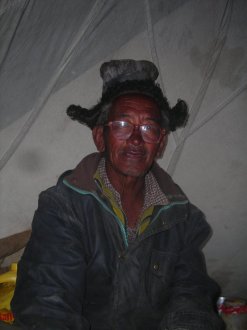 Finally, I'm getting near the end. Thanks for hanging in there. We came out, as planned, at a nearly dry lake called Tso Kar, east of the Manali road. We spent a day there, then returned by different hitchhiking ways to Leh. Beatrice spent two days buying more supplies and getting a permit to go to the military controlled region bordering China. We were down to rice, mae noodles, yak cheese, Maggi, onions, maybe a potato or two, and I think as few Kit Kats. Oh, there were two cans of tuna and a can of chicken salami as emergency food. Yesterday Beatrice left for her next few weeks. She will return either to Leh or go the other way to Manali for supplies in about three weeks, then finish. We may meet up when she returns.
I don't know what I'll do. I may stay around here, as the Dalai Lama is staying in a nearby village and will give a talk in Leh sometime in the next few days. I may go white water rafting for four days on the 31st. Watch that be the day he goes public and I'll have to wait for it to come out on video. I don't speak Tibetan anyway, unless he's going to talk about yops. So far I'm content here. It's a tourist ghetto this time of year, unlike last September when the cold had driven the tourists back to Goa or Dharamsala at least. The food's good, I have a nice room with a view, and a book I'm reading from the shelf at the restaurant I eat at most of the tiime. On the other hand, I'd like to go see the Buddhist sites in Uttar Pradesh and Lumbini, Nepal. It's monsoon season there though, so what to do? I'll keep you posted, so to speak.
Thanks to those of you who are writing, and best wishes to all of you.