Sometimes a like thought in a different language translates well literally. Beatrice's translation from the German has had us laughing for days, for several reasons. In this case, there is even more truth in the saying than the simple English version. Figure it out. This is a work in progress.
We've been here in Arambol, Goa, for 10 days now. Most of it has been us getting to know each other. The activities of the day usually consist of having tea on the porch and looking at the surf, getting a bite to eat, lounging around, having conversations of varying importance, and going on an outing. Usually that's just going to the village itself to email, shop, or something. We've driven around North Goa on a scooter a couple of times. Yesterday we went to Calangute where I could upload these pictures at a high speed connection, then rode around places I hadn't been. Mostly it's the same stuff I did last time I was here, only this time I have company.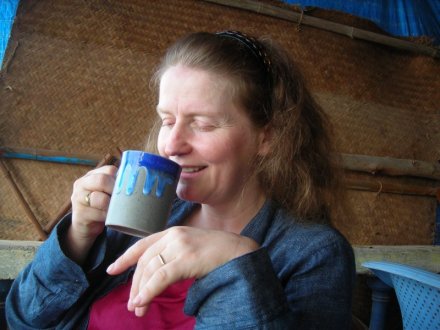 Beatrice read my first blog entry and remarked that it was just about her. My answer to that was that that is about the only thing going on that is of interest to me. I find that I immediately became Indian again. It's like going to Stockton and trying to be fascinated with things going on there. I just take it as it comes, and Goa is old hat. At least this beach scene is. Here are the views from the beach in front of our porch. The first is early in the morning. The second is ain the other direction after the sun was all the way up.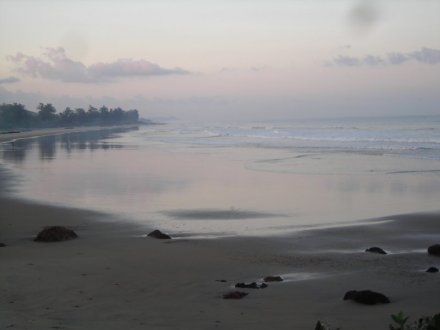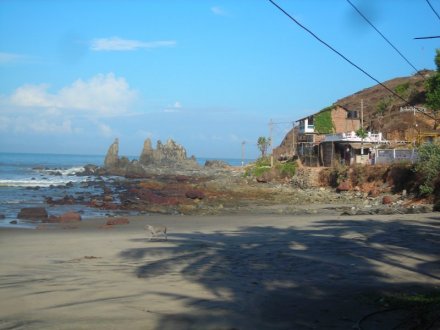 To the right of where I was standing to take the second picture is the row of guesthouses and huts where we are staying. Almost everything is closed. One of the few places with available rooms is the place just to the left of  Blue Fin. That little porched area downstairs is where we are staying.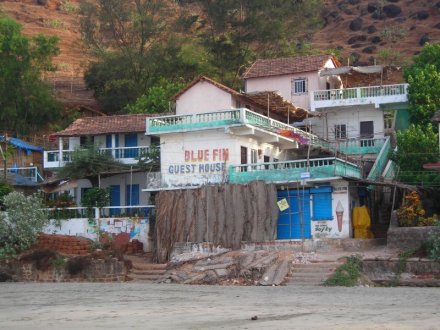 Everything will close up when the monsoon comes. If it doesn't come before June 1, we will hang out here till then. Then we'll hed slowly toward Leh in Ladakh, from where Beatrice will go horse trekking for a couple of months. We have to go slowly because she doesn't adjust well to elevation changes. We'll do it in stages, first going to Srinigar, Kashmir, then higher to Gulmarg, near there. Then we'll go to Leh. When she goes, I was planning to go to Nepal then Tibet. but the more I read about Nepal in the rainy season, the less I want to go there. I need to do more research about when it is good to go to Tibet. It seems likely that I'll just deal with Nepal for as long as it takes to get to Tibet from there.
So, as usual, I'm a little indecisive about what I want to do. As alwaays, though, that's fine with me. Something might get my attention between now and then.
Beatrice thought I should post this picture of me folding up a leaf of cooked cabbage and devouring it. For those who wanted more pictures of me, you asked for it.