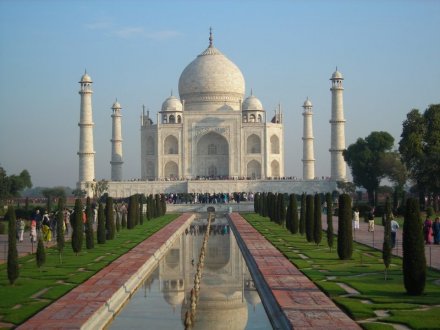 Here is the picture of the Taj Mahal you are all acquainted with. You go in the south gate, and there it is. Most people walk around and in it for a couple of hours. This is what I did, though I felt like going again to see it in the evening, so I talked my way back in. I didn't want to go the $15 entrance fee again. Is it the most beautiful building in the world, as the Indians like to think? You be the judge. Like all sites like this, being there is different than just seeing pictures. I think it's the most beautiful mausoleum I've ever seen. It's covered in carved and inlaid marble, and it's been well preserved and cleaned.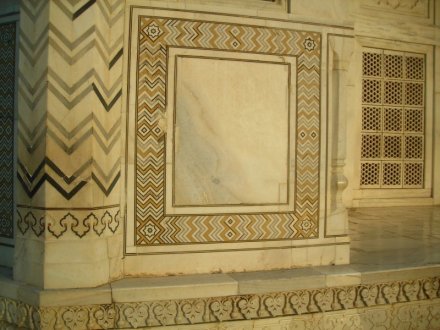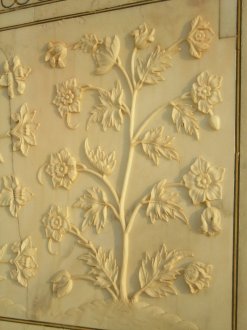 Here is another shot from inside taken at dawn.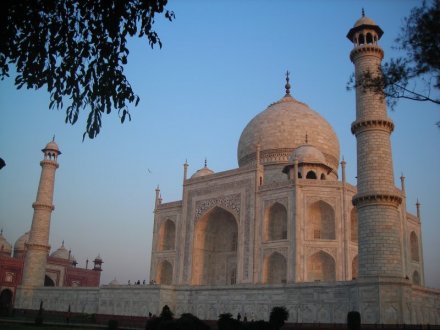 I got to Agra on a Friday, so because there is a mosque over there to the left, the site was closed to non-Muslims. So that day, I walked around the outside of the walls. One might think it would be highly developed, but it's not on two sides. Here's the path on the west side.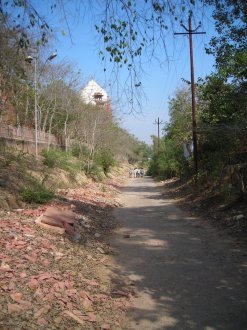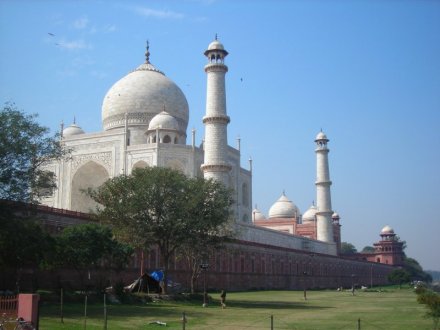 To the north is the Yamuna River. Here is the view over the wall at the back of the Taj and upriver, if you pan to the right toward the 17th century Agra Fort.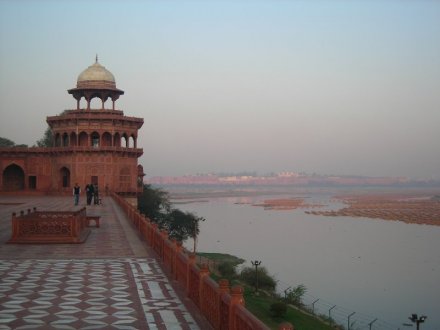 On the east side are some shops not worth photographing, and to the south is the tourist ghetto which is also not worth photographing.
There are a couple of other things to see in Agra. there's another mausoleum, which is usually called the mini Taj, a small palace, and a temple which has been under construction for 100 years called Dayal Bagh. It is going to be very beautiful. Unfortunately they don't allow photography, but you might be able to search it.
Most people stay here for a day, maybe two. I've been here a week because I tweaked my back about five days ago and am resting it. I could have checked out two or three other places within three hours of here, but decided to bag it. I'm okay with what I've seen in India this time, and my plane home is tomorrow night from Delhi, only 200 km away. I'm just hanging out, reading, eating, watching TV, and surfing the net.
I did get out to Fatehpur Sikri, about 20 km from here. This, of course, is an hour bus ride from here. Oh, my back! It was the Moghul capital for about ten years. After they built it, they learned there was no water. Hence, it was also called Akbar's Folly. It looks better than the pictures.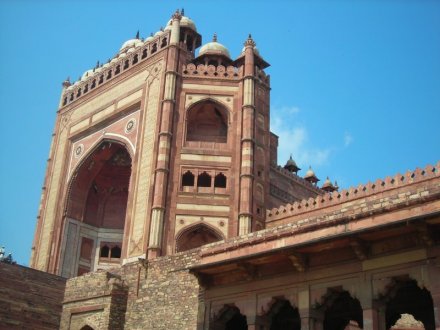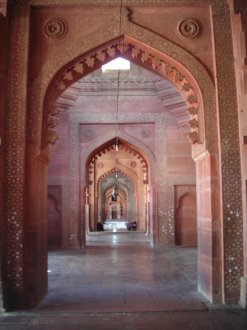 Finally, here is the front of Agra Fort and the view downriver to the Taj.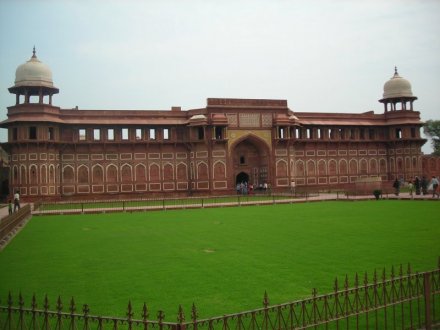 I'll be returning to India in May, insha Allah. This is probably my last entry from India. Maybe, even probably, I'll write from the US. But if not, I hope you all are having a nice almost spring and thanks for reading these things.