I'm heading off to the Andaman Islands tomorrow, leaving here at 4 AM for a 7:15 AM flight from Chennai. I don't know what the internet access out there will be like. I think it's agood idea and a good time to post pictures from Mamallapuram.
Mamallapuram is on the coast, about 50 km south of Chennai. It's a comfortable tourist destination for foreigners and Indians alike. You can swim on beaches near here, though the beach in town has severe rip tides. You can also look at one of the many cave temples and rock sculptures, many of which date back to the 7th century. They aren't as dramatic as Ellora of even Elephanta, but they are in pleasant settings. The most important place is called The Five Rathas. They were carved out of granite boulders where they stand.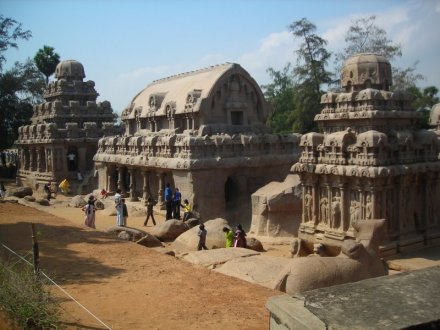 There are several more places of interest, but you've seen so many of those type things, I'll spare subjecting to more pictures like that. Even I grow oversaturated with some of the antiquities here. At least some of these sculptures are just art, not religious.
Her are shots of the beach to the left and the right this morning at dawn morning at dawn. There were several people like this tourist, besides the fishermen, enjoying sun up. The second one shows the shore temple artistically positioned above a fishing boat.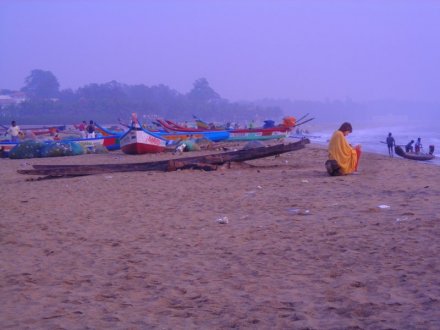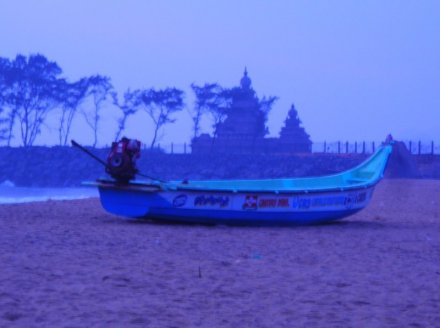 As in Goa and Gokarna, it's nice to sit and have a meal, only this time it's to watch the dawn instead of the sunset, this time to have eggs, toast and tea or oatmeal instead of tandoori fish, fried potatoes and beer.
The main every day thing in Mamallapuram is the rock sculptures and shopping for carved objects, but during January is a month long classical dance program. There are two performances a night, for free. Some are very good, some are students. Here is one of the dancers, a forty-something year old who may not have been as athletic anymore as the others, but she was very graceful and alluring. Her daughter (and "disciple" she called her) both performed for one hour.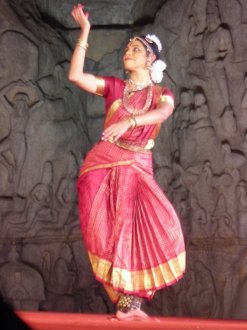 Here are the musicians. The backdrop is part of the rock carving in the area where much of that is. Behind the musicians is a temple carved out of the rock. Behind the dancer is the depiction of a battle.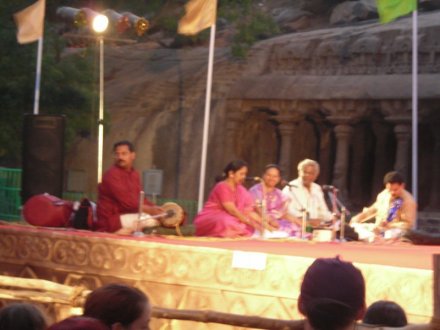 While I was here, there was a festical called Ponga. It celebrates the harvesting of the rice. I went to a village where they had prayer and made four kinds of rice. Then we ate the rice from banana leaf bowls which is a common way to serve food here, with all due respect for the efforts of the many who make life possible. I liked the sweet one made with cinnamon, raisens and cashews. First, the women making the rice: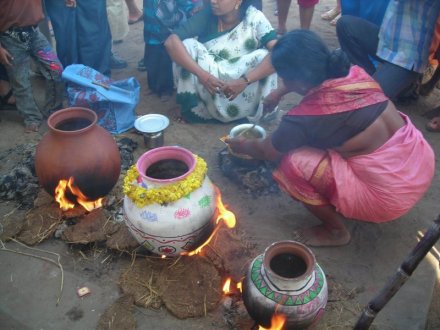 Second, here are a couple of cattle having their horns painted for the procession. This evening was for thanking the cows for the labor, milk and everything else they provide. As you know, cows are revered here in any case. They also drape them with jewelry. This village was poor, so they had almost all costume jewelry on. Internet speeds are particularly slow here, and it took forever to upload the pictures you are seeing. I wish it was possible to show more.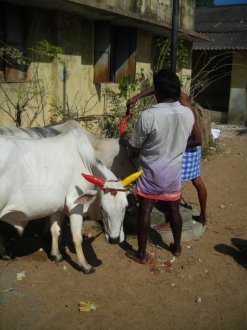 The festival is going on as I write. Outside on the main street are cars going up and down, blowing their horns, people are hanging out the windows and off trucks and tractors. There are firecrackers and other noisemakers, and the occasional band of musicians. It's the strip in American Grafitti, Indian style.
I'll write from the Andamans, if possible. If I can't, I'll be in touch after the 30th, when I get back.
Be well.